The Secret Life of the YEOMAN WARDERS
"We've all been there; we've all done it; we've all got the T-shirt"
[caption id="GuardingtheTower_Feature" align="aligncenter" width="1024"]
6
Chief Yeoman Warder John Keohane guards the tradition and honor of the Yeoman Warders, as well as Her Majesty and Her Majesty's Tower.
[/caption]
In one form or another, there have been yeoman guards at the Tower of London ever since William the Conqueror began construction around 1080. Little wonder that today's Yeoman Warders are one of the most recognizable iconic symbols of Britain known around the world. Yes, they are popularly, if erroneously, known as Beefeaters. To give them their full title, though, is quite a mouthful: Yeoman Warder of Her Majesty's Royal Palace and Fortress the Tower of London, and Members of the Sovereign's Body Guard of the Yeoman Guard Extraordinary.
Yeoman Warder will do.
The Tower—"Her Majesty's Royal Palace and Fortress, the Tower of London"—is in fact a huge complex, covering 18 acres. It has been here more than 900 years, and took 200 years to evolve into the 17-towered assemblage we see today. Its oldest building (and the oldest in London) is the White Tower, still a royal palace, though not a royal residence. A monarch last resided here in 1603. Since then it's been a public records office, an armory, a prison and, now, a museum of ancient armaments and armor.
The Yeoman Warders were originally rewarded for their services on the field of battle by being brought here and set up as the personal bodyguard of the monarch. When Henry VIII moved out of the Tower, he left 40 of them at the Tower to safeguard and secure state prisoners. The role they fulfill today as guards, guides and historians evolved from those beginnings.
After our recent British Heritage story on Beefeater gin (July 2008), I thought it only fitting to tell the story on the other side of the bottle. In his office in Wellington Barracks, I visited with Chief Yeoman Warder John Keohane, known generally as "The Chief."
A jovial, burly man with a quick laugh, The Chief acknowledged with a twinkle in his eye, "We do have a very close connection with Beefeater gin."
Keohane ruminated easily on life in the Tower for the Yeoman Warders. "The principal daily job really is to be eyes and ears for the protection and security of our visitors. Because of our military backgrounds, because of our knowledge, then I'd like to think we provide a pretty good deterrent against becoming the easy option for trouble."
Technically still the fulltime official bodyguard of the monarch, they are nowadays paraded out for colorful duties at such formal occasions as the Trooping of the Colour and the Lord Mayor's Show, or to accompany the Queen or senior royals on sundry ceremonial occasions.
Being a Yeoman Warder is virtually a second career. The prerequisite for appointment is 22 years of service in the Army, Marines or Royal Air Force, ending up as a senior noncommissioned officer with a good conduct decoration—as a warrant officer or sergeant major.
[caption id="GuardingtheTower_img1" align="aligncenter" width="1024"]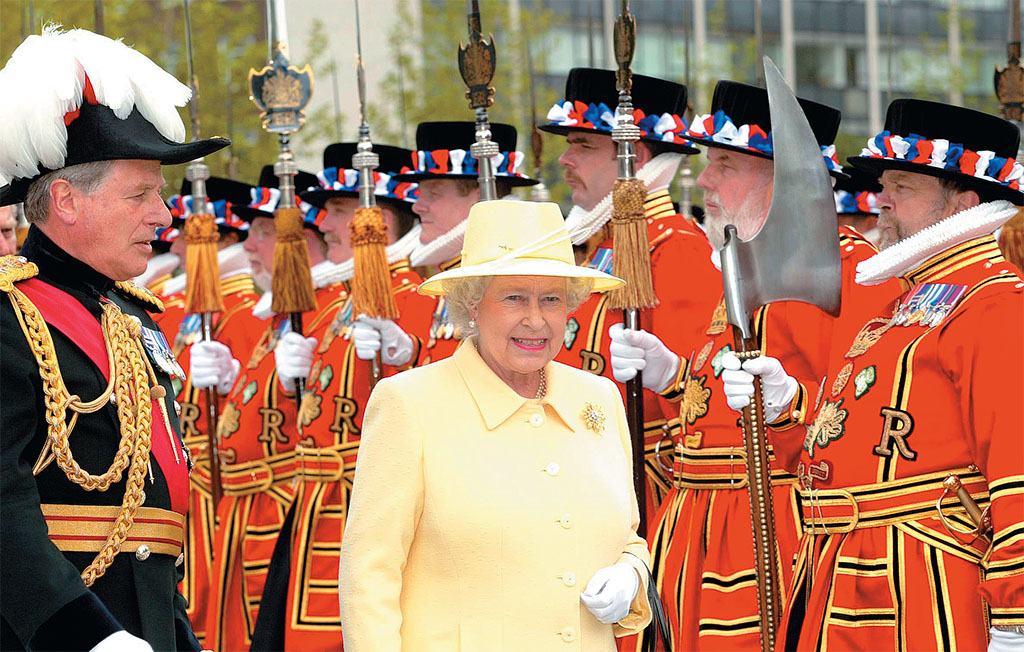 6
The formal dress uniform of the Yeoman Warders dates from Tudor times. It parades out on state and ceremonial occasions about 20 times a year.
[/caption]
Like each of the 36 Yeoman Warders and their families, The Chief lives at the Tower. "The walls do tend to encroach on you sometimes," Keohane admits. "We get 2½ million visitors a year in here—often 10,000 to 12,000 a day. So it's important that you have an escape.
"Because we live here under a license to occupy as a part of our job, we have to demonstrate that we have somewhere to go when our employment ceases, so all of us have a second home. It's your bolt-hole&mdsah;somewhere to escape London and the constant busyness of the job. It does help to relax people and it is important.
"Very few of the fellows have ever lived in London before, and it's an adjustment getting used to the city. One of the advantages of living here, though, is the traveling cost. You walk out your front door and in four or five minutes you're at work. Some folk on the staff here commute an hour or an hour and a half and it costs them £2,000 a year in travel. I know some people who are commuting 70 or 80 miles to work here.
"During the summer especially we can be working 50 or 60 hours a week," Keohane said. "You have the public in here from 9 to 5. Then the Tower closes down and two or three times a week opens again at 6 for functions of corporate hospitality or whatever. They're expecting the Tower to be open and have Yeoman Warders to show them around."
Part of the collection of five properties known as the Historic Royal Palaces (www.hrp.org.uk), the Tower of London helps subsidize the maintenance and upkeep of Kensington Palace, the Banqueting Hall at Whitehall, Kew Palace and Hampton Court Palace.
"Hampton Court Palace is bigger than we are," noted the Chief, "but it doesn't get anywhere near as many visitors. If they have 500 visitors a day, it's a busy day. Yet they have more staff looking after them than we have here, because they are much larger physically.
"It really takes half a day to see the Tower&mdsah; 2½ hours at least. If you take one of our guided tours, that takes about an hour. Then the Crown Jewels take three-quarters of an hour. The White Tower takes another half or three-quarters. We see a lot of frustrated people who come here on a very tight itinerary."
Keohane has been The Chief since 2004. He is responsible day to day for all the ceremonial roles, corporate hospitality, planning and scheduling.
"I did 27 years in the Royal Corps of Signals," he said. "My specialty was airfield communications. I've served in the Falklands, the Far East, Germany, Northern Ireland, all over the world really." He wears his current badges of office proudly.
"The cross keys represent the functions of the gentleman porter. The porter was responsible for the security of the door&mdsah;hence the Ceremony of the Keys that we do every night. The badge of office that I wear dates from 1858. If you go back to those times, the rank of warrant officer was four chevrons surrounded by a crown. Four chevrons signified a substantive sergeant; a major's insignia was a crown. If you enclosed the chevrons with the crown, you came up with the badge of office of the sergeant major. That's where the office came from. The crown on my sleeve is the badge of a warrant officer&mdsah;on the uniforms given us by Queen Victoria.
"Our full-dress Tudor uniforms today cost £7,500. Our everyday uniform is far more practical and only costs £1,500. It comes with trousers and a coat. We wear it day in and day out as our working uniform. The formal Tudor red and gold uniform is our state dress uniform. We wear that maybe 20 or 25 times a year.
"Wearing the state dress uniform, it takes you about 45 minutes just to get into it. You've got the tights, the kerchiefs, you've got everything else to put on. You really need a dresser. That's why we're married," he joked, "to help us get dressed."
There is a tremendous camaraderie among the Yeomen. "We all come from the same background," Keohane said. "We've all been there; we've all done it; we've all got the T-shirt. And we've all achieved the same rank. You don't come to be a warrant officer without having a bit of character. So we've all got a pretty good working relationship. That's not to say that we don't fall out, because we do. But it's like every job; a job is what you make of it."
That "bit of character" and a good sense of humor are necessary qualifications for the job. After the disciplined life of the military, the public can seem a trifle unruly.
"Until you come here, you do not appreciate just how rude people can be. And you have to get used to the fact that the public perceive you to be an icon. We hear this business of 'you're a public servant, and you live in grace and favor apartments and don't pay taxes.' Rubbish!
[caption id="GuardingtheTower_img2" align="aligncenter" width="1024"]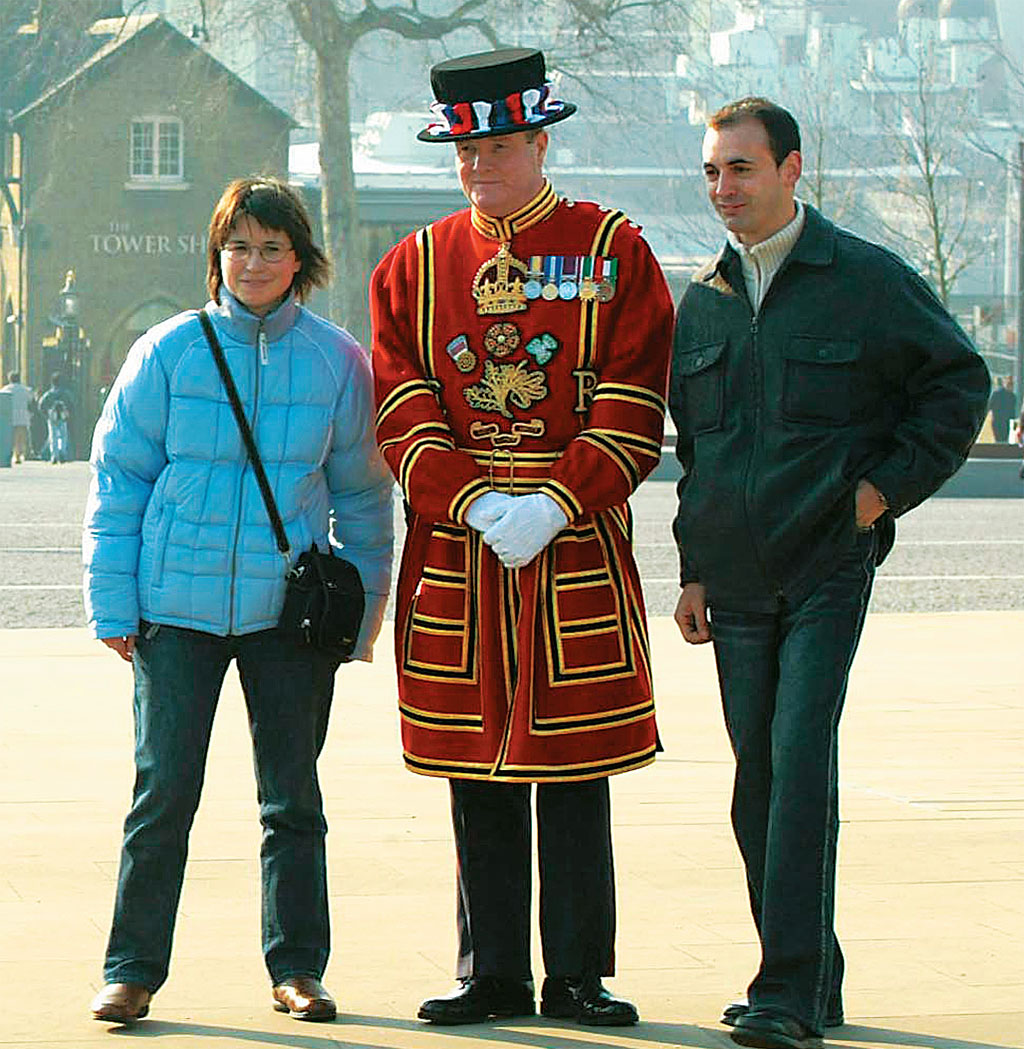 6
There is no such thing as being off-duty in that uniform. Posing with visitors for souvenir photos is just a routine part of the day for Yeoman Warders.
[/caption]
[caption id="GuardingtheTower_img3" align="aligncenter" width="332"]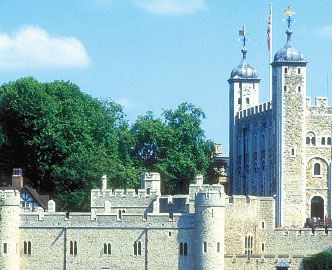 6
All the Yeoman Warders have homes for their families in the Tower. Here, a resident hangs the laundry out to dry only yards from Tower Bridge.
[/caption]
"Our international visitors are all different. Those from the Eastern European nations, who've just recently had the opportunity to travel abroad, have a tremendous amount of interest in researching history. The Americans tend to split pretty evenly. You get those who I sometimes wonder how they managed to find their way to the aircraft. They come with totally preconceived ideas. We suffer terribly from the fact that they've been watching Hollywood movies.
"I sometimes think that when people go on holiday they leave their brains at home. They ask questions like 'How often do your ravens die?' And I have to tell them 'Usually, only once.'"
But when the crowds drift away and the gates are shut, the Tower of London is home. The Yeoman Warders have their own social club, The Tower of London Club, for the families and their guests in the evenings. There's a bowling green down in the moat where the Middle Tower is. Their team of 15 or 20 people plays matches against visiting teams every Wednesday night through the summer.
"It's quite nice here in the evenings," Keohane said, "just to be able to walk around among the ghosts."
[caption id="GuardingtheTower_img4" align="aligncenter" width="1024"]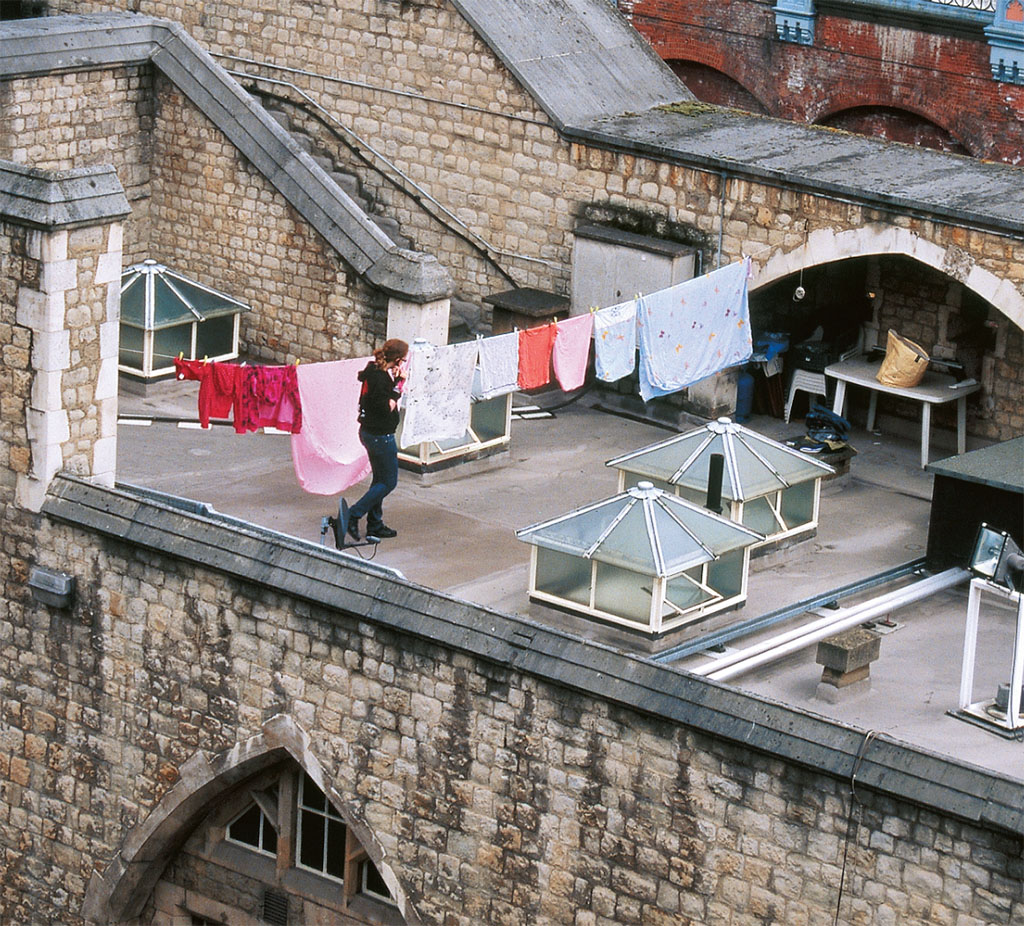 6
[/caption]
The Tower of London
Open daily from 9 a.m.
Admission: Adult £16.50;
Children £9.50
www.hrp.org.uk