Your family passport
[caption id="HiddenEngland_img1" align="aligncenter" width="1024"]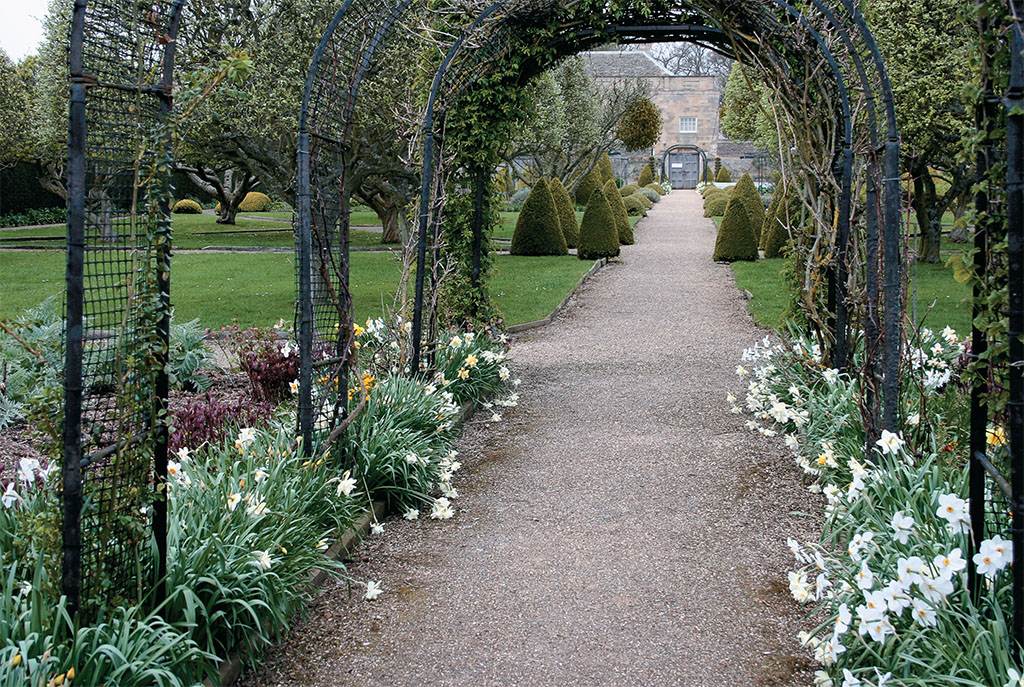 4
Wander in the gardens at Grimesthorpe Castle, or take a bike ride on miles of paths across 3,000 acres of parkland.
[/caption]
Hidden England. Is there really any such place left? Like the Sunday paper travel supplements and every travel magazine that covers Britain, British Heritage has sought to unpack those mythical hidden corners for decades. "Off the beaten path"and "Away from the tourist track" are themselves well-worn phrases by now. It seems sometimes we have poked and prodded every out-of-the-way and overlooked acre of this green and pleasant land from Cornwell to Northumbria.
But Hidden England is still delightfully there to be discovered in the East Midlands. Having planned and taken several family holidays to Britain with three young children, I have been long scouting for a place I could recommend to British Heritage readers as a great base for a family travel adventure—that would introduce all the charms of English history and life and provide activities for every interest and age group. Hidden England is the place.
The East Midlands is a region folks generally travel through en route to someplace else. It's the land you traverse from London to get to York, the Peak District or Scotland. Fewer than 3 percent of American visitors ever actually pay call in the counties of the East Midlands. And most of them visit the cathedral cities of Peterborough or Lincoln.
At the center of the East Midlands, tiny Rutland is traditionally England's smallest county. This is real "heart of England" countryside. During the local government reorganization of 1974, Rutland disappeared, carved up into its neighboring counties. The staunch citizens of Rutland's two market towns and couple of dozen villages refused to cede their identity, however, and after a long fight regained their independent county status in 1997. Rutland and its county town of Oakham are the spiritual pulse of Hidden England.
All the charms of of English history and life and activities for every interest and age group—in the East Midlands.
Spread out around the hub of Rutland over parts of five East Midland counties are a delightfully varied pantheon of castles, gardens, stately homes and sundry attractions all within easy driving distance across a rural countryside that is gentle driving. There are indeed attractions for the whole family and plenty of options form ore physical exercise. In fact, more than a score of these visitor destinations have come together and become Hidden England.
Led by six historic country houses, Hidden England is just the kind of commercial-nonprofit consortium that Britain is so accomplished at. Combining their marketing efforts multiplies the effectiveness of each member in promoting this very unspoiled and under-visited corner of England. Hidden England has made it fun and economical to plan a holiday visit with their own Hidden England Passport. Get your passport stamped, then receive two-for-one admission at all the attractions in the passport. Collect stamps in your passport as you visit for other discounts and rewards.
It all sounds very idyllic. But how do Rutland and the neighborhood straddling the old A1 between Lincoln and Peterborough measure up as a place to visit compared to the more popular destinations for American travelers? I spent several days exploring the country and getting Hidden England stamps in my passport. In the process, I realized how great a place this would be to bring kids, grandchildren and parents in any combination.
The jewels in the Hidden England crown are its great houses. Burghley House in Stamford is the grandest mansion of the Elizabethan Age. Doddington Hall, near Lincoln, was built in 1595 and has never been sold and is still a family home. West of Grantham, Belvoir Castle is the ancestral home of the Duke of Rutland.
Grimsthorpe Castle was actually built for a visit by King Henry VIII in 1541. It's been updated since and remains occupied by the family. Baroness Willoughby still lives here. The red deer in the park are descended from those Henry hunted during his visit. With its fine furnishings, tapestries and art, Grimsthorpe still struck me as farm ore livable than most such mansions.
[caption id="HiddenEngland_img2" align="aligncenter" width="1024"]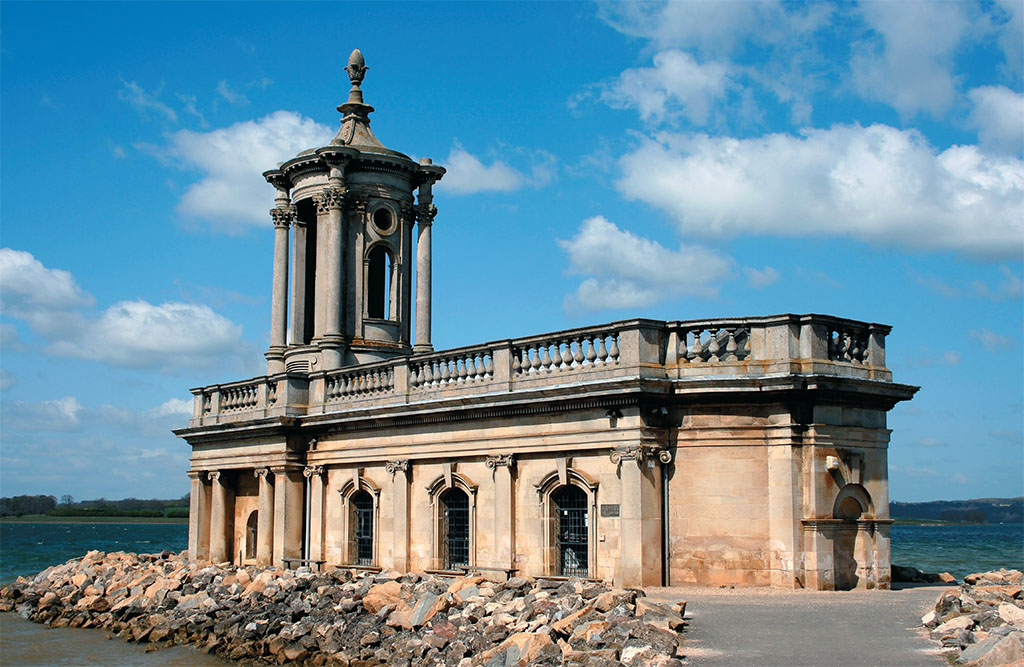 4
When Rutland Water was created in the 70s, Normanton Church was preserved high and dry on a causeway, and is now a museum of the lake and its creation.
[/caption]
Apart from touring the stately house, though, you and the family can also hire bicycles and cycle miles of paths across 3,000 acres of parkland, pastures, landscaped lakes and woodland. Others in the family may prefer to wander the gardens: rose parterres, ornamental kitchen garden, topiary yew squares, orchard and woodland walk.
I also visited Belton House, near the historic Lincolnshire market town of Grantham. As Belton House wasn't actually open the morning I paid call, the House and Collections Manager, David Fitzer, was kind enough to show me around. One of the greatest late 17th-century Restoration houses in England, Belton is a trove of beautiful interiors and British Museum collections of art and furnishings. To challenge and entertain younger visitors, there are clever, age-appropriate detective challenges to focus sharp eyes on their trail through the house.
At Rockingham Castle, near Corby, I was cheerfully guided through the public rooms and regaled with stories of almost 1,000 years of the castle's history since its construction on the orders of William the Conqueror in 1066. The castle has been in the Watson family for 450 years. I loved the panoramic views from the terrace overlooking the Welland Valley.
With all those stamps in my passport already, it was time for a change of pace. There is, after all, much more to Hidden England. The Rutland county town of Oakham offers all the best features of a market town. There are plenty of great options for lunch, a castle just off the market place with a historic collection of horseshoes and the county historical museum, all within a few well-tended blocks of shops, cafes and pubs.
At the edge of town lies the western shore of Rutland Water, the largest man-made lake in Europe (and one of the first, in 1976). The circumference of the lake is a picturesque 17-mile drive. At the eastern end is the earthen dam that contains the lake; the Oakham shore is a series of lagoons created to provide a habitat for water birds. This is the Rutland Water Nature Reserve. The area developed for the public is the Anglian Water Birdwatching Centre in the village of Egleton. Take the family birdwatching at one of the most important wildfowl sanctuaries in Great Britain. More than 20,000 wildfowl make their home on the 600 acres of wetlands and shallow lagoons. Walk the trails or peep in at England's first family of breeding ospreys in 150 years.
If you would like to explore Rutland Water in a more active vein, Rutland Cycling on the north shore can accommodate. They boast Europe's largest cycle hire fleet. A 25-mile paved biking trail surrounds Rutland Water. Best of all, the course is largely flat. This is a perfect place to work off all that excess energy. Take a few hours and ride the lakeshore, or plan a day and circuit the lake.
Whether you drive around Rutland Water or do it by bike, one stop ought to be Norman-town Church Museum. When the flooding of Rutland Water was planned, the Georgian parish church in the low-lying village of Normantown was spared by the creation of a jetty and short causeway to the shore. The church is now a museum of Rutland Water and its popular emblem as well.
Just up the road is Barnsdale Gardens, one of the most unusual English gardens I've seen. There are actually 38 different backyard-sized gardens, each created by the late Geoff Hamilton for the BBC television series Gardening World from1983-96. Presenter and master gardener Hamilton built them in what was his own backyard here in Rutland.
Here, gardeners can gain real inspiration, seeing what can be accomplished in limited space under different conditions and taking home practical ideas for their own gardens. From a gentleman's cottage garden to an ornamental kitchen garden, a town garden to a wildlife garden, every new encounter is unique.
Today, Barnsdale Gardens are in the capable hands of Hamilton's son, Nick, who continues the family business. He can't imagine doing anything else, and confesses, "I greet each day eagerly and love to work the gardens and to greet the people."There is also an excellent coffee shop and nursery.
Perhaps by now it's time to focus on Dad's interest. A few miles west of Melton Mowbray is the Belvoir Brewery. They are happy to oblige. This is English real ale at its source. There are brewery tours daily at 2 p.m. and 5 p.m. Tours, naturally, include samples of Belvoir beer. There is also a visitors center, family restaurant and resident pub for souvenirs or, eh, additional samples.
Among the Belvoir beers is Melton Red. It's a convoluted story, but the brew became the inspiration for the pithy expression"painting the town red."A bottle of traditional ale is conceded locally to go down particularly well with the other local specialties, Melton Mowbray pork pie and Stilton cheese.
We've just begun to scratch the Hidden England surface. Near Peterborough, there's the Nene Valley Railway for steam enthusiasts. Take a steam train ride through the Nene Valley or just enjoy the engines, roundhouses and the atmosphere at Wans ford Station. Visit The Hub in Sleaford, the UK's largest craft and design center outside of London, 17th-century Kirby Hall or Easton Walled Gardens. Take time to wander around the historic market town of Stamford, with its more than 600 listed buildings and five medieval churches. Those cathedrals in Lincoln and Peterborough are highly worthy destinations as well.
Hidden England will easily fill as much time as you can give it. Whether for two or three days or a full week's holiday, there is an ample wealth of interesting history, beautiful countryside and varied visits. The hospitality is wonderful as well. This is a relaxed, friendly neighborhood. These are rich, hassle-free days. Don't forget to get your passport stamped.
[caption id="HiddenEngland_img3" align="aligncenter" width="1024"]
4
In addition to its wealth of 17th-century furnishings and Grinling Gibbons woodwork, Belton House is also home to the National Trust's largest adventure playground for children.
[/caption]