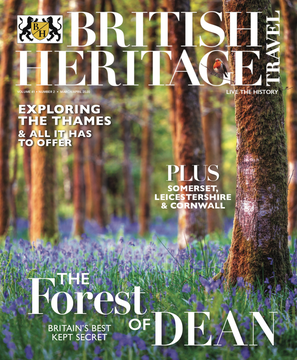 From the wonderland of the Forest of Dean to the Cornish coast and horrible histories of Britain, our March / April magazine is just out and jam-packed full of British history and travel inspiration.
Welcome to spring and to the latest issue of British Heritage Travel. In our March / /April issue we cast our attention forward and visit some of Britain's most stunning locations, all made that little bit better by bright days and sunshine.
Dana Huntley visits Somerset and Cornwall as well as shining a light on the attractions of the River Thames outside the capital. Scott Reeves explores the idea of dark tourism and by doing so revisits some of Britain's most gruesome and outrageous history. Sandra Lawrence shines a light on the London museums set to open over the next few years, while Sian Ellis visits the oft-overlooked Forest of Dean. We also travel to Northern Ireland, Scotland and Leceistershire - reminding ourselves that Britain really is bursting with history and culture.
If you'd like to subscribe to British Heritage Travel's bi-monthly print magazine or gift to an Anglophile in your life click here to sign up.
Take a look inside the March/April 2020 issue of British Heritage Magazine:
- Take ten: Dana Huntley explores all the Thames has to offer, once you leave London behind
- A day well spent: Siân Ellis visits the Forest of Dean
- Exploring Cornwall: Dana Huntley explores the Cornish coast and researches the history of the Cornish pasty
- Two kings: Sandra Lawrence looks at the tale of the Field of the Cloth of Gold
- Somerset: Dana Huntley heads to the South West and explores what Somerset has in store
- Around town: Sandra Lawrence looks at London's newest and brightest museums - some new and some that aren't even open!
- Dark history: Scott Reeves looks at Britain's most gruesome history
- Leicestershire: Susie Kearley discovers there's more than just Richard III to the town of Leceister
- Rosslyn Chapel: Forbes Inglis looks at the history of the infamous Rosslyn Chapel.
Subscribe to British Heritage Travel's bi-monthly magazine here.