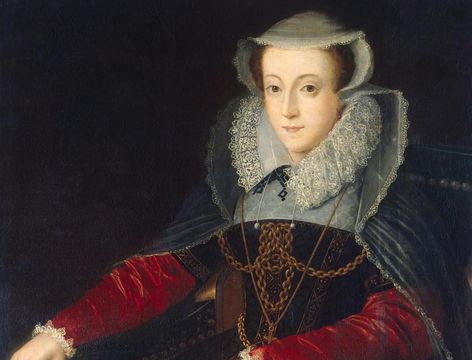 Was Mary Queen of Scots involved in the murder of her husband Lord Darnley?
Mary, Queen of Scots, was barely one week old when she succeeded to the throne in 1542. The murder 25 years later of Henry Lord Darnley, her consort and the father of the infant who would become King James I of England and James VI of Scotland, remains one of history's most notorious unsolved crimes.
On a Sunday morning in February 1567, Darnley lay sleeping on the upper floor of an Edinburgh house known as Kirk o' Field. For weeks he had rested there, convalescing from either smallpox or syphilis. Across the city, Queen Mary and the baby prince were safely ensconced at Holyrood House. Unknown to Darnley and perhaps unknown to Mary, miscreants had for some time been packing the cellars of Kirk o' Field with enough gunpowder to blow the structure to smithereens. And at around 2 am the building exploded, a blast heard and felt throughout Edinburgh.
According to Scottish historian Magnus Magnusson, nothing was left of the building. But, in an adjoining garden beside a pear tree, townsmen found Darnley's nightgown-clad corpse. Curiously, he appeared not to have been killed by the explosion but by strangulation. Magnusson speculates that Darnley had tried to escape just before the blast but had been intercepted by his murderer before he could flee.
Complying with royal protocol, Queen Mary observed 40 days of official mourning for her husband. But rumours circulated that Mary's widow weeds were woven discordantly with threads of insincerity. With Darnley's death, she had, in fact, become a widow for the second time. If her two-year marriage to Darnley had been brief, so too was her earlier marriage to the Dauphin of France. That union had lasted only two and a half years before the Dauphin, who had become King Francis II upon his father's death in 1559, died at age 16 from complications of an ear infection.
A brief history on Mary Queen of Scots
Mary was 18 when she returned to her homeland from France, her youthfulness belying the royal ambition that consumed her. If, when shipped off to France some years earlier, she had been nothing more than an innocent political pawn in the game of royal power-grabbing, she returned with her own shrewd agenda for Scotland.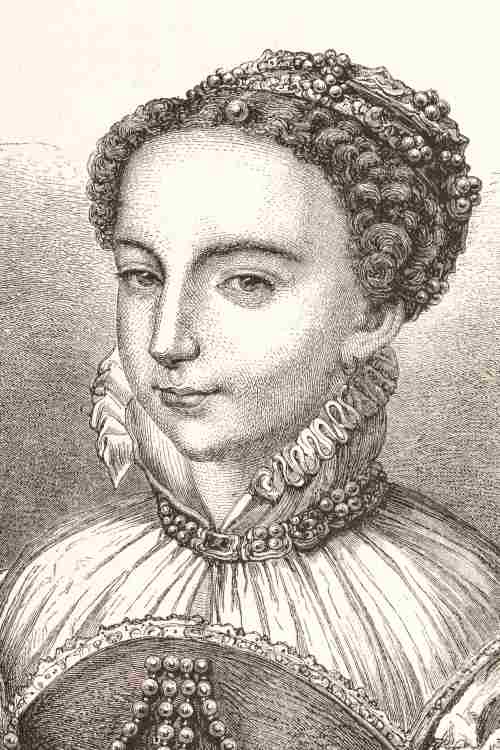 2
Scotland's renowned 19th-century man of letters, Sir Walter Scott, after noting that Parliament in 1560 had declared Scotland a Protestant nation, wrote about Queen Mary's return home:
Her youth, for she was only 18 when she returned to Scotland, increased the liveliness of her disposition. The Catholic religion, in which she has been strictly educated, was a great blemish in the eyes of her people...
Predictably, the religious issue became an obstacle in Mary's reign, and she recognized immediately that in order to avoid rebellion she would reconcile the interests of her Catholic and Protestant nobles. Though she continued to practice her Catholic religion privately, she scrupulously showed no favors to her fellow Catholics. She did not ratify the Reformation Act of 1560, but she made no attempt to revoke it.
Following her return, the royal court was once again, according to Magnusson, the focus of the cultural life of the kingdom. He describes it as: "a glittering, cosmopolitan Renaissance court in the style of ... Mary's French in-laws. It was crowded with scholars, poets, artists, and musicians. There were much dancing and merry-making, much playing of billiards, cards, and dice late into the night, and much riding and hunting during the day."
Magnusson imparts, too, that Mary's life was not all frivolous. She read poetry, history, and theology in several languages. And like most noblewomen of her time, she busied herself with embroidery and played the lute and the virginal.
For a time Queen Mary seemed in control of her realm, circumspection, and intelligence consistently informing her royal decisions. Yet when it was time to remarry she made a costly mistake in her choice of a mate, settling on her first cousin Henry Stewart, Lord Darnley, son of the formidable Earl of Lennox. Both Mary and Darnley were great-grandchildren of Henry VII of England, and they both had Tudor and Stuart blood in their veins. Darnley, indeed, was close in line to the thrones of both England and Scotland.
It was not only, however, the impeccable royal lineage that made him attractive to Mary; she had fallen in love. Sir Walter Scott gives us a realistic portrait of the object of Mary's affection:
Young Darnley was remarkably tall and handsome, perfect in all external and showy accomplishments, but unhappily destitute of sagacity, prudence, the steadiness of character, and exhibiting only doubtful courage, though extremely violent in his passions.
Mary's regret over her marriage to Lord Darnley
Time would prove to Mary that Darnley's beauty and courtly accomplishments were only skin deep. At the core, he was, in Magnusson's words, "shallow, vain, weak, indolent, selfish, arrogant, vindictive and irremediably spoiled." In addition, he was a Lennox, a family with countless enemies both in Scotland and England.
Against the advice of her nobles and in spite of Queen Elizabeth's expressed displeasure, Mary wed Darnley in July 1565. But as predicted, the bridegroom's dissolute lifestyle soon angered her, causing her, of course, to second guess her decision. Most nights he roamed the streets of Edinburgh with low-life companions in search of women. He failed to participate in the business of the royal court.
Lord Darnley's jealousy causes another murder
Less than a year after the wedding, Darnley, unhinged by immature jealousy, became involved in the murder of David Rizzio, his wife's private secretary. Rizzio had come to Scotland from Italy some years previously on a diplomatic mission but remained at the Scottish court as a lute player, singer, and subsequently, as Mary's assistant. The more outraged Mary became over her husband's stupidity and lewd behaviour, the more she looked to Rizzio for consolation. At the time she and Rizzio were close, many Scottish Protestant lords were discontent with Mary's rule. Some of the nobles claimed that Rizzio was a secret agent of the Pope and had usurped their proper places beside the Queen. They easily cajoled the gullible Darnley into believing that Mary and Rizzio were sexual partners, an accusation that historians have found implausible. (At the time, Mary was six months pregnant with Darnley's child.) They persuaded him to take part in a plot to murder the Italian.
On the night of Saturday, 9th March 1566, Rizzio was dragged screaming from Queen Mary's side at her supper table in Holyrood House and stabbed some 56 times before life drained from his struggling limbs. It is unclear whether Darnley himself did the dragging or the stabbing or whether one of his henchmen performed the actual slaughter.
Amazingly, Mary forgave - or at least pretended to forgive - Darnley and cleverly managed to sever him from the group of treasonous nobles who had masterminded the Rizzio assassination. With Rizzio still fresh in the minds of the court, another threat to Darnley's fragile self-esteem soon took centre stage. James Hepburn, fourth Earl of Bothwell (a committed Protestant himself), rushed to Mary's aid in putting down a rebellion of Protestant conspirators.
Bothwell was Lord Admiral of Scotland, and although he possessed a reputation for bravery, he was also known to be lecherous, brutal, and power-hungry. Mary regarded him as her saviour, and he quickly became her most trusted advisor.
By the time Mary gave birth to Lord Darnley's son in June 1566, her husband had backslid into a life of debauchery, neglecting his royal duties and displaying a sullen resentment towards Mary's relationship with Bothwell. His disappearance from court prompted talk of a possible annulment of the royal marriage. But when the Queen learned he was seriously ill in Glasgow, she traveled to his bedside and later arranged for a horse litter to carry him back to Edinburgh to convalesce at Kirk o' Field. For months Mary had spoken of her husband with nothing but contempt, and the gesture was out of character.
Who did kill Lord Darnley?
While there is no definite answer to the question of who murdered Lord Darnley, most historians agree that Bothwell - with or without Mary's complicity - concocted the plot. A house explosion, which gave the crime such flagrant overtones and which scandalized all of Europe, was significant; a disintegrated building would cover tracks, making it impossible to prove anything. To be sure there was no direct evidence establishing Bothwell as the murderer, but for those associated with the royal court, it was only too easy to guess. Bothwell was a ruthless opportunist aiming at nothing less than the kingship of Scotland.
Typical of the era, the events following Darnley's murder were dramatic, ruthless, and bloody. Bothwell kidnapped, raped (so Mary claimed), and married the Queen. Predictably, within days of the wedding Mary was reduced to suicidal despair by Bothwell's abuse. Yet her willingness to marry Bothwell was not as absurd as it might seem. In spite of all she had been through, Mary remained politically astute. In the political power game playing out around her, she needed a strong ally to protect her from rebellious noblemen. Indeed, Bothwell notwithstanding, less than a year after Darnley's death the Scottish lords forced Mary to abdicate and flee to England. For the next two decades, she was held prisoner by Queen Elizabeth I and finally executed in England at Fotheringhay Castle in 1587.
There is no hint of any culpability on Queen Mary's part in regard to the Darnley murder in Sir Walter Scott's romantic epitaph:
Thus died Queen Mary, aged a little above 44 years. She was eminent for beauty, for talents, and accomplishments, nor is there reason to doubt her natural goodness of heart, and courageous manliness of disposition. Yet she was in every sense one of the most unhappy Princesses that ever lived, from the moment she came into the world, in an hour of defeat and danger, to that in which a bloody and violent death closed weary captivity of 18 years.
* Originally published in June 2018.