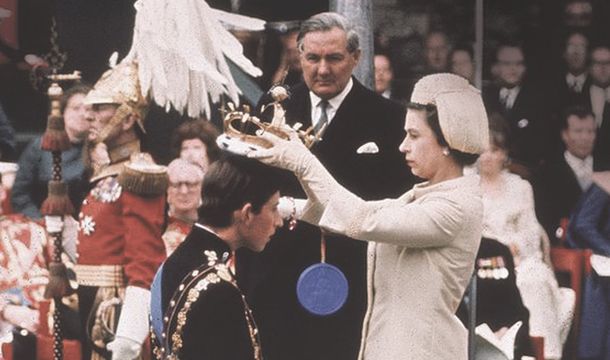 On Feb 7, 1301, the son of King Edward I of England, Edward of Carnarvon, became the first English Prince of Wales. Here we map out the history, swashbuckling exploits and symbolic splendor of the role once carried out by King Charles, Queen Elizabeth's eldest son, and now today his son Prince William.
It made glorious theater as the Queen, watched by 4,000 guests within the medieval walls of Caernarfon Castle (and millions more on TV) invested her first-born son, Charles, as Prince of Wales on July 1, 1969.
Having conferred on Charles the insignia of the Principality and Earldom of Chester, a sword, coronet, mantle, gold ring, and gold rod, Her Majesty proceeded to the castle gate to present The Prince of Wales to the crowds in the square below.
The scene oozed with symbolic splendor—and no little irony. As visitors to the pumped-up north Wales fortress know, England's King Edward I built 13th-century Caernarfon as one of his Iron Ring of castles to subdue the Welsh. It was on these battlements in 1284, so the tale goes, that he pacified anti-English crowds below by promising them their own Prince, born in Wales and speaking no word of English. He then presented them with his baby son (also called Edward), who, babbling aside, could speak no language at all. Thus, rather craftily, the first English Prince of Wales was created.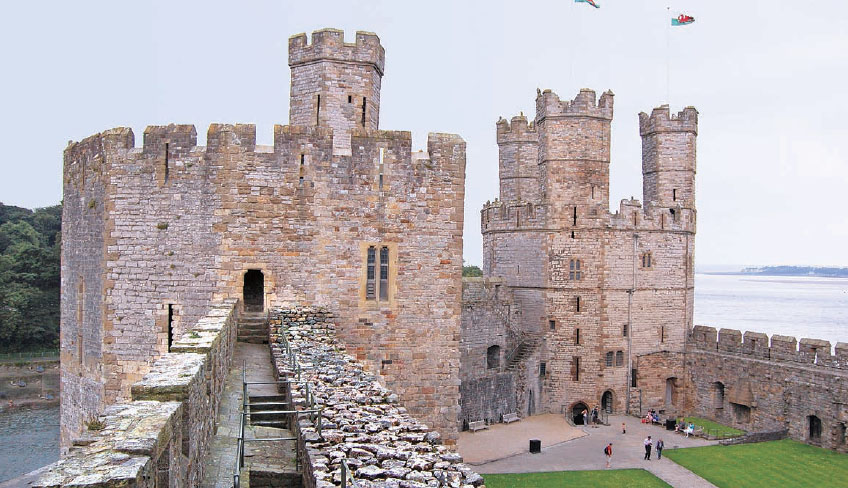 9
It is a great tale—but apocryphal. King Edward's son may have been born in Caernarfon, but he has created Prince of Wales at age 16 in 1301 in Lincoln. The legend nevertheless endures as an expression of resentment, in some Welsh quarters at least, towards the Prince of Wales title. In 2018, Charles, 21st "official" Prince of Wales since 1301, became the longest incumbent, pushing Queen Victoria's son Bertie into second place—Charles actually received the title as a 9-year-old in 1958; the 1969 investiture was public icing on the cake.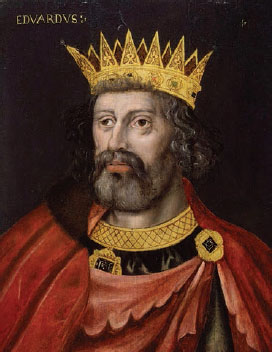 9
Before King Edward's exploits, the area we now know as Wales had become dominated by three great principalities: Deheubarth in the southwest, Powys in mid-Wales and, the most powerful, Gwynedd in the north. You can immerse yourself in the rugged world of medieval Lords and Princes at castles like Cardigan, Carmarthen, Criccieth, Dolbadarn Dolwyddelan and Castell y Bere. The latter four, in Gwynedd, were built by Llywelyn ap Iorwerth—also known as Llywelyn Fawr or Llywelyn the Great, who very nearly succeeded in uniting Wales under one single ruler. In the end, it was his grandson, Llywelyn ap Gruffudd, who proclaimed himself Prince of Wales in 1258, a title also is given official English recognition by Henry III in the Treaty of Montgomery (1267); in return, ap Grufudd was expected to pay homage to England's King.
The brittle relationship soon fractured. Ap Grufudd, or Llywelyn the Last, as he became known, refused to pay homage to Henry's successor, Edward I, on five separate occasions. For his part, Edward imprisoned Llywelyn's intended bride, Eleanor de Montfort, daughter of Simon, who had fought the second Barons' War against Henry. Tensions grew; swords clashed; an uneasy truce was brokered; Llywelyn and Eleanor married. Then in 1282, the situation exploded into war. "We fight because we are forced to fight, for we, and all Wales, are oppressed, subjugated, despoiled, reduced to servitude by the royal officers and bailiffs," Llywelyn raged.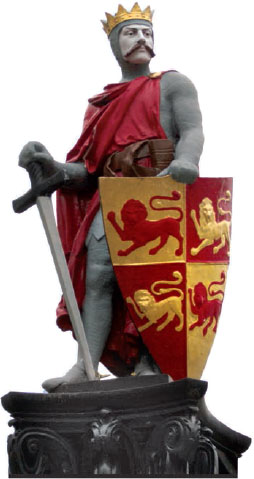 9
Despite early Welsh successes, Llywelyn was killed near Builth Wells in December 1282 and his brother Dafydd later met his death in the mountains of Snowdonia. The dream of a united, independent Wales was crushed. Further revolts were quashed and Edward I exerted his ferocious stranglehold on North Wales by building his Iron Ring of castles—each a spectacular visit in its own right: Caernarfon, Conwy, Harlech, and Beaumaris. English systems of administration were imposed, and by 1301 there was an English Prince of Wales.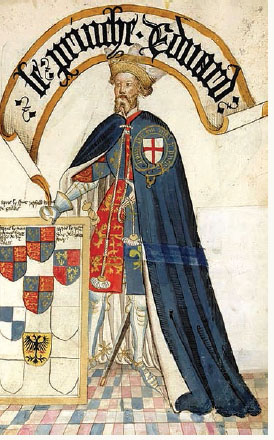 9
Quite what being Prince of Wales meant was at first unclear. When Edward I's son acceded to the throne as Edward II, he did not pass his Welsh title to his son; indeed, to this day, the Prince of Wales title officially merges in the Crown on the holder's accession to the throne and is renewed only at the sovereign's pleasure.
From an administrative point of view, taxes and rents payable by the people of Wales to the English Crown originally became the property of the Prince of Wales, and a council was set up to help the Prince run the show. You can explore its former meeting place at the medieval border castle of Ludlow. In modern times of constitutional monarchy and parliament holding the purse strings, revenues from Wales no longer fill the Prince of Wales's pockets.
The second English Prince of Wales (created 1343) was Edward I's great-grandson, Edward the Blank Prince, and it's from his time that the badge of the Prince of Wales's feathers emerged: ostrich feathers being used by the family of Edward's mother, Philippa of Hainault, although the badge's motto, Ich Dien (I Serve), formed part of the arms of the King of Bohemia! The 12-year-old prince was also presented with a "sertum" (coronet), presaging the regalia of later investitures.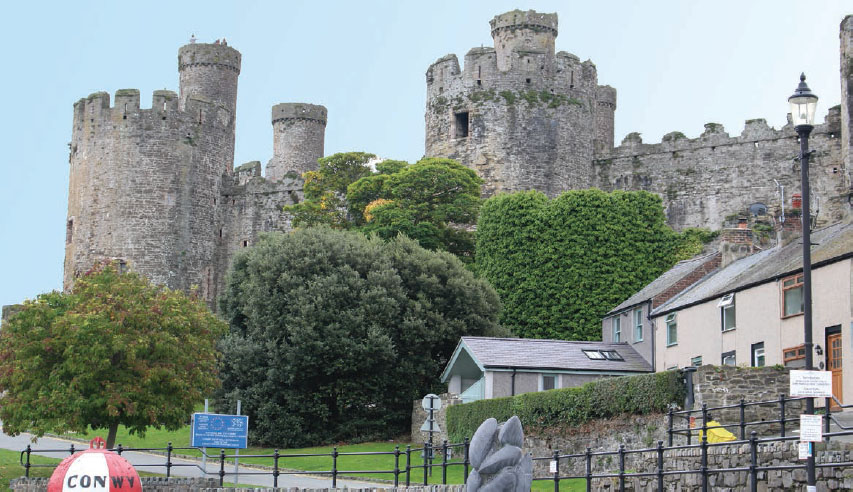 9
By the time Henry of Monmouth became fourth Prince of Wales in 1399—the second of only two in the re-created line to be actually born in Wales—native unrest was ready to ignite into war again. The rebellion of Owain Glyndwr, crowned rival Welsh Prince of Wales in 1404, was unpacked in BHT(May/June 2017) and is the focus at the Owain Glyndwr Centre on the very site of his parliament in Machynlleth, mid Wales.
Drop in to view displays that bring to life the torrid years when Glyndwr, channelling Arthurian legends of mab darogan, the "son of prophecy," who would throw off the Saxon/English yoke, united Wales and very nearly triumphed. Equally charismatic and a brilliant soldier, Henry of Monmouth, the future Henry V, helped defeat Glyndwr's campaign, not least by recapturing Harlech Castle, where the rebel had set up headquarters. On the run, Glyndwr, last Welsh Prince of Wales, vanished into the realms of legend.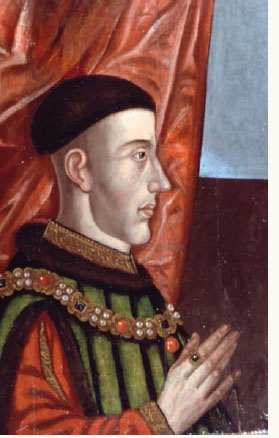 9
This Arthurian idea of the "son of prophecy" was later seized on by the Tudors, and towering Pembroke Castle—spared from Glyndwr's rampages because the constable bought him off—holds the key to our next episode. For it was here in 1457 that Harri Tudur was born. More widely known as Henry VII, victor of Bosworth Field in 1485, Harri was keen to bolster his right to the throne and claimed descent not only from Welsh Princes and King Arthur, but also from Cadwaladr the Blessed, 7th-century King of Gwynedd: one of several heroes named in the legend who would return to reestablish native order. For good measure, Henry named his first son Arthur, Prince of Wales, but Arthur died of consumption at Ludlow Castle—and the title passed to his younger brother, Henry.
Over the next centuries, as Acts of Union brought Wales and England closer together, and parliament diluted monarchy's powers and the Prince of Wales title became increasingly ceremonial rather than administrative. But Queen Victoria's affable playboy son, Bertie, was held insufficient esteem for the anthem, "God Bless the Prince of Wales," to be written to mark his marriage to Alexandra of Denmark in 1863.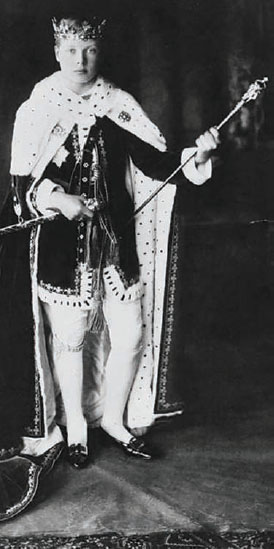 9
Bertie's grandson Edward (who would later abdicate as King) was also popular for the concern he showed for industrial working-class areas like South Wales. The "Welsh Wizard," David Lloyd George, Chancellor of the Exchequer and sometime Prime Minister, proposed a public investiture—the ceremonial had long since fallen into abeyance—and it took place at Caernarfon Castle in 1911. Edward, Prince of Wales, invoked his Tudor descent as evidence of his Welsh bonds, while privately complaining about the "preposterous rig" of fur-trimmed, purple velvet surcoat and white satin knee-breeches he was obliged to wear.
Today Charles, too, lays emphasis on his descent via the Tudors from the original princes of Wales. He even has a special Standard for Wales based on the Arms of Llywelyn ap Gruffudd, which is used on his annual summer tours of the country ("principality," though widely used to describe Wales, has become spurious as it is no longer ruled by a Prince). The Prince of Wales' role, meeting and greeting, visiting and opening venues is easily dismissed as for show. But it is also part of the royal charm offensive that helps to keep the kingdom united. And—pace Llywelyn, Glyndwr, and their latter-day supporters—the Tudors did fulfill the bards' tales of mab darogan.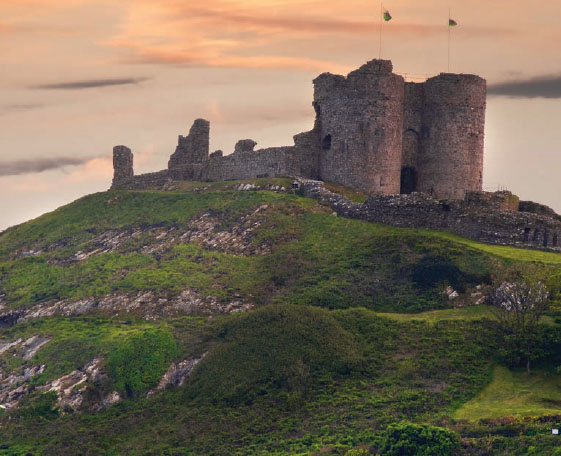 9
* Originally published in May 2018.