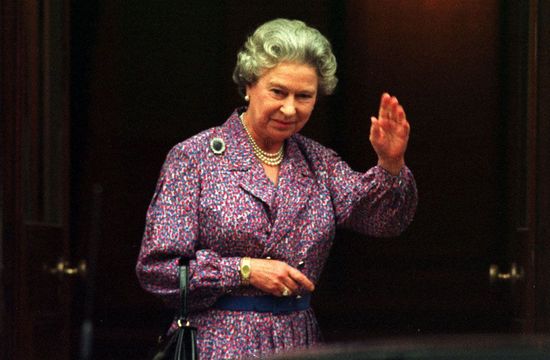 On Oct 17, 1994, Queen Elizabeth II became the first ruling British monarch to set foot on Russian soil.
As the eyes of the world are on Russia and the invasion of Ukraine, which has caused I migration of refugees unlike anything seen since World War II, we thought it interesting to look back at the October 1994 of Queen Elizabeth II to the Kremlin, by invitation of the then Russian President Boris Yeltsin.
In 1994 the Queen made a three-day visit to Russia. Three years before had seen the dissolution of the Soviet Union, when Yeltsin took office. His hope was that Her Royal Majesty's visit would strengthen the trade relationship with Britain and the Western World. 
Yeltsin's spokesman, Vyacheslav Kostikov, said at the time "We realize that the British queen would never have visited a Communist country."
Personally, 1994 was also a difficult time for the Queen personally as her son, Prince Charles, had separated from Princess Diana, just two years earlier. A biography of the Prince, by Jonathan Dimbleby, had caused a media frenzy over comments made by Charles with relation to his relationship with his mother and father, Prince Philip. 
The Queen and Prince Philip landed in Moscow on Oct 17, 1994. They were then taken to the Kremlin where they were greeted by Yeltsin and his wife, Naina. The Royal pair were also treated to a special performance of the Bolshoi Ballet.
The climax of the tour was a state banquet given on the final evening by the Queen aboard the royal yacht Britannia which had sailed to St. Petersburg to meet the royal party. 
They left Russia on Oct 20 and broke the journey home by visiting Finland. 
Since 1994 some members of the Royal family have visited Russia, including Princess Anne. She visited in 2016 to mark the 75th anniversary of the first Arctic convoys from the United Kingdom during World War II. Prince Charles also Russia in 2003. This visit resulted in a return invitation to President Vladimir Putin to visit Britain later that year.
Check out some AP footage of the Queen having dinner at the Kremlin: