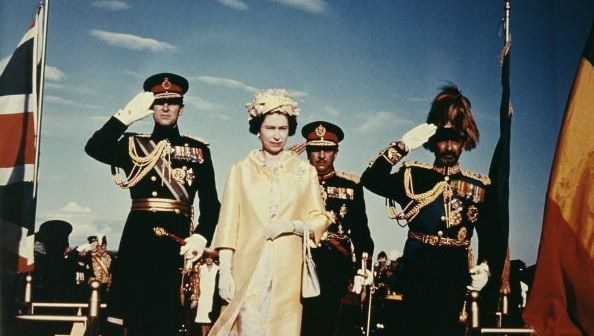 Have you seen this amazing footage of Queen Elizabeth II and Prince Prince Philip's official state visit to Ethiopia, in 1965?
Ordinarily, in modern times, the Royal Family spends a huge amount of time travelling around the world visiting dignitaries and building relationships.
In 1965 however, international travel was not as easy as it is today, so for Queen Elizabeth and Prince Philip, their trip to Ethiopia was a huge occasion.
It is certainly fair to say that all the stops were pulled out for the Royal visit, as swaths of people came to try and catch a glimpse of the Queen.
Queen Elizabeth was greeted by Emperor Haile Selassie, who showcased the crowds dancing in the street upon her arrival.
Have a look at the footage below, courtesy of British Pathé:
British Pathe describes the film as follows:
"Intertitle: "A film record of the Queen and Duke's visit to Ethiopia".
"...Various shots of Queen Elizabeth II and Emperor Haile Selassie visiting some waterfalls, Duke of Edinburgh (Prince Philip) is also present. Various shots Queen, Duke and Emperor watching tribal elders perform ceremony from dias. Various shots Queen visiting large church, where men are in ornate robes and women wear white headdresses. Various shots Queen in Eritrea where crowds dance in street and brass bands play. Queen drives through a city in open-topped car."
The Royal Watcher states: 
"The Queen and Duke of Edinburgh on a State Visit to Ethiopia... where they were hosted by Emperor Haile Selassie of Ethiopia, where they saw some waterfalls, watched tribal elders perform a ceremony from the dias, visited a church, drove through large crowds in open-topped cars, and attended two glittering State Banquets hosted by the Emperor (wearing the Order of the Garter), at which the Queen wore Queen Alexandra's Kokoshnik Tiara and the Girls of Great Britain & Ireland Tiara with the Order of Solomon."
* Originally published in Nov 2019.