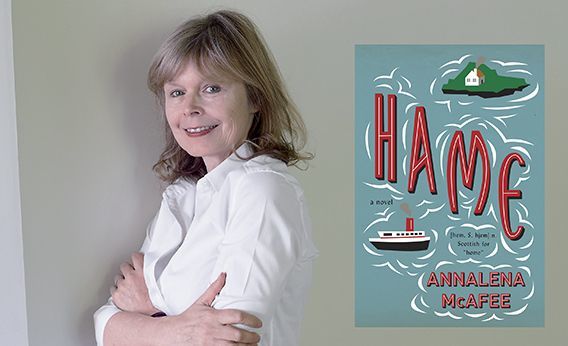 At the heart of McAfee's latest novel is poet Grigor McWatt, the English-hating, otter-owning Scottish nationalist and the bard of Fascaray, a remote Hebridean island dense with Caledonian lore. "A palimpsest of Scottishness," writes The Guardian. Though she lives in London with her husband (writer Ian McEwan), McAfee spoke to BHT while visiting the land of her novel Hame, which, appropriately, is the Scottish word for "home."
British Heritage Travel: Mhairi McPhail, a historian of Scottish descent, leaves Brooklyn to research the recently deceased McWatt—why did you want that character to come from America?
Annalena McAfee: I'm interested in the notion of the Diaspora: that history, and that terrible tragedy of the Clearances that emptied the islands and sent the poor across the Atlantic. I'm part of a smaller, more local diaspora—from Scotland to London. The notion of identity…well, Americans are more attuned to that than most, so I thought that would be a good starting point.
[caption id="" align="aligncenter" width="549"]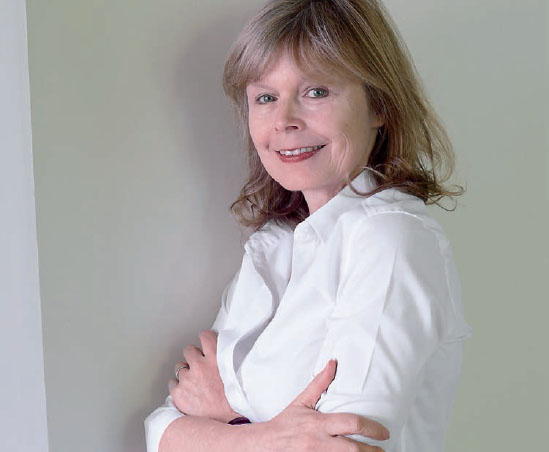 3
Annalena McAfee, Author of Hame, on her Love Letter to Scotland[/caption]
BHT: She partly gets the job because she's descended from the "Fascaray Five." That's based on real history, right?
AM: The Knoydart Seven. [Seven ex-servicemen who attempted the last Scottish land raid against Nazi sympathizer Lord Brocket in 1948.] It's taken directly from that extraordinary story. My mother was a girl in Glasgow and remembers the collections for the court case of the Seven Men of Knoydart. I wanted to honor them.
BHT: You draw and reflect on real history with your own fictional versions in that way throughout the novel.
AM: Yes, indeed. Part of the pleasure was making this stealth history of Scotland—and making Fascaray into a Scotland in miniature—so all of the country's geology, history and culture is contained within this small, imaginary place.
BHT: Few novels require a bibliography (with both real and fictitious sources) or an index filled with Scottish recipes or a glossary of Scottish terms. You did so much world-building and historical research.
AM: It was a pleasure to immerse myself. Because of work, and now marriage, I live in the south, in England. Since I can't be in Scotland, I invented this Scottish island from the seabed up and poured everything I knew and loved about Scotland into it.
BHT: Can you tell us about some of your favorite Scottish terms?
AM: Both my parents spoke Scots at home. It was like a private language. What is scunner? You are "scunnered" by something. Disgusted. Thrawn is a wonderful word, I think. It's in the book, which means it's a kind of perverse stubbornness. Perverse obstinacy. There are some more scatological. It can be quite scatological, so cludgey for lavatory. There's a wonderful word I found trawling the dictionaries, actually, to extend it. Katerzem, which is a parasite, someone who is willing to go to a social event at the drop of a hat. It's a very, very rich vocabulary. In fact, Hugh McDermott called it "a marvelous, Dostoyevskian debris." There's a wonderful 19th-century dictionary in which one can plunder with great pleasure. Words for weather are fantastic, and again, they seem to be onomatopoeic. Feefle, for a small drift, swirl of snow. Many words I love, and that we used to use at home.
BHT: The "mither tongue" you write about, that's "mother tongue," right? Stupidly, it actually took me a while to put that together!
Annalena: No, it's very complicated, and I keep having to explain it in England, and certainly will in America. There are four main dialects in Scotland, and there is a lobby that refers to them as languages. Four main languages. They have a relationship with each other. There are ten sub-dialects.
BHT: Sounds complicated.
AM: Some people argue that they're incompatible. There's a dialect in the northeast called Doric, which has more Norwegian or Scandinavian learned words than the dialect of the southwest. But broadly, all these particular regional languages or dialects are known as Scots, and they all actually have a root in English or German. They have the same grammatical basis.
The ancient language of Scotland is Gaelic. [Editor's note: Irish and Scottish Gaelic have diverged sufficiently to be considered different languages.] It's the true ancient language. It is spoken by 1.1% of people, and it's a very difficult language. I know this because I've been studying it. But it is a marvelous treasury of song and poetry, which is why I felt the need to study it. But in Scotland, it's now recognized. There are three official languages: Gaelic, English, and Scots. As they say, Scots is a very broad church indeed.
BHT: Grigor McWatt is influenced by many famous Scots. Tell us a few?
AM: Well, Hugh MacDiarmid, the Scots nationalist. A very curmudgeonly figure, he was expelled from the Scottish Nationalist Party for being a communist and expelled from the Communist party for being a nationalist. In terms of his writing, George Mackay Brown, the great Orcadian poet who was very much a man of his island. And Gavin Maxwell, a naturalist who had this strange plan and ambition to raise otters that were actually brought over from Iraq to the Highlands. I borrowed from those, but they're just part of Grigor.
BHT: The intertextual narrative has so much about history and language and identity. Yet there's also just a great appreciation for that land.
AM: Absolutely! I've traveled a bit, but I just think the majesty of the mountains, the lochs, the West Highlands—it is unbeatable. I wanted to celebrate that too. It's a love letter to Scotland, which, in my very partial view, is the most beautiful country in the world—midges aside.
BHT: I'm excited so try some of the recipes in the book.
AM: Some of them are from childhood. Some of them are in the appendices, but I also wrote the song that made McWatt his money. When I finished with the book, I thought, "I'm not done with this. I'm really not done with this," so I wrote the music. I play the piano a bit. I wrote the music. And then a friend said, "Let's record it!" So we have recorded the "Hame tae Fascaray" song. I play the penny whistle.
The other thing is, I went to Lochcarron Weavers in Scotland, and we designed a Fascaray tartan, and it is now officially registered with the Scottish Tartan Authority. There we go! Now Fascaray's got its own carbon-based CD and its carbon-based tartan to make it real!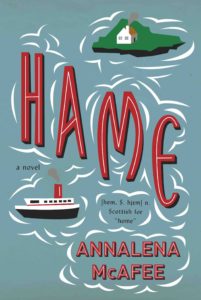 3
Hame, published by Knopf, goes on sale September 12. You can also buy the CD with music from the novel and the tartan that celebrates McAfee's fictional Hebridean island of Fascaray.