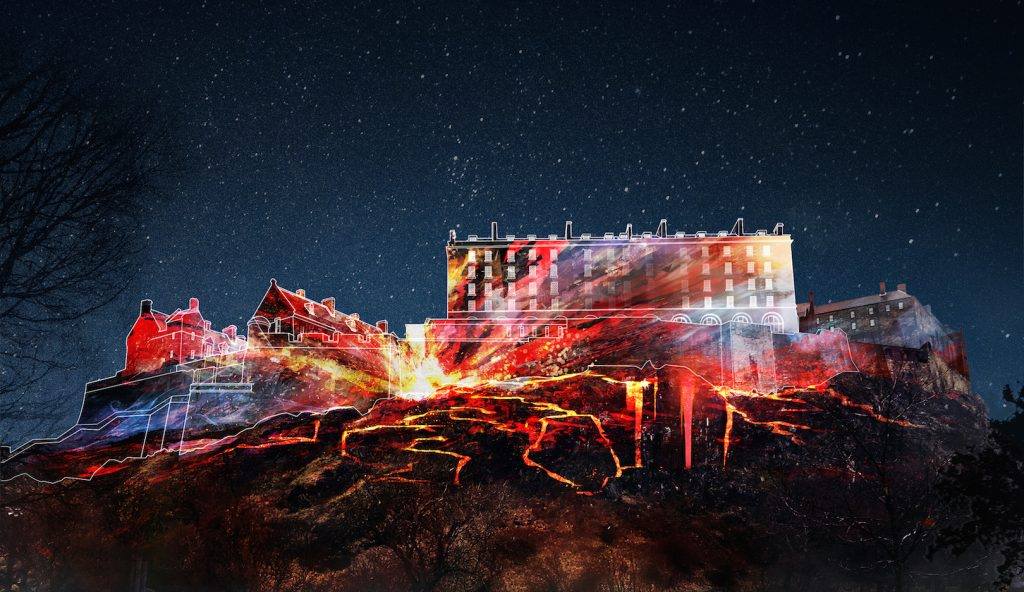 Even among Edinburgh's many amazing August festivals—including the Fringe, Book, Film and Tattoo—the International is a stand-out with some of the most fully realized, rewarding productions from around the world—yet director Fergus Linehan won't quite admit it's the smartest. "There's lots of 'smart' to all the festivals...That's the joy of Edinburgh in August—that no one festival is exclusive in that sense. The span across the performing arts, that's what makes Edinburgh different from every other festival in the world," argues Linehan, though he will agree the artists the International finds are extraordinary. "But it's not about stardom for the sake of it, just people who are excellent in their field. Whether you've got a mezzo-soprano like Cecilia Bartoli, or an actress like Cherry Jones, or a dancer like Natalia Osipova, it's about seeing those at the top of their game, what I call a mature aesthetic; they've found the clay they want to work with."
Just a few days before kicking off the season's first show, Linehan spoke with BHT about the big events, finding the right mix and what he's excited to see next.
British Heritage Travel: Your big opening night event, Deep Time, is just a few days away. The light show sounds amazing. 
Fergus Linehan: This year we've chosen a bigger canvas, which is Castle Rock and [Edinburgh] castle. What we're doing is creating a mapped animation, which is to do with the idea of deep time, which is a concept which can, as of the Enlightenment here in Edinburgh, which was the realization through geological study that we've been on the planet much longer than people had thought. That sounds quite dry, but it's actually done in this very spectacular way, about the geology of the city, and about how the geology of the city informs the thinking in the city. It'll be for about 30 or 40,000 people. It's very spectacular, very beautiful. What is involved is probably the biggest actual projected artwork ever attempted, in terms of the amount of square meterage we're trying to cover, which will be about 20 minutes long.
[caption id="attachment_13701756" align="aligncenter" width="702"]
5
Standard Life: Opening Event Deep Time © 59 Productions 9[/caption]
BHT: It doesn't sound dry at all. It actually sounds incredibly interesting. Is it fair to say that the International Festival is the smartest part of festival season or maybe the most challenging?
FL: There's lots of "smart" to all the festivals The Book Festival is very smart as well. I think one of the differences between the International Festival and some of the others is that we have the luxury of planning time and we have complete control over our projects. We can plan something an entire year in advance. Those very large complex projects, we have the man power and the resource to be able to do those. There are other incredibly nimble projects around the Fringe, which are extraordinary, but they obviously have to have a kind of flexibility and nimbleness about them. I think that's the joy of Edinburgh in August, is that no one festival is exclusive in that sense, and people like to move across all of the festivals. Something like a major opera, which would take three years of planning, can exist in August alongside incredible tiny productions from different places in the world next door. What's different between Edinburgh and all the other festivals in the world is the span across the performing arts. I think it's second to none.
BHT: Well, the International is my favorite part. The Fringe is amazing, but there's something about an ambitious, controlled, presented theater experience.
FL: Yeah, I think so. It's a delicate balance. People definitely would like to be guided through, especially when there's so much choice. We're always careful with that as well, or we try to be careful, and I think all the festival is quite respectful of each other. Sometimes we're commissioning something, so we can't guarantee that it's going to work, but I think that the idea that something which is of real scale and import internationally is part of that offering I think makes a lot of sense. I think the festivals really do rely on each other. People assume that perhaps we're in competition with each other, but actually the opposite is the case.
BHT: I saw Antigone, The Encounter, and 887 last august. All amazing! What are you looking forward to this year?
FL: I'm really looking forward to The Glass Menagerie. It's really beautiful. What else am I looking forward to? We obviously are going across different art forms.
[caption id="attachment_13701757" align="aligncenter" width="702"]
5
The Glass Menagerie cast L to R Seth Numrich, Cherry Jones, Kate O'Flynn and Michael Esper[/caption]
BHT: Talking about Cherry Jones [the star of that show], you always get incredible theater celebrities. There are celebrities involved, but it's always the type of people really hardcore theater people want to see.
FL: But it's not about stardom for the sake of it, just people who are excellent in their field. Whether you've got a mezzo-soprano like Cecilia Bartoli, or an actress like Cherry Jones, or a dancer like Natalia Osipova, it's about seeing those at the top of their game, what I call a mature aesthetic; they've found the clay they want to work with. That's one of the great things about Edinburgh. It's not star driven as a month, because people arrive up and they kind of go, "What's good?" That's a real luxury.
I am really looking forward to seeing this piece that Scottish Ballet are doing by this Canadian choreographer Crystal Pite, because she's just an astonishing choreographer, and it will be the first time Edinburgh audiences will have seen her work. In the orchestral point of view, it's hard to go by the Gewandhaus from Leipzig who haven't been here for a long, long time. And the final concert will be amazing. It's Schoenberg's Gurrelieder, which is one of the biggest orchestral undertakings we ever attempted.
There's some really interesting detail. There's the incredible young Russian pianist Daniil Trifonov. We're doing a season of concerts with him, one concerto, one recital, and then one chamber project he's put together. It's lovely when people in festival audiences develop a relationship with an artist like that.
[caption id="attachment_13701754" align="aligncenter" width="702"]
5
Natalia Osipova, Photo Credit: Bill Cooper[/caption]
BHT: What do you look for when you're putting together this mix? I was trying to describe it but couldn't. It's a mix of high culture with reinvigorated classics and eclectic things…How would you describe this?
FL: I'd say it is artist driven. We would have a long list of people who we would like to work with, and you just keep bothering them. Sometimes some of them would say, "Oh yeah, I'd love to do something with you guys, but I can't now because I'm doing this year," or, "We don't have an album next year so we're not going to tour." You just have this long list, and then as they begin to come in ... As things start to fall into place, you need to start to think of what the experience for the audience is going to be across a range of things. It may be they will want to get a certain kind of variation within what they're attending. You try to think of the balance from the audience's point of view. For the most part it's about, we just love this company.
Last year, Simon McBurney [who performed and directed The Encounter in 2015] had never had a show in the festival [before that]. That's nuts. Declan Donnellan who's doing Measure for Measure for his fifth year, his company Cheek by Jowl had never been at the festival. That's something we need to address. Thomas Ostermeier from the Schaubühne hasn't been here for 15 years. In a way I think it's coming back to that idea of it is a place where you want to see the major artists of our time. There are rock and roll bands I would include in that mix, in terms of the major artists of our time.
BHT: Any other picks?
FL: Sure. I think the trio of Shakespeare from different parts of the world is really strong. Measure for Measure, which is taking Donnallen with the Pushkin Theater from Moscow; Richard III from the Schaubühne in Berlin; Shake, which is Twelfth Night from [director] Dan Jemmett, which is his company, is from France and Switzerland. If you want to have a quick look across, there's some really interesting approaches to Shakespeare outside of the English language theater world. I think that's really strong.
[caption id="attachment_13701760" align="alignleft" width="300"]
Cherry Jones and Michael Esper in The Glass Menagerie[/caption]
I come back to The Glass Menagerie. Then the other one I would highly recommend people see is James Thierrée's The Toad Knew, because after you've been through the tragedy of Richard the III and The Glass Menagerie you need something incredibly uplifting. He's just such an extraordinary character. It's very hard to describe what he does, because it's this combination of dance and circus and theater and music, but it's exquisite. Those are the ones I'll be watching out for.
BHT: Are there any theater specifically coming to the UK in the fall that you're looking forward to? For Americans coming to the UK, it can be kind of overwhelming.
FL: You're talking about anywhere in the UK?
BHT: Sure.
FL: Oh my goodness, I need to think about that. What is coming in? I think what Emma Rice is doing in The Globe is really interesting. It was very successful, but her particular read on it is wonderful. I really want to see what Matthew Warchus does with Groundhog Day down at The Old Vic, because I love Tim Minchin so much. I sort of follow him anywhere.
Click here for more information about the Edinburgh International Festival and tickets. Standard Life Opening Event: Deep Time kicks things off on Sunday, August 6.