[caption id="JiveSouffleandtheGoldenSlipper_img1" align="aligncenter" width="223"]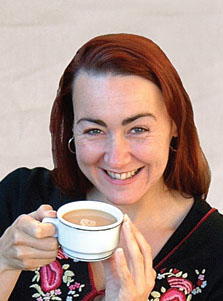 5
[/caption]
I'VE BEEN LEARNING TO JIVE for a few months now, testing out different classes and styles, and looking for a venue to practice the moves. The Rivoli Ballroom in Brockley began life as the Crofton Park Picture Palace in 1913 and spent much of its early life as a barrel-vaulted Art Deco cinema, but in the 1950s tastes changed. A local businessman noted the burgeoning obsession for rock & roll among South London's youth and turned the picture house into a ballroom, named for the achingly hip Rue de Rivoli in Paris. It's stayed pretty much the same ever since. Gigantic chandeliers, outsize Chinese lanterns and deep, red velvet bench seats jostle with neo-classical columns, padded plush walls, scalloped lighting, two cocktail bars and my own personal favorite, the "ladies' boudoir" (nothing as vulgar as a toilet here, thank you).
The place is mainly used for filming pop videos, commercials and documentaries, but several times a month it goes back half a century to host real-McCoy dance nights. I went to the wildly popular Jive Party, where trendy young vintage swingers and hipsters-of-a certain-age all crowd onto the dance floor together in one gigantic retro-melee. There's no set style—you get everything from Charleston and Lindyhop through dirty 1950s rock & roll to Ceroc and modern ballroom— which makes being asked to dance a bit of a pot-luck; you have no idea what you're going to be doing. I said yes to everyone who asked and had a great time. I'd been meaning to go just for the historic architecture, but the feeling of a live band, great music and a genuinely hot and sweaty dance floor can't be beaten.
If you've ever seen a Punch cartoon, chances are you'll have seen the work of Edward Linley Sambourne. He was principal cartoonist for 43 years in the satirical magazine's heyday, and was responsible for many of its most famous works. In 1874 he bought 18 Stafford Terrace and set about turning it into a fashionable home suitable for entertaining his swanky (but inconveniently wealthy) artist chums such as Frederic, Lord Leighton, who lived down the road at Leighton House.
[caption id="JiveSouffleandtheGoldenSlipper_img2" align="aligncenter" width="1024"]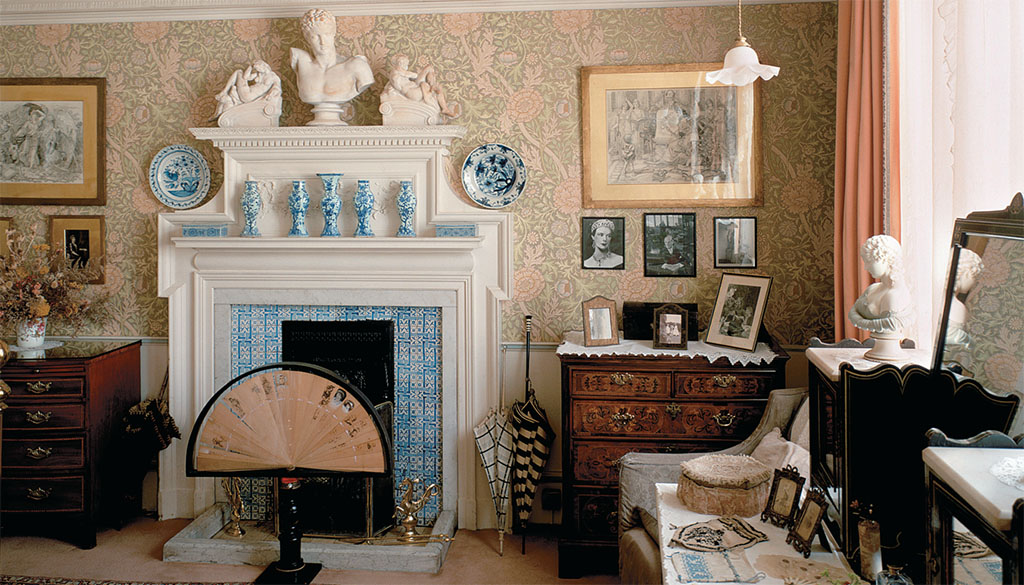 5
LINLEY SAMBOURNE HOUSE
[/caption]
Sambourne was comfortably off, but enjoyed nowhere near his friends' standard of living. His taste, in the ultra-modern "aesthetic" style, was immaculate. He spent everything he had on gorgeous nonsense (which frustrated his wife no end), but he knew how to buy an exquisite, if slightly chipped Chinese vase at a knock-down price and display it so high up the cracks didn't show, when to buy a repro or to artfully frame a print so it looked like the real thing. He was crazy for the new art of photography, too, dressing his coachman in sundry outfits, taking pictures of him in weird poses and using them to get the lines right on his cartoons. That he used the family bath as a dark room was further annoyance to his long-suffering wife.
What makes Linley Sambourne House unique is that today it is almost exactly as the artist left it after 37 years. His son, a bit of a wastrel who fell in love with a showgirl, did virtually nothing to the place. By the time it was passed onto other members of the Linley family, the building's historic value had, thankfully, been recognized. It's only about five minutes' walk from High Street Kensington tube, but be warned. Part of the reason it's taken me so long to visit is that it's one of those places you need to book a tour in advance and the timings can be slightly arcane. Believe me, though, it's worth making the effort.
THE SOCIETY OF THE GOLDEN SLIPPERS sounds like the kind of louch Victorian club Sambourne might have been a member of, and since it is secret, underground and rather esoteric, I guess it lives up to its name. When I was invited to one of their evenings, I was so uncool that I'd never heard of the music club. Held in the Soho private members' club Blacks, whose magnificent Georgian interiors, candlelight and open fires remind me of Dennis Severs's House, the tiny room just about holds about 30 people, squatting on stools, perched on armchairs and squished onto the floor mere inches from the performers.
Although this is the in-place for music industry scouts and sundry "beautiful people," I didn't feel too out of place, and the air of friendliness pervades to the performers—established indie star and Golden Slippers alumnus Ed Harcourt was perfectly happy to play back-up artist for up-and-coming Norma Jean Martine the night I was there, though for me quirky Scot Sophie Ramsay was the find of the evening. Anyone can be on the Golden Slippers mailing list, but you just have to be quick off the mark to get a ticket. As soon as you see the next date advertised (usually on Twitter) you have to stop everything and email then and there.
[caption id="JiveSouffleandtheGoldenSlipper_img3" align="alignleft" width="1024"]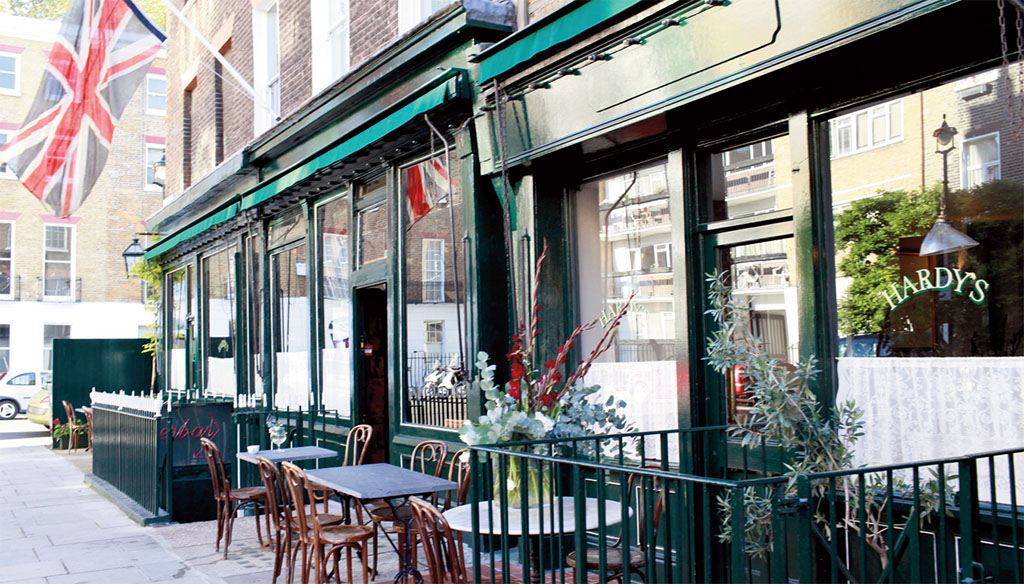 5
HARDY'S
[/caption]
THIS MONTH'S CONTACTS
Linley Sambourne House
www.rbkc.gov.uk/subsites/museums/18staffordterrace1.aspx
The Society of the Golden Slippers
www.golden-slippers.com http://goldenslippers.tumblr.com/
Hardy's Brasserie
www.hardys-w1.com
Jive Party at the Rivoi Ballroom
www.jiveparty.com
Mile End Maths Magic
www.studentevents.qmul.ac.uk/events/items/90949.html
Who Do You Think You Are Live
www.whodoyouthinkyouarelive.com
I'VE BEEN LOOKING FOR A DECENT back-street eaterie in the Baker Street area for ages—tried many, liked few. But I'm really rather impressed with Hardy's Brasserie, a delightful local restaurant where you get the feeling that it's not mass-catering for tourists; it's actually there for people who like food. I went with my cheese-fanatic friend Frances and had what I can only describe as the best soufflé of my life—double-baked haddock and cheddar. Had I known just how marvelous it was going to be I'd have ordered it as a main course, too. As it was, my wild mushroom ravioli with Jerusalem artichokes was very nice, but that soufflé had spoiled me for life. The surroundings are simple and unfussy, and the feeling is relaxed. Outside, it was snowing, making Dorset Street look like a Sherlock Holmes Christmas Special film set. I expected a horse and carriage to clop-by any moment. I fully intend to return in the summer, as I reckon sitting outside of a sunny lunchtime could be magical.
I'm a sucker for free lectures in the city and when my dad told me about a new series on mathematics and magic at Queen Mary College, part of the University of London, I was sold even before I found out that the guy speaking had a Ph.D. in card shuffling. It was a magnificent lecture, but I was absolutely staggered by what I saw on the way to the event. QMC is at Mile End, in London's East End, where a lot of migrant workers have passed through. I have written about London's Huguenots and Jews, but as I was walking in back of the ultra-modern university buildings in the dark, I was puzzled by a large quadrangle of strange, mysterious shapes looming at me. I had no idea what this higgledy-piggledy bunch of monoliths was; while it gave me the creeps, it utterly fascinated me. It turned out to be the remains of Novo Beth Chaim Sephardi Cemetery. It dates from 1733, and was only abandoned in the 1920s. It is definitely somewhere I will return in the daylight, but I can recommend a first viewing at night—it's a real surprise.
[caption id="JiveSouffleandtheGoldenSlipper_img4" align="aligncenter" width="619"]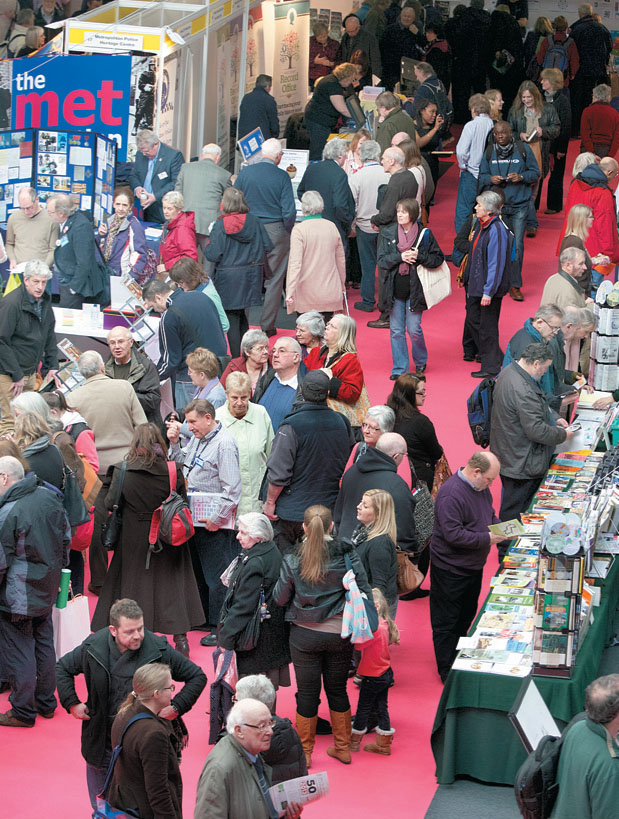 5
WHO DO YOU THINK YOU ARE
[/caption]
THE BBC TV PROGRAM Who Do You Think You Are isn't solely responsible for the explosion in family history enthusiasts, but it's certainly been a prime factor. The show takes a different celebrity each week and delves into their genealogy; it has been wildly successful, spawning books, magazines and now, an entire expo in the main hall at Olympia. I went along, expecting to do it fairly quickly. I was soon disavowed of that. This expo is a huge deal—the largest family history fair in the world—where anyone who's anyone on the genealogical scene will exhibit. All the players can be found here, such as the National Archives, the Metropolitan Archives, resources for nationalities—from the Scots, Irish and Welsh through to French, American, Australian—to local regions like Cambridgeshire or even single towns, the armed forces, occupations, religions and other interests. There are dozens of books, maps, magazines, services and societies. You can bring in artifacts, attend to wall-to-wall lectures, ask about stubborn-to-find relatives or just get advice on how to read your 17th-century ancestor's handwriting. The queues for the first-come, first-served stalls were snaking round the hall by lunchtime, but other experts were far more civilized and took pre-bookings at the time of purchasing a ticket. Family history fans can specially time a trip to coincide with this expo; the next one is likely to be February 21-23, 2014.
Next time, I'll be dressing the part to go to a Victorian salon, getting my hands dirty with chocolate and exploring the secret tunnels under Somerset House.