The Unlikely Romance of Prince Charming and the Commoner
[caption id="KissMeKate_Feature" align="aligncenter" width="1024"]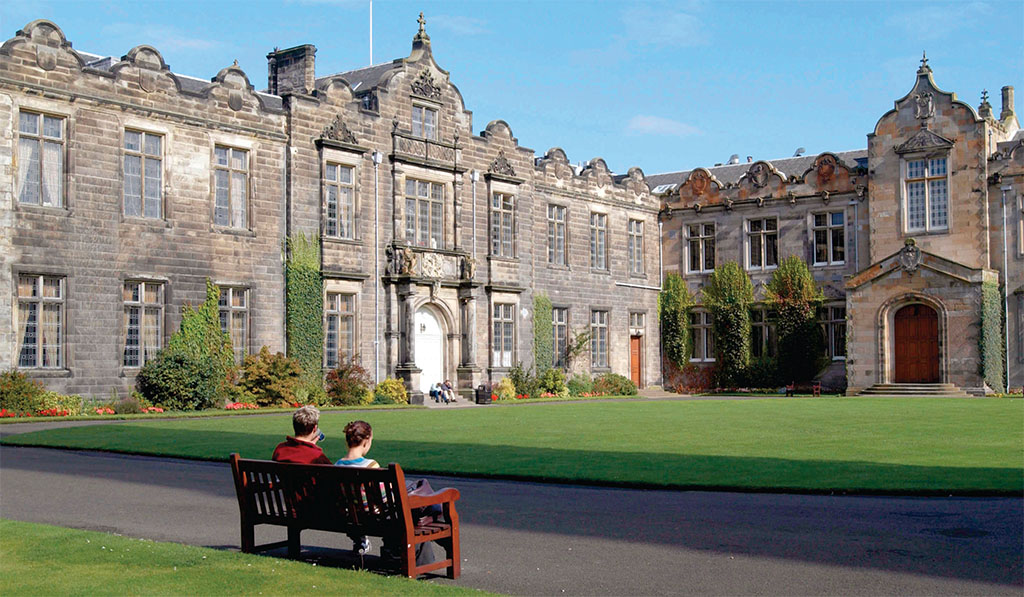 7
[/caption]
Marriage is the most difficult of relationships at best. As those many British Heritage readers who have experienced it will affirm, there are a variety of differences between individuals that can be a strain to overcome: personal habits, differences in upbringing and culture, differences in religion—or social class.
If all that is true, then marrying into the British Royal Family must be about the most difficult marriage assignment of them all. After all, where would be the family's social equal just for a start? In fact, the union of Prince William and Kate Middleton is historic in the social gap they are bridging together. This is the first wedding of a such a direct royal heir apparent to a commoner in 350 years, since James II as the Duke of York married commoner Anne Hyde, the daughter of a minister to his brother King Charles II (and noticeably pregnant at the time), in 1660.
Over the years now, voices in the British media,who obviously regard themselves the guardians of Britain's social prestige, have carped at the poised Miss Middleton for her relatively humble origins and the social values and expressions such a family background provides. Both Kate and her family have handled the pressure just fine.
Never fear. The prospects for William and Kate are bright indeed. These are sensible people who have known each other a long time and through every possible trying circumstance. At 29, they're not kids. Unlike William's mother, Princess Diana, Kate is fully aware of the life she has chosen, and she has been in the limelight with Prince William for almost eight years. Still, the disparity in their origins is immense. What brought together the royal prince (and perhaps the proverbial most eligible bachelor in the world) with a girl of lower middle class origins from rural Berkshire?
[caption id="KissMeKate_img1" align="alignleft" width="810"]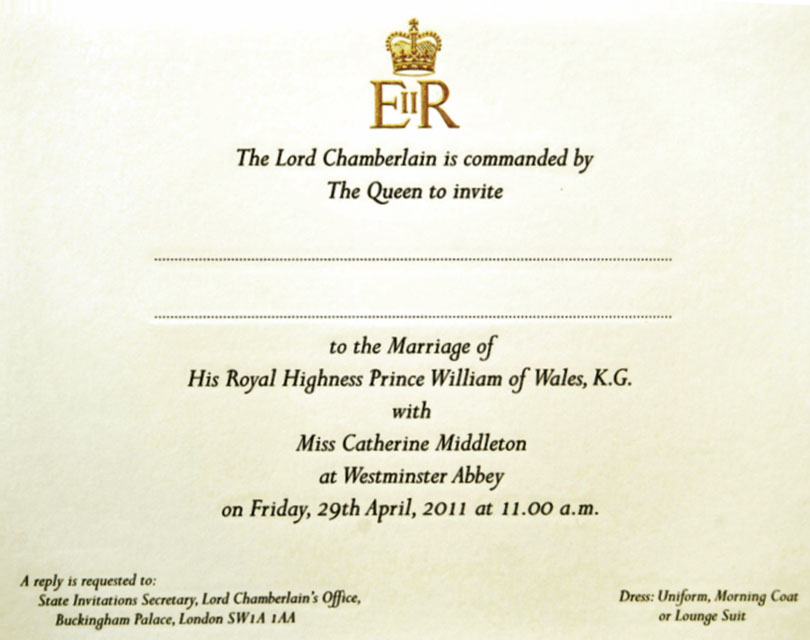 7
[/caption]
Kate Middleton grew up in Buckleberry, Berkshire. Her parents, Michael and Carole, are from working North Country families. They began careers with British Airways and, with true entrepreneurial spirit, set out to start their own business, Party Pieces, in 1987. The mail order party supply company flourished, and the Middletons made a lot of money. Of course, money does not buy taste, nor, even in today's Britain, does it purchase social status—but it does pay for education.
Kate was sent to Marlborough College. Located right on the A4, the old Bath Road, in the Wiltshire market town of Marlborough, Marlborough College is one of Britain's most prestigious "public" schools. Fees of roughly $35,000 a year speak for themselves. Marlborough has traditionally been known as a gateway school into careers as British military officers. Its illustrious alumni roster, however, boasts such varied names as John Betjemin, Sir Francis Chichester and, ironically, Samantha Cameron, the PM's wife.
At Marlborough, Kate would have received a superb education. In addition to her academic studies, Kate would have been immersed in the culture, colloquialisms and couture of England's aristocracy. What her own upbringing might have lacked in terms of "what we do and say, "Marlborough's unspoken influence provided. Kate adapted, thrived and was well-liked. She excelled at field hockey and cross-country running.
Meanwhile, down in the Thames Valley, Prince William was attending Eton College. Not surprising, you would think, that the son of the Prince of Wales should attend England's most famous and highly respected school—the historic nursery of prime ministers (including, yes, present PM David Cameron). But William isn't in line to be prime minister, and Eton isn't a traditional school for princes. In fact, schooling for princes at all is a relatively new idea. Prince Charles was the first royal prince sent to school instead of being privately educated. Charles spent a miserable time at Gordonstoun (his father's school) in northern Scotland, and then broke with royal tradition again by going on to Cambridge. Still, school, particularly boarding school, socializes like nothing else, and the modern monarchy needs to feel in touch—at least with the ethos of its peerage and its corridors of history, power and influence.
[caption id="KissMeKate_img2" align="aligncenter" width="1024"]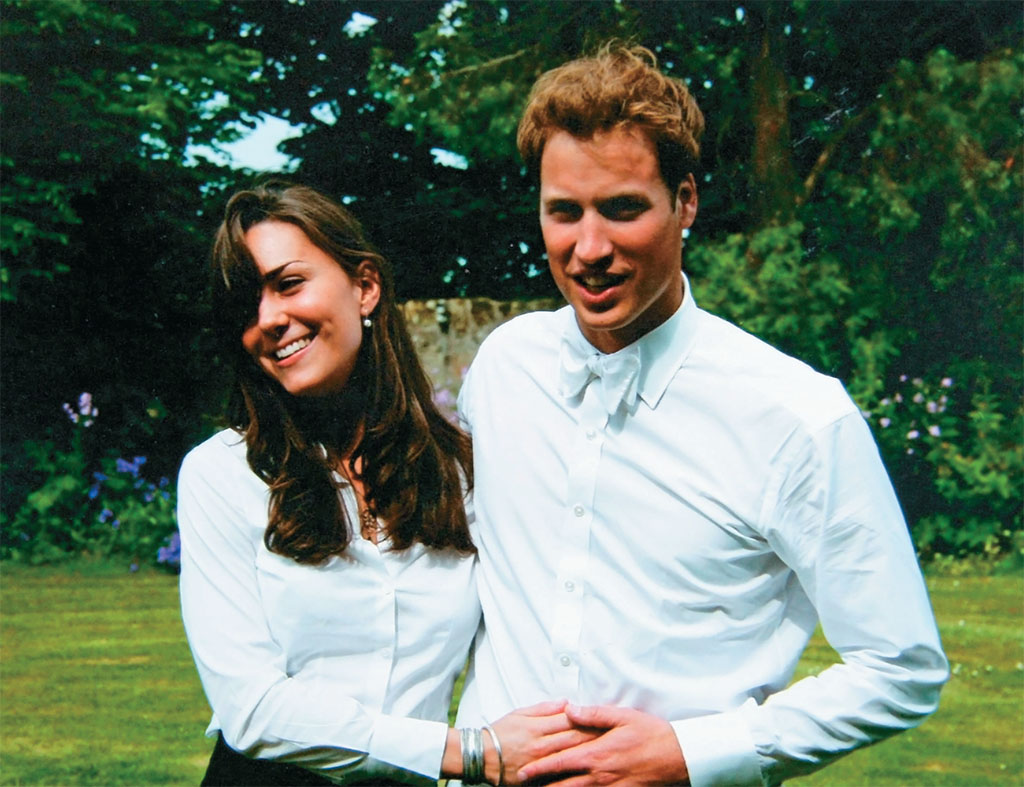 7
[/caption]
[caption id="KissMeKate_img3" align="aligncenter" width="720"]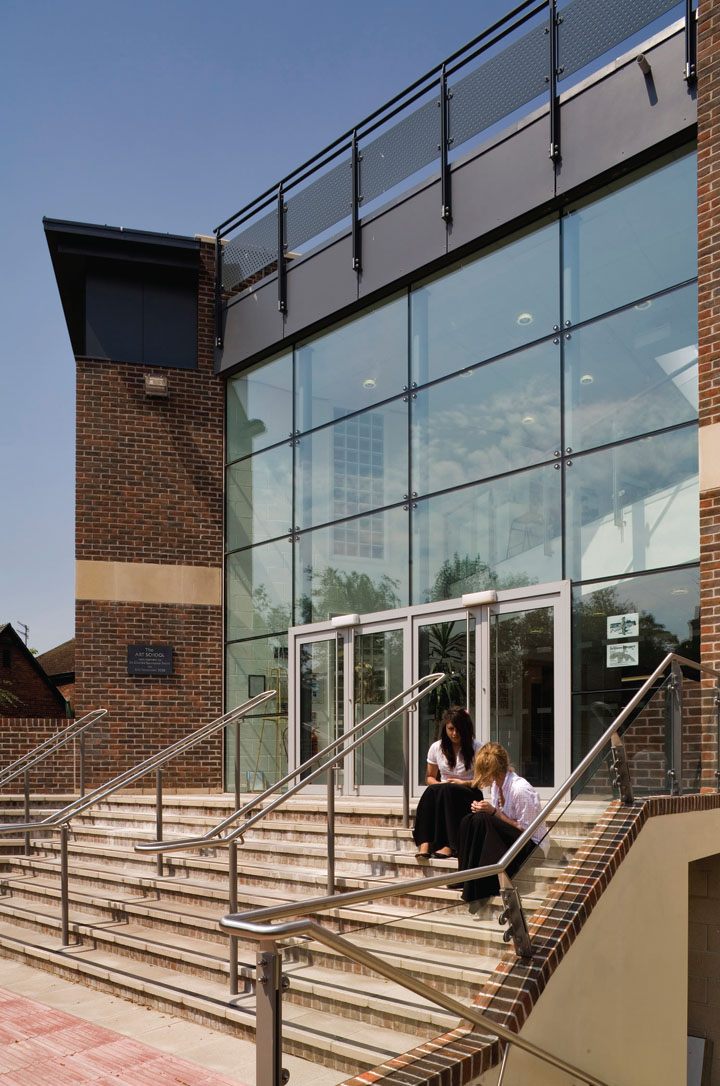 7
As it has always been, education is the great leveler. At Marlborough College and Eton College respectively, Kate and William had the life experience that bridged the broad gap in their backgrounds and smoothed the way to the royal romance.
[/caption]
[caption id="KissMeKate_img4" align="aligncenter" width="728"]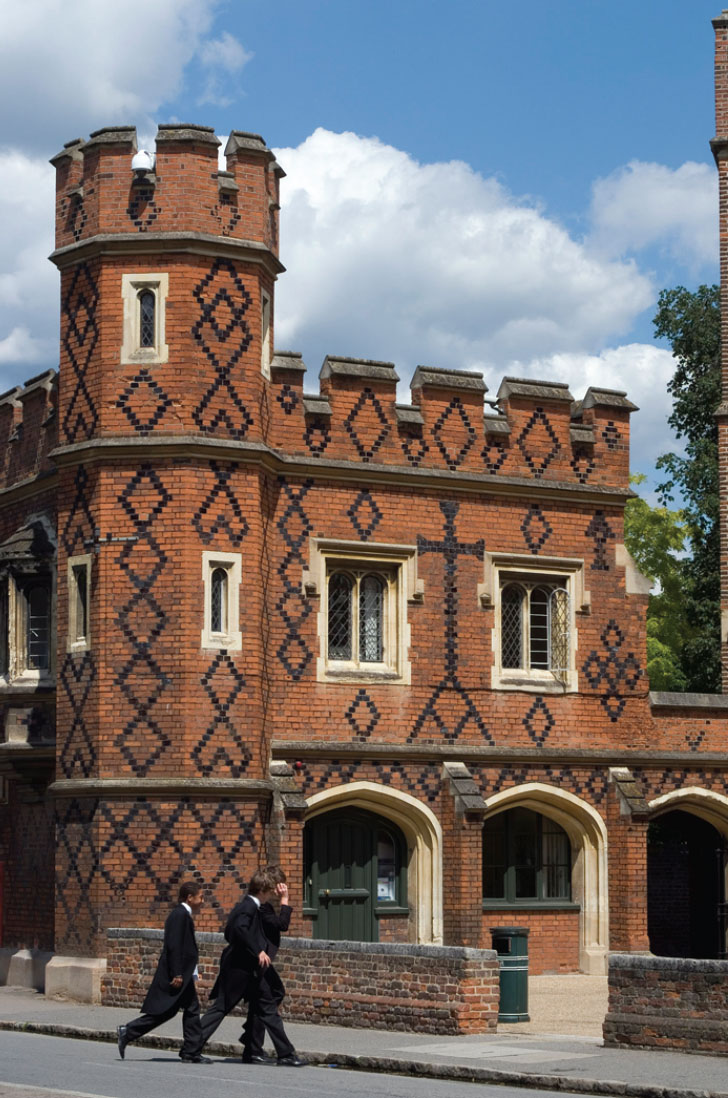 7
[/caption]
Eton was a perfect choice for William and Harry. Close to London and the "home" of Clarence House and right across the river from Windsor and grandmother's house, Eton is at once a world of its own and near the center of royal life. Having lived all his traumatic royal life in an iridescent public limelight, William found at Eton a bit of normalcy to existence. Here, he was just another student; there weren't cameras in his classrooms or in his house. The prince could make friends of his own choosing and get the same kind of street education that generations of boarding school pupils have had. He could be "one of the guys."
William and Kate's paths crossed when they both went on to the University of St. Andrews. Among the oldest universities in the world (giving degrees since 1413) and most prestigious in Britain, St. Andrews sits on the headlands of Fife, some 50 miles northeast of Edinburgh. Better known worldwide for golf than for education, in fact, St. Andrews largely exists because of its university. William and Kate choose the school to study art history (though he later changed to geography).
St. Andrews, however, is not like the big universities of Oxford and Cambridge, where there is huge social whirl, and the lights of London are but an hour's train ride away. In a relatively small school in a small town, social life is more creative, and relationships are easier to make. In fact, St. Andrews has a reputation as one of Britain's leading match-making universities, with students having a one in 10 chance of meeting and wedding a partner at university. Coming from the same kind of schools and studying in the same field of interest, it's rather natural that Kate and William would gravitate to the same circle of friends. By the time they graduated in 2005, they were a couple.
Education has been an equalizing force throughout history. The answer to the question of what bridged that huge gap in background and social origins between them is their schooling. It was their experience at Marlborough and Eton respectively that served as the leveling influence between the Royal Family and an entrepreneurial family from a Berkshire village. St. Andrews brought them together.
Royal Rubbernecking
Eton College dominates the village of Eton, just across the River Thames from Royal Windsor. There's a footbridge that connects the village High Street with the parking lots and visitor amenities of Windsor. For centuries, Eton has been receiving visitors eager to see magnificent Eton College Chapel and the school's own museum chronicling Eton life and education since the 15th century. Short guided tours of the college are available throughout the year. Check
www.etoncollege.com
for details.
Marlborough College is generally not open for public visits, but it is easy to see. The A4 runs parallel to the M4 heading west from London toward Bath and South Wales. Drop down on to the A4 at Hungerford and head west a few miles.
Marlborough's High Street is one of our favorites (see "Top Ten Market Towns," November 2010). The college buildings spread north across the A4 on the west end of the High Street.
About an hour and a half drive from Edinburgh on the A913, the University of St. Andrews sprinkles its campus throughout this ancient Fife market town. It's everywhere…but it's not all, by far. The shards of St. Andrews Cathedral are among the most dramatic ruins in Scotland, and cliff-top St. Andrews Castle's history is fascinating. Visit Holy Trinity Church, too, where John Knox preached his first sermon. Then, there's golf, of course, with the Old Course fanning toward the sand dunes and the British Golf Museum. Begin your plans at
www.st.andrews.co.uk
.
[caption id="KissMeKate_img5" align="aligncenter" width="1024"]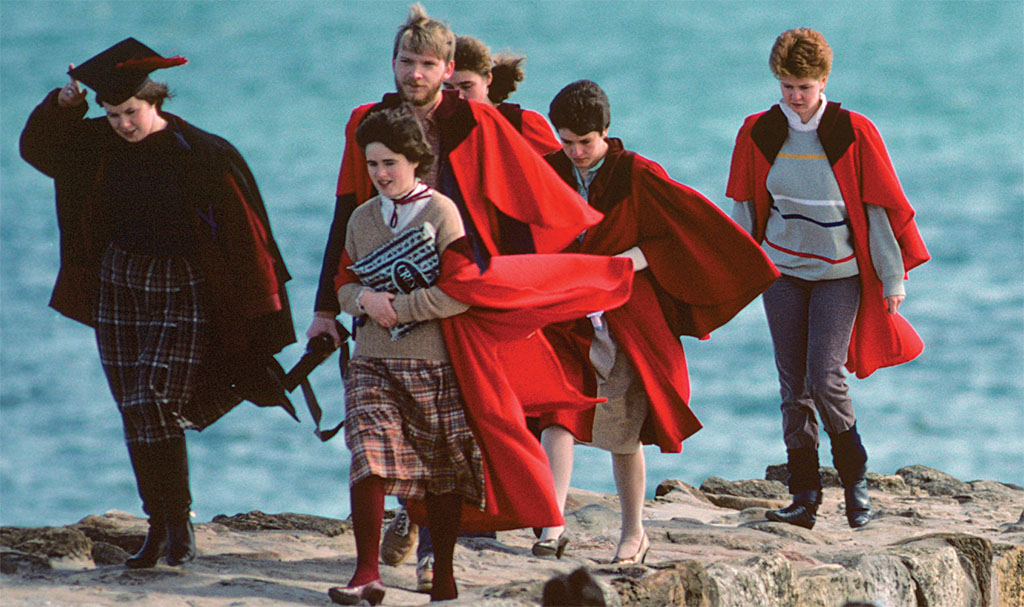 7
Like most all of Britain's ancient universities, the University of St. Andrews has a traditional quad. It's not at every school, though, that you see the undergraduates parading along a seawall in their red academic dress. But then, St. Andrews is a little different.
[/caption]
In fact, among the couple's first official engagements together was a visit to St. Andrews in February, where Prince William kicked off the university's 600th anniversary celebrations and became patron of the university's fundraising appeal. It was a trip down memory lane for both of them.