[caption id="Lastordersplease_img1" align="aligncenter" width="1024"]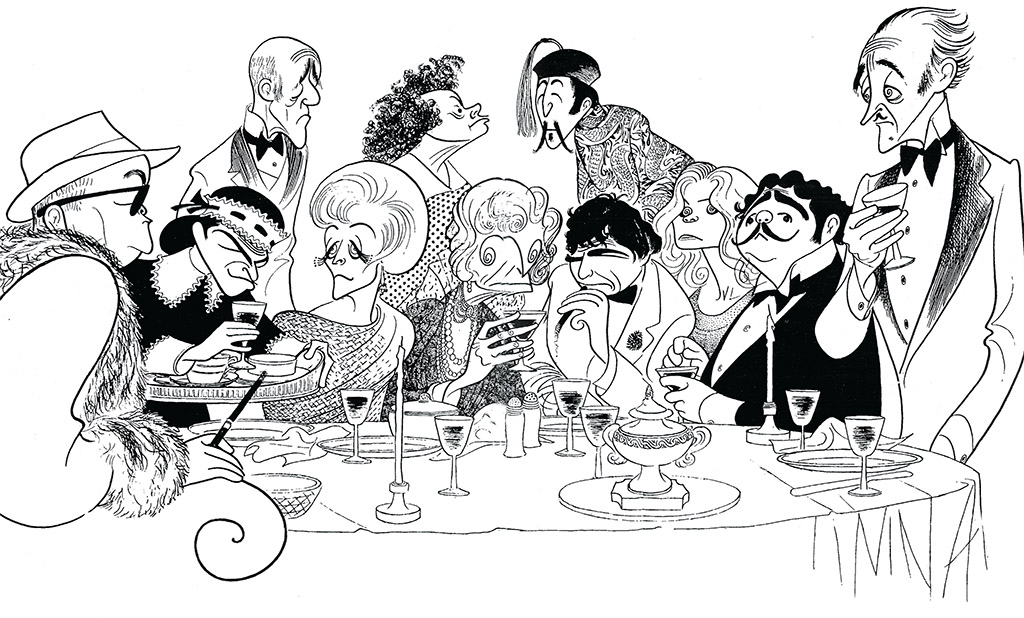 2
How many caricatures can you identify in this classic Al Hirschfeld tableau (from

Hirschfeld's British Aisles

) of Neil Simon's

Murder by Death

? Our next issue will unmask the suspects!
[/caption]
A British Heritage Commonplace Book
FROM
HIRSCHFELD'S BRITISH AISLES
, PUBLISHED BY GLENN YOUNG BOOKS (SEE `ON THE BOOKSHELF' P. 64). AL HIRSCHFELD IS REPRESENTED BY MARGO FEIDEN GALLERIES, LTD.,NEW YORK.
In which we reflect on themes introduced in these pages.
My hold of the colonies is in the close affection which grows from common names, from kindred blood, from similar privileges, and equal protection. These are ties which, though light as air, are as strong as links of iron.
Edmund Burke, Speech on Conciliation with America,March 22, 1775
The English Bible, a book which, if everything else in our language perish, would alone suffice to show the whole extent of its beauty and power.
Lord Macaulay, Essays and Biographies, 1828
England was merry England, when
Old Christmas brought his sports again.
'Twas Christmas broach'd the mightiest ale;
'Twas Christmas told the merriest tale;
A Christmas gambol oft could cheer
The poor man's heart through half the year
Sir Walter Scott,

Marmion
The Wit and Wisdom of William Penn
I expect to pass through this world but once. Any good therefore that I can do, or any kindness or abilities that I can show to any fellow creature, let me do it now. Let me not defer it or neglect it, for I shall not pass this way again.
Right is right, even if everyone is against it, and wrong is wrong, even if everyone is for it.
Force may make hypocrites, but it can make no converts.
It is certain that the most natural and human government is that of consent, for that binds freely,…when men hold their liberty by true obedience to rules of their own making.
No people can be truly happy, though under the greatest enjoyments of civil liberties, if abridged of the Freedom of their Conscience as to their Religious Profession and Worship.
If we will not be governed by God, we must be governed by tyrants.
Truth often suffers more by the heat of its defenders, than from the arguments of its opposers.
If thou thinkest twice before thou speakest once, thou wilt speak twice the better for it.
There can be no friendship when there is no freedom; Friendship loves the free air, and will not be fenced up in straight and narrow enclosures.
Inquiry is human; blind obedience brutal. Truth never loses by the one but often suffers by the other.
No pain, no palm; no thorns, no throne; no gall, no glory; no cross, no crown.