[caption id="LettersandMiscellany_img1" align="aligncenter" width="689"]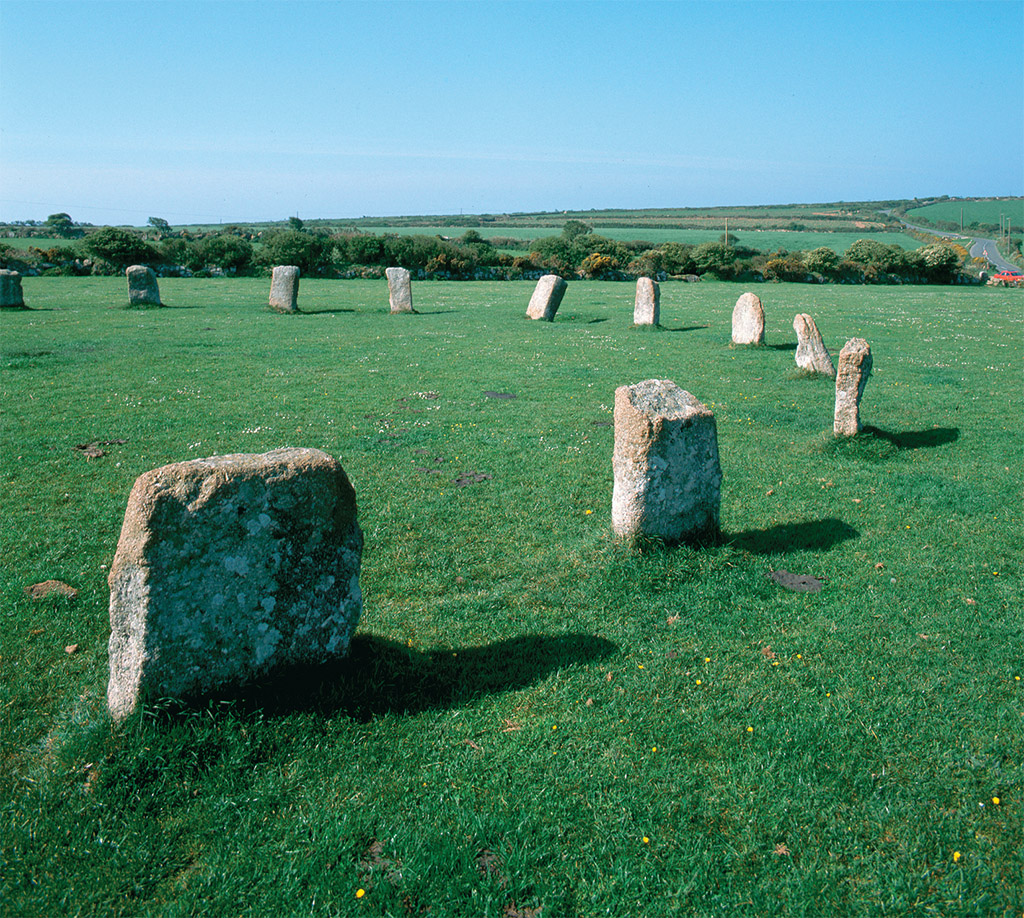 2
The monolithic stones at Merry Maidens in Cornwall are said to have been carefree village girls who were turned to stone for dancing on a Sunday.
[/caption]
A SEASONAL NOTION
OUR MODERN INDOOR lifestyle has made chilblains a rarity these days. If you're from the northern states this winter, though, you may have cause for complaint.
Described as an inflammation of the hands or feet occasioned by cold, chilblains have been treated in a lot of ways through the ages. Beaumont and Fletcher's play
Knight of the Burning Pestle
in 1613 suggests a curious remedy: "Those chilblains are a foul trouble, Mistress Merrythought. When your youth comes home, let him rub all the soles of his feet, and his heels, and his ancles, with a mouse skin."
Now where did I put that?
AT BURRINGTON COMBE
ON THE NORTH SLOPE of the Mendip Hills, towering limestone formations and caves pockmark the countryside. One such formation at Burrington Combe sheltered the Reverend Augustus Toplady during the 18th century when he was caught out in a torrential thunderstorm. The curate of nearby Blagdon was appropriately grateful to Providence for the protection, and saw in his circumstances a poetic metaphor that has become timeless:

Rock of ages, cleft for me,
Let me hide myself in thee.

BOSWORTH BATTLEFIELD—SUTTON CHENEY,LEICESTERSHIRE
THE SITE OF THE BATTLE of Bosworth Field is one of Britain's best battlefield visits. Standards of the opposing nobles line the drive to a visitors center, where the battle is depicted in a detailed diorama. On the field itself, the flags of Richard Plantagenet's boar and Henry Tudor's red dragon mark where the lines were formed. Off to the north lay the crucial and uncommitted army of the Stanleys.
Truth be told, most historic battlefields in Britain don't make good visits. Battle lines were formed where a Tesco supermarket stands today, or there simply isn't much to see beyond the modern housing tract. Bosworth Field is different. Here the young Henry Tudor raised his cry against Yorkist King Richard III on August 22, 1485. It was the most pivotal battle in English history since the 1066 Battle of Hastings. After three centuries of Plantagenet kings, England was ready for a renaissance.
IT WAS THE CUSTOM
WE ALL LOVE the old folk customs of England, many of which survive in communities to this day. Ever hear of "groaning cheese"? This was the pre-19th-century rural practice of providing a wheel of cheese on the occasion of a baby's birth.
The custom was to eat the cheese from the middle outwards. A large ring of cheese would be left—through which the infant was ceremonially passed on the day of christening. As to the custom's origin or significance, one can only guess.
After a hiatus of some years, Cooper's Hill has revived an ancient West Country tradition hundreds of years old: cheese racing. The controversial practice finds participants chasing an 8-pound wheel of Double Gloucester down a hill. The first one to touch the cheese keeps it. Only one runner had to be carried off on a stretcher in the 2004 cheese roll.
THE MERRY MAIDENS
DOWN ON THE very tip of Cornwall, between Penzance and Land's End, sits one of Britain's hundreds of monolithic stone circles. This one is called Merry Maidens, visible from the road along the B3315. There's a place to pull off and a stile into the field, though there may well be cattle grazing through the circle.
The story is that the stones were carefree village girls, petrified as they danced for so comporting themselves on a Sunday. Three standing stones across the field are known as the Pipers and the Blind Fiddler, frozen in their tracks as they tried to escape. Over the centuries generations of Cornish boys and girls must have been scared into proper Sabbath behavior by this tale.
THOSE LONG FLIGHTS
PROBABLY THE HARDEST part of any travel to Britain is getting there. The transatlantic flight is just something to be endured.
This year British Airways is celebrating 50 years of service to Boston, England's closest American gateway city. It gives pause to recall what international flights were like in the early days, even from Boston. Eastbound travel took at least 12 hours, and westbound up to 16 hours. Flights weren't direct, either.
The initial round-trip fare in 1951 was $630. In 1956, BOAC introduced a Stratocruiser (with cocktail lounge and full-bed sleepers). It didn't cut the flight time, but the price tag was $2,400. Even at $630 in 1951 dollars, the fare was about the equivalent of a complete holiday today. And we get there in half the time.
IN PAINSWICK CHURCHYARD
JUST A FEW MILES above Stroud on the southern rise of the Cotswold escarpment lies the pretty village of Painswick. The parish churchyard of St. Mary's has long been renowned for its incomparable collection of 99 topiary yews, most more than 200 years old.
According to legend, a 100th one would never grow, but now there are a hundred. In honor of the new century, a "millennium yew" has been planted with all due ceremony, propagated from a yew judged to be 2,000 years old.
Scattered amongst the yew avenues lies a remarkable collection of chest tombs, dating back to the early 17th century and carved in native stone by local craftsmen. Among the readable inscriptions is this 1822 valedictory to William Dowell:

A friend so true there were but few And difficult to find.
A man more just and true to trust There is not left behind.

A PAUSE FOR TEA
SURELY IT COMES as no surprise to learn that the British drink more tea per capita than any other country on earth. As the undisputed tea champions of the world, England gets the premium quality leaves, boxed and available as PG Tips, Typhoo, etc. The American market rates considerably less desirable herbs. Incidentally, the country rated number two in tea consumption is New Zealand.
HOW TO RING BRITAIN
THE BRITISH TELEPHONE numbers provided in
British Heritage
include an initial zero, which callers from North America do not need to dial when placing a call to Britain. North American callers should dial 011-44 in place of the initial zero.
When traveling in Britain, the telephone numbers should be entered exactly as they are printed in
BH
.