Travel in Britain broadens the mind and cheers the heart
[caption id="LivingtheHistory_img1" align="aligncenter" width="261"]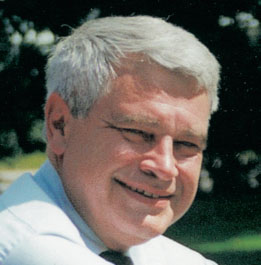 7
[/caption]
GETTING READY to travel in Britain is often something of a pain, buoyed by anticipation. Picking up the pieces on the homeward trek is largely an unalloyed annoyance. But travel in Britain itself is, well, the phrase "elixir of life" comes to mind. My autumn editorial sojourn across our sceptered isle proved true to form in every way. Do come along once again for a bit of a vicarious romp in the heartland.
Off the overnight flight, I picked up a perky Peugeot and headed west against the general crunch of London's rush hour traffic, distancing myself from the city by the M40 up to Oxford. From there, I jumped onto the A44, for a more leisurely drive toward the Marches. At Bladon, I paused to pay my respects once again at the grave of Winston Churchill. It's a family plot in the little village churchyard; the great man's parents, wife, son and sundry close kin rest together under the yews. No great road signs announce their presence here, just a couple of miles from where Churchill was born at Blenheim Palace.
A few miles on, just as the undulating countryside begins to become the Cotswolds, I detoured toward Long Compton to visit again my favorite of Britain's some 600 stone henges—the Rollright Stones. I first brought students here back in 1983, and have returned periodically with travelers ever since. Tucked into the side of a farmer's field, there's something much more intimate and mysterious here than at the highly touted and much visited henges like Stonehenge and Avebury. I like the various legends here, too. They say you can't actually count the number of stones in the circle. I've never been here with a group and had any two folk arrive at the same number. They also say that you cannot spend the night within the circle. If you do, in the morning you'll be gone … and there'll be another stone in the circle. That one I haven't tried.
[caption id="LivingtheHistory_img2" align="aligncenter" width="754"]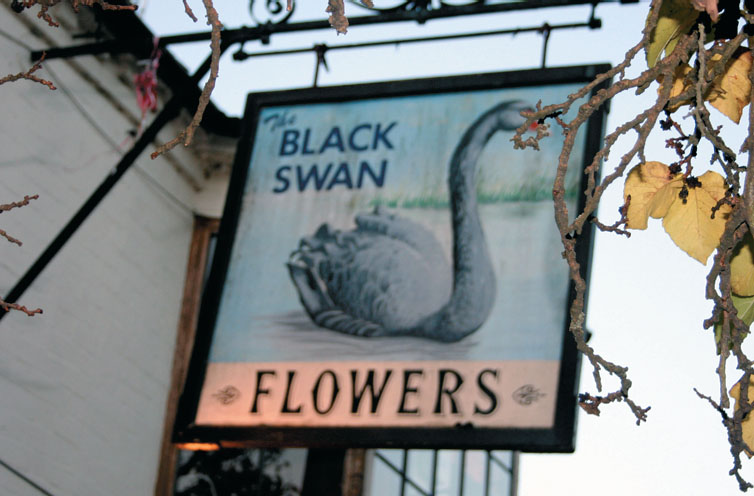 7
In Stratford-upon-Avon, I repaired to the actors' pub across the street from the Swan Theatre. Toward the church, the pub sign indicates the Black Swan; toward the theater and the town, it's the Dirty Duck. Many an aspiring actor and established star have hoisted a pint here.
[/caption]
[caption id="LivingtheHistory_img3" align="aligncenter" width="756"]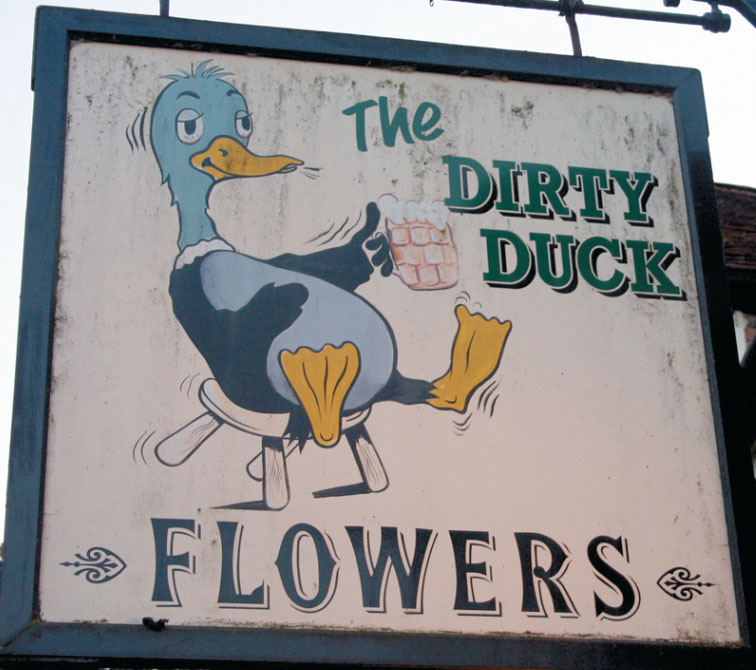 7
[/caption]
[caption id="LivingtheHistory_img4" align="aligncenter" width="531"]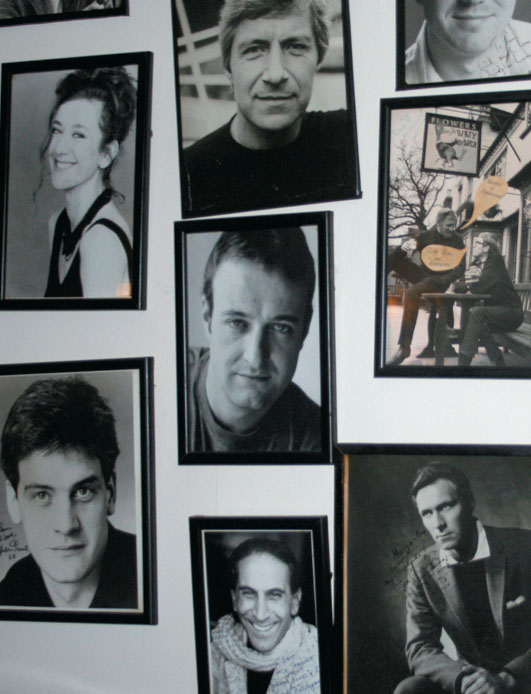 7
[/caption]
Chipping Norton, Moreton-in-the Marsh, the northern towns of the Cotswolds passed as I continued west through the Vale of Evesham and its market gardens. To the south, the beautiful Malvern Hills rose from the fertile plains of the River Severn valley.
At Lower Broadheath, I pulled out to visit the birthplace of composer Edward Elgar. I'd read Chris Sharp's great story on the English Romantics just a few days before I left. See page 24. It only seemed appropriate. A good many of us Americans have marched to Elgar's "Pomp and Circumstance." Perhaps it's a measure of how much time I've spent in Britain that I think of it now as "Land of Hope and Glory." Of course, there is so much more to Elgar's music and his life, and the museum at his birthplace is just the place to learn it. I dawdled far too long.
After grabbing a couple of savories in a Leominster bakery for a late lunch, I turned north on the A49, arriving at my destination of Ludlow about eight hours after getting off the plane. The news that I'd landed at Heathrow that morning and done a leisurely seven-hour drive to Shropshire was greeted with incredulity. For years I've explained the difference between Americans and Brits thusly: To a Yank, 100 years is a long time; to a Brit, 100 miles is a long distance.
What brought me to Ludlow is colorfully explained a few pages later in this issue. Between meals, one afternoon I drove up through dark Mortimer Forest, where wild deer provide venison for Ludlow's gaggle of butcher shops. I pulled off at Picton Aston, in the middle of nowhere, to wander the quiet yard and silent interior of the tiny 11th-century church. That's incredibly old even by English standards. Amazing. In back of the church, a few fulsome and friendly beef cattle happily ambled over to have their picture taken.
[caption id="LivingtheHistory_img5" align="aligncenter" width="894"]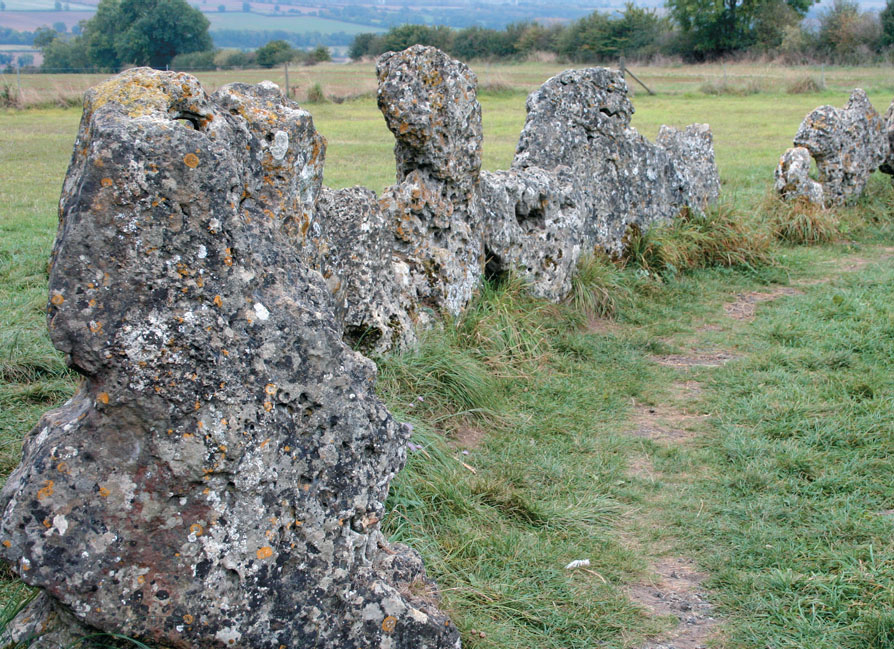 7
The Rollright Stones sit at the edge of a farmer's field right next to a side road signposted from the A44 and A3400 about 10 miles northwest of Oxford. Dating from from 2,500 B.C., the King Stone and the Whispering Knights guard the circle.
[/caption]
I headed toward Mortimer's Cross, scene of the 1457 battle that established King Edward IV upon the throne—where the young Yorkist scion saw a parhelion in the sky, took it as an omen of victory and went on to claim the crown from the hapless Lancastrian Henry VI.
Nearby, I climbed a half-mile, rugged and bramble-strewn path to the ruins of Wigmore Castle, ancient seat of the powerful Mortimers. Now, this is a proper, romantic castle ruin—desolate, deserted, overgrown and abandoned since it was slighted by its owners during the Civil War to prevent it falling into Royalist hands. Sorry. There's no tea room or gift shop here, just unparalleled views over the valleys of Shropshire to the east and Wales to the west.
When I left Ludlow behind, it was to head to northeast Wales. I encamped at Ye Old Anchor Inn in Ruthin (not nearly as quaint and cute as it sounds). It was a perfectly functional base for a couple of days in what is one of the most overlooked corners of the island. The story on "Saving the Village Pub" that brought me here will wait until our next issue.
Shortly before I set out, I'd received an invitation to visit the Greenfield Valley Heritage Park and Museum. And, as I was in the neighborhood, the next morning seemed a perfect opportunity. This is a neat, smaller version of St. Fagans, well worthy of a visit if you're passing along the North Wales coast.
That afternoon, I drove over to nearby Chester, which is always a pleasure. Chester is one of those richly historic, beautiful, provincial cathedral cities that doesn't get anywhere near enough attention from American visitors. Of Roman provenance (as its name implies), it might be the famed Rows of Chester's unique downtown architecture that are its most famous calling card. And York is the only other English city that can claim a span of medieval city walls that are not only extant, but open for walkers to enjoy as they were 600 years ago.
[caption id="LivingtheHistory_img6" align="alignright" width="896"]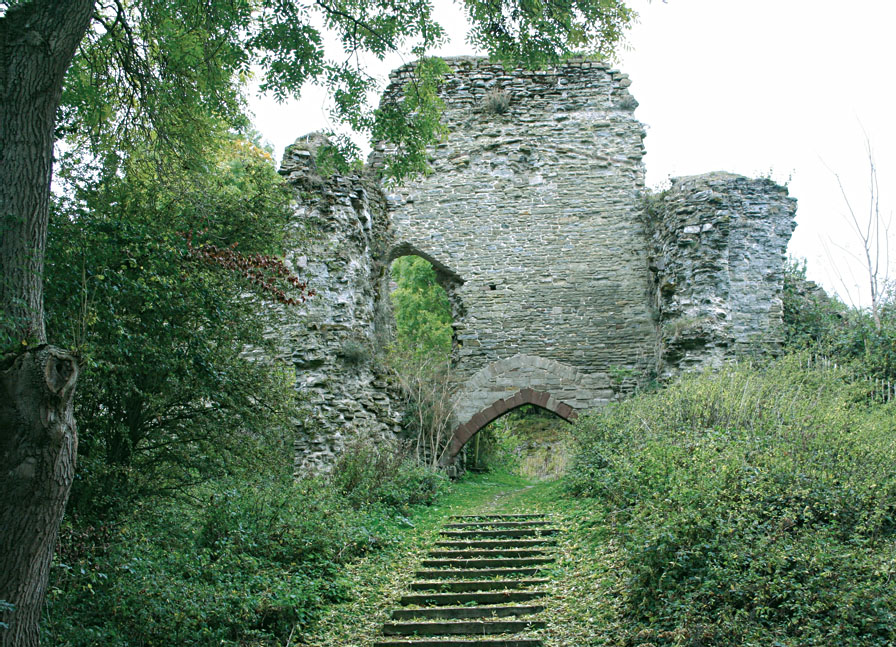 7
Now, if you're looking for romantic ruins in a castle, instead of a stately home, the place to see is Wigmore Castle, beside the A4110 between Hereford and Knighton. A bramble-strewn path leads up to the crumbling seat of the Mortimers.
[/caption]
I went to meet longtime British Heritage contributor Claire Hopley, who splits her time between Chester and Leveritt, Mass. We rendezvoused at a famous old pub called The Falcon after she finished speaking on her new book of English Christmas customs at the Chester Literary Festival. We'd an enjoyable couple of hours chatting before I had to head back to Ruthin.
The next day, I drove south to Birmingham, and through its interminable, convoluted network of city streets to get to Cadburyworld. When industrial Birmingham grew up to be England's second-largest city there just weren't any motorways. And, when I finally made it to Bournville, there was a two-hour queue at Cadburyworld. Uh, I continued on to the more placid surroundings of Warwick.
It was fun to have a real poke around the county town of Warwickshire. Warwick Castle has long been recognized as perhaps the best and most complete example of a medieval castle in England, and I've visited several times. Unfortunately, it is now owned by Madame Tussauds, who have turned it into a theme park. It is the exact antithesis of Wigmore Castle. Warwick's lovely St. Mary's Church has a medieval ducking stool in its crypt, the chapel of the Royal Warwickshire Regiment and the ornate 14th century tombs of Thomas Beauchamp, Earl of Warwick, and his wife, Katherine Mortimer, who grew up at, yup, Wigmore Castle.
Sunday, I was back in Birmingham, this time queuing up in the drizzle more than two hours to see the Staffordshire Hoard. As one who has always assumed that if you have to stand in line more than 20 minutes whatever it is you want to see must be overrated, it was a hard call. They let about 100 people at a time into the gallery. The Anglo-Saxon treasure, as you may have already concluded from Dateline, was truly worth seeing. I wouldn't have missed it.
With a few hours of daylight left, I headed to Stratford-upon-Avon. Admittedly, Stratford is as much a tourist town as anywhere in Britain. Shakespeare is big business, and the Royal Shakespeare Theatre is a justly famous draw. I wanted to collect some pictures. Unimpeded views were difficult to find in the old market town, though, as the town center was completely swallowed by the largest downtown fun fair I've ever seen. I've no idea how they managed to get some of those lorry-mounted rides into the streets. As darkness fell, the downtown was hopping, far more with locals from Stratford and the surrounding area than with tourists.
I repaired to the Dirty Duck for a quiet, well-earned pint. This is famously the actors' pub for the RSC, just across the road from the Swan Theatre. On the side facing Holy Trinity Church, the pub sign reads The Black Swan, on the other The Dirty Duck. Among the signed photos on the wall are those of Richard Burton, Alan Bates, Lionel Jeffries and John Gielgud.
Miles-long tailbacks on the M40 the next day led me to shunpike south on the A34. I picked up the busy M4 west of Reading and turned to London, having driven just over 700 miles. As always, the diesel fumes and crowds of the city take some adjustment after our green and pleasant land. As always, those days were enriched by the places I saw and the interesting people I met. Do go yourself, and live the history, and in the meantime, enjoy sharing it in British Heritage.