[caption id="LondonandtheBestofWessex_img1" align="aligncenter" width="452"]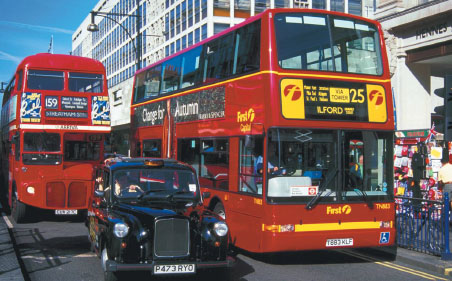 5
Those red double decker buses are never out of sight on London's streets.
[/caption]
[caption id="LondonandtheBestofWessex_img2" align="aligncenter" width="333"]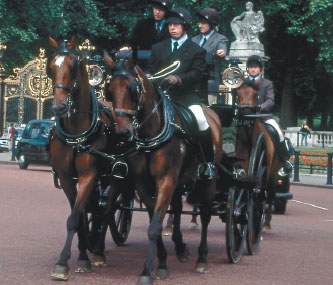 5
There always seems to be a spectacle around Buckingham Palace.
[/caption]
ON THE ROAD will introduce a day-by day itinerary in each issue for dreaming and for planning your own travel in Great Britain. Here is a great itinerary for first time visitors to Britain with short, easy drives across southern England's beautiful Wessex countryside. Splitting the time in London is optional, but rewarding.
Day 1–Arrival in London
You will probably have had an early morning arrival at either Heathrow or Gatwick airport. Just take the Express train in to central London and get a taxi to your hotel. Resist the temptation to plan too ambitiously today, or to nap more than an hour or two. Check out a nearby sight, explore your London neighborhood on foot, eat a light dinner (save the curry) and go to bed just a bit early.
Day 2–London: City Without Peer
If you've never seen London, hop-on, hop-off panoramic sightseeing on a doubledecker bus (from vendors impossible to miss) provides a great overview of the city and its history. Then, get an Oyster card—for travel on London buses or the Tube—to dash around town on your own. This evening, perhaps wander around exciting Covent Garden and eat in a bistro café or go to the theater. You can easily get tickets online before leaving home.
Day 3–On the Road to Winchester
It's time to leave London behind. Start after rush hour, and take the Express from Paddington station to Heathrow to pick up your rental car. Route down to Guild-ford on the A3, and pick up the A31, over the Hog's Back into Hampshire. You might detour in Farnham to visit Waverley Abbey ("50 Hidden Treasures," March 2009, p. 45). Or turn off in nearby Chawton to visit Jane Austen's house and "home village." You'll reach Winchester in midafternoon. The statue of Alfred the Great will greet you on the High Street.
Day 4–Winchester: Capital of Wessex
It's a glorious day to visit Winchester. Our feature on page 52 should provide plenty of inspiration.
Day 5–Via Salisbury to Bubbling Bath
Head out of Winchester on the A3090. It's about 10 miles to Romsey, and worth a stop at Saxon Romsey Abbey. Or continue on up the A27 to Salisbury. Do visit soaring Salisbury Cathedral and have a wander around the pedestrian precincts of the 13th-century city. Then, follow the A36 northeast the 40 miles up to Bath. Or detour to see Stonehenge on the way. There are splendid photo ops all across Salisbury Plain and the Avon valley. Take your time, but get to Bath before late afternoon; the rush-hour city is a traffic nightmare any time of year.
Day 6–Bath: England's 18th-Century Party Town
Jane Austen meets the Romans in England's most popular inland "resort." Read all about it in "A Day to Visit Bath," January 2009, p. 54.
Day 7–Over the Marlborough Downs to Town
Today brings a return to London. Forget the motorway and take the A4 through Chippenham. Just a short detour at Avebury lets you stroll among the henge stones of England's biggest megalith. Marlborough makes a great stop for coffee and a walk on the pretty, broad High Street. At Hungerford, jump up onto the M4. You might follow the signs to visit Windsor Castle, wander along the Thames and poke in the shops. Or head straight back to London. Heathrow lies just down the road. Drop off the car and take a train back to Paddington. After England's green and pleasant land, the city will seem loud and busy. Maybe this evening is the time for that curry at one of London's many great Indian restaurants.
[caption id="LondonandtheBestofWessex_img3" align="aligncenter" width="237"]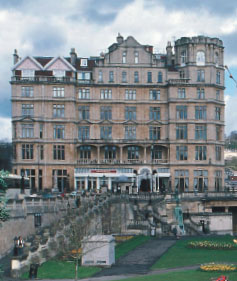 5
Parade Gardens have long been a Bath oasis.
[/caption]
Day 8–On the Town in London
It's a full free day in London. Knowing you are coming back, you'll already have made your plans. Use that Oyster card. Perhaps go back to see the Tower of London, or spend the morning at the British Museum. Take a boat ride on the Thames from Westminster Bridge, and visit the magnificent Abbey, just across Parliament Square. There is always shopping in Knightsbridge or on Regent Street. This evening, visit Soho, or take in some music or a West End performance, or make it packing and an early night.
Day 9–All good things come to an end
There may be time for some last minute shopping before you need to head back to the airport. Or…to King's Cross for a train to Edinburgh.
[caption id="LondonandtheBestofWessex_img4" align="aligncenter" width="539"]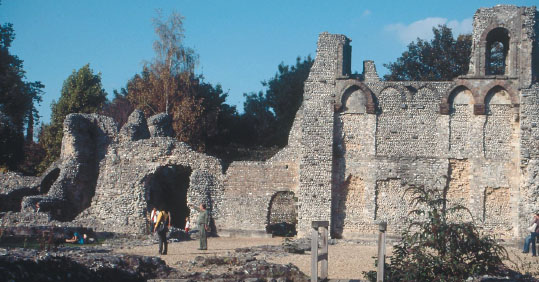 5
Right in the middle of bustling Winchester, the ruins of Wolvesey Castle are open for exploring.
[/caption]