Try Home Away From Home in London
[caption id="LondonFlatRentals_Feature" align="aligncenter" width="1024"]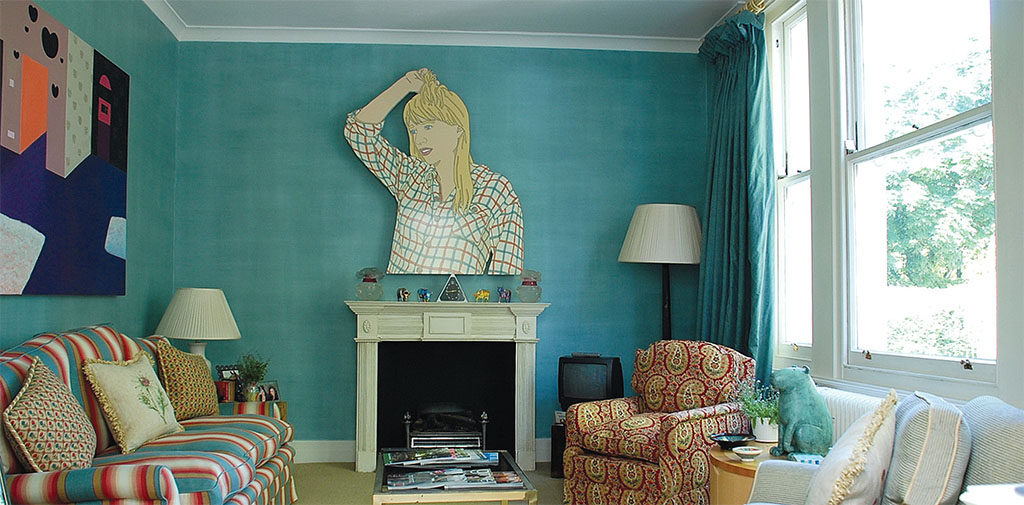 5
Live the life of a Londoner in a neighborhood you call your own.
[/caption]
BEFORE MAKING HOTEL RESERVATIONS for an upcoming visit to London, here's another idea. Consider whether a short-term rental flat, or apartment, might not be a better idea and a more interesting option.
An apartment provides more space than the average hotel room, and, unlike a generic hotel room, its unique and personalized furnishings reflect the owner's individual living style and taste. All flats come fully equipped with linens, china and silverware, and many have washers and dryers as well as a television, DVD player and high-speed internet access. Rental fees include gas, electricity, taxes and a clean-out charge.
While the price of a flat might seem high when first investigated, it will definitely be more reasonable than many London hotels. Having one's own kitchen for making breakfast each morning and keeping snacks and drinks on hand will be a savings.
Best of all, however, guests in a flat get a chance to live the life of a Londoner, settled into a neighborhood that they can call their own at least for a brief period. How exciting it is to have one's own telephone number and a set of keys that allows you to come and go as you like.
Short-term rental apartments, usually for a minimum of one week, are available in some of the best neighborhoods in central London, so there is a wide choice of locations. These apartments are usually properties whose owners are away for a period of time. Most contain well-equipped kitchens, power showers in the bathroom, and sitting rooms with well-stocked bookshelves and inviting sofas and armchairs on which to relax at the end of a busy day.
It is essential, however, to rent from a reputable agency like one of the three introduced below and to understand the payment, cancellation and refund policies. It is a good idea to buy cancellation insurance in advance of your trip since apartments must be paid up in full six weeks before the visit and monies cannot be refunded after that. A security deposit is taken at the time of booking. This will be returned to renters about four weeks after they vacate the apartment, less any telephone calls (and damage costs, if any) they might have incurred.
The search for a short-term rental flat can begin with the excellent Web sites that the agencies provide. Each site introduces the agency and gives information about the properties on its books. Users are asked to submit their dates and indicate the size of the apartment needed. The site will provide a list of available properties along with color photographs and detailed information about each one. I have used each of these three agencies a number of times over the past years with excellent results each time.
[caption id="LondonFlatRentals_img1" align="aligncenter" width="1024"]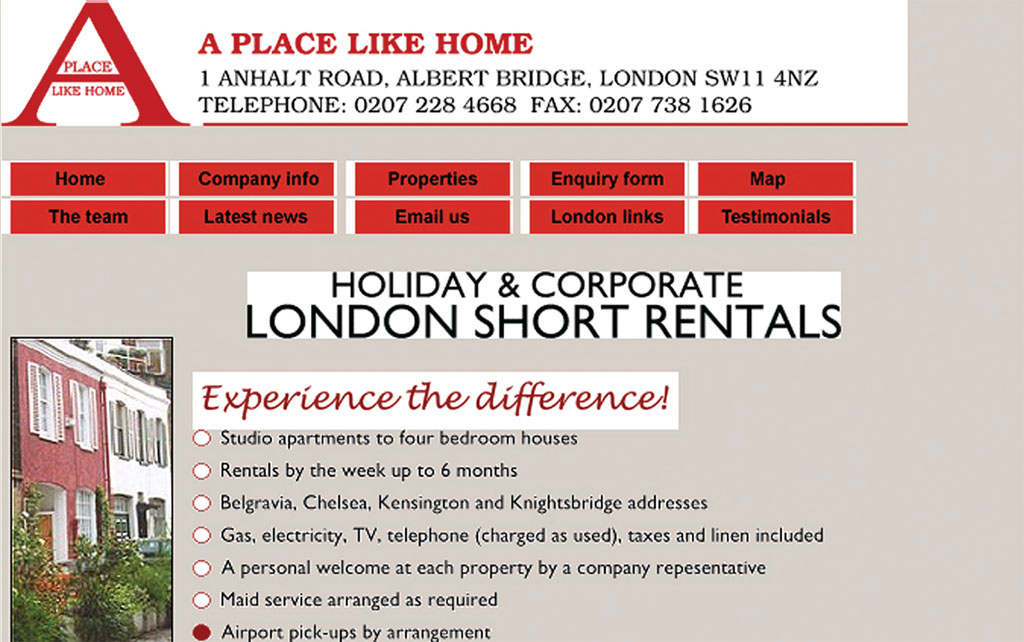 5
[/caption]
A PLACE LIKE HOME was started by Silvia Lawson-Johnston in 1990 and was one of the first short-term rental agencies in London. Back then Lawson-Johnson had a company that helped to relocate professionals moving into the capital city for their work. She found that having her clients staying in hotels while looking for more permanent homes gave them little idea of actually living in London. She asked friends if they might be willing to rent their London apartments (often second homes) to her clients during their transition periods, and a new business was born.
The year-round business draws a clientele from around the world and is made up of about 30 percent business people and 70 percent holiday visitors. Many visitors return time and again and can choose from a long list of properties with addresses in the upscale neighborhoods of Belgravia, Chelsea, Kensington and Knightsbridge. One of A Place Like Home's most popular flats is located on quiet Lowndes Square in Knightsbridge, with the famous Harrods department store just up the street. Another flat, this one on pretty Chesham Street in Belgravia, is beautifully adorned with African art reflecting the owner's frequent visits to that continent. Lawson-Johnson and her staff believe in personal service and abide by the saying "you never get a second chance to make a first impression." This is indeed one of the outstanding short-term rental agencies in London!
[caption id="LondonFlatRentals_img2" align="aligncenter" width="1024"]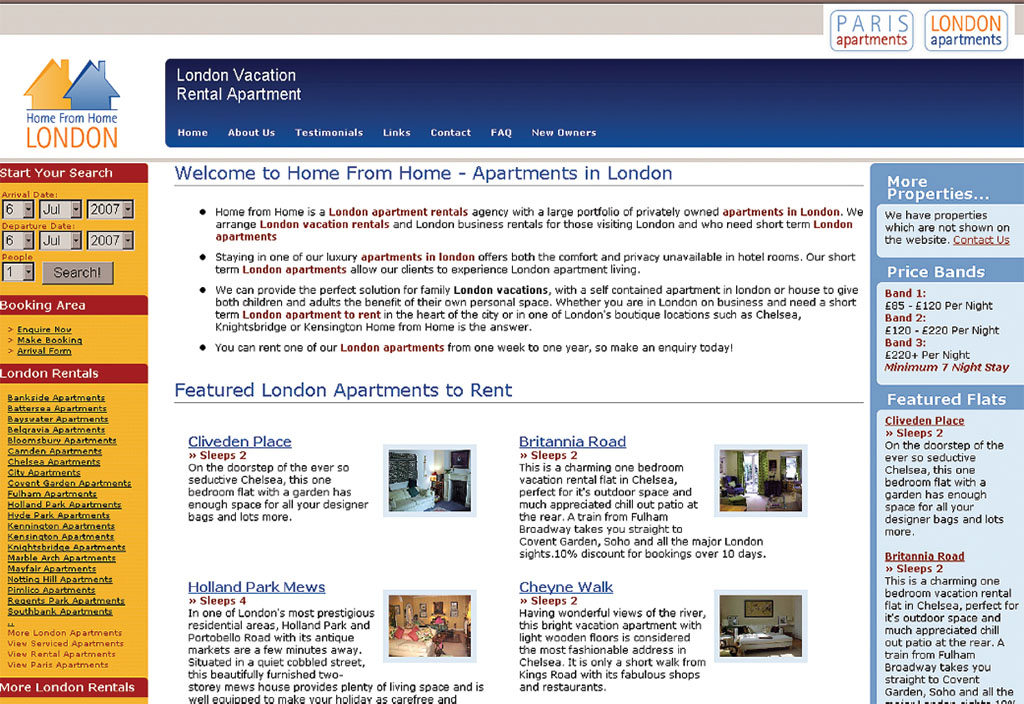 5
[/caption]
HOME FROM HOME was started in 1994 after owner Christine Willis let her own London home to Americans on a short-term basis while she was living in Switzerland. Willis, who is also a qualified barrister though she no longer practices law, saw the need and potential to build on her own short-term rental, and today Home From Home is one of the top such agencies in town.
Home From Home is based in London and Paris and has a portfolio of more than 200 properties including everything from a studio apartment in Chelsea to a six-bedroom house with swimming pool in Holland Park. Two popular rentals, among many, include a flat on Bankside, with the River Thames and the Tate Modern just outside its door, and a property on Cliveden Place in Chelsea that has its own garden as well as shops, restaurants and the Royal Court Theatre just up the street. Willis and her staff are constantly on the lookout for more apartments to add to their available properties, but each new listing must meet the high standards of Home From Home before they even consider taking it on.
[caption id="LondonFlatRentals_img3" align="aligncenter" width="1024"]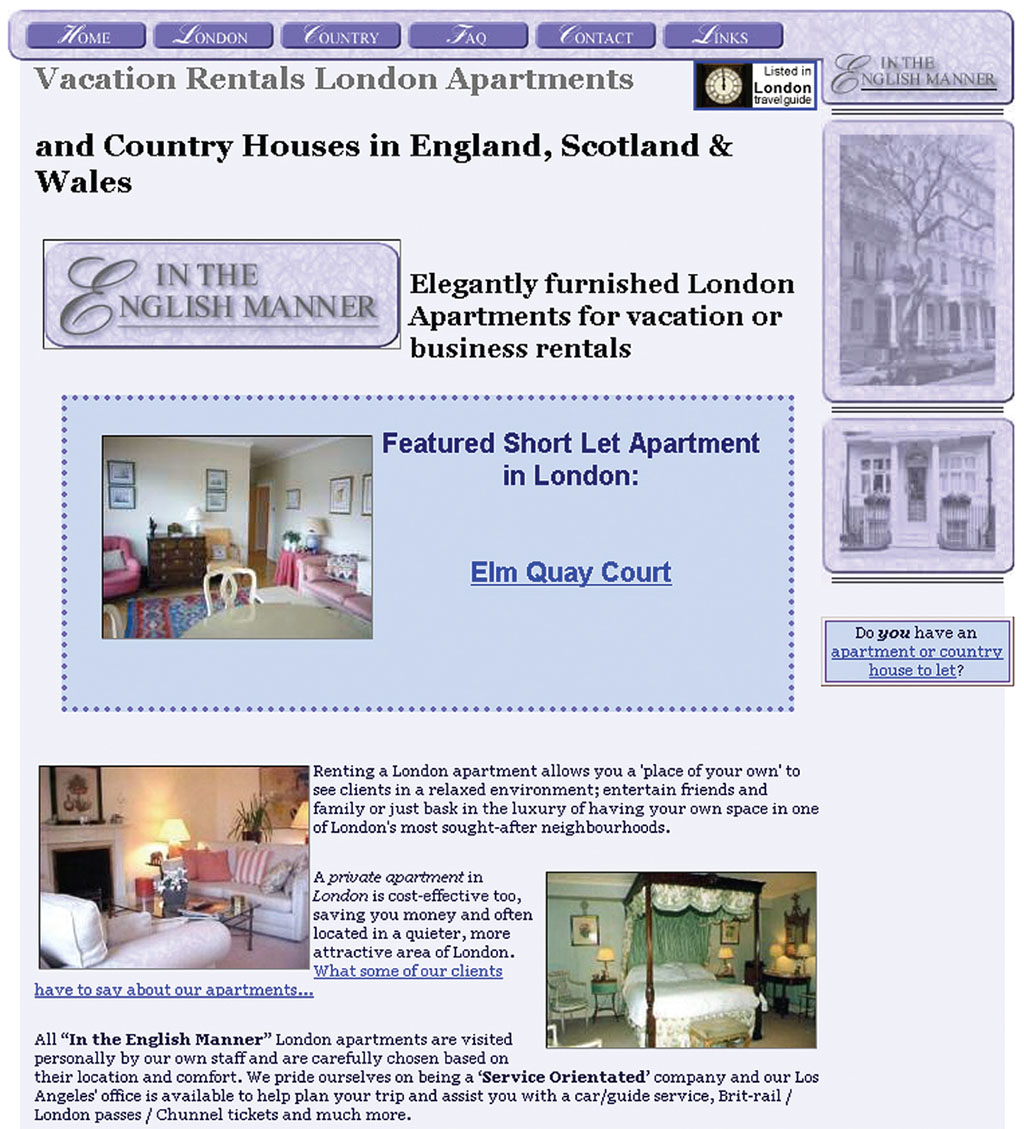 5
[/caption]
IN THE ENGLISH MANNER has been in business for more than 25 years and very well may be the pioneer in offering short-term rental flats within central London as well as homes in the English countryside to independent travelers. This is the only one of the three agencies cited here that has offices both in London and in the United States (California). Sue Rogers began working for In The English Manner in 1986, and she and her husband took over the ownership of the company several years ago after the retirement of the previous owners. Glo Williams in the Los Angeles office is always ready with an informed personal opinion about each available flat if you can't make up your mind.
In The English Manner maintains some very desirable properties and continues to be a good source for short-term rentals in London. One of its most popular one-bedroom flats is located at Gordon Place, an appealing backwater in west London away from the noisy bustle of Kensington's High Street, yet only a three-minute walk away. This agency holds its own in the forefront of the short-term rental business as staying in one of their flats allows you to live "in the English manner" during your time in London.
WHILE A SHORT-TERM rental flat can have the rare snag, a good agency, like the ones above, is always there to help guests during their stay, whether with a finicky key or a bed that is too soft. Each agency can arrange for a car and driver to collect their short-term tenants from the airport, and it will also purchase groceries in advance of their guests' arrival so that the kitchen cupboard is well stocked when they walk in the door. There is no doubt that once visitors experience the space and freedom that an apartment offers, and have a taste of living the life of a Londoner, it will be difficult to stay in a hotel again.