[caption id="MeetLondonHistoriansandJeevesonStage_img1" align="aligncenter" width="113"]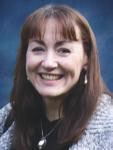 5
[/caption]
[caption id="MeetLondonHistoriansandJeevesonStage_img2" align="aligncenter" width="694"]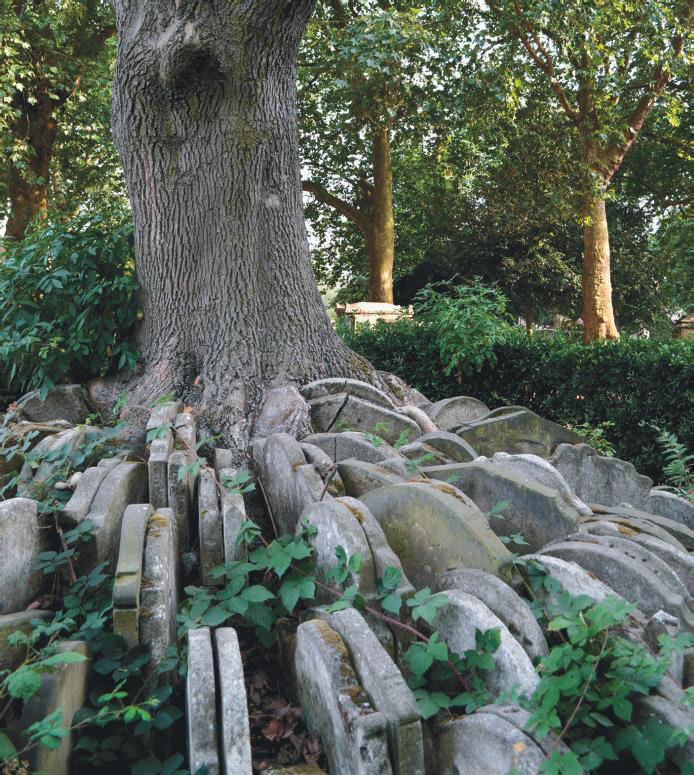 5
HARDY TREE
[/caption]
APPRENTICES ALWAYS GET the unsavory jobs, sometimes so unsavory it puts them off for life. In 1865 an architect, Arthur Blomfeld, didn't much care for his latest commission: the exhumation of several hundred bodies from Old St. Pancras Churchyard to make way for the new Midland Railway. He passed the job onto his apprentice, who had to oversee the grisly task of digging up and reburying mouldy cadavers. After the reburials, the poor chap was left with a number of extra gravestones that had lost their owners along the way. As a temporary measure, he piled them up around an ash sapling. They remain there today, the roots of the tree weaving through the stones. Perhaps the experience scarred him for life, but Thomas Hardy switched careers after that. Yes, that Thomas Hardy.
I'd wanted to see the Hardy Tree for ages—partially because of who created it, partly because the churchyard itself is home to some other stunning memorials, but mainly for its sheer oddity. The ash tree is now a good 40 feet tall and at least 165 years old, still growing strongly, its roots spilling over the top of ancient headstones like tentacles. There's a little fence around it these days, to prevent people people climbing over it, but the sight is still extraordinary. While there I took time to see the glorious tomb of Sir John Soane (which inspired our traditional red telephone boxes), a memorial to Baroness Burdett Coutts featuring the cutest stone dogs anywhere, and to poke around the church itself, which is among the oldest places of Christian worship in Britain.
BACK IN 2010 Mike Paterson, a guy perhaps even crazier about London than me, pitched-in his day job to put his historical money where his mouth was. The result, London Historians, now has 500 members and is growing almost as fast as the capital itself. Members include Blue Badge tour guides, academics, journalists, authors, institutions and serious specialists within ever-decreasing circles of London minutiae alongside people like me who just love every aspect of the city. Put them together and you have a fascinating calendar of talks, socializing, visits, walks, tours—and the scariest pub quiz in town.
If you're planning to be in the capital for any length of time (and curious to find out about London's many layers) it's worth joining the group, but they have a social once a month, free and open to all, where you can find yourself chatting to some of the most knowledgeable people in town. It's held at the Windsor Castle pub in Victoria, on the first Wednesday of the month. You can turn up for as little or as long as you like, and Mike Paterson (whose baby LH is…) and his friendly gang are always there until closing. I just never know who I'm going to meet, and I know I will end up having some fascinating discussions.
It was while I was at a London Historians meeting that I finally vowed to visit the London Metropolitan Archives. About a 15-minute walk from Farringdon Station, it houses all the strange city archives no one knows what to do with, and consequently holds some of the most fascinating and varied documents you'd ever want to read. It's a Mecca for family and general historians alike, but like all archives, it can be a bit of a labyrinth to work through. I had planned on just turning up, getting a "History Card" and seeing what was available, but in the end I went to a (free) lecture instead, about the history of the sewer system. It may sound dull, but was absolutely fascinating, illustrated by some incredible original artifacts from the archives.
[caption id="MeetLondonHistoriansandJeevesonStage_img3" align="aligncenter" width="676"]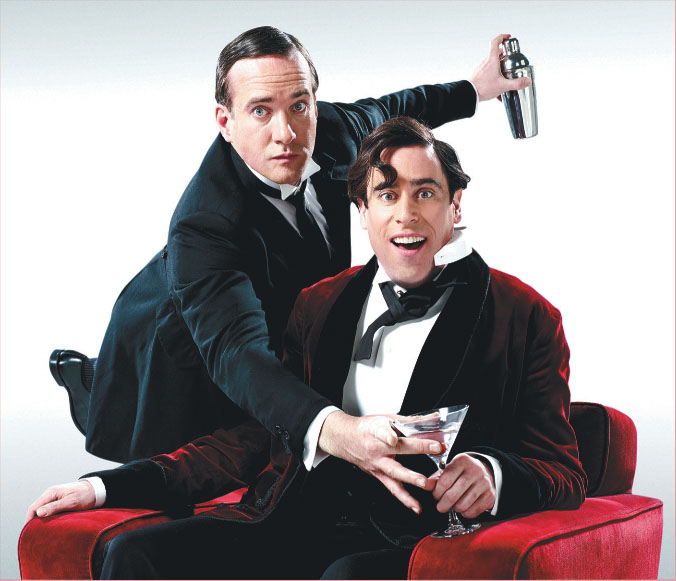 5
JEEVES AND WOOSTER IN PERFECT NONSENSE
[/caption]
P.G. WODEHOUSE CAN BE DESCRIBED as many things but "eclectic" is not one of them. I'd been desperate to see the new comedy Jeeves and Wooster in Perfect Nonsense ever since I heard it was coming. It's been fully booked for months. But one particularly rainy Tuesday I went along to the box office on the off chance they might have the odd return. I did manage to secure a ticket (middle of Row H in the stalls, no less), which just goes to show it's always worth a try at the box office itself if a West End show is sold out.
It's an absolute delight. Following the tradition of shows like The Thirty-Nine Steps, where a tiny cast play a huge number of characters for comic effect, it has just three actors and a minimal set (gradually "built" by Jeeves as the play goes on). The conceit is simple enough. Bertie Wooster wants to tell the audience about a dreadful commotion over a cow-creamer and a policeman's helmet (sound familiar, Wodehouse fans?) by acting it out. In the process, he cajoles his long-suffering valet Jeeves and his Aunt Dahlia's longer-suffering butler Seppings to play all the parts.
I was expecting TV star Stephen Mangan to be excellent as Bertie, a role that might have been written for him, and veteran character actor Mark Hadfeld was a great choice for Seppings, but I was stunned by Matthew Macfaddyen as Jeeves. He's easily the best-known of the three, famous for playing frankly dour roles in serious dramas, but he's been hiding his comedy light under a bushel (or, in this case, Bertie's bed, as a myopic Gussy Fink-Nottle, hiding from that raging, shorts-wearing fascist Spode).
[caption id="MeetLondonHistoriansandJeevesonStage_img4" align="alignleft" width="350"]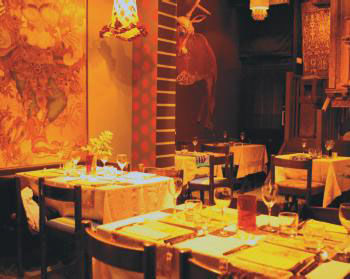 5
[/caption]
THIS MONTH'S CONTACTS
Old St. Pancras Church
www.posp.co.uk/old-st-pancras
London Historians
www.londonhistorians.org
London Metropolitan Archives
www.cityoflondon.gov.uk
Jeeves & Wooster in Perfect Nonsense
www.jeevesandwoosterplay.com
Champor-Champor
www.champor-champor.com
There is much to be enjoyed in the West End at the moment, but this is surely one of the most fun offerings around. The show's booking to September and beyond and it's well worth reserving tickets rather than, like me, winging it. Oh—and stay right to the very end to see the funniest dance routine in town.
My FAVORITE Thai restaurant died recently, another sad victim of the recession. I've been looking for a replacement ever since. I am still looking, but I'm impressed with a discreetly eccentric eaterie in the backstreets around London Bridge. It's all getting a bit trendy round there nowadays, but Champor-Champor has been around since before all that modern Shard-driven nonsense. The name means "mix and match" and that's pretty much what it does—a sort of mashup of eastern and western foods with a pan-Asian finish. So you'll get river prawns served with gruyère and lime, for example. It shouldn't work, but it does. The restaurant is cozy and local feeling and I look forward to returning.
Next time I'll be checking out the much-anticipated Sam Wanamaker Playhouse, witnessing another strange City custom and finding out about the journey humans have made in the last million years.