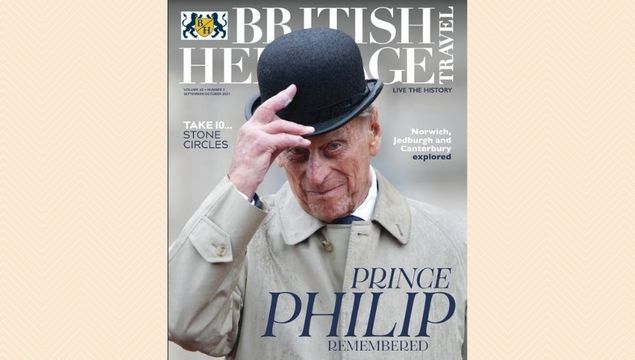 Welcome to the September / October 2021 issue of British Heritage Travel magazine.
As the British Heritage Travel team revels in the fact that relative normality has returned, following the worst of the pandemic, we would still, however, like to ask all of our loyal readers to abide by travel regulations and check with tourist attractions websites before you visit.
Now, on to the good stuff! In this issue of the magazine we reflect on the great loss the British people felt with the passing of Queen Elizabeth II's husband, Prince Philip. Dana Huntley takes a look at the incredible life and legacy of this issue's cover star - the 99-year-old Duke of Edinburgh.
Finally, as some travel limitations are lifted our writers spread their wings and explore stunning locations such as Gravetye Manor and its gardens outside London and Canterbury, the Kentish city that packs a punch, while Sandra Lawrence explores new exhibitions to explore as London reopens.
Dipping into history, Sian Ellis visits the family homes of Anne Boleyn and Henry VIII, who were neighbors of sorts. Also through this issue's photographic essay, we take a look at the life and times of Clementine Churchill, the wife of the WWII leader.
Take a look at what's inside our Sept / Oct issue of British Heritage Travel print magazine:
- Take ten
Dana Huntley looks at ten of Britain's most historic stone circles
- A day well spent
Sian Ellis visits the family homes of Anne Boleyn and Henry VIII - which are located close to 
each other
- A Prince of a Man
Dana Huntley looks at the life and legacy of the late Prince Philip, Duke of Edinburgh
- When Uncle Sam invaded
James Graham revisits the often forgotten impact the American Revolutionary War had on Great Britain 
- Gravetye Manor
Sandra Lawrence visits Gravetye manor and its legendary gardens
- Canterbury
Dana Huntley explores canterbury and discovers why a small Kentish city has always made a big noise
- Around London town
Sandra Lawrence explores London's reopened museums as life returns 
 to the city
- Norwich
Scott Reeves visits Norwich and discovers a Norman city waiting to be discovered 
- Heroes and ghosts
Susie Kearley explores Jedburgh and the Scottish Borders
- Five of the best
The places most associated with Winston Churchill 
- The life and times of Clementine Churchill
A photographic essay on the life and times of Clementine Churchill