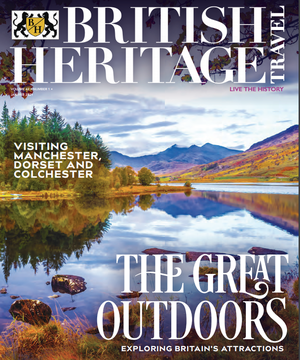 The January / February 2021 issue of British Heritage travel is filled with hope and adventure! It's time to get planning your next vacation to Britain.
Welcome to the January / February issue of British Heritage Travel. The team is ready to jump into 2021 with both feet and are hopeful that this new year opens up the possibility of once again welcoming visitors to our glorious isle as we finally see the back of lockdowns and the pandemic.
We're excited to welcome brighter days and with it a sense of adventure. In this issue, we look at how history shaped our favorite places while looking at the great outdoors and best of British parks. 
We also visit the city of Manchester and Colchester, the stunning Isle of Purbeck, and head north to report on MacDonald Armouries.
Let's take a look at exactly what's inside the Jan / Feb 2021 issues of British Heritage Travel:
The great outdoors - Britain's best parks
Wessex - Dana Huntley looks at the place where Alfred The Great meets Thomas Hardy.
About town - Sandra Lawrence explores London
Manchester Metropolis - Steve Roberts looks at the historic monuments of Manchester the Metropolis. 
Colchester - Susie Kearley visit Colchester
MacDonald Armouries - Forbes Inglis visits Scotland's MacDonald Armouries and learns more about a historic skill. 
About British Heritage Travel
Whether you have a passion for Britain's ancient history, its great historical figures, the illustrious royals, or the wonderful tourist attractions and hidden gems of the British Isles we have it all.
From our dynamic website and social media to daily newsletters, along with our bi-monthly print magazine, British Heritage Travel brings everything British to you.
Are you an Anglophile who just can't get enough of Britain's history or someone who is constantly planning their next trip to the British Isles? Our publication brings all your passions together.