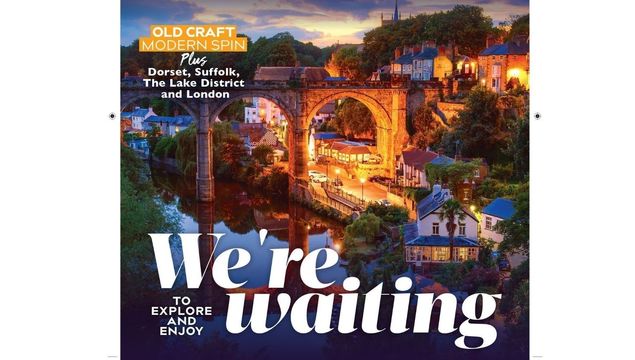 Britain is waiting for you! In this May / June's issue of British Heritage Travel's magazine, we help our readers find inspiration for their next vacation, as well as exploring the legacy of Beatrix Potter, looking at the old craft of corn dollies, and much more.
With the rollout of worldwide vaccines heralding the possible end of the pandemic, we're looking to brighter days ahead and spending the summer months exploring Britain with family and friends. With this in mind, Dana Huntley shares his personal travel tips to experience the best of the United Kingdom, while Scott Reeves looks past the obvious motorway rest stops to attractions within attractions, which may just change how you look at planning your next trip!
Elsewhere, we look at the life and legacy of Beatrix Potter, explore her home of Hill Top and look at her love of science. Forbes Inglis shares the history of corn dollies and looks at one woman giving the ancient art a modern twist. We also look at Britain's heritage, as Dana Huntley explores the ten best Roman heritage sites on the island. 
Take a look at what's inside British Heritage Travel's latest issue here:
- Take Ten
Dana Huntley looks at ten of the best roman sites in Britain
- A day well spent
Sian Ellis visits England's riveria and the home of Agatha Christie
- Herriot Country
Dana Huntley heads to the North Yorkshire Dales in search of Herriot Country
- Britain and the movies
Stephen Roberts looks at famous movies all filmed in Britain
- This Sceptred Isle
Dana Huntley with advice on easing back into travel after the pandemic
- Around town
Sandra Lawrence looks to brighter days spent in London beer gardens
- Roads less travelled
Stephen Roberts looks past service stations and lay-bys to attractions within attractions worthy of a visit
- Making history new again
Forbes Inglis meets the woman giving the ancient craft of corn dollies a new lease of life
- Suffolk
Susie Kearley explores Suffolk from nature trails to coastal bliss
- Beatrix Potter
The life and timdes of a beloved author and her scientific and personal legacy
- What is...
The Henley Regatta all about?