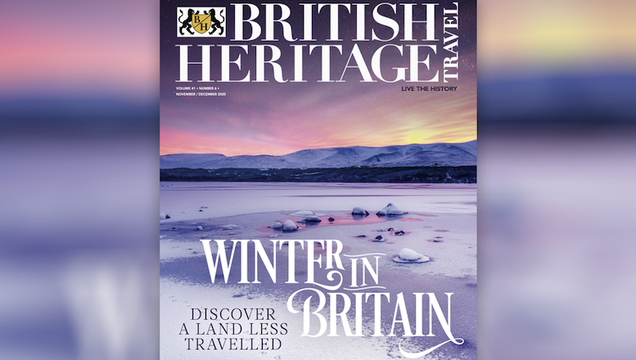 As we move into winter and take stock of what's being an incredibly challenging year let's revel in a very British Christmas and plan ahead for our future vacations to Britain. 
Right now the November / December issue is winging its way to British Heritage Travel's lucky subscribers! Today we enjoy our Editor Aisling O'Toole's letter this month, featured in the bi-monthly print magazine, and take a look at what British Heritage Travel subscribers are reading this month. 
As we head into the final part of 2020, we pause and take a moment for those who are no longer with us and for those who have had a difficult year - here's hoping that 2021 shines some much-needed light into all of our lives.
In the meantime, this issue sees us celebrating all things festive! From the greatest British homes and their Christmas plans (please double-check all dates) to our favourite British holiday traditions we have something for even the biggest Scrooge.
Speaking of Mr. Dickens, we also take a look at the lasting impression he made on Christmas, literature, and London in general. If you still have some shopping to do, why not cross someone off your holiday gift list with a subscription to British Heritage Travel? Simply scan the code below.
Let's take a look at what's inside the Nov / Dec 2020 issue of British Heritage Travel magazine:
- Take ten
Ten of the best Royal palaces in Britain, where the Royal Family lives, works, and plays.
- Samuel Pepys
The life and times of the world's most famous diarist Samuel Pepys.
- A day well spent
Siân Ellis visits the romantic and enchanting Cotwolds.
- The devil in the details
Dana Huntley shares the hidden attracts dotted around the United Kingdom.
- Dickens of a day
Siân Ellis follows in the footsteps of Charles Dickens to create the perfect Dickens of a day!
- The Prince of Wales
Dana Huntley looks at the history of the Prince of Wales title.
- About town
Sandra Lawrence explores London.
- Great houses and Christmas
Susie Kearley and Scott Reeves shine a light on Britain's stately homes and their Christmas plans, including Chatsworth and Blenheim Palace. 
- Festival traditions
Five of Britain's best festive traditions.
- Photo essay
Scotland's landscapes during the changing of the seasons.
Please get in touch with thoughts or suggestions. You'll find our print editor, Aisling O'Toole at [email protected]