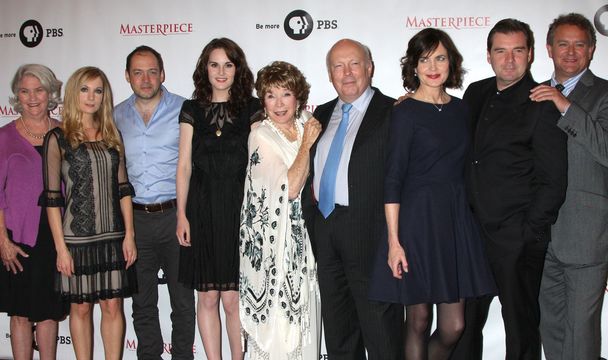 Rejoice, Downton fans! It sounds like the Crawley family and their friends (including their servants) are all—finally—coming to the big screen!
"There's a movie in the works. It's been in the works for some time," announced President of NBCUniversal International Studios Michael Edelstein at the red-carpet opening of Downton Abbey: The Exhibition at Marina Bay in Singapore.
"We are working on getting the script right and then we've got to figure out how to get the [cast] together," Edelstein told the AP.  "But we're hopeful to make a movie sometime next year."
Those who have been long following the news about a Downton film are no doubt thrilled—yet probably also surprised. Creator Julian Fellowes wrote that he was "still waiting for that green light from the studio" in a web chat with The Guardian just last week on June 13. Though when BHT spoke to Fellowes back in May of last year, he was already hopeful about a new movie. "It seems to me unlikely there won't be. Because there's an audience out there...I'm very happy to be on record saying I support the idea and I hope there will be," Fellowes told us, adding that his beloved characters are still with him.
"They've been there for seven years, so you can't simply eject them all at once. But I think it would be fun to have another go at it, and in the different scale, and on a broader canvas, and so on. I think we'd have some fun with it!"
The cast is no doubt also happy and possibly surprised to hear the news. When BHT interviewed Joanne Froggatt back in March of this year, she denied having inside info about any upcoming film. "Oh, I don't know! I honestly don't…I have no idea if it's going to happen or not," said the actress who played Anna, Lady Mary's long-suffering maid. "We'll have to wait and see. Yeah, no plans yet. Nothing's happening at the moment."
Maggie Smith, the Dowager Countess herself, however, may have mixed feelings. At the BFI & Radio Times Television Festival in London in April, Smith appeared uncertain when asked if she'd be interested in a Downton film: "I just think it's squeezing it dry, do you know what I mean?"
If you're in Singapore before July 31, check out Downton Abbey: The Exhibition, featuring "costumes, locations and never-before-seen footage from the show". The show, meaning the exhibition, will open in the States sometime in 2018. We'll keep you posted about the film.
[Source: AP, The Guardian and bbcamerica.com/ Photo Editorial credit: Kathy Hutchins / Shutterstock.com ]