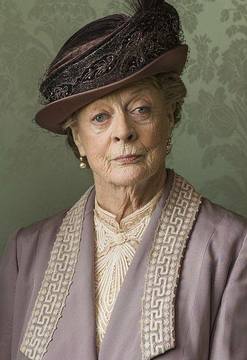 Congrats to Maggie Smith for her win at the Emmy awards last night! Her portrayal of the Dowager Countess on Downton Abbey's final season earned her yet another Outstanding Supporting Actress in a Drama Series award—her third for the part! Sadly, not everyone could be happy for Dame Maggie, who was unable to attend the ceremony; the night's host, Jimmy Kimmel, referred to her as "Downton absent." After it was announced that Smith won, Kimmel grabbed the statue away from presenter Minnie Driver and announced, "No, no, no! We're not mailing this to her!" Speaking to the camera, he said, "'Maggie, if you want this, it will be in the lost and found.'
Dame Maggie Smith beat out Game of Thrones' Lena Headey, Emilia Clarke and Maisie Williams, The Affair's Maura Tierney and UnREAL's Constance Zimmer. She has not been present for any of her four Emmy wins. (She also won an Emmy for Outstanding Lead Actress in a miniseries or movie for My House In Umbria in 2003.)
[Source: Deadline/Daily Mail]
Update: Maggie Smith responded to Jimmy Kimmel's quips! Via the Downton Abbey Twitter account.




Dame #MaggieSmith graciously accepts her #Emmy award -- @jimmykimmel, please advise on the location of the lost and found! #DowntonPBS pic.twitter.com/veQ6shRmxA


— Masterpiece PBS (@masterpiecepbs) September 19, 2016
For those of you having trouble reading the image text text: "I was very astonished and pleased to win the award. I feel the Emmys have been overly generous to me. If Mr. Kimmel could please direct me to the lost and found office I will try and be on the next flight. Love, Old Maggie."
The Countess Dowager has still got it!