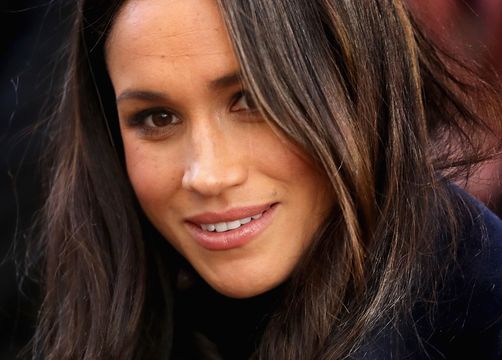 Vogue has released its annual list of the 25 women shaping 2019 and Meghan Markle, Duchess of Cambridge, has been included, alongside Phoebe Waller-Bridge, Olivia Colman and Karen Pierce
Speaking about the names included, Vogue called the list a "line-up of the high-powered and visionary women whose work is shaping Britain's future. 
So just who has made the list? Well, a who's who of modern British women it would appear, with representatives from fashion, politics, charity and entertainment making the cut 
Luciana Berger
Member of Parliament
Vogue said: "In a tumultuous year for politics, Luciana Berger, MP for Liverpool, Wavertree, has refused to be silenced – even at the expense of her personal safety. Her tireless efforts to expose the institutional antisemitism she sees within Jeremy Corbyn's Labour Party have led to horrific abuse and threats of de-selection at the hands of hard-left members."
Julie Bogaert
Social media insider
Vogue said: "Some might play an educated guessing game when it comes to maximising their reach, French-born, London-based Bogaert, Facebook's strategic partnership manager for public figures, has a hands-on approach to guiding content strategies for high-profile clients – the Queen and Victoria Beckham included – to help them speak to new audiences. Naomi Campbell
Naomi Campbell
Model and philanthropist
Vogue said:  "From world leaders to Hollywood stars, she brings the great and the good together by sheer force of her personal networking power. This year she chose to shine her spotlight on Africa, becoming instrumental in helping its fashion scene gain global recognition.
Olivia Colman
Actor 
Vogue said: "Olivia Colman broke Hollywood in spectacular fashion by taking home the Best Actress Oscar for her turn as the tragic Queen Anne in The Favourite. Her awards speech – emotional, funny, naughty – became a two-minute lesson in how to win universal love and respect."
Read more: Everything you need to know about The Favourite's Queen Anne
Marsha de Cordova
Member of Parliament
Vogue said: "Labour's shadow disabilities minister Marsha de Cordova is in a unique position: registered blind, not only can she understand first-hand the obstacles facing those who are not able-bodied, she can push their needs before the government. 
The Duchess of Sussex
Member of the royal family
Vogue said: "Ayear into her marriage, the Duchess of Sussex is still very much a modern princess. From charities to childbirth, the choices she makes reflect the way she is gently modernising the royal family."
Read more: Inside Meghan's inner circle
Theatre director
Vogue said: "Put simply, Marianne Elliott is the most celebrated theatre director of her generation. Winning both Olivier and Tony awards for past productions including War Horse and The Curious Incident of the Dog in the Night-Time, her wildly imaginative stagings place challenging artistry at the heart of mainstream theatre."
Bana Gora
Director of the Muslim Women's Council 
Vogue said: "When Bana Gora announced the Muslim Women's Council's intention to build the UK's first female-led mosque back in 2015, it made headlines around the world. This year, fundraising is finally under way to make her vision a reality."
Polly Higgins
Climate change campaigner
Vogue said: "On Easter Sunday, the seventh day of Extinction Rebellion's protests across the capital, barrister Polly Higgins died of cancer, aged 50. Highly respected in the movement, Higgins campaigned for 15 years for "ecocide" (the destruction of the natural environment) to be made a crime, making governments and corporations liable for their Earth-damaging actions. Although Higgins won't see her work come to fruition, her team will, she said in March, "continue undeterred"."
Emily Maitlis
News broadcaster
Vogue: "Emily Maitlis was promoted to lead presenter of Newsnight, also presented by Kirsty Wark and Emma Barnett, making it the first BBC news show to have an all-female line-up. As the male-dominated Brexit debate rages on, the move couldn't have come at a more crucial time."
Frances Morris
Director of Tate Modern
Vogue: "In April, for the first time in nine years, Tate Modern overtook the British Museum to be named the UK's most visited attraction and the fifth most popular art museum in the world, pulling in almost six million art lovers in 2018."
Read more: 5 buildings to visit in Dublin
Pat McGrath
Beauty innovator 
Vogue said: "The most in-demand make-up artist of her generation, Pat McGrath has been a tastemaker for more than 25 years."
Busayo Oyedoyin
Knife-crime campaigner 
Vogue said: "On 25 April, the Office for National Statistics revealed the UK had reached record levels of knife-related offences – at the time of writing, London has grieved 28 fatal stabbings in 2019 alone. That same day, 18-year-old student campaigner Busayo Oyedoyin held an event in Parliament with the sole aim of tackling youth violence. As a former Youth Member of Parliament for Hackney, Oyedoyin has been a vital voice on what is being termed an epidemic, bringing the concerns of her generation to the attention of Theresa May.".
Karen Pierce
Diplomat
Vogue said: "The UK's Permanent Representative to the UN since March 2018, Karen Pierce holds the most prestigious post in the British diplomatic service, and, as the first woman in the role in the UN's 79-year history, is a trailblazer, too."
Alison Rose
Banker
Vogue said: "Favourite to become the CEO of RBS – and the first female boss of one of the Big Four banks – following her appointment as deputy CEO of NatWest Holdings in December, Alison Rose has used her position to help other women."
Alex Scott
Football broadcaster
Vogue said: "In less than a year, former England and Arsenal footballer Alex Scott has, quite literally, changed the face of football broadcasting. Incredibly, it was only last summer that she became the BBC's first female commentator at a World Cup; weeks later, she was appointed the first female pundit on the Sky Sports flagship programme, Super Sunday. 
Joanna Shields
Tech CEO
Vogue said: "After three decades in tech, Joanna Shields has a reputation for spotting the next big thing. Having been managing director at Google, CEO of Bebo, vice-president of Facebook EMEA and adviser to David Cameron, she has had a hand in building the world's leading tech companies and shaping national policy."
Jorja Smith
Singer 
Vogue: "At just 21, Jorja Smith is on the brink of worldwide superstardom. Having already achieved the tricky feat of breaking America, thanks in part to collaborations with Drake and Kendrick Lamar, tangible proof of her rise came this February in the form of a Grammy nomination for Best New Artist and two Brit nominations (she took home the award for Best Female Solo Artist)."
Sophie
Producer and singer
Vogue said: "Until last year, Glaswegian producer Sophie was the super talented yet mysterious figure behind some of the most successful pop and EDM acts on the planet, among them Charli XCX and Madonna. Then came the release of her own single "It's Okay To Cry" and with it her pop career – and the revelation that she identifies as trans.".
Fran Summers
Model
Vogue said: "Adored by stylists for her innate understanding of fashion, clothes and how to create zeitgeist-piercing characters around them, Fran Summers – a 20-year-old carpet salesman's daughter from North Yorkshire – has already earned comparisons to British modelling greats from Jean Shrimpton to Kate Moss."
Margherita Turco
Scientist
Vogue said: "At the end of 2018, Dr Margherita Turco and a team at the University of Cambridge made an astonishing breakthrough when they succeeded – after 30 years' research – in growing human placentas outside the womb."
Clare Waight Keller
Fashion designer
Vogue said: "In May 2018, Clare Waight Keller exploded into the public consciousness when Meghan Markle emerged on her wedding day wearing chalk-white Givenchy. What followed was a near-exemplary year in the life of a star designer."
Screenwriter and actor 
Vogue said: "Few capture a mood like Phoebe Waller-Bridge. In the past 12 months, a stellar first series of Killing Eve (the comedy-drama about a female psychopath) and second of Fleabag (an era-defining portrayal of millennial mores) have transformed Waller-Bridge from cult comedian to global star."
Women of the police
Cressida Dick, Lynne Owens and Sara Thornton 
Vogue said: "November marked the centenary of women joining the Metropolitan Police Service, and for the first time in history, the three most senior positions in law enforcement were filled by women: Cressida Dick, Lynne Owens and Sara Thornton – commissioner of the Metropolitan Police, director-general of the National Crime Agency and head of the National Police Chiefs' Council respectively."