Following tales of farmers, tinkers, fairies and princes
[caption id="OnBorrowedTimeinWales_Feature" align="aligncenter" width="1024"]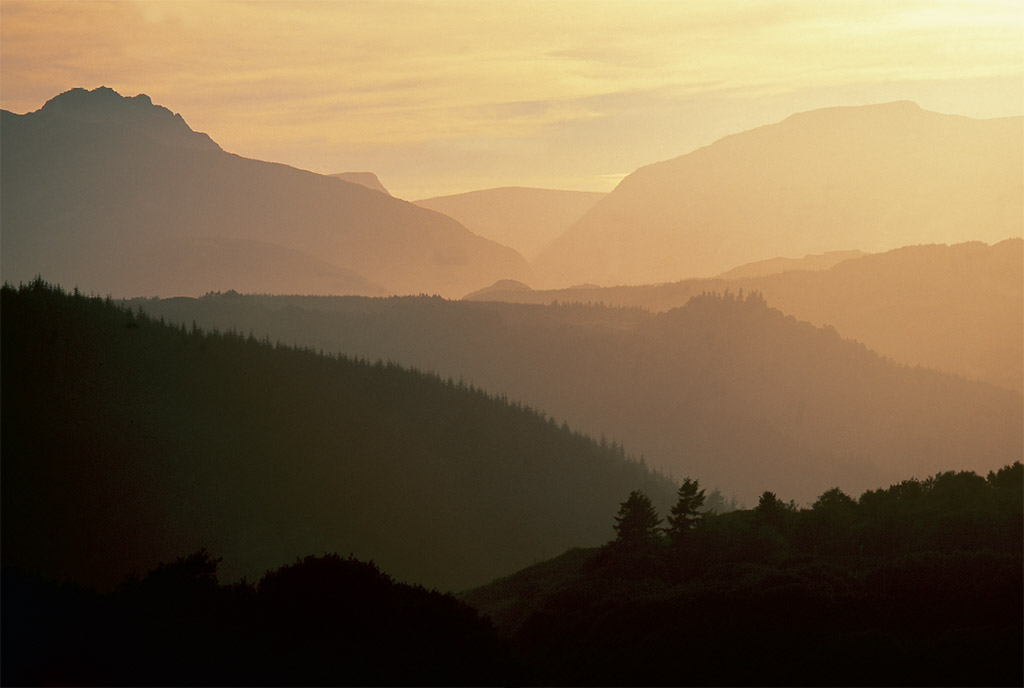 12
[/caption]
[caption id="OnBorrowedTimeinWales_img1" align="aligncenter" width="535"]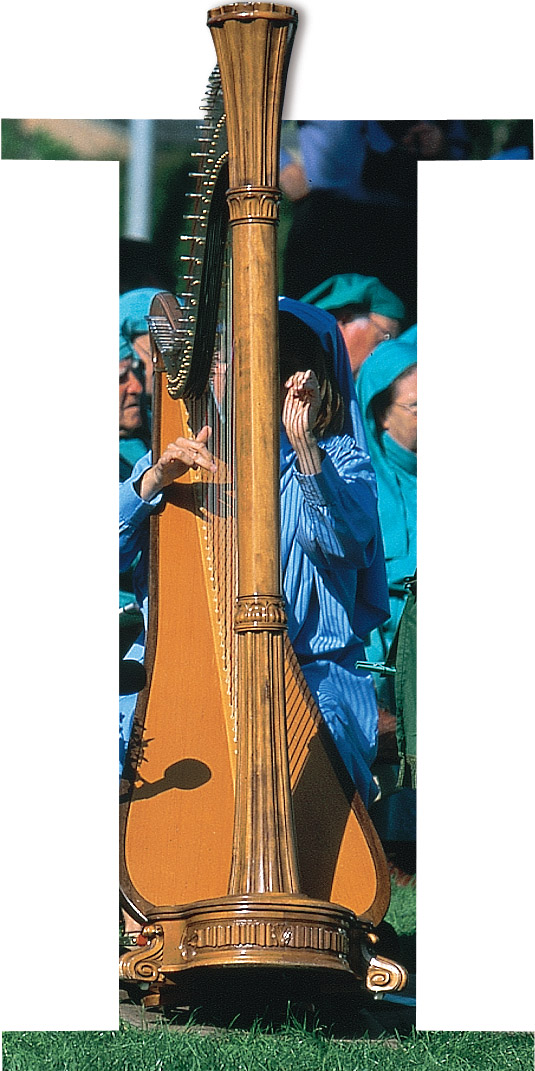 12
Devil's Bridge spans the waterfall where the Rivers Rheidol and Mynach meet.
[/caption]
It was my first glimpse of Snowdonia National Park, legendary hideout of rebellious Welsh princes and realm of some of Britain's highest peaks. From a hilltop cemetery in the tiny hamlet of Capel Garmon, I watched as sunset stenciled the sweeping vista of distant mountains in a haze of gold. Tall grasses whispered among the gravestones in the chilly evening breeze, and I dared imagine that little had changed here in the 150 years since the storied journey of George Borrow.
"George who?" proprietor Colin Parrott squawked as I ate dinner with my wife and daughter that evening at the White Horse Inn. My heart sank. It wasn't the last time I would hear this refrain over the next few days. We had arrived in Wales only hours earlier, and already my quixotic quest seemed to be in trouble.
In his day, Borrow was a well-known English writer and linguist who penned Wild Wales, a popular book about his extraordinary trek searching for bards, landmarks and a nation's soul. His tales of farmers, tinkers, fairies and princes inspired generations of Englishmen to follow in his steps. To celebrate his 200th birthday and the eve of his journey's sesquicentennial, I was retracing parts of Wild Wales. From mountain hiking to cultural festival to inns, bridges and graves, I had planned a busy four days—on "borrowed" time, to be sure.
[caption id="OnBorrowedTimeinWales_img2" align="aligncenter" width="606"]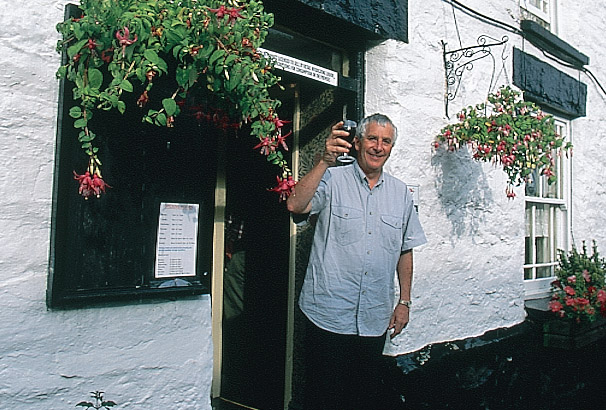 12
Colin Parrott, innkeeper of the White Horse Inn, Capel Garmon, raises a glass of wine in toast.
[/caption]
[caption id="OnBorrowedTimeinWales_img3" align="aligncenter" width="587"]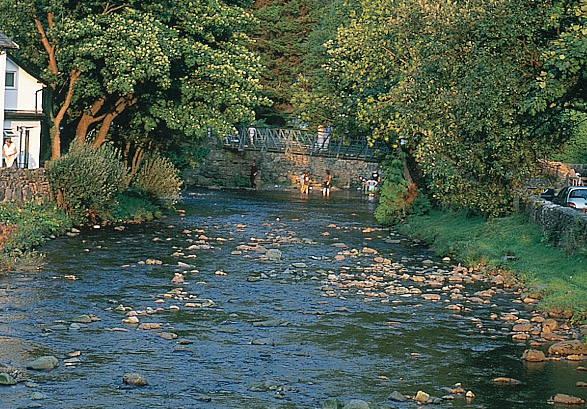 12
On a summer evening in the village of Beddgelert, visitors wade in the River Colwyn.
[/caption]
[caption id="OnBorrowedTimeinWales_img4" align="aligncenter" width="606"]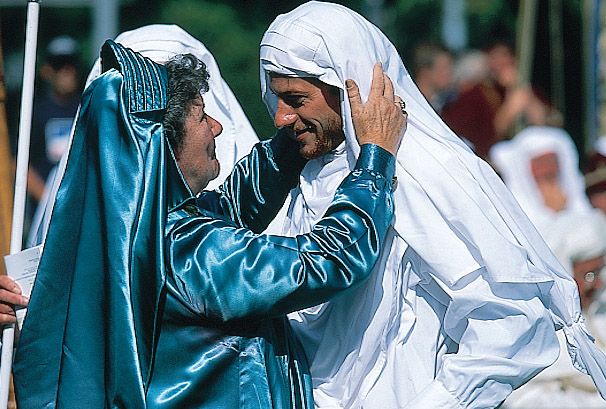 12
Actor loan Gruffydd is welcomed into the Gorsedd of Bards.
[/caption]
[caption id="OnBorrowedTimeinWales_img5" align="aligncenter" width="1024"]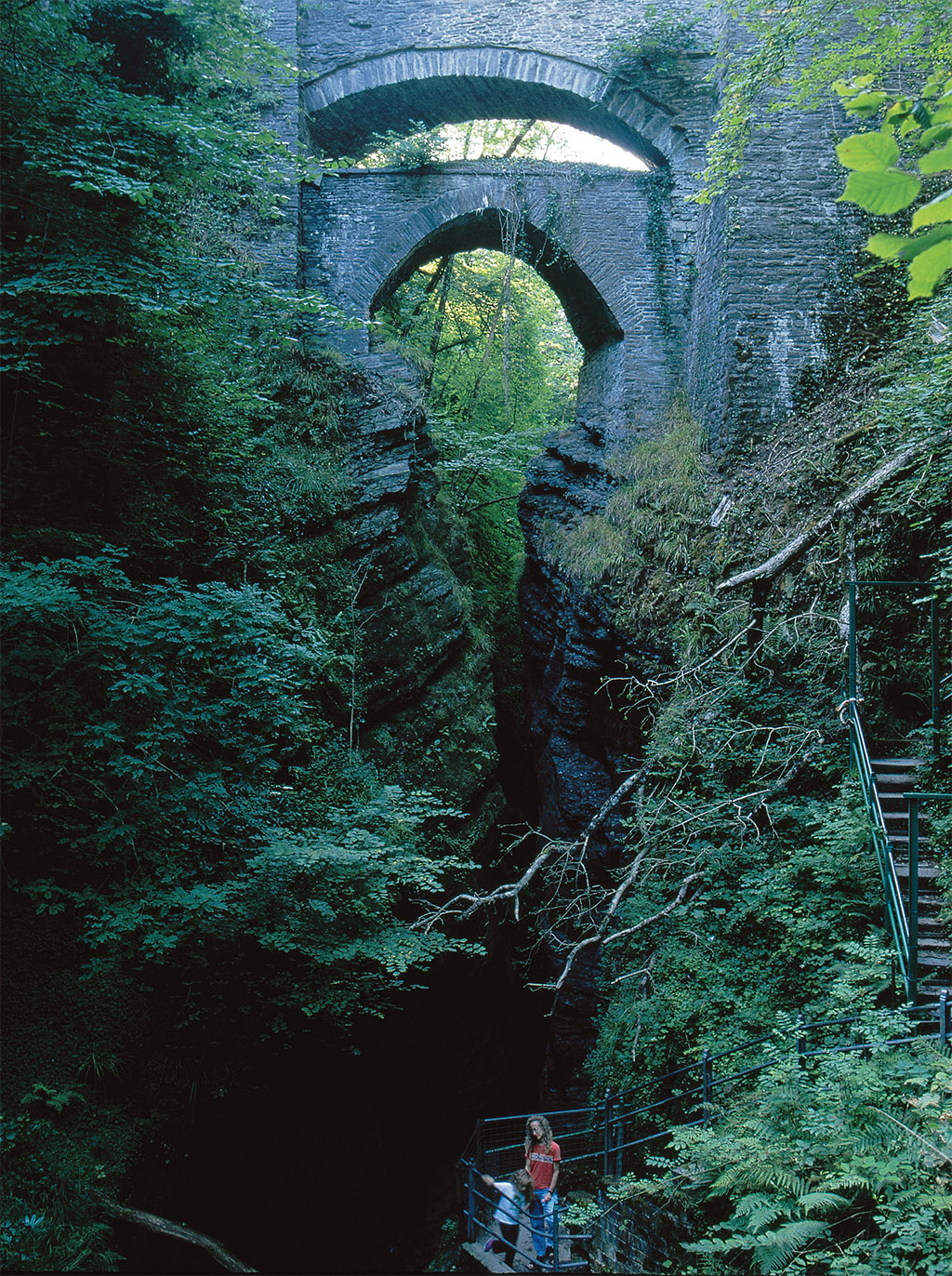 12
[/caption]
Borrow arrived in Wales in August 1854 on holiday with his wife and stepdaughter. Beginning in the northern town of Llangollen, Borrow walked from village to village, inn to inn, covering 30 miles at a crack. Broad-shouldered, over 6 feet tall, he must have cut a striking figure striding briskly across the Welsh landscape dressed in a black broadcloth suit and white stockings. Locals often mistook him for a clergyman and found him eccentric or frightening, but they admired his devil-may-care antics—an English gentleman consorting with peasants, spouting Welsh poetry, shunning trains and walking endless miles with but an apple in his satchel.
When Borrow returned home to East Anglia four months later, he had traversed a respectable chunk of ancient Cymru by foot and compiled an intimate record of mid-19th-century Wales. Toting a 500-page copy of Wild Wales, I hoped to touch on highlights of his trip. Topmost was Mount Snowdon, highest summit in Wales and England. Like the author, I planned to hike it with my daughter, but she was 20 years younger than Borrow's stepdaughter had been.
It was vintage Borrow—didactic, dramatic and downright embarrassing.
"Too hard to walk with a 6-year-old," Parrott advised, sitting down at our table with a glass of red wine. The bench at the table beside us had the year 1673 carved into it, and the inn itself was more than 450 years old. Even if Borrow was unknown here, such Old World ambience made this the perfect place for launching a journey in his name.
"Take the train up," Parrott urged. "We had two chaps here last month doing the Three Peaks Challenge—climbing the highest mountains in Scotland, England and Wales in under 24 hours. They did Snowdon last and were absolutely shattered the next day."
In the morning, despite fog and cold, we were up early and undeterred. If Borrow went by foot, so would we. Taking the Miner's Track, we followed a winding trail past lakes and slate mine ruins until it veered straight up the side of the mountain in a hand-over-fist scramble.
"I don't want to die!" my daughter exclaimed with a bit of Borrow-esque melodrama as we clambered up a steep, slippery rock slope enveloped in fog. We were safe, but Snowdon and the 13 other 3,000-foot peaks in the national park can be dangerous. People perish each year hiking in Snowdonia.
As the morning brightened, patches of blue appeared above, while broad green valleys materialized below. When we finally crested what we hoped was our last major slope, an intimidating sight greeted us. Towering skyward on the opposite side of a deep alpine bowl was a craggy ridge with tiny stick figures creeping up its spine like ants on a march. It was Snowdon, unveiled and regal, encircled by clouds. Locals associate its Welsh name, Yr Wyddfa, or tumulus, with King Arthur having slain a giant who is buried on the summit.
[caption id="OnBorrowedTimeinWales_img6" align="aligncenter" width="1024"]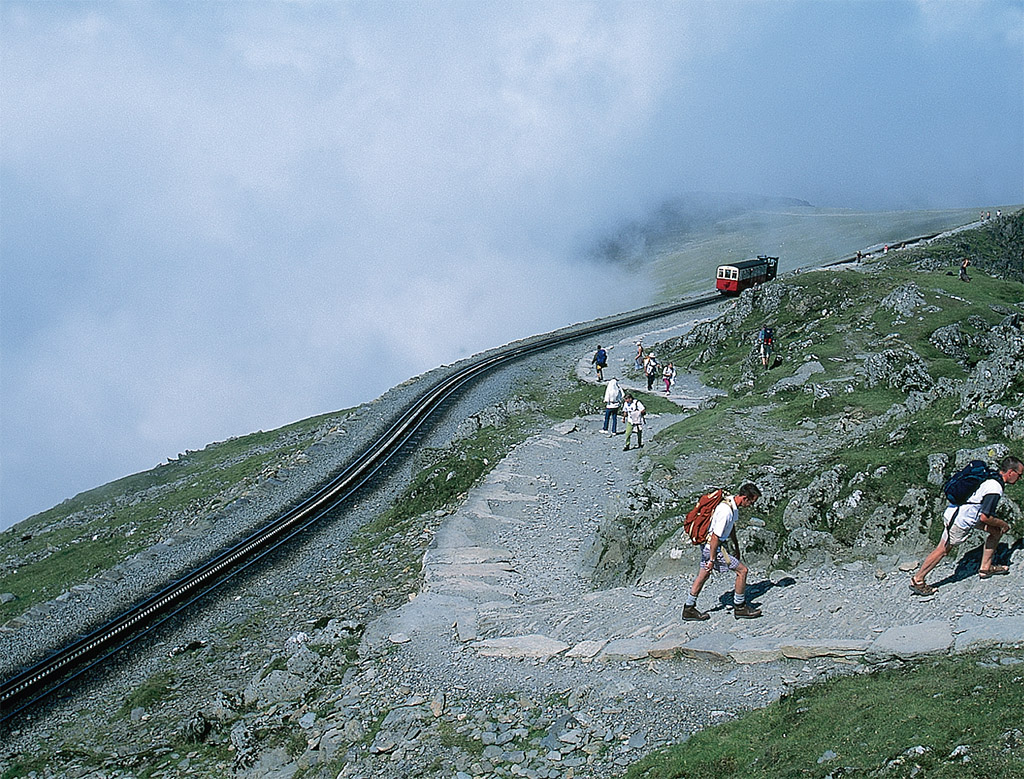 12
The cog railway inches its way to the peak of Mount Snowdon, while hikers take the Llanberis Track.
[/caption]
[caption id="OnBorrowedTimeinWales_img7" align="aligncenter" width="1024"]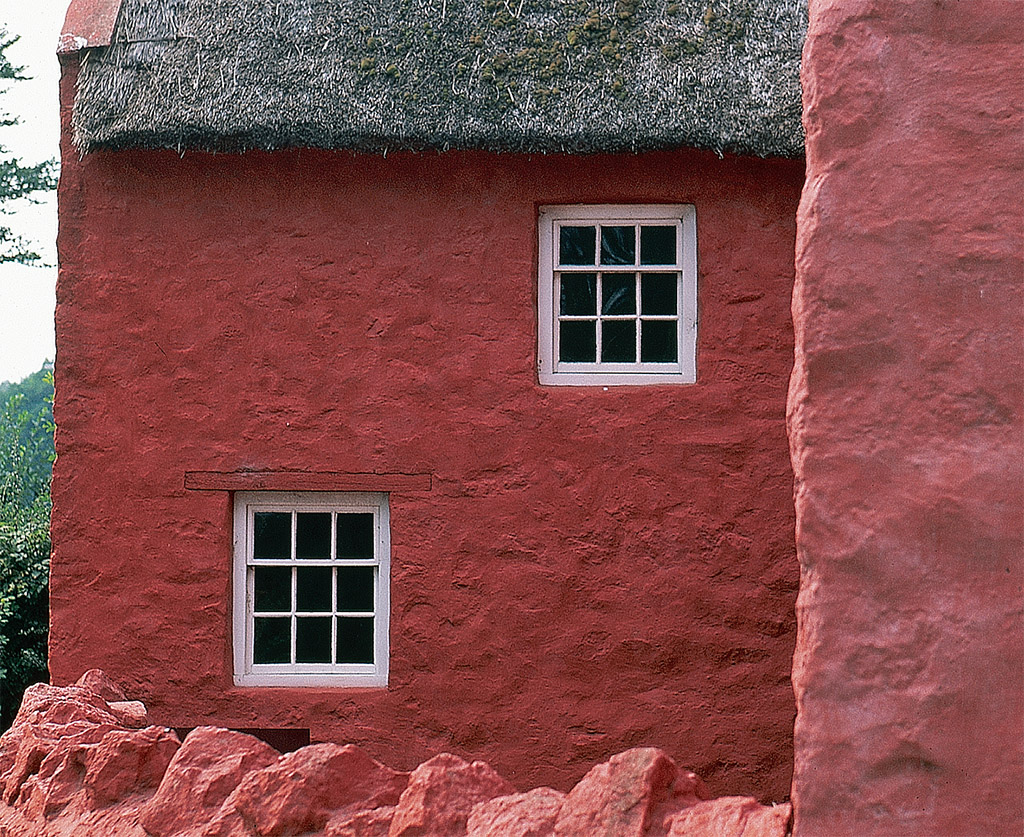 12
This farmhouse, complete with thatched roof, stands at the Museum of Welsh Life, St. Fagan's.
[/caption]
We had a long way to go, and it was all upward. A dozen switchbacks and several hundred vertical feet later our trail merged with the Llanberis Track, where a stiff wind shredded wispy remnants of fog ripping across the ridge. We were suddenly hiking amid the multitudes who had followed the chugging, oil-fired steam train up the mountain. In Borrow's day, no rails ran to the summit, but the Llanberis Track did. That was Borrow's path, and it is now the train's, a gradual and steady ascent that the majority of walkers take. At the summit we elbowed our way up a crowded crag to look down on a fairy-tale world carpeted by clouds. Gaping holes opened and closed like trapdoors, revealing bottomless valleys, distant lakes and miniature roadways. Snowdon was popular enough in Borrow's time, but now a half-million visitors reach the top each year. I was grateful that at least the view had changed little since Borrow wrote: "…of all the objects which we saw, those which filled us with delight and admiration were numerous lakes and lagoons which, like sheets of ice or polished silver, lay reflecting the rays of the sun in the deep valleys at his [Snowdon's] feet." At the summit, Borrow had then loudly recited a famous poem about Snowdon in Welsh. He described the event:
Such was the harangue which I uttered on the top of Snowdon; to which Henrietta [Borrow's stepdaughter] listened with attention; three or four English, who stood nigh, with grinning scorn, and a Welsh gentleman with considerable interest. The latter coming forward shook me by the hand exclaiming: "Wyt ti Lydaueg?"
"I am not a Llydauan," said I; "I wish I was, or anything but what I am, one of a nation amongst whom any knowledge save what relates to money-making and over-reaching is looked upon as a disgrace. I am ashamed to say that I am an Englishman."
[caption id="OnBorrowedTimeinWales_img8" align="aligncenter" width="1024"]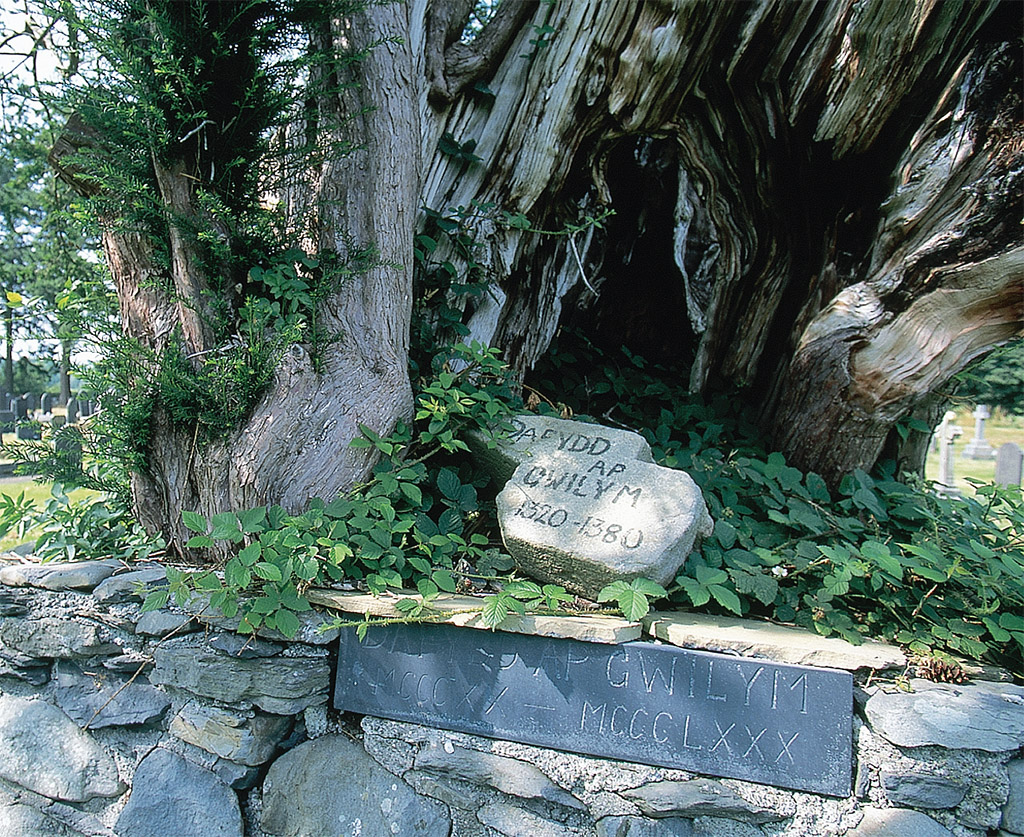 12
The grave of 14th-century bard Dafydd ap Gwilym is said to be beneath a centuries-old yew tree at Strata Florida Abbey, founded in 1164.
[/caption]
[caption id="OnBorrowedTimeinWales_img9" align="aligncenter" width="1024"]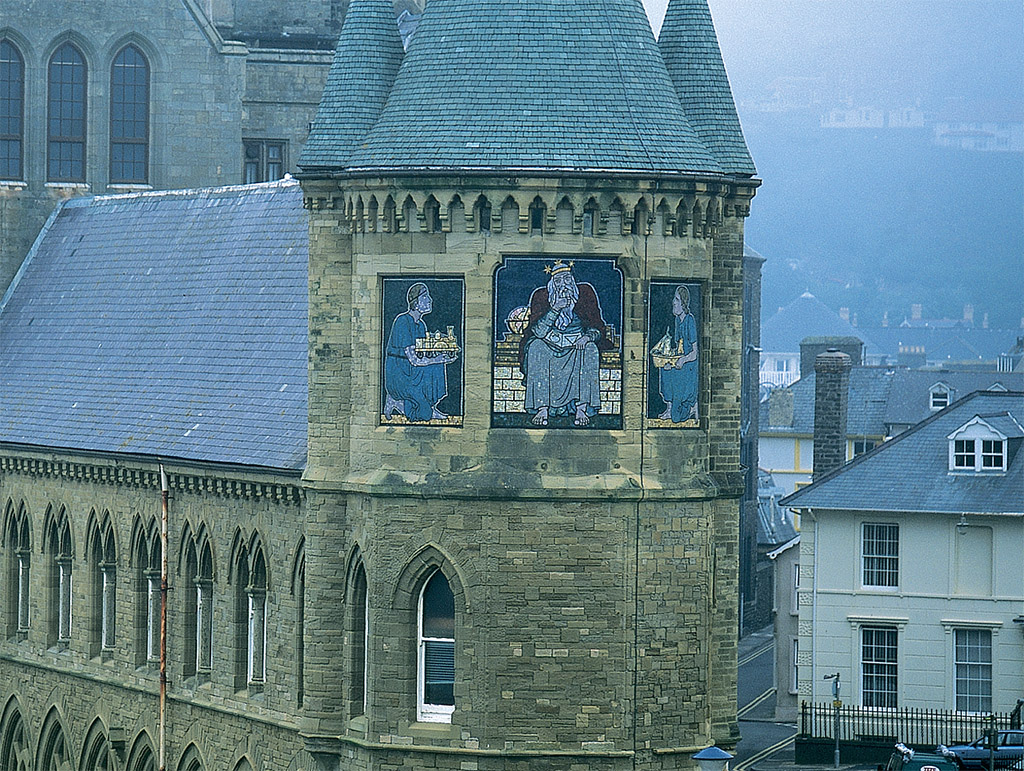 12
The tower on the Old College building at the University of Wales, Aberystwyth, bears a mosaic of the king and his retainers.
[/caption]
It was vintage Borrow—didactic, dramatic and downright embarrassing. If Henrietta had wanted to crawl under a rock there were plenty available. Instead, the pair headed back on the Llanberis Track past "a very steep path running down in a zigzag manner " which Borrow observed would have been "indeed a task of difficulty to ascend." We could attest to that!
The next day, mother and daughter left for England, and Borrow struck southward toward Cardiff, having spent three months in the north. We, too, traveled south from Snowdonia that afternoon, forgoing several Wild Wales sites with an eye toward mid-Wales, where Borrow visited, among other things, a legendary bard's grave and a devil's bridge.
With high hopes, we headed for the George Borrow Hotel, perched on the rim of a gorge where the River Rheidol runs through lush pastureland, woods and choppy hills. "Can I help you?" owner Peter Morley asked testily as he stomped out a side door into the sunshine in a white apron. I was dancing about the front window taking pictures of my family's reflection framed by the words "George Borrow Hotel." He and his guests were not amused.
I explained our mission, but Morley was clueless. He hadn't read Wild Wales and knew little beyond Borrow's biographical tidbits that were printed on his menu: born July 5, 1803, son of an army recruiter who traveled Wales and Ireland, mastered a dozen languages by age 18 and stayed at the hotel, once the Ponterwyd Inn, in chapter 82 of Wild Wales.
That particular chapter was a scathing review of the inn's grudging service and pompous host. Borrow teased and belittled the boastful Ponterwyd innkeeper for claiming to be a renowned bard, and then spent the evening among resentful stares and whispers downing cheese, bread and ale. We ordered the same meal with similar results and a steep bill. It was time to move on.
Traveling to Devil's Bridge, Borrow walked with a miner who knew Lord Henry Pelham, fourth Duke of Newcastle, owner of the Hafod Arms at the famous bridge. The inn still stands, well-preserved since the mid-1800s when Pelham revamped it. The miner described the duke glowingly, though he was one of the most despised politicians in England. When Pelham defeated the Reform Bill in the House of Lords in 1831, an angry mob ransacked and burned one of his other properties, Nottingham Castle. The die-hard Tory fled to Wales.
Devil's Bridge is actually three bridges perched above a chasm that drops 500 feet at the confluence of the Rheidol and Mynach rivers. The lowest bridge is Roman era, built by monks, covered by Borrow's bridge on the level above and capped on top by a modern bridge. Brochures claim that the name comes from the story of the devil that built the bridge for a woman who had lost her cow on the other side. He had demanded the soul of the first living creature to cross, and she tricked him by sending her dog. Borrow never heard the yarn, however, writing only: "…the Bridge of the Evil Man, a work though crumbling and darkly grey, does much honor to the hand which built it, whether it was the hand of Satan or of a monkish architect, for the arch is chaste and beautiful, far superior in every respect, except in safety and utility, to the one above it."
In place of our souls, we paid two pounds to enter turnstiles on opposite sides of the road. Both led to devilishly steep trails, with views of the cataracts on one path and the oddly juxtaposed bridges on the other.
GEORGE BORROW
[caption id="OnBorrowedTimeinWales_img10" align="aligncenter" width="497"]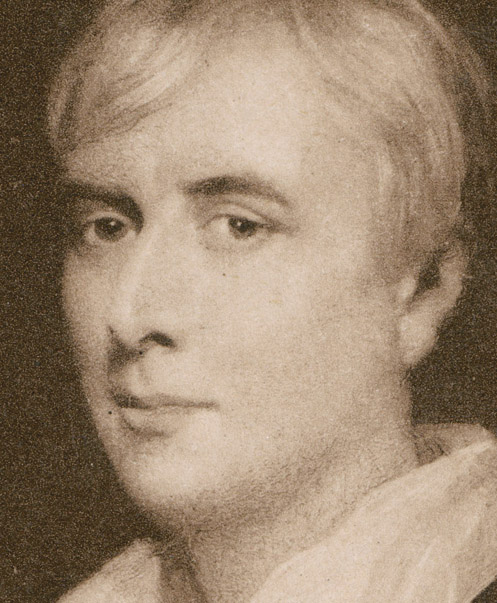 12
[/caption]
One of the most intriguing 19th-century writers, George Henry Borrow was born in Norfolk in 1803. Given that his father was a soldier, Borrow spent his childhood moving around the British Isles. The experience created a wanderlust that he never outgrew.
After his education at Edinburgh High School, Borrow was apprenticed for the law, but ran away to London to pursue a literary career in the early 1820s. Though he had some early success, Borrow was seized by manic depression, which would revisit him throughout life. He left London after about a year and began a nomadic life, first in Britain and then on the Continent. He spent years wandering through Europe, from Spain to Russia, learning languages along the way. He became an agent and translator for the British and Foreign Bible Society.
After returning to England and marrying a well-to-do widow, Borrow began to write in earnest of his adventures. His friendship with the Gypsies, and knowledge of their language, led to publication of The Zingali: An Account of the Gypsies of Spain in 1841. Subsequently he published a succession of popular and acclaimed books, autobiographical novels and nonfiction, all of which were based upon his travels and distinctive experiences. In truth, his personal history has often been questioned; fact and fiction frequently swirl together indistinguishably. It rarely matters. Wild Wales remains his most popular book.
Dana Huntley
From Devil's Bridge, Borrow continue south to pay tribute to the ancient bard Dafydd ap Gwilym—a Welsh Don Juan and Ovid rolled into one, famed for his amorous verse and romantic exploits. Legend says he lies buried beneath a centuries-old yew tree at the ruins of Strata Florida, an abbey founded by Cistercians in 1164. A solitary arched entrance, crumbled walls and the graves of Welsh princes are all that remain of its 200-year reign as a power center.
Typically dramatic, when Borrow found the unmarked tree, he kissed its roots. The author then recited an ode to the bard he called "the greatest genius of the Cimbric race and one of the first poets of the world."
A century and a half later we found the same yew. It was standing in a lonely corner of the cemetery and had been greatly ravaged by storm and age. There was a single stone bearing Gwilym's name and the years 1320-1380. It seemed an obscure memorial. Had this nation that once revered bards and literature abandoned its past?
We discovered the answer farther along on our journey near the English border, outside the town of Meifod. It was Eisteddfod Week, a huge national festival showcasing Welsh culture and arts.
When we arrived at the fairgrounds there we found a tent village surrounding a big-top theatre that seated thousands, and the BBC was everywhere—covering competitions for poets, singers, thespians and musicians. Art exhibits, culinary expositions and technology displays lined grassy lanes.
The closest Borrow came to an eisteddfod was during his stay at the Hafod Arms after hiking with a shepherd to the sources of the Rheidol, Severn and Wye rivers:
Shortly afterward we came to a hillock of rather a singular shape. "This place, sir," said he, "is called Eisteddfa."
"Why is it called so?" said I. "Eisteddfa means the place where people sit down."
"It does so," said the guide, "and it is called the place of sitting because three men from different quarters of the world once met here, and one proposed that they should sit down….I have heard say that there was a great deal in them about Tylwith Teg or fairies."
Wales holds both an international and a national eisteddfod each year, but the first actual eisteddfod occurred in 1176, just 10 years after the Welsh leader Rhys ap Gruffydd retook Cardigan from the Normans and rebuilt the castle there. Lord Rhys invited poets and musicians from all over Wales to Cardigan Castle, awarding two chairs at his table to the best poet and musician. The initiation and the crowning of bards are still the highlights of the National Eisteddfod of Wales held alternately in the north and south of the country every August.
"You mustn't miss it," an enthusiastic information officer at the fairgrounds entrance urged us. He didn't know anything about George Borrow, but he knew plenty about the Gorsedd of Bards, or bardic assembly: "They dress like druids and carry horns and swords. Famous people will be there." The next day artists of all kinds would be inducted as honorary bards. Later that week a writer or poet would be crowned top bard.
The following morning in Welshpool I found a spot behind an unsuspecting druid seated in a grassy amphitheater among the Gorsedd of Bards. He seemed unusually photogenic. I snapped some close portraits. He shied away at first, intent upon the ceremonies, but eventually gave me a friendly smile.
"You know who that is, don't you?" someone whispered in my ear as my druid friend lined up with other inductees, touching a huge sword and standing before the head bard. "That's Ioan Gruffydd, the Hollywood actor. You know. He was in Titanic."
Suddenly it dawned on me—I remembered the movie scene where Leonardo DiCaprio's best friend in third class storms a caged stairway to the upper deck as the ship sinks; he was now standing there in front of me in a hooded white robe.
In the noisy crowd after the ceremonies, I met other celebrities—an internationally acclaimed opera tenor, a TV personality, a writer. I had an urge to shout out and ask if anyone knew who George Borrow was. Then I remembered this was for Welsh bards only, and, as Borrow was ashamed to say, he was just an Englishman.