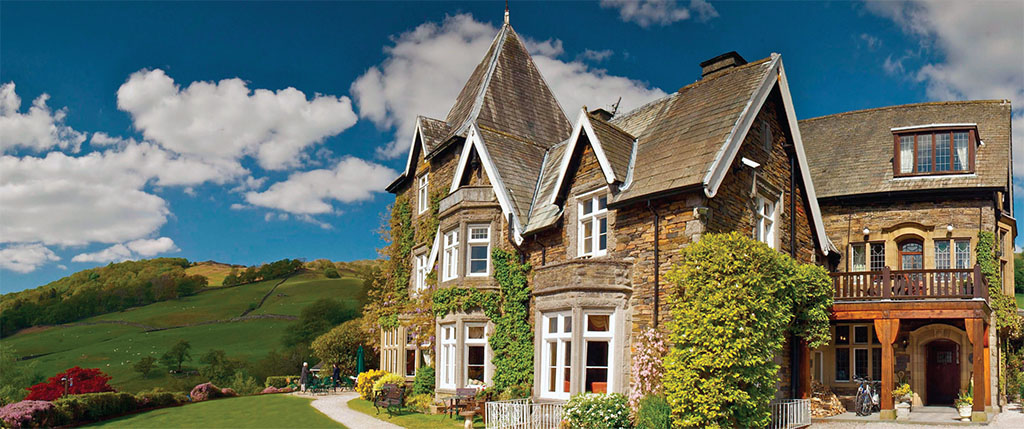 "Where pretty chaffnches peck up scone and gingerbread crumbs"
[caption id="OpenDoorstotheHandsomeHomesofLakeland_Feature" align="aligncenter" width="1024"]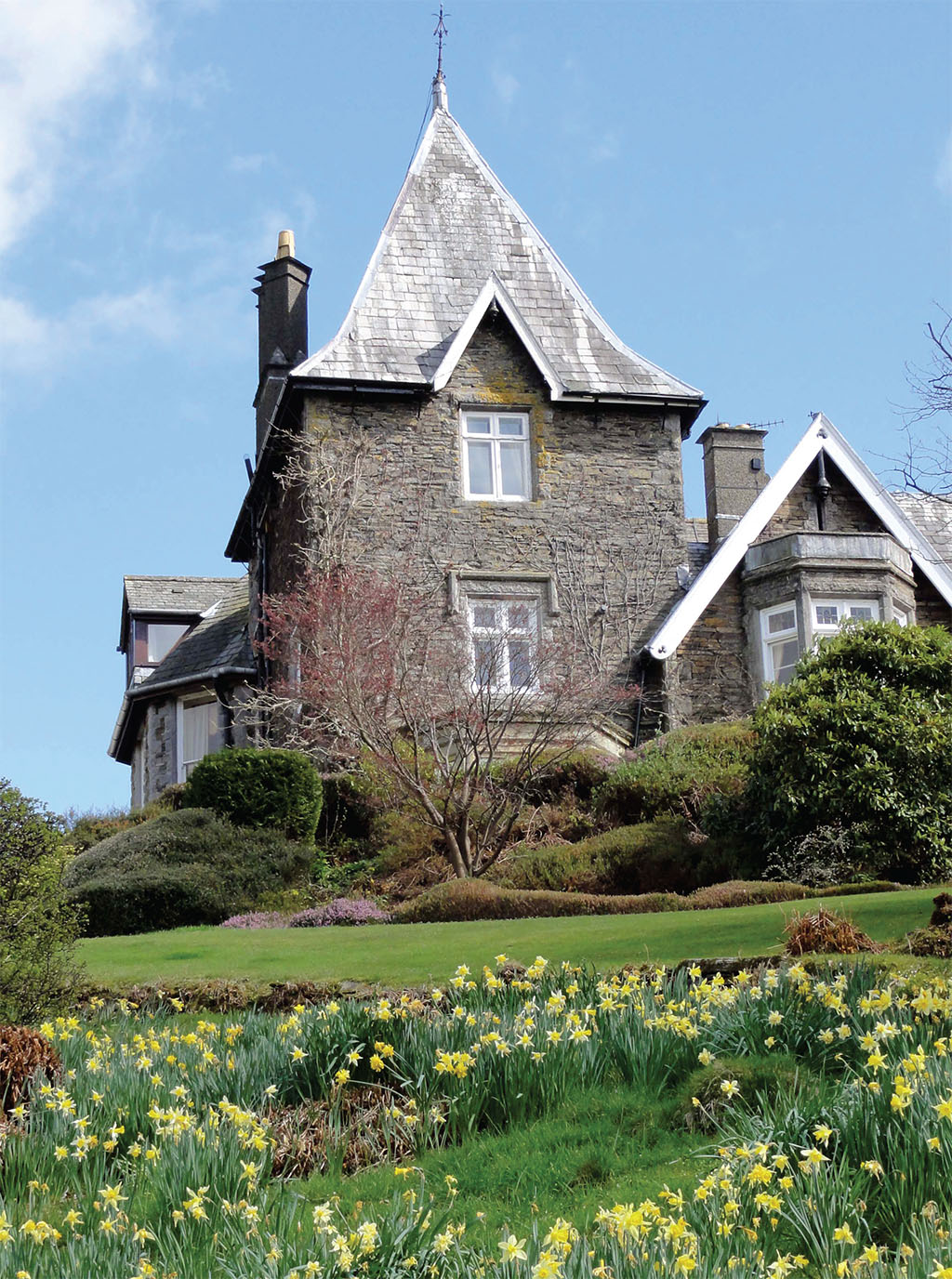 15
Once the grand Earl of Lonsdale's hunting lodge, today Holbeck Ghyll is a popular hotel.
[/caption]
[caption id="OpenDoorstotheHandsomeHomesofLakeland_img1" align="aligncenter" width="1024"]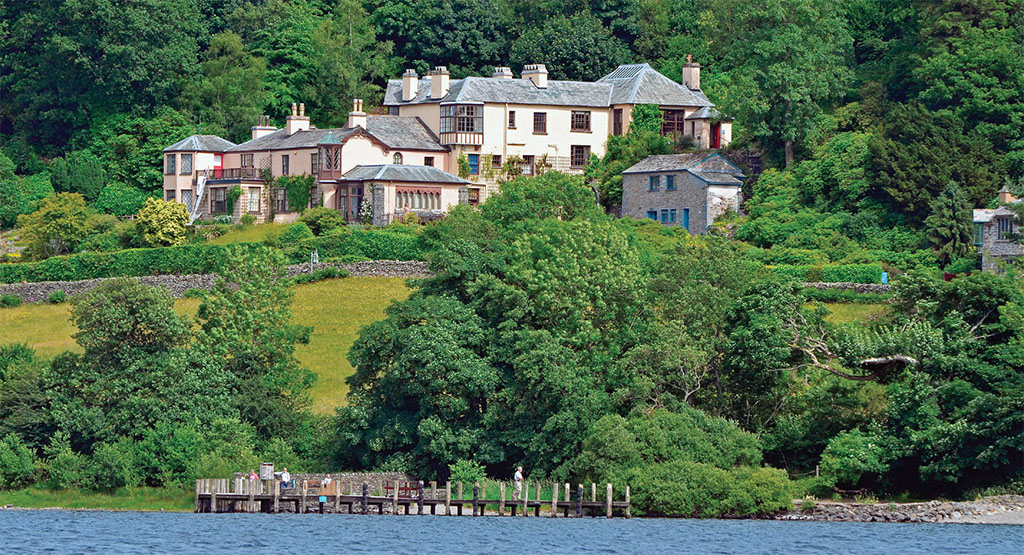 15
Overlooking Coniston Water, the home of Victorian critic John Ruskin, Brantwood, is today a museum worth the visit.
[/caption]
WHEN LADY CELIA FIENNES toured the Lake District in 1698 she described its houses as "sad little hutts made up of dry walls, only stones piled together, and roofs the same or slatt (slate)." Today those who visit the Lake District to gaze at its scenery or dine in its storied restaurants soon notice its wealth of handsome houses. Typically they nestle in trees, their windows and terraces poised over vistas bejeweled with rhododendrons, hydrangeas and lakes. They're idyllic; they prompt the question: Who built them?
Perhaps surprisingly the answer is: visitors. Typically they were affuent people of the 19th and early 20th centuries—some of them writers, others businessmen—who traveled to the Lake District for its serenity and decided they wanted a home there. Now, many of their houses are hotels or museums, so today's visitors can enjoy what their forerunners created.
Less than a century after Celia Fiennes' visit William Wordsworth's poetry had made his native region famous, and by the 1820s the curious were focking to a place once considered remote and barren. Among them was John Ruskin, the great Victorian art and social critic. His earliest memory was of Derwentwater, and in 1830, when he was just 11, he wrote a poem about a Lakeland tour with his businessman father. By 1871 Ruskin was famous, infuential, often controversial, and in need of a retreat for writing and planning social schemes. Still in love with the Lakes, he bought Brantwood, a modest house overlooking Coniston Water, adding a turret to provide panoramic views. He also developed the gardens and the harbor, from which he sailed his boat. Later, the cousin that cared for him built further rooms.
A museum today, Brantwood rambles over its hillside site offering visitors many pleasures. Handsome rooms face the lake, kept as they were when ruskin lived in them. Many of his possessions are still in place, including his own paintings and drawings. Samples of Ruskin lace and Ruskin pottery created at workshops he founded illustrate his promotion of handmade crafts. The 250-acre grounds and gardens still bear the marks of Ruskin's design.
Brantwood does more than preserve Ruskin's property, though, it also practices his ideas. His enthusiasm for painting is refected in exhibitions of both historic and contemporary artists. His promotion of artisanal crafts is evident throughout, nowhere more dramatically than in the vivid tiles commissioned for the loos. His zeal for education thrives in the courses Brantwood offers. Most delightfully, his love of Coniston can be shared on the café terrace, where pretty chaffnches peck up scone and gingerbread crumbs.
Sitting there, feeding chaffnches, who does not wish to stay? This need be no idle dream. Brantwood has two vacation apartments: The Lodge, which sleeps up to nine, and The Eyrie, which has one double bedroom. As Brantwood's Director Howard Hull, says "Here you can do more than just look then go away … Brantwood's a place about thinking and feeling. Everybody finds something."
[caption id="OpenDoorstotheHandsomeHomesofLakeland_img2" align="aligncenter" width="1024"]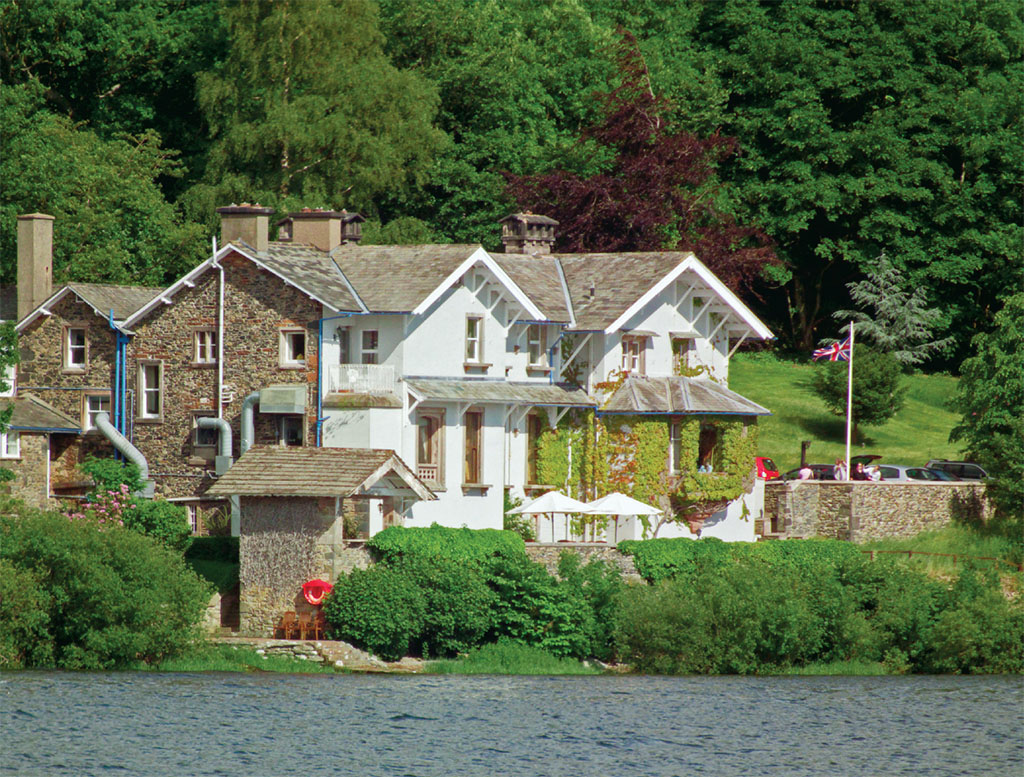 15
Beautiful Sharrow Bay Hotel sits on Ullswater, poet Wordsworth's favorite lake.
[/caption]
[caption id="OpenDoorstotheHandsomeHomesofLakeland_img3" align="aligncenter" width="1024"]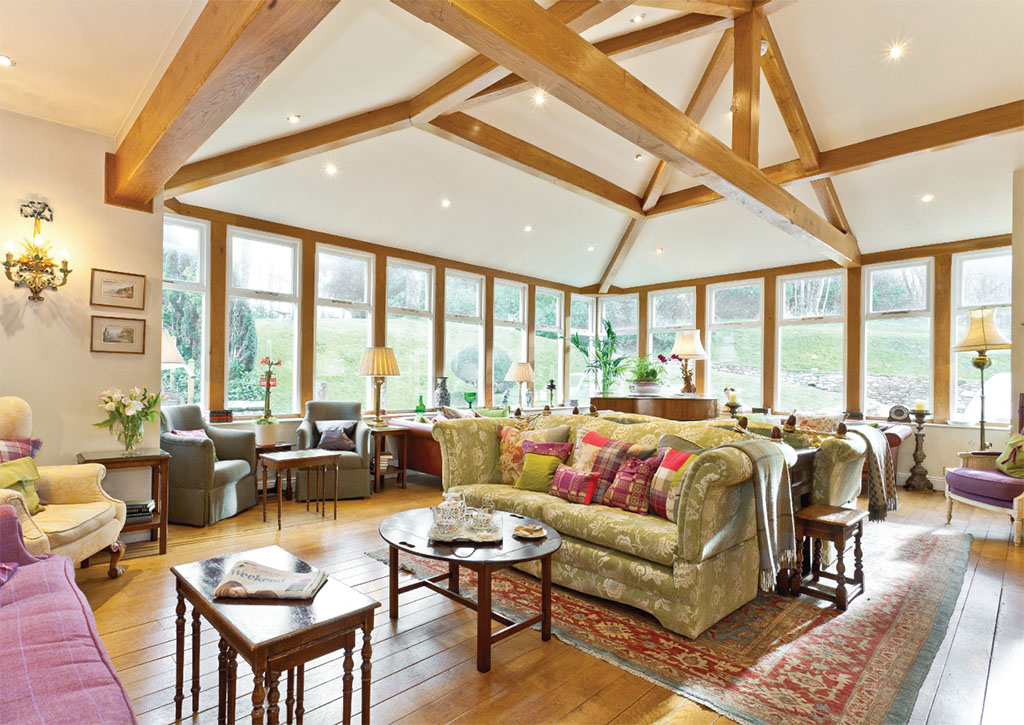 15
Relax in the garden lounge at Sharrow Bay and outside life just fades away.
[/caption]
You can also stay in many other 19th-century mansions that have found new life as hotels. Among them is the renowned sharrow Bay Hotel on Ullswater, which Wordsworth described as "the happiest combination of beauty and grandeur, which any of the Lakes affords." Here he spotted the famous flowers growing "beside the lake, beneath the trees" that inspired his poem "Daffodils." Here, too, lives the schelly (Coregonus stigmaticus), a fish unique to Ullswater and three other Cumbrian lakes. in 1840 the schelly and other sport fish prompted the building of a fishing lodge. Later, after renovations and the development of gardens with roses and topiary, the old lodge was turned into a hotel that cossets guests with delicious food, friendly service and enticing furniture. Decorated lavishly with draperies and china, Sharrow Bay is famed for pioneering the style and hospitality of Britain's country house hotels.
Lyzzick Hall is another of these hotels. Here guests can swim in a heated pool overlooking bright gardens and a verdant valley. Or they can relax in one of the elegant lounges, perhaps perusing the first relief map made of the Lake District. It's the work of 19th-century naturalist and cartographer Joseph Flintoft. He bought Lyzzick in the late-1820s and converted it from a sheep farm into a gentleman's residence. Several owners later, it is now in the hands of the Fernandez family. Since Lyzzick lies at the foot of Skiddaw, England's fourth highest mountain, they cheerfully tell guests which route is a challenging trek up, which is a more doable hike, and which is (alternatively) a stroll past flowery cottages to views of Bassenthwaite.
Away from the quiet of the northern lakes, numerous houses-turned-hotel cluster around Windermere. Among these are Cragwood, which is both a hotel and a management training center, and Holbeck Ghyll, built in the early 19th century by a Lancashire industrialist. In 1888 he sold it to the fifth Earl of Lonsdale, who used Holbeck Ghyll as a hunting lodge where he hosted among numerous others King George V and Kaiser Wilhelm. His varied interests included horse-racing, Arctic exploration, motor cars and boxing, to which sport he donated the Lonsdale Belt.
Noted for wild extravagance, Lord Lonsdale had to sell Holbeck Ghyll to Leonard Clegg, who owned a chain of cinemas. He hired one of the best-known Arts and Crafts artists, C.F.A. Voysey, to redesign the interior. When in his turn Clegg ran out of money, local artisans took over. so the hotel entrance has Voysey copper details, with many varied Arts and Crafts features scattered throughout.
[caption id="OpenDoorstotheHandsomeHomesofLakeland_img4" align="aligncenter" width="1024"]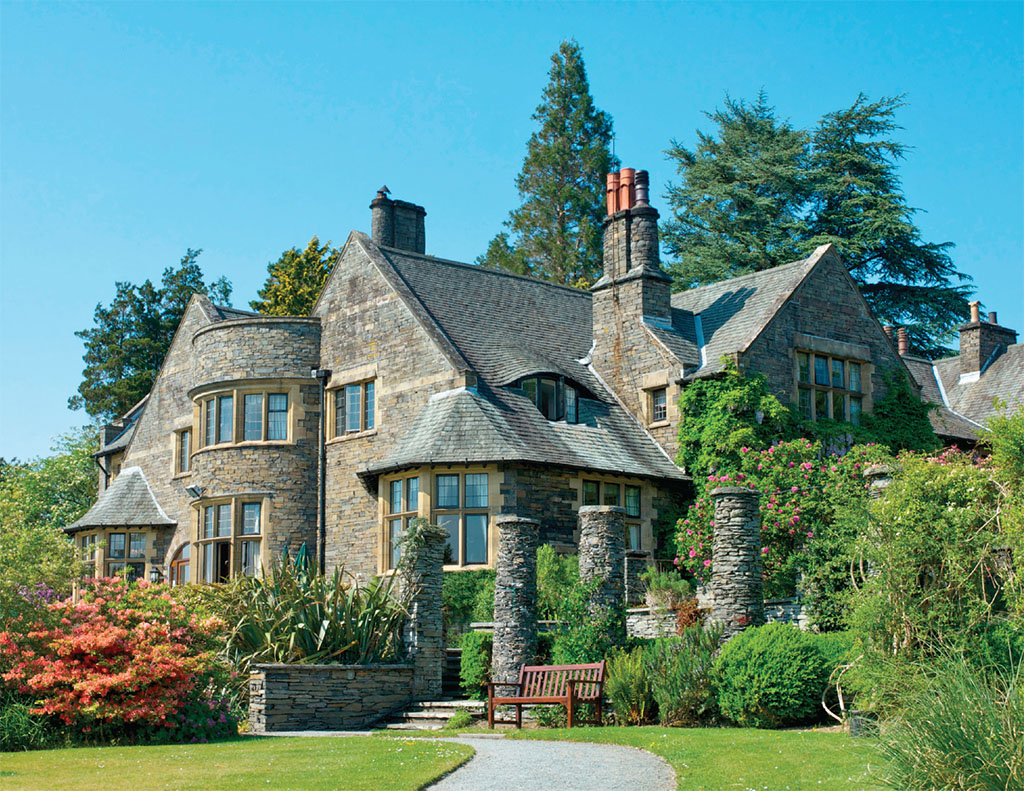 15
Victorian Arts-and-Crafts style is evident at Cragwood, now a hotel overlooking Windermere.
[/caption]
The late-19th-century Arts and Crafts' distinctively British style is evident as well at Cragwood and many Lakeland houses. None excels Blackwell, designed by Mackay Hugh Baillie Scott and completed in 1901 as a holiday retreat for Sir Edward Hunt, a wealthy Manchester brewer and philanthropist. Scott was a devoted proponent of the Arts and Crafts movement, which was a reaction against mechanized, industrial products and the fussy elaboration of Victorian style. John Ruskin (who wrote, "industry without art is brutality") was among its founding fathers.
[caption id="OpenDoorstotheHandsomeHomesofLakeland_img5" align="aligncenter" width="1024"]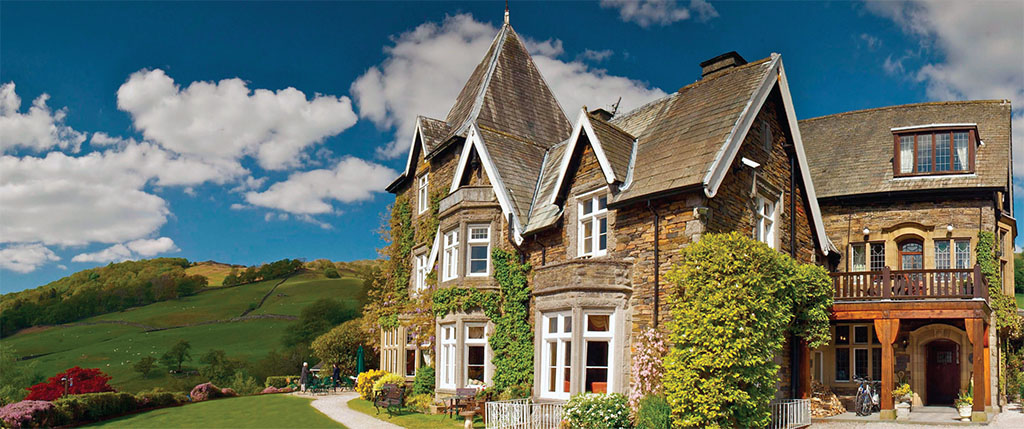 15
Holbeck Ghyll entertains in style. Stop by perhaps for afternoon tea.
[/caption]
Arts and Crafts theorists valued handmade work by craftspeople faithful to the qualities of their material, be it wood, metal, stone or glass. Scott used a wide variety of materials in Blackwell including specially made tiles in the freplaces, mosaic floors, stained glass, wrought iron work, and perhaps most beautiful, the plasterwork of the White drawing room.
Arts and Crafts artists favored decorative motifs based on birds or plants. Scott chose rowanberries as a repeating motif for Blackwell because they are common in the area. He also adopted features of Lakeland vernacular architecture such as the steeply pitched slate roof, cylindrical chimneys, and white rough-cast walls. So while the house looks modern, it nonetheless fits perfectly into its site above Windermere.
After World War I the Hunt family visited Blackwell infrequently, and during the 1940s it was used by a girls' school evacuated from Liverpool. Neither the school nor the organizations that later rented it could make major changes because they did not own it. The effect was to preserve much of the detail and all the fireplaces, which had been blocked off. When the last of the renters left in 1997, the charity organization Lakeland arts raised the money to buy and restore it, and it is now open as Blackwell, The arts and Crafts House.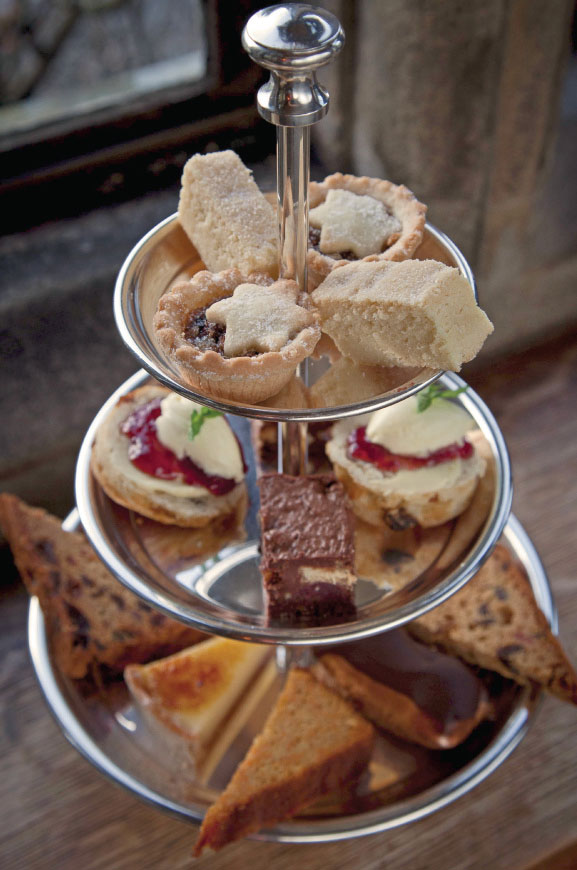 15
Scott said that houses should not be "shallow, showy and pretentious as most modern houses are, but full of still quiet earnestness which seems to lull and soothe the spirit."
[caption id="OpenDoorstotheHandsomeHomesofLakeland_img7" align="aligncenter" width="1024"]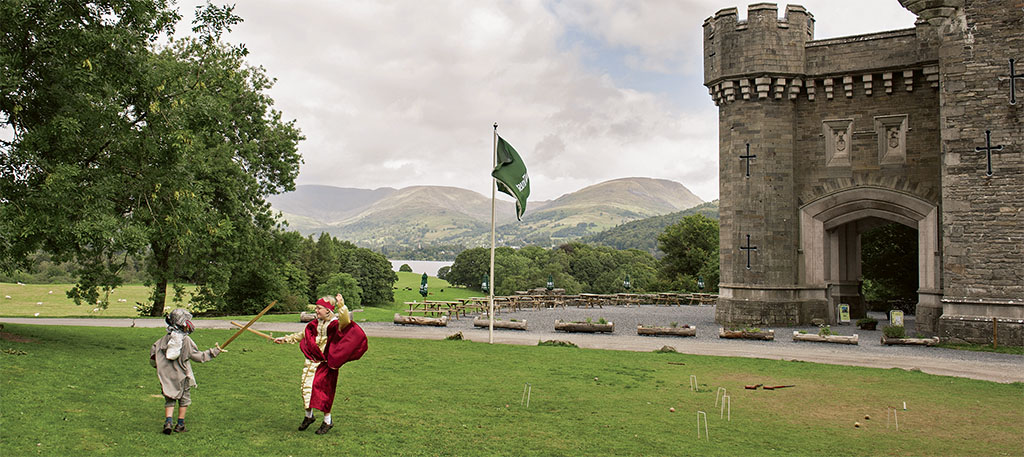 15
Wray Castle, where Beatrix Potter fell in love with the Lakes, sits today in the care of the National Trust.
[/caption]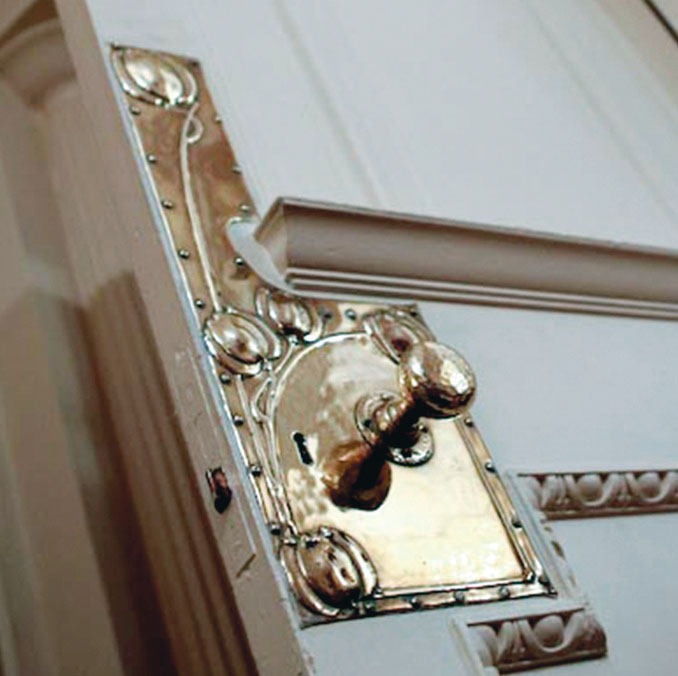 15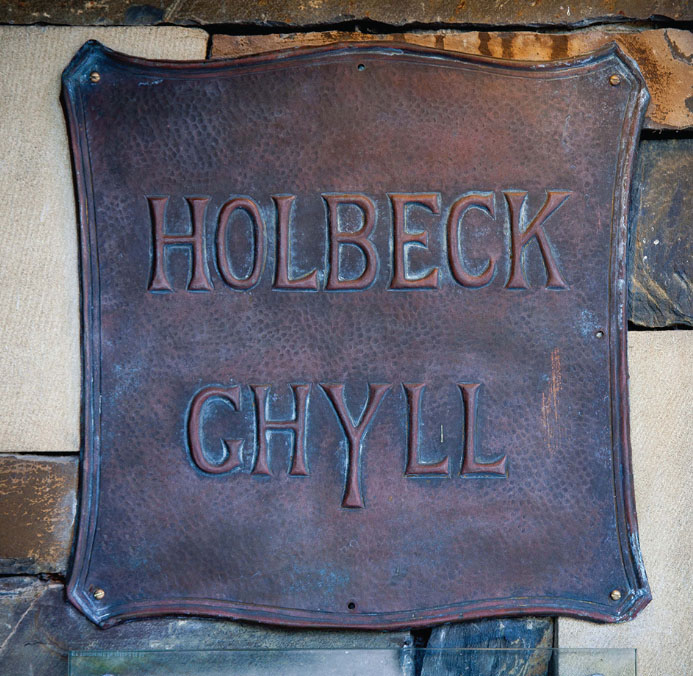 15
[caption id="OpenDoorstotheHandsomeHomesofLakeland_img10" align="aligncenter" width="655"]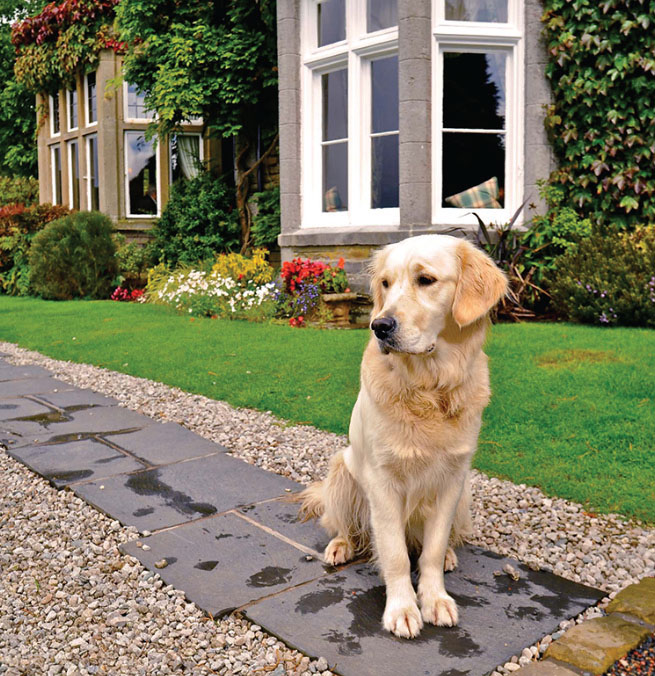 15
Rich in architectural detail, Holbeck Ghyll in centrally-located Windermere let's you experience the country house life. Daisy is a fulltime resident.
[/caption]
The beauty and serenity of Blackwell's interior certainly soothes, while intriguing details such as the peacock frieze in the Main Hall, the carved ceiling bosses featuring hearts and berries, and the wrought iron fire dogs fascinate visitors. The tiled fireplaces are a special delight. Scott made them wide and fitted inglenook seating around them, because he knew that Britain's "inconstant clime" drove people to seek warmth. Similarly, he created window seats to take advantage of the spectacular views, most stunningly in the White Drawing Room, where the wide windows do their job of bringing the view indoors.
Crafts Magazine described Blackwell as "a building of international significance as well as a masterpiece of rare imagination." The Daily Telegraph identified it as "the most important surviving example of Baillie Scott's work in England." It is less well-known than many Lake District locations, but its unique, elegant beauty makes Blackwell a don't-miss visit.
Of the many visitors to the Lake District that made it their own by buying property, none has been more important to its appearance than Beatrix Potter. She fell in love with the region as a 16-year-old when her family rented Wray Castle for a vacation in 1882. Here she met Canon Hardwicke Rawnsley, one of the founders of the National Trust. In 1905 she used her earnings from her "little books" to buy Hill Top Farm in Sawrey. She enlarged the house to accommodate a manager and make a room where she could work.
Today visitors can see many of the writer's treasures, and the sharp-eyed will spot charming household items that she portrayed in the illustrations of her tales. But though she eventually owned several farms, Potter's prime interest was not their houses but the land. When she died in 1943, Beatrix Potter left more than 4,000 acres to the National Trust. These acres and her inspiring example to others help preserve the dramatic landscape. As for Wray Castle, where her love affair with Lakeland started, it looks appealingly medieval, but it was built by a Liverpool surgeon in 1840. Eventually the Rawnsley family inherited it, and so in turn did the National Trust.
Visiting these houses that were so lovingly built or conserved by earlier visitors to the Lakes is simultaneously a way of stepping into the past and enjoying some of its best 21st-century experiences.
[caption id="OpenDoorstotheHandsomeHomesofLakeland_img11" align="aligncenter" width="1024"]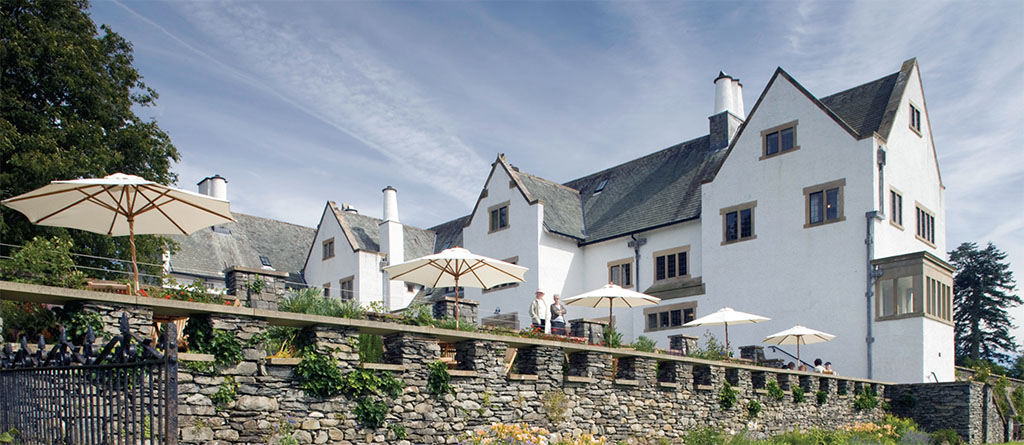 15
Pay a visit to Blackwell, The Arts and Crafts House, restored by the private organization Lakeland Arts.
[/caption]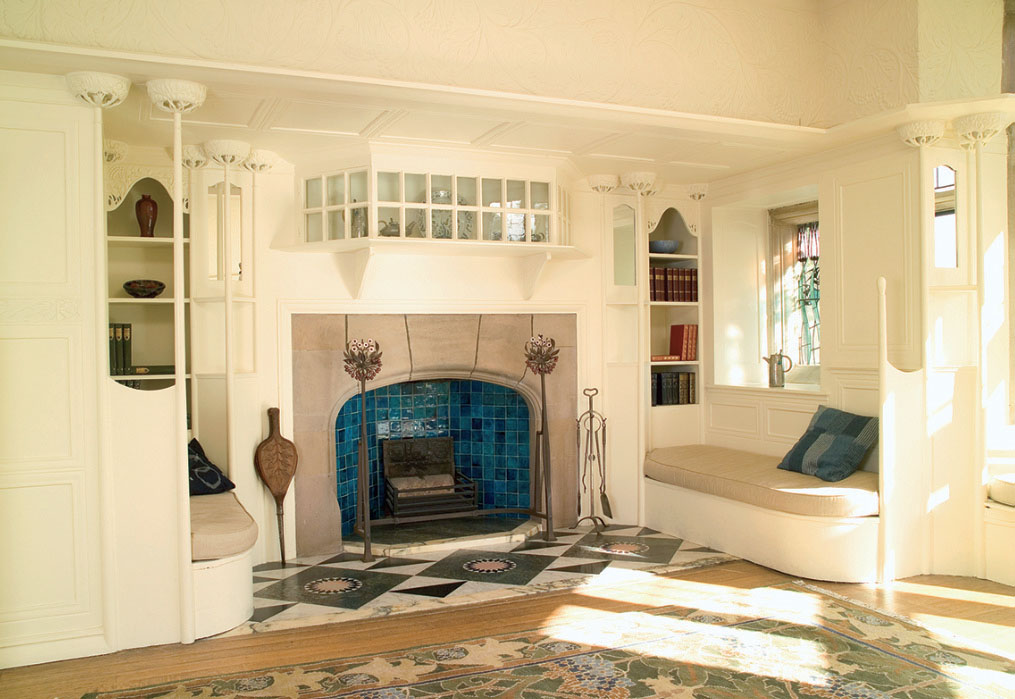 15
[caption id="OpenDoorstotheHandsomeHomesofLakeland_img13" align="aligncenter" width="1024"]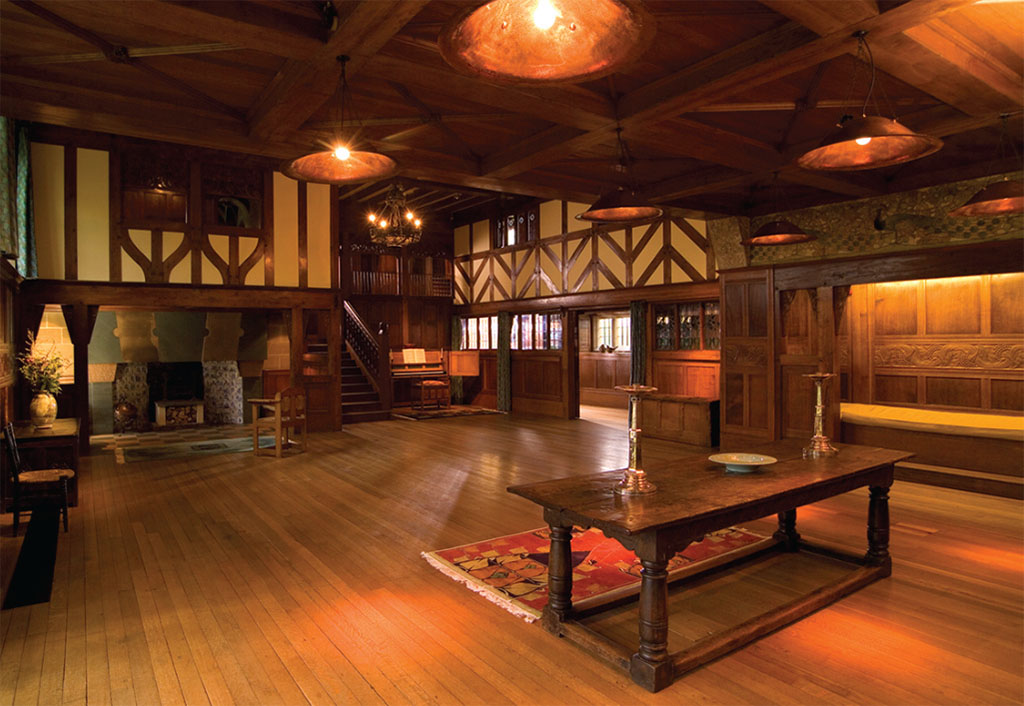 15
Blackwell's rich Arts and Crafts interiors survived intact half a century of tenants, including a girls school from Liverpool that took up residence during World War II. The last of the renters left in 1997.
[/caption]
IF YOU ARE CALLING
Blackwell, The Arts and Crafts House
Bowness-on-Windermere
www.blackwell.org.uk
Brantwood
Coniston
www.brantwood.org.uk
Cragwood Country House
Ecclerigg, Windermere
www.impactinternational.com
Hill Top
Near Sawrey, Ambleside
www.nationaltrust.org.uk/hill-top
Holbeck Ghyll Country House Hotel
Holbeck Lane, Windermere
www.holbeckghyll.com
Lyzzick Hall Country House Hotel
Underskiddaw, Keswick
www.lyzzickhall.co.uk
Sharrow Bay Country House Hotel
Lake Ullswater, Penrith
www.sharrowbay.co.uk
Wray Castle
Low Wray, Ambleside
www.nationaltrust.org.uk/wray-castle