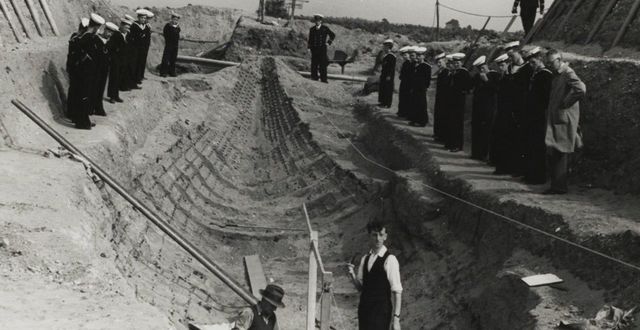 The full personal collection of photographs taken by Mercie Lack and Barbara Wagstaff at Sutton Hoo excavation have been digitised and are available online for the first time.
Schoolmistresses and close friends, Mercie Lack and Barbara Wagstaff, were serious amateur photographers with an interest in archaeology. In the summer of 1939, they visited Sutton Hoo in Suffolk and went on to create an extraordinary photographic record of one of the greatest archaeological discoveries of all time.
Sutton Hoo is the site of two early medieval cemeteries dating from the 6th to 7th centuries near Woodbridge, in Suffolk, England. Archaeologists have been excavating the area since 1938. One cemetery had an undisturbed ship burial with a wealth of Anglo-Saxon artefacts. Most of these objects are now held by the British Museum. Scholars believe Rædwald of East Anglia is the most likely person to have been buried in the ship. The site is important in establishing the history of the Anglo-Saxon kingdom of East Anglia as well as illuminating the early Anglo-Saxon period which lacked historical documentation.
A total of 11 albums, Mercie Lack and Barbara Wagstaff, containing black and white images as well as one colour album, loose black and white prints and contact prints were gifted to the National Trust by Lack's great-nephew, Andrew Lack. Also included were loose black and white prints and contact prints taken by Barbara Wagstaff of the excavation. Over the last three years and during lockdown, every image has been catalogued and digitised and remedial conservation work has been carried out to repair any damage. 
As part of the conservation process, each page of the albums was photographed as well as pictures taken of the individual prints and the many annotations, resulting in over 4000 images capturing every detail.
Visitors to Sutton Hoo can now access and enjoy digital flickable versions of Mercie Lack's photographic albums, before walking down to the site where they were taken, and the full Lack and Wagstaff collection is also available here.
Laura Howarth, Archaeology and Engagement Manager at Sutton Hoo, said: "Mercie Lack was staying with her aunt when she heard the exciting news of the discovery of an Anglo-Saxon ship burial nearby. She visited the site and obtained permission from lead archaeologist Charles Phillips to return with Barbara Wagstaff in order to photograph the excavation. Both had a keen interest in history and archaeology and during previous holidays, had travelled across the country photographing Anglo-Saxon stone sculptural details for the British Museum such as at Lindisfarne.
"The official photographs were given to the British Museum, but our collection seems to be the personal set which these two photographers kept as their individual mementoes. Mercie Lack's photographic albums are meticulously annotated with not only who and what we are looking at in the photographs, but often the technical details of how the photographs were taken, such as the type of film and aperture. A real labour of love, this information provides an invaluable additional layer of detail to each photograph.
"Present on site between the 8 and 25 August 1939, Mercie Lack and Barbara Wagstaff took approximately 60% of the total number of recorded contemporary negatives from the excavation. Whilst the treasure had been removed from site by this point, their contribution to the archaeological record remains hugely significant, particularly recording details of the fossil of the ship. This 'ghost ship', as Mercie Lack referred to it, is something that no longer exists today but we can experience it through their photographs. 
"The collection is also a slice of social history in documenting an excavation taking place on the eve of the Second World War, and photographs capture notable visitors to the site such as the artist W.P. Robins, a group of naval cadets and Princess Marie Louise, granddaughter of Queen Victoria.
"Amongst the collection gifted to the National Trust were drafts of the beginnings of an unpublished book that Mercie Lack was writing on her Sutton Hoo experience. With her photographs and writing, we are able to see through her eyes and hear in her own words the events of this thrilling summer of discovery."  
Andrew Lack said: "I am delighted to be able to share my great-aunt's collection, she would have been thrilled. Sutton Hoo remained one of her great passions."
You can explore the photographic collection at the National Trust here.
Here is some footage of the 1930 excavation: