[caption id="PlayingtheProvinces_img1" align="aligncenter" width="1024"]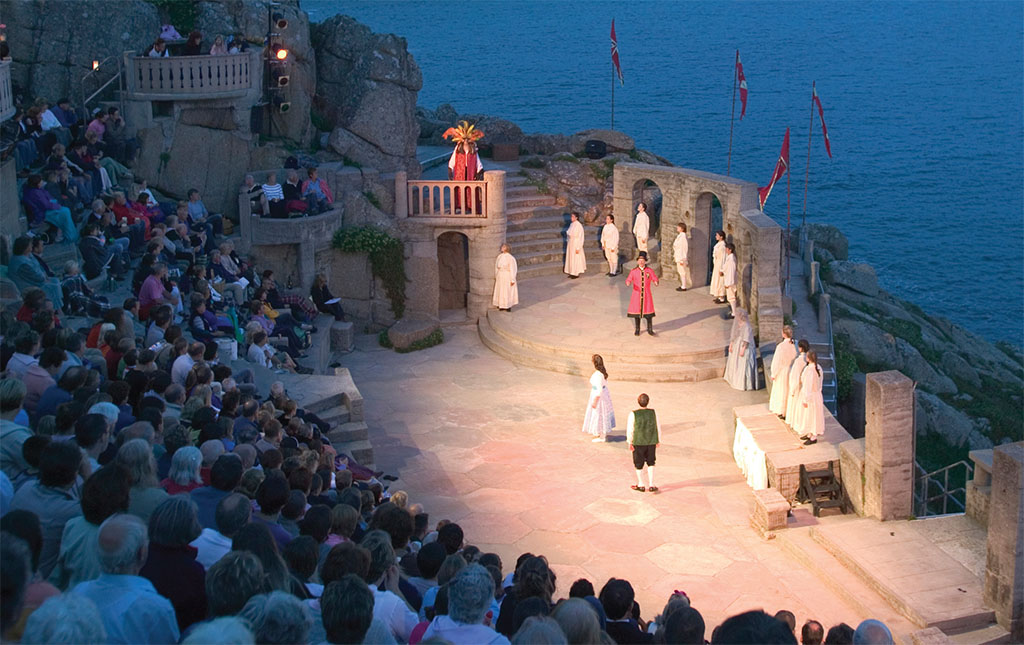 2
MINACK THEATRE, PENZANCE[/caption]
Great Theater across the Country
YES, OF COURSE, London's West End affords the greatest theater district in the world. A full quarter of the theater tickets in London are taken by American visitors. This unexcelled dramatic tradition flourishes in London, however, because it is nourished in regional and local theaters throughout Britain—in beautiful venues from Victorian plush to artistic contemporary design. Here are 10 great theater visits not to overlook when you're making plans.
1 THEATRE ROYAL, BATH
Right in the heart of elegant Georgian Bath, the Theatre Royal is all plush and period posh. Among the oldest working theaters in England, it is also the most haunted. Wonderful pantomimes in winter and a full calendar of top-rate professional theater throughout the year. Talk about theater history.
www.theatreroyal.org.uk
2 THEATRE ROYAL, YORK
Located on St. Leonard's Place, within the famous medieval walls, York's Theatre Royal boasts a tasteful, contemporary façade and foyer complete with café perfect for a pre-performance bite. It's the perfect way to spend an evening in one of England's most brilliant settings.
www.yorktheatreroyal.co.uk
3 OXFORD PLAYHOUSE, OXFORD
Originally built as a repertory theater, today the Oxford Playhouse is a full-service performance venue, as eclectic and dynamic as the university city itself. The producing theater also hosts music and dance throughout the year as well as national companies on tour.
www.oxfordplayhouse.com
4 CHICHESTER FESTIVAL THEATRE, CHICHESTER
The legendary Laurence Olivier made Chichester Festival among the most prominent theaters outside of London during his years as artistic director from 1966-76. Now in its 50th year, the "festival" remains one of the classic sites to see world-class theater in a small, ancient cathedral city.
www.cft.org.uk
5 ROYAL EXCHANGE THEATRE, MANCHESTER
For something completely different, the Royal Exchange describes itself as "a seven-sided, glass-walled capsule." Literally suspended from huge marble pillars in The Great Hall of Manchester's historic Victorian Cotton Exchange, seats are less than 10 feet from the circular stage.
www.royalexchange.co.uk
6 MINACK THEATRE, PENZANCE
Carved into the Cornish cliffs near Land's End, the open-air Minack Theatre must be the most romantic place in Britain to watch outdoor theatre—surrounded by sub-tropical gardens with spectacular views along the coast. It's a summer season from May to September.
www.minack.com
7 THE OLD VIC, BRISTOL
The theater company is the Bristol Old Vic, the theater itself is the Theatre Royal—the oldest continually active theater in the country (1764). Presently undergoing a £19 million refurbishment, the Old Vic will keep 10 performance venues hopping with classical theater, dance and a full range of performance art.
www.bristololdvic.org.uk
8 THEATRE ROYAL, BRIGHTON
When the Prince Regent made Brighton the fashionable playground of his day, could a Theatre Royal be far behind? The elegant 1807 theater sits near the Royal Pavilion, and offers a year round theater calendar.
www.atgtickets.com/venues/theatreroyal-brighton
9 WEST YORKSHIRE PLAYHOUSE, LEEDS
This major regional producing theater is the pride of Leeds, propelling productions from Yorkshire to the West End and providing one of northern England's most important arts companies. Book a pre-show dinner at the theater before enjoying one of their world-class productions.
www.wyp.org.uk
10 THEATRE ROYAL WINDSOR
"Bijou" comes to mind when describing this small theater on the main street, literally in the shadow of Windsor Castle. The delightful theater and its Thames-side environs feel totally different when the day-trippers have left Windsor for the evening.
www.theatreroyalwindsor.co.uk