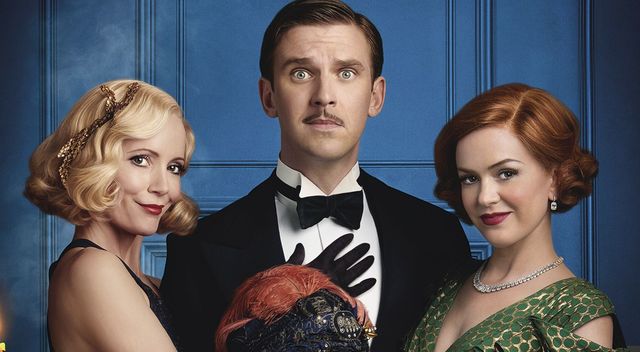 The classic comedy Noël Coward play about love that just won't die is soon to be released to the silver screens in a movie starring Dan Stevens, Dame Judi Dench, and Isla Fisher.
Blithe Spirit originally a comic play by Noël Coward, was first seen in the West End in 1941, creating a new long-run record for non-musical British plays of 1,997 performances.
The new movie, set for release in the United Kingdom on May 1, 2020, tells the tale of best-selling crime novelist Charles (Dan Stevens) who is struggling with catastrophic writer's block and a stressful deadline for his first screenplay. His picture-perfect second wife Ruth (Isla Fisher) is doing her best to keep him focussed in the hope of fulfilling her dream of heading to Hollywood.
Read more: Famous British film locations
Charles' desperate search for inspiration leads him to invite Madame Arcati (Judi Dench), a medium recently exposed as a fraud, to perform a séance in their home. They all get more than they bargained for when Arcati accidentally summons the spirit of his deceased first wife: the fiery and jealous Elvira (Leslie Mann) who embarks on a mission to kill Charles so she can spend eternity with him which leads to an increasingly comical and deadly love triangle.
The new movie has two Downton Abbey crossovers, firstly its Director Edward Hall and secondly the star of the movie Dan Stevens who played Matthew in the hit drama. The all-star cast includes Leslie Mann (This is 40, The Other Woman), Isla Fisher (The Beach Bum, Confessions of a Shopaholic), Julian Rhind-Tutt (Rush, Stardust), Emilia Fox (Silent Witness, Delicious), Adil Ray (Citizen Khan, Ackley Bridge), James Fleet (Outlander, Four Weddings and a Funeral) and last but not least Dame Judi Dench (Philomena, Skyfall).
Blythe Spirit, the play, as well as breaking records in the Westend, did well on Broadway later that year, running for 657 performances. Coward adapted the play for film in 1945, starring Rex Harrison, and directed a musical adaptation, High Spirits, on Broadway in 1964. It was also adapted for television in the 1950s and 1960s and for radio. The play enjoyed several West End and Broadway revivals in the 1970s and 1980s and was revived again in London in 2004, 2011 and 2014. It returned to Broadway in February 2009.
Read more: The Crown's Olivia Colman Answer Vogue's 73 Questions
Noel Coward's incredible career
Sir Noël Peirce Coward was a British playwright, composer, director, actor and singer, known for his wit, and flamboyance. Over his six-decade career, he published more than 50 plays. Many of his works, such as Hay Fever, Private Lives, Design for Living, Present Laughter and Blithe Spirit, have remained in the regular theatre repertoire. He composed hundreds of songs, in addition to well over a dozen musical theatre works, screenplays, poetry, several volumes of short stories, the novel Pomp and Circumstance, and a three-volume autobiography. 
At the outbreak of the Second World War Coward volunteered for war work, running the British propaganda office in Paris. He also worked with the Secret Service, seeking to use his influence to persuade the American public and government to help Britain.
Coward won an Academy Honorary Award in 1943 for his naval film drama In Which We Serve and was knighted in 1969. In the 1950s he achieved fresh success as a cabaret performer, performing his own songs, such as "Mad Dogs and Englishmen", "London Pride" and "I Went to a Marvellous Party".
Coward's plays and songs achieved new popularity in the 1960s and 1970s, and his work and style continue to influence popular culture. He did not publicly acknowledge his homosexuality, but it was discussed candidly after his death by biographers including Graham Payn, his long-time partner, and in Coward's diaries and letters, published posthumously. The former Albery Theatre (originally the New Theatre) in London was renamed the Noël Coward Theatre in his honour in 2006.
Will you be watching the 2020 film remake of Blythe Spirit? Let us know in the comments section below.