[caption id="PunchdrunkaFlyingCoffin&40sFashion_img1" align="aligncenter" width="223"]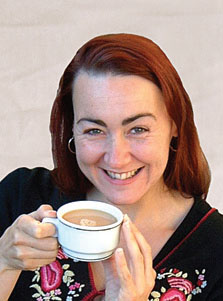 6
[/caption]
[caption id="PunchdrunkaFlyingCoffin&40sFashion_img2" align="aligncenter" width="1024"]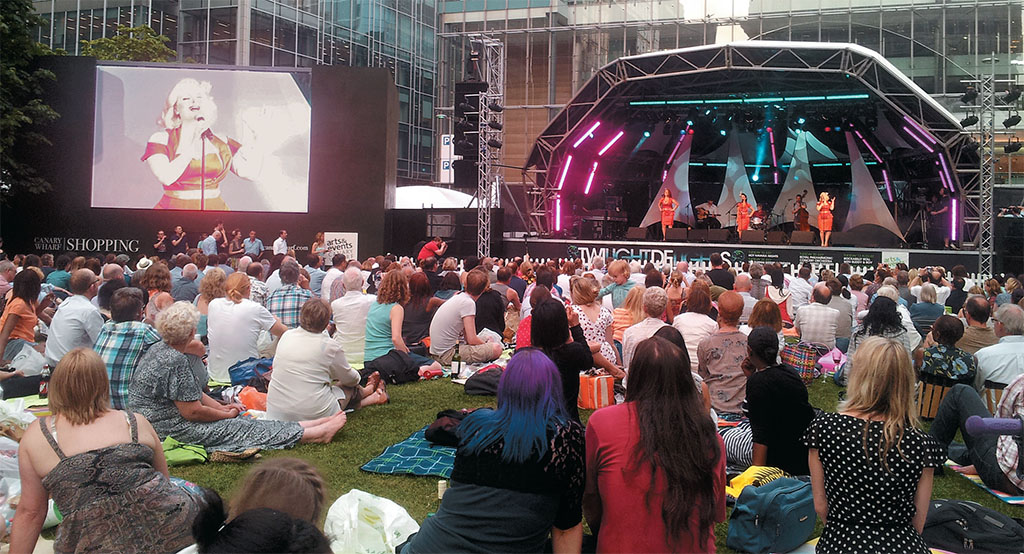 6
[/caption]
MY ACCOUNTANT WORKS from a delightful Georgian townhouse in Pinner, to the northwest of central London. I've been going there for my annual ticking-off for years, but this time I passed by the tidy, half-timbered, Georgian and Regency High Street, the cute village green and the ancient pub on a quest.
The story goes like this. William Loudon and his wife Agnes were left a substantial bequest, which would be theirs until they were dead and buried in the ground. Unwilling to see a significant source of cash dry up, they arranged to be interred in one of the oddest memorials in the country—a giant cheese grater of a monument, pierced through, javelin-style, by a massive stone casket that would ensure they would never be buried in the ground.
Of course, the tale requires a large pinch of salt. It's believed to have its source with a Victorian picture postcard publisher trying to make a few extra sales. But there's no denying that the flying coffin in Pinner parish churchyard is quite an eyeful. It's completely out of scale with the rest of the 14th-century church's scattering of weathered headstones, mummy-shaped tombs and stone vaults, and yet somehow so very British that whatever the story behind it, it was worth playing hooky from my long-suffering accountant to see it.
NOW THAT YOU'VE DIED is described as "a book without words, a story without reading" and has to be one of the oddest plays I've witnessed all year. Commissioned by the Royal National Institute of Blind People as part of their Read for RNIB campaign to make more books available for blind people, it was written by well-known British author Patrick Ness and produced from the stable of immersive theater royalty, Punchdrunk.
We were taken, six at a time, into the bowels of The Roundhouse Theater in Camden. After being shown into a perfectly normal-looking elevator, the lights went out and the entire rest of performance used all the senses but one—sight. In pitch darkness we felt the elevator move—but in which direction? It felt like them all, but was impossible to tell. It reminded me of a spooky version of Roald Dahl's Great Glass Elevator, only without any of the reassuring qualities glass has—like being able to see through it. Our spectral guide congratulated us on having passed away in the "real world" and prepared us for life in the next on a very strange journey. With not a chink of light anywhere, we were forced to rely on the vibrations we could feel, the smoke we could smell (ominously, from"the other place") and the rations we'd been given to taste. When we got out at the end, we had somehow been magicked to the front of house on the ground floor. I have no idea how. Creating theater as bold as this was a brave move for a charity, but proved to be quite a coup: a powerful, unsettling, but ultimately uplifting, experience. There are plans to produce the show again—keep an eye out for venues, they will book up fast.
[caption id="PunchdrunkaFlyingCoffin&40sFashion_img3" align="alignleft" width="1024"]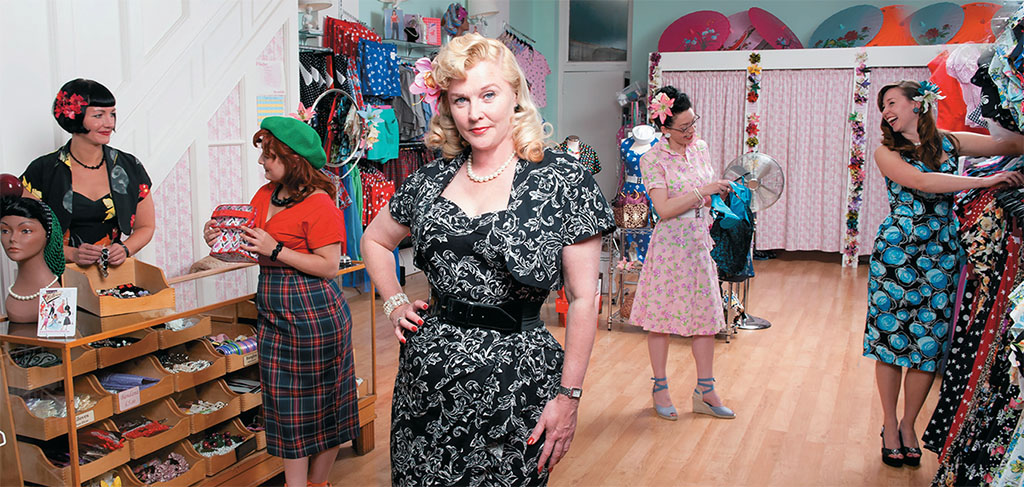 6
[/caption]
THIS MONTH'S CONTACTS
Pinner Parish Church
www.pinnerparishchurch.org.uk
Read for RNIB
www.readforrnib.org.uk
London Wonderground Festival
www.londonwonderground.co.uk
Canary Wharf
www.canarywharf.com/
• Vivien of Holloway
www.vivienofholloway.com
I HAD NOT BOOKED FOR LIMBO. Enjoying a long run at the Spiegeltent on the South Bank as part of the annual London Wonderground festival, it looked exotic, but I had vaguely grim memories of traditional circus as a kiddie that I didn't want to repeat. But my pal Mike had a spare ticket and—well, I don't refuse spare tickets.
It was extraordinary. A heady mix of modern circus skills, comedy, beauty and Coney Island burlesque, it was performed in front of, behind, beside and even over the heads of an astounded—and very close—audience. From contortionists to make your eyes water and acrobatics to make eyes pop through to fire-eating to pop eyes at, this was heady, sexy stuff. Tougher than Cirque du Soleil, funkier than your average end-of-the-pier show, Limbo often left me gape-mouthed by the stunts of an international cast culled from some of the best acts in the world. They will almost certainly be back next summer and this time I'm booking.
MUCH LESS STRANGE, I've been spending a fair bit of time sitting on the grass enjoying free music at Canary Wharf. In many ways, the regenerated Isle of Dogs has overtaken the City as the financial center of London and in spite of the recent financial crisis, it's never really been in any danger of being poor. Weekends are still quiet round there, eerie even, but during the week it's a Mecca for business. After hours they're keen to keep the money flowing, so they put on a lot of free, high-end (or both) events which, happily, are open to all. In the summer, they are outside; the rest of the year there are various neighborhood venues including the Winter Garden. Music, film, theater and other happenings are held regularly and all you have to do is look out for what's on. One particularly memorable night's headliners were the Puppini Sisters, who render modern pop songs in the style of the Andrews Sisters. I like them, but had really gone for the support act,my favorite singer just now, Si Cranstoun. And yes, I couldn't help myself; I did join the little knot of dancers down the front.
If you've been wondering what I wear when I go dancing, let me introduce you to Vivien of Holloway—clothes made physically in London, 2013, but spiritually about 70 years ago in Hollywood.
To be honest, the shop is just about the only reason you'd ever volunteer to go to Holloway Road—a street that's not awful, just unexciting. But if you want to look like a 1950s starlet, it's a trek worth making (and I do, far too often for the health of my bank balance—see accountant, above).
You're met at the door by an immaculately dressed lady wielding a tape measure. This is essential—succumb to the embarrassment, girls. All Vivien of Holloway garments are made to original vintage sizing; you won't be the same size you are in any other shop. On the other hand, you won't look like anything out of any other shop. These clothes are cunningly designed, with all manner of interior scaffolding. Foundation wear is unnecessary, but you have a waist like Betty Bacall and a bust like Betty Page. My personal favorites are halter-neck circle frocks, with their range of colorful, fluffy underskirts, and Dorothy Lamour-alike sarongs, though I'm also a sucker for the high-waist, wide-leg 1940s trousers. Vivien has a thriving mail order service, but measure yourself tightly, and follow the sizing instructions to the letter.
Next month I'll be experiencing theater not performed for 400 years, rediscovering lost jewels, exploring a new maritime gallery and, yes, probably doing some more dancing.
[caption id="PunchdrunkaFlyingCoffin&40sFashion_img4" align="alignleft" width="558"]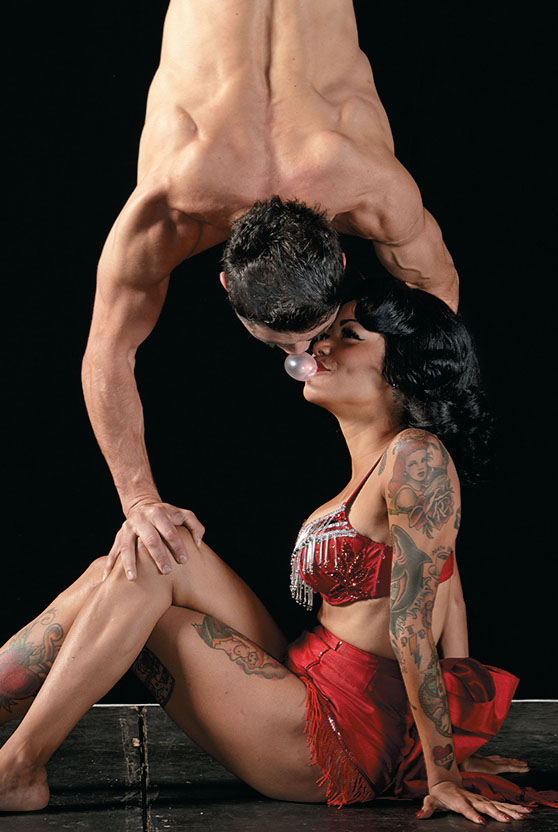 6
[/caption]
[caption id="PunchdrunkaFlyingCoffin&40sFashion_img5" align="alignright" width="778"]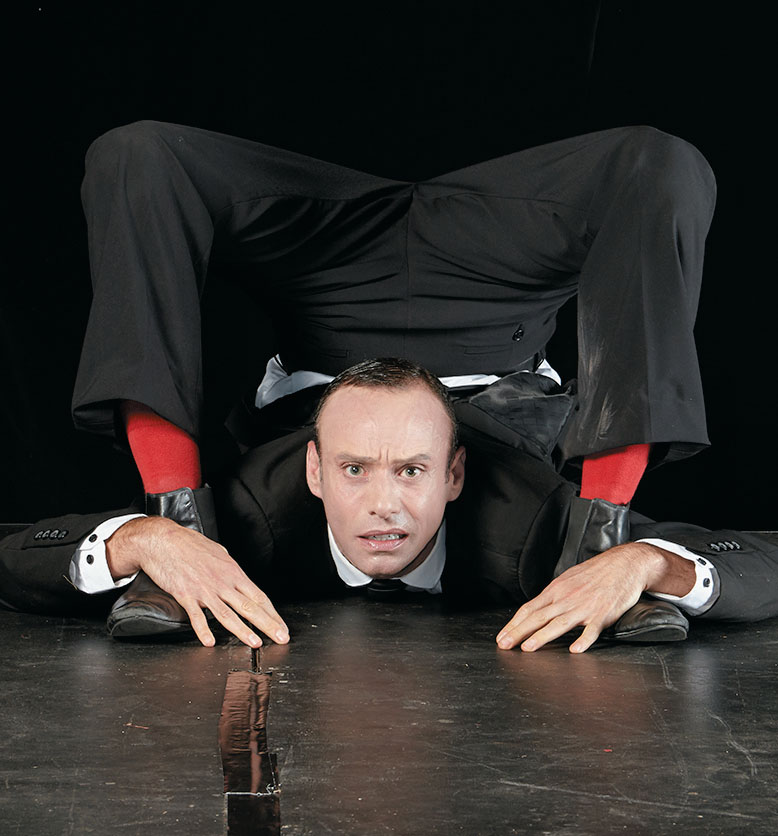 6
[/caption]