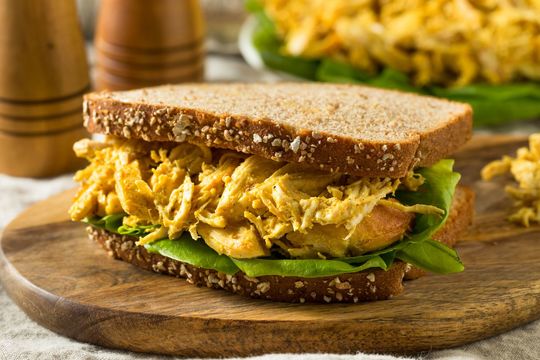 Here we look back to 1953 and Queen Elizabeth's official dish, Coronational Chicken, which is still a British favourite.
Coronation Chicken is a classic British dish that has a special place in the culinary history of the country. The dish was invented for the coronation of Queen Elizabeth II in 1953 and has been enjoyed by the British Royal Family and the public ever since. In this article, we will explore the history of the Coronation Chicken, its link to Queen Elizabeth II, who invented it, and whether it's still enjoyed today. We will also include a traditional recipe for Coronation Chicken and explain how it's used.
Coronation Chicken's origins
Coronation Chicken was created by Constance Spry and Rosemary Hume, two British chefs who were tasked with creating a dish for the coronation banquet of Queen Elizabeth II in 1953. The dish was designed to be a light and refreshing alternative to the heavy and traditional dishes that were typically served at coronation banquets.
The dish is made with cooked chicken, mixed with a creamy sauce that includes mayonnaise, curry powder, apricot puree, and other spices. The dish was an instant hit and has since become a staple of British cuisine.
The recipe has been passed down through generations of royal chefs, and it's still enjoyed today.
The dish has also been served at royal events and celebrations, including the wedding of Prince Charles and Princess Diana in 1981 and the Diamond Jubilee celebrations of Queen Elizabeth II in 2012.
Traditional Coronation Chicken recipe
Ingredients
- 4 skinless, boneless chicken breasts
- Salt and pepper
- 2 cups of chicken stock
- 2 teaspoons of curry powder
- 1 cup of mayonnaise
- 1/2 cup of Greek yogurt
- 1/4 cup of apricot jam
- 1 tablespoon of lemon juice
- 1 teaspoon of honey
- 1/4 cup of chopped fresh parsley
- 1/4 cup of chopped fresh cilantro
- 1/4 cup of chopped green onions
- 1/2 cup of chopped dried apricots
- 1/2 cup of slivered almonds.
Method
Preheat the oven to 350°F (175°C).
Season the chicken breasts with salt and pepper and place them in a baking dish.
Pour the chicken stock over the chicken breasts and bake for 25-30 minutes or until the chicken is cooked through.
Remove the chicken from the oven and allow it to cool.
In a mixing bowl, combine the mayonnaise, Greek yogurt, apricot jam, lemon juice, honey, and curry powder. Mix well.
Once the chicken has cooled, cut it into small pieces and add it to the mixing bowl with the sauce.
Add the chopped parsley, cilantro, green onions, chopped dried apricots, and slivered almonds to the mixing bowl.
Mix everything well, making sure that the chicken is coated evenly with the sauce.
Serve the Coronation Chicken chilled, garnished with additional chopped herbs, if desired.
How is Coronation Chicken Used?
Serving
Coronation Chicken can be served in many different ways. It's often served as a sandwich filling or as a topping for salads. It can also be served as a main course, accompanied by rice or potatoes.