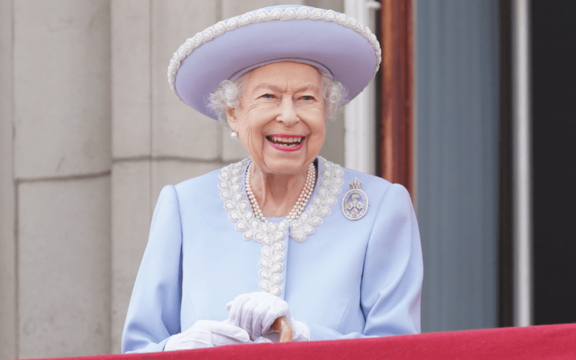 Today Queen Elizabeth appeared on the Buckingham Palace balcony, joined by members of her family as the country marks the Platinum Jubilee with a four-day weekend of festivities, parties, and parades.
The celebrations began with the Trooping the Colour military parade in central London, and the Queen took the salute from the 1,500 soldiers and officers from the balcony of Buckingham Palace.
The arrival of the first senior royals in a carriage - Kate, the wife of Prince William, her three young children and Camilla, the wife of heir to the throne Prince Charles - were met with loud cheers.
Charles, William and the queen's daughter Anne arrived on horseback. Other senior royals will carry out other ceremonial duties on the Queen's behalf.
The Platinum Jubilee marks Queen Elizabeth's record-breaking 70 years on the British throne.
View this post on Instagram
"Thank you to everyone who has been involved in convening communities, families, neighbours and friends to mark my Platinum Jubilee, in the United Kingdom and across the Commonwealth," the Queen said in a statement.
"I continue to be inspired by the goodwill shown to me, and hope that the coming days will provide an opportunity to reflect on all that has been achieved during the last 70 years, as we look to the future with confidence and enthusiasm."
Joining Her Majesty The Queen and other members of The @RoyalFamily to watch a very special flypast for the start of the #PlatinumJubilee ✈️ 🇬🇧 pic.twitter.com/V6yJm18OUd

— The Duke and Duchess of Cambridge (@KensingtonRoyal) June 2, 2022
Tonight, the Queen will be at Windsor Castle to take part in a ceremony to light more than 3,000 beacons across the UK and the Commonwealth of 54 nations that she heads.
Beacons will be lit at Northern Ireland's highest peak and most westerly town, Enniskillen, Co Fermanagh, later as part of the jubilee celebrations.
What is Trooping the Colour?
The Trooping of the Colour marks the official birthday of the British Sovereign and has done so for over 260 years.
Over 1400 parading soldiers, 200 horses and 400 musicians come together each June in a great display of military precision, horsemanship and fanfare to mark The Queen's official birthday.
The streets are lined with crowds waving flags as the parade moves from Buckingham Palace and down The Mall to Horse Guard's Parade, alongside Members of the Royal Family on horseback and in carriages.
The display closes with an RAF fly-past, watched by Members of the Royal Family from the Buckingham Palace balcony.
👑 On the first day of the #PlatinumJubilee weekend and the anniversary of The Queen's Coronation, we look back on Her Majesty's life of service from her time as a young Princess supporting the war effort to her extraordinary commitment to her role as Monarch. pic.twitter.com/aZ3jMT1AlS

— The Royal Family (@RoyalFamily) June 2, 2022