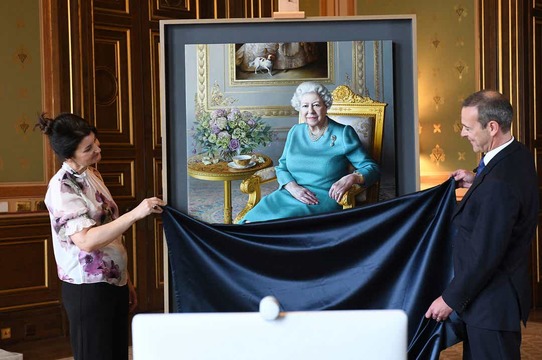 Queen Elizabeth has tagged along to a virtual unveiling of her very own portrait
Britain's Foreign and Commonwealth Office has commissioned an amazing new portrait made to honor Queen Elizabeth's services to diplomacy.
The portrait, painted by Miriam Escofet, was created with the intention of paying tribute to the exemplary service that Queen Elizabeth has put into promoting the interests of the United Kingdom all over the world.
Read more: The myth of middle-class Middleton
As we know, Covid-19 has forced the Royal Family indoors and meant that they have been largely unable to attend any Royal functions and engagements. In this instance, it is no different.
Where once Queen Elizabeth would be able to attend a grand unveiling of the portrait, for now, she has been forced to take to Zoom to enjoy Escofet's work.
Queen Elizabeth took the painting in virtually and made some shrewd observations about the work. 
In Queen Elizabeth's official 'visit' to the Foreign Office, she was informed about the work being done by the office in the wake of the coronavirus pandemic around the world. Once the virus hit, thousands of British nationals were stranded all over the world. The Foreign Office shouldered the burden of ensuring that they were brought home safe and sound. Queen Elizabeth laid the praise on thick, saying 'I'm very impressed with what you have achieved.'
Escofet certainly seemed pleased with Queen Elizabeth's reaction to her painting. She said 'She seemed to react very positively to it, she was smiling, asking how long it took and if I had any more projects on the go after this.' 
Queen Elizabeth was allegedly quick to point out that in the painting, her cup was actually absent of any tea. Call it an oversight!
Her Majesty expressed her wishes to see the painting in the flesh one day, and spoke about 'How lucky we are to have the technology to do this nowadays.'
Have a look at the full clip below, courtesy of the Royal Family Channel Youtube page