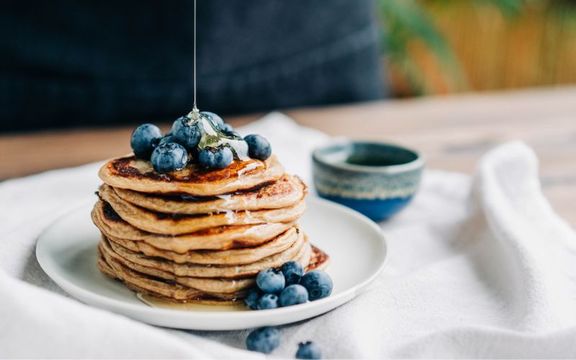 Buckingham Palace's Royal Chefs share their recipe for tasty pancakes served with a delicious warm nutty sauce.
Try these delicious pancakes with Beurre Noisette, a type of warm sauce in French cuisine, that are fit for a Royal! 
Ingredients
125g Plain Flour
30g sugar
Pinch of salt
2 medium eggs (approx. 100g)
1.5 egg yolks (30g)
250ml milk
40g butter
Method
To make the 'beurre noisette', nutty butter in French, place butter in a pan and cook gently until all the water in the butter cooks off and the milk solids will separate to the bottom of the pan and gently golden. This will spit gently and once quietens down will have turned a nutty brown colour, set this aside to cool. This adds great flavour and keeps the pancakes moist.
Next combine the salt, flour and sugar with the eggs in stages to create a smooth batter. Then add the milk in stages and finally the beurre noisette (butter). 
Ideas to serve:
Classic Lemon and sugar
Jam and Cream
Savoury pancakes - Ham, Leek and Cheese Pancakes
For Savoury pancakes, follow the same recipe but add some of your favourite fresh chopped herbs before cooking.
200g cooked, diced ham
150g cooked and sweated down leeks
125g grated Gruyere cheese
275ml full-fat milk
40g butter
40g Plain Flour
To make the cheese sauce, gently heat the milk in a pan, while in a separate pan melt the butter and whisk in the flour. Slowly add the milk, whisking
continuously to avoid lumps. Cook out for 3 minutes before removing from heat- Separate ¼ of this mix and set aside.
Add most of the cheese to the sauce (leaving some to top the pancakes), along with the ham and leeks. Season with salt and pepper (can add cayenne for a kick if preferred).
Divide the mix into the pancakes and then roll in to cigars.
Place in a buttered dish and then covered with the remaining sauce and grated cheese.
Bake at 180, on the middle shelf for 15-20 minutes until bubbling and golden in colour- serve hot.