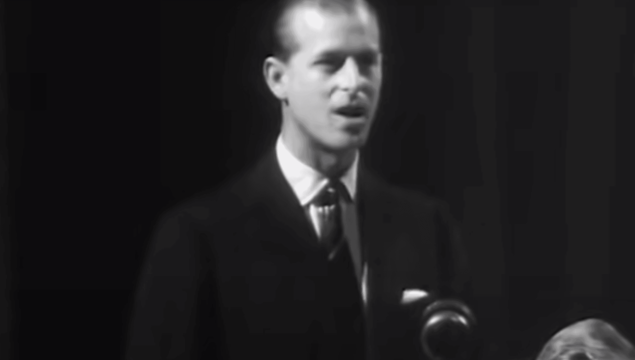 Prince Philip has passed away aged 99. Often known for his sharp wit, and often public gaffes, he did love a joke. Here is some incredible British Pathé footage of the Duke of Edinburgh in action.
Over the years, Prince Philip earned himself the reputation as somewhat of a joker, due to his affable personality and fast wit.
When you spend as much time at public appearances and functions as a Royal does, it must get somewhat tedious. To combat this, it would appear that Prince Philip used humor and comedy as a way of sprucing up his time spent at functions.
Prince Philip was well known for his jokes, which have in the past landed him in hot water. In an address to the General Dental Council in 1960, he remarked 'Dontopedology is the science of opening your mouth and putting your foot in it, a science which I have practiced for many years'. 
Now, thanks to British Pathé, we can watch a compilation of Prince Philip at his best, cracking jokes and entertaining guests.
Check out the footage of "Prince Philip's Jokes: Royal Comedy | British Pathé" below:
The British Pathé history
Before television, people came to movie theatres to watch the news. British Pathé was at the forefront of cinematic journalism, blending information with entertainment to popular effect. Over the course of a century, it documented everything from major armed conflicts and seismic political crises to the curious hobbies and eccentric lives of ordinary people. If it happened, British Pathé filmed it.
Now considered to be the finest newsreel archive in the world, British Pathé is a treasure trove of 85,000 films unrivaled in their historical and cultural significance.
British Pathé also represents the Reuters historical collection, which includes more than 136,000 items from the news agencies Gaumont Graphic (1910-1932), Empire News Bulletin (1926-1930), British Paramount (1931-1957), and Gaumont British (1934-1959), as well as Visnews content from 1957 to the end of 1984. All footage can be viewed on the British Pathé website.
* Originally published in Oct 2019.