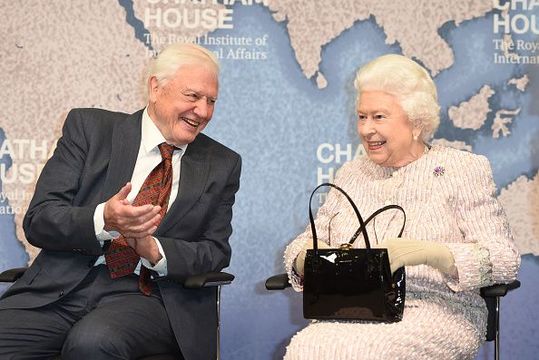 Queen Elizabeth II, the longest-reigning monarch in British history, and Sir David Attenborough, the legendary naturalist and broadcaster, forged a remarkable friendship that spanned over six decades. Their shared passion for nature and conservation has brought them together on numerous occasions, making their bond a testament to the power of friendship and shared interests.
The origins of Queen Elizabeth and David Attenborough's friendship can be traced back to the 1950s when Attenborough first presented a nature documentary series for the BBC. As Princess Elizabeth, the late Queen took a keen interest in Attenborough's work and was captivated by his ability to bring the wonders of the natural world into people's homes. This admiration laid the foundation for a lasting connection between the two.
Over the years, Queen Elizabeth and Attenborough collaborated on various projects highlighting environmental conservation. One notable collaboration was the landmark documentary series "The Queen's Green Planet," released in 2018, where Attenborough explored the Queen's Commonwealth Canopy initiative—a global conservation project aimed at preserving forests for future generations. The series showcased their shared commitment to environmental stewardship and brought attention to the importance of protecting the Earth's biodiversity.
Beyond their professional collaborations, Queen Elizabeth and Attenborough enjoyed a personal friendship built on mutual respect and shared experiences. They have shared many moments together, such as the unveiling of a portrait of Attenborough at Buckingham Palace in 2016, where the Queen praised his extraordinary contribution to broadcasting and conservation.
Despite their significant age difference, Queen Elizabeth and Attenborough found common ground in their love for nature and the outdoors. They were often photographed together, exchanging warm smiles and engaging in lively conversations. Their shared passion for wildlife and the environment has transcended their respective roles, allowing them to connect on a deeper level as friends.
Queen Elizabeth's appreciation for Attenborough's work goes beyond their personal friendship. In 2020, during a speech at the United Nations General Assembly, the Queen expressed her admiration for Attenborough's efforts in raising awareness about climate change and urged world leaders to take decisive action to protect the planet. Her endorsement of Attenborough's work further highlights the depth of their friendship and the impact they have had on each other's lives.
In an era of transient relationships, Queen Elizabeth and Sir David Attenborough's enduring friendship stands as a testament to the power of shared interests and values. Their collaboration on environmental projects and their genuine fondness for one another have showcased the importance of fostering connections that transcend age and social status. As two iconic figures, they have inspired generations and demonstrated the positive influence that can arise from long-lasting friendships.
Watch an episode of "The Queen's Green Planet" here: