first it was england's smallest county, then it wasn't … now it is again
[caption id="RutlandtheOnceandFutureCounty_Feature" align="aligncenter" width="1024"]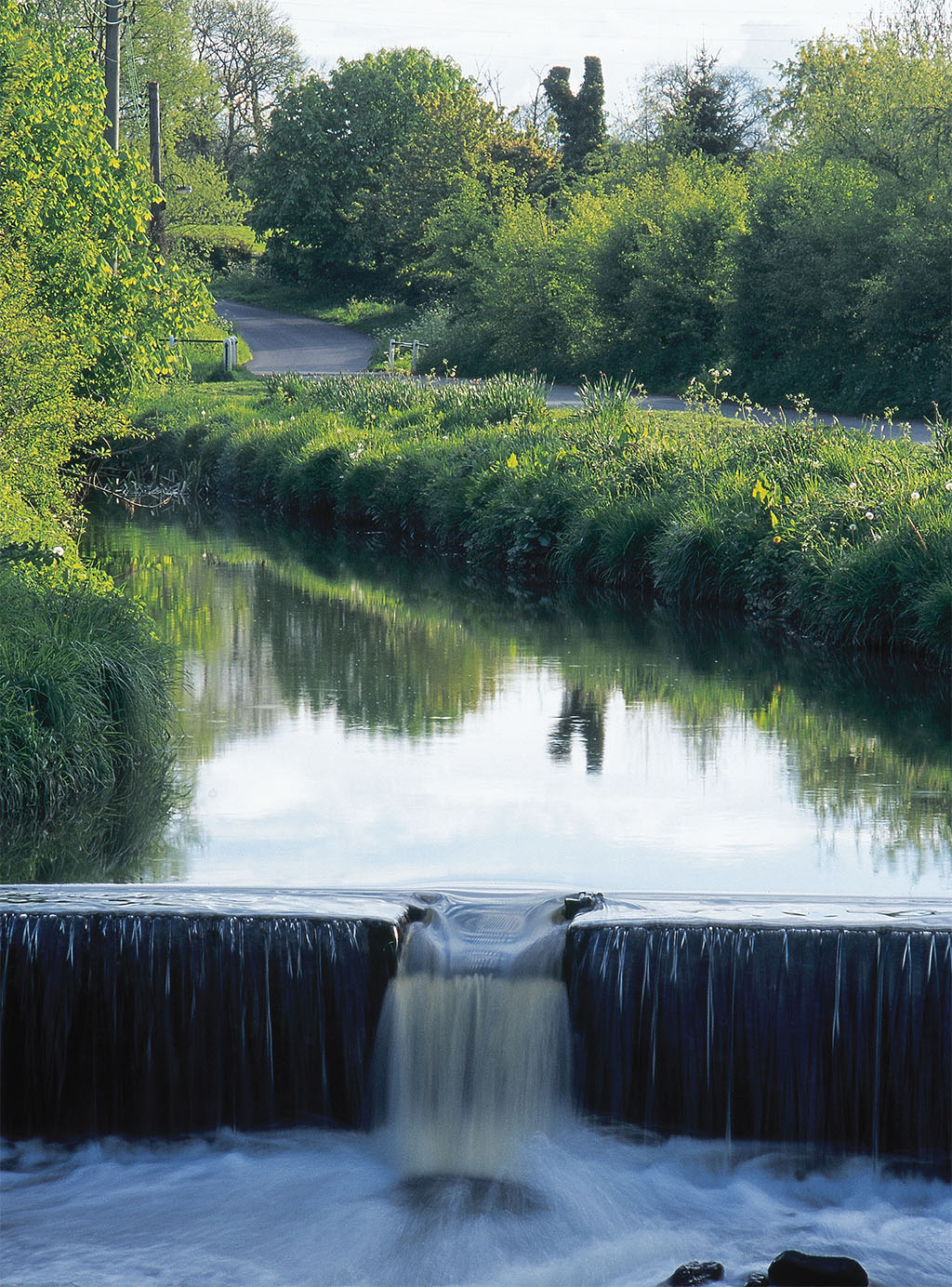 10
This idyllic millpond near the market town of Uppingham is tiny compared to Rutland Water. The largest man-made lake in England, however, is kept just as beautiful.
[/caption]
[caption id="RutlandtheOnceandFutureCounty_img1" align="aligncenter" width="1024"]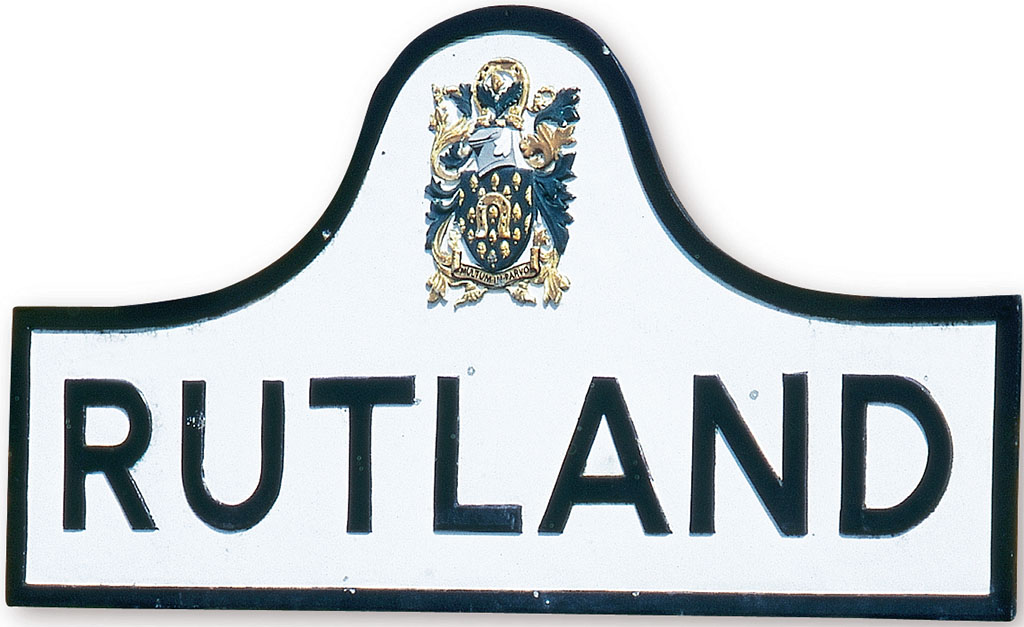 10
[/caption]
tiny rutland county appears on England's maps once more, ranked an equal with such giants as Kent and Devon. Counties are frequently seen as England's equivalent of America's states; but 16 Rutlands would fit into Delaware, and 63 into Vermont. Heck, you can fit 10 Rutlands into Rhode Island. Rutland is little.
Little and proud of it. The county motto is multum in parvo, "a lot in a little"—for Rutland's boundaries encircle an area of English countryside that is perfect in every detail. Here you find a refreshing openness, with uncluttered views that give every appearance of empty remoteness. Yet each turn of a lane reveals something new and wonderful—a thatched pub or Norman church, a golden-stoned village (the hue of the local building material, native stone), a handsome market town, an elegant little stone bridge or a great brick viaduct.
Stories abound on its name, but scholars seem to agree that Rutland derives from "Rota's Land," the lands belonging to Rota, an otherwise forgotten Saxon chieftain. The region appears in the Domesday Book (William the Conqueror's tax census of 1086) as Roteland, but not as a county; either William or some predecessor had split it between Leicestershire and Northamptonshire. Sometime in the next two centuries it became a county, the smallest in England, and it stayed that way until the mid-20th century.
[caption id="RutlandtheOnceandFutureCounty_img2" align="aligncenter" width="1024"]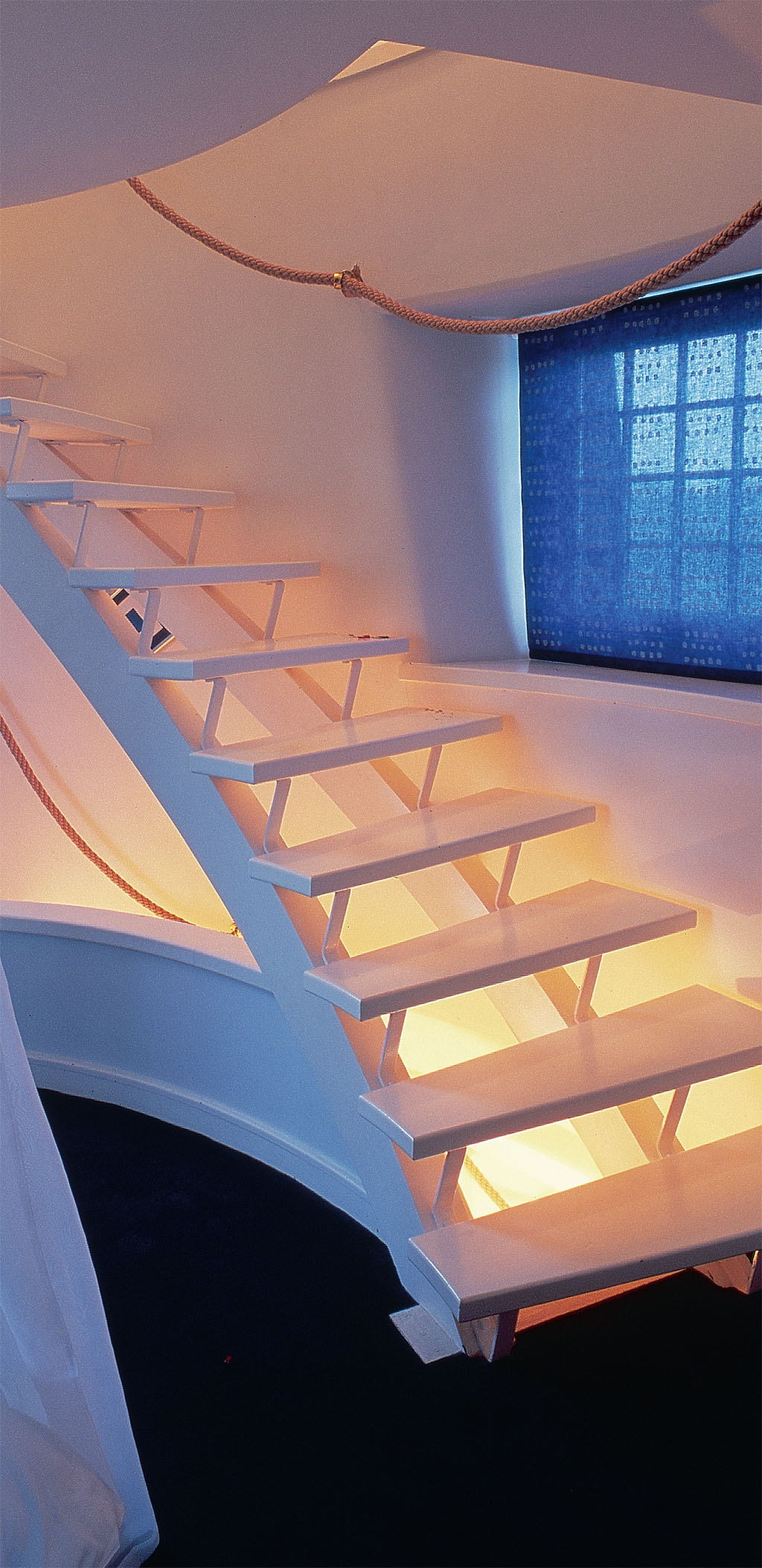 10
The restored windmill at Barrowden in the River Welland Valley is now a self-catering holiday cottage.
[/caption]
Then the prophets of modernization looked upon Rutland's small area, rural beauty and traditional ways—and declared Rutland anathema. A 25-year campaign to "rationalize" Rutland came to a head as Rutlanders struggled, unsuccessfully, to block the construction of Europe's largest artificial lake, a project that would convert one of Rutland's most scenic valleys into a water supply for the industrial cities of Leicester and Northampton. In the early '70s Britain's planners were fed up with the Rutlanders' obstructionism and reorganized the county out of existence, seemingly forever, to be ruled by bureaucrats in far-off Leicester.
Perhaps the modernizers were right about that reservoir, now known as Rutland Water. Covering less than five square miles, the reservoir is a tiny little thing by North American standards, easily circled by bicycle on the graded path that surrounds it.
The water authority, Anglian Water, maintains the entire lake edge in subtle but beautiful landscaping, giving it the visual charm of a natural lake. Sailboats skit about the surface by the dozens, while families picnic on the ample grassy lawns that descend to meet the edge. Boat and bicycle rentals offer the opportunity to explore the lake from inside or out, and a network of paths allow cyclists and walkers to delve into its every cranny. Touring by auto is less rewarding, as landscaping carefully shields the lake and the highway from each other. The best alternative is to park, then spend the day peddling about.
lot in a little is rutland's motto.
But Rutland Water does have attractions other than boating and bicycling. The church at Normanton, set to be drowned in the reservoir, was raised 10 feet onto a platform and converted into a museum. It contains fossils and other local items, as well as very large displays supplied by Anglian Water that glorify the lake's creation "despite the inevitable local opposition" (as one of the displays puts it). The church itself is the main interest, however—a lovely little 18th-century temple, low-roofed and looking a bit like an orthopedic shoe with Grecian columns, sitting on a rock platform nearly surrounded by water.
On the opposite end of the lake, a series of nature preserves provides some of the Midland's premier birding, including England's only mated pair of ospreys—quite the celebrities, with their movements dogged by the local press as relentlessly as a pair of movie stars. In the middle of the lake, the village of Upper Hambleton occupies what is very nearly an island; it's a beautiful place and, with free street parking, a convenient center for lakeside exploration for those who dislike parking fees.
If you look for Rutland on a map (look carefully, for it's easy to miss), you will find it on a gently rising plain in the East Midlands, 100 miles north of London and about 30 miles inland. Within Rutland this plain reaches 600 feet above sea level, and eastward-running rivers cut valleys 300 feet downward into it. The result: rolling hills with long and level tops, separating lush valleys lined with neat villages. The hilltops are open and windy, with wide views; the valleys are rich and fertile, washed by lazy rivers and laced with lanes and paths. Hedgerows mark the fields, and the lanes and paths—hawthorns mainly—are covered with tiny white blooms in mid-May.
Windmills once dotted those empty, blowy hilltops. Most are ruins now, recognizable as a conical stone or brick tower, looking like a megaphone with the open end firmly planted in the ground. Some still survive. On the county's western edge, the Whissendine Windmill produces flour, and can be viewed by appointment. To the south, the Barrowden Windmill guards the main highway, its bright white walls and brave sails visible for many miles in all directions.
While isolated farms can be found on the hills, most Rutlanders live in villages in the river valleys. These are fine traditional English villages, built of local stone and surrounding ample greens. Rutland is noted for its stone—the same type of limestone found in the Cotswolds—a rich gold in color, hard and easily split into rectangular blocks. Golden-stone cottages crowd around a green, their roofs thatched and their fronts alive with flowers. Medieval churches are well-kept, and many sport massive Norman stonework in profusion. Duck ponds tucked in a corner of the green add a pastoral touch. There you also find a golden-stone pub, perhaps with a thatched roof, inevitably serving Rutland's justly famous local ales from a hand pump. If you're lucky, the pub will be on the green and the sun will be out, so you can enjoy your pint from the tables outside.
The valley villages are an apt venue for discovery. At Barrowden the friendly English pub Exeter Arms sits on the village green opposite the small duck pond. You'll find home-brewed beer there, and the good food and views all work together to create an exquisite experience. Exton has two greens (with a pub on one), but here the main discovery is its lovely little church, sitting by itself a quarter-mile out of the village, utterly surrounded by the immaculate landscaping of an 18th-century great house. The church tower door at Braunston-in-Rutland is guarded by an ancient Sheila-na-gig, a grotesque figure that wards off death and ill-luck, derived from the Druidic fertility goddess. In Lyddington, a surviving wing of a 14th-century bishop's lodging was used as an almshouse from the 17th to the 20th century, and is now on display as the Bede House. And in Wing, a medieval turf maze (used for meditation) survives on the village's edge.
However nice the villages are, Rutland's true glory lies in its market towns. Unusual for such a tiny area, Rutland preserves two such centers—Uppingham and the county town of Oakham. "Preserves" is the operative word, as these are market centers of a sort that have all but disappeared from more urban areas of England: towns with High Streets lined with centuries-old buildings, filled with local shops. Uppingham is particularly noted for its antique dealers and art galleries, as well as its tea shops and lovely, inexpensive cafes. Oakham has a large selection of local services and some nice gift shops. Each has its own ancient and exclusive public school with handsome old buildings; Uppingham's is open for public tours in season.
most rutlanders live in ancient villages along river valleys.
[caption id="RutlandtheOnceandFutureCounty_img3" align="aligncenter" width="1024"]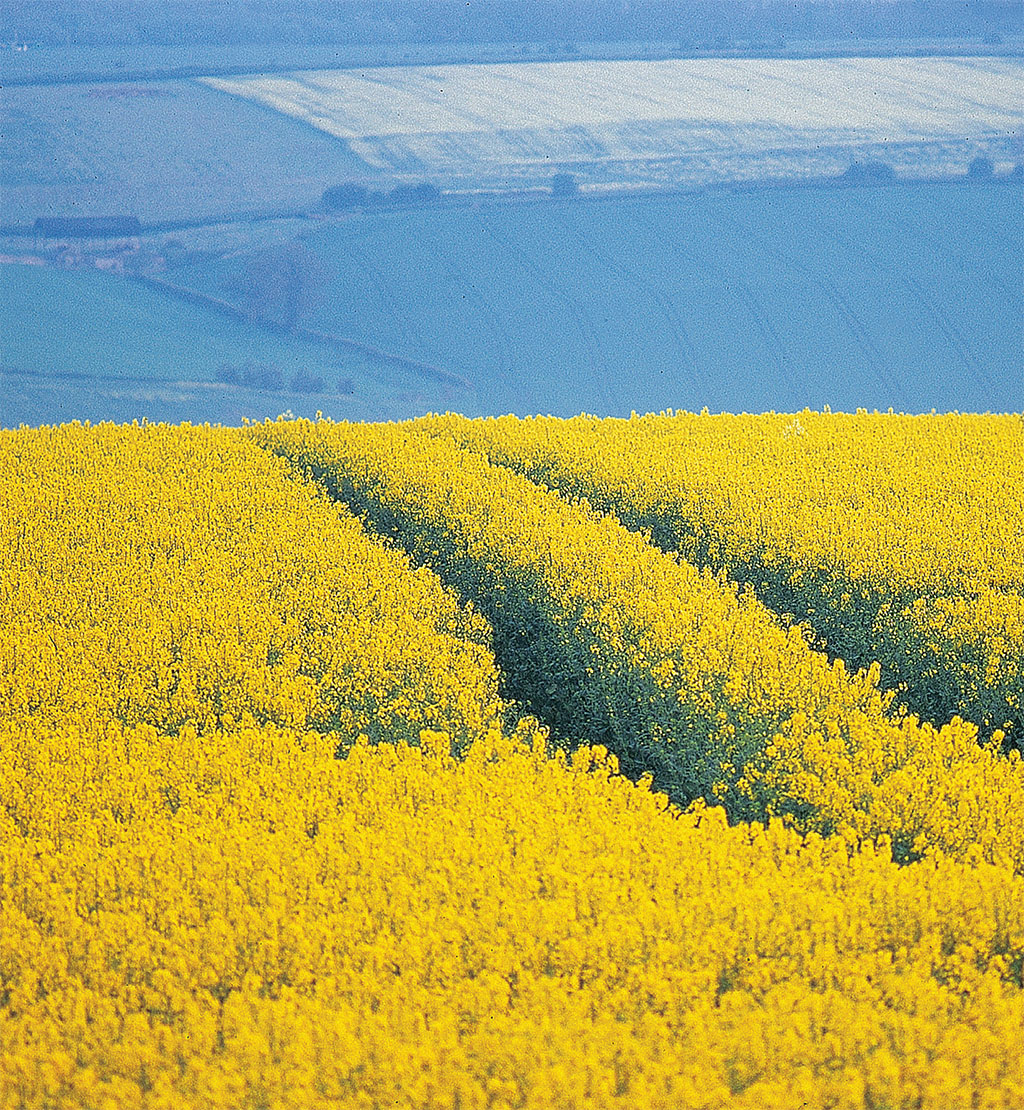 10
Rape fields cover the River Welland Valley with a golden blanket.
[/caption]
Oakham is particularly rich in history—not the grand type of history that attracts tour buses full of people from the continent, but rather the homey, local type. Across from the newly reopened county offices (in a handsome 17th-century manor instead of the normal stark modernist blocks), the Rutland County Museum occupies an 18th-century cavalry training center and stable. Within the stables, a well-thought-out series of displays introduces the county's history and geography, while the covered training arena is packed with bygones and relics of Rutland history. On the other side of High Street sits the remains of Rutland's Norman castle, now a series of earth ramparts surrounding a medieval Great Hall. The Great Hall has survived, while the rest of the castle has crumbled around it, as the continuous location of Rutland's county court. Its walls are covered with ceremonial horseshoes—Rutland's symbol—presented by various monarchs and noblemen since medieval times. Behind the castle, a large commons serves as a venue for fairs and sunny summer picnics, and a medieval butter cross shades an 18th-century public stock with five holes.
Rutland's survival as a rural backwater is particularly remarkable as it is surrounded on almost all sides by heavy industry and modernized urban areas. Go anywhere in Rutland, and you are never more than 25 miles from the dull, clogged landscapes of Northampton, Leicester and Nottingham, or the endlessly industrial landscapes of Kettering, Corby and Peterborough. As late as 1979 Rutland had its share of industry as well, with large, open-pit iron mines. These pits, closed and reclaimed for a quarter-century or more, are all but invisible to the walker and completely hidden from any lane.
[caption id="RutlandtheOnceandFutureCounty_img4" align="aligncenter" width="1024"]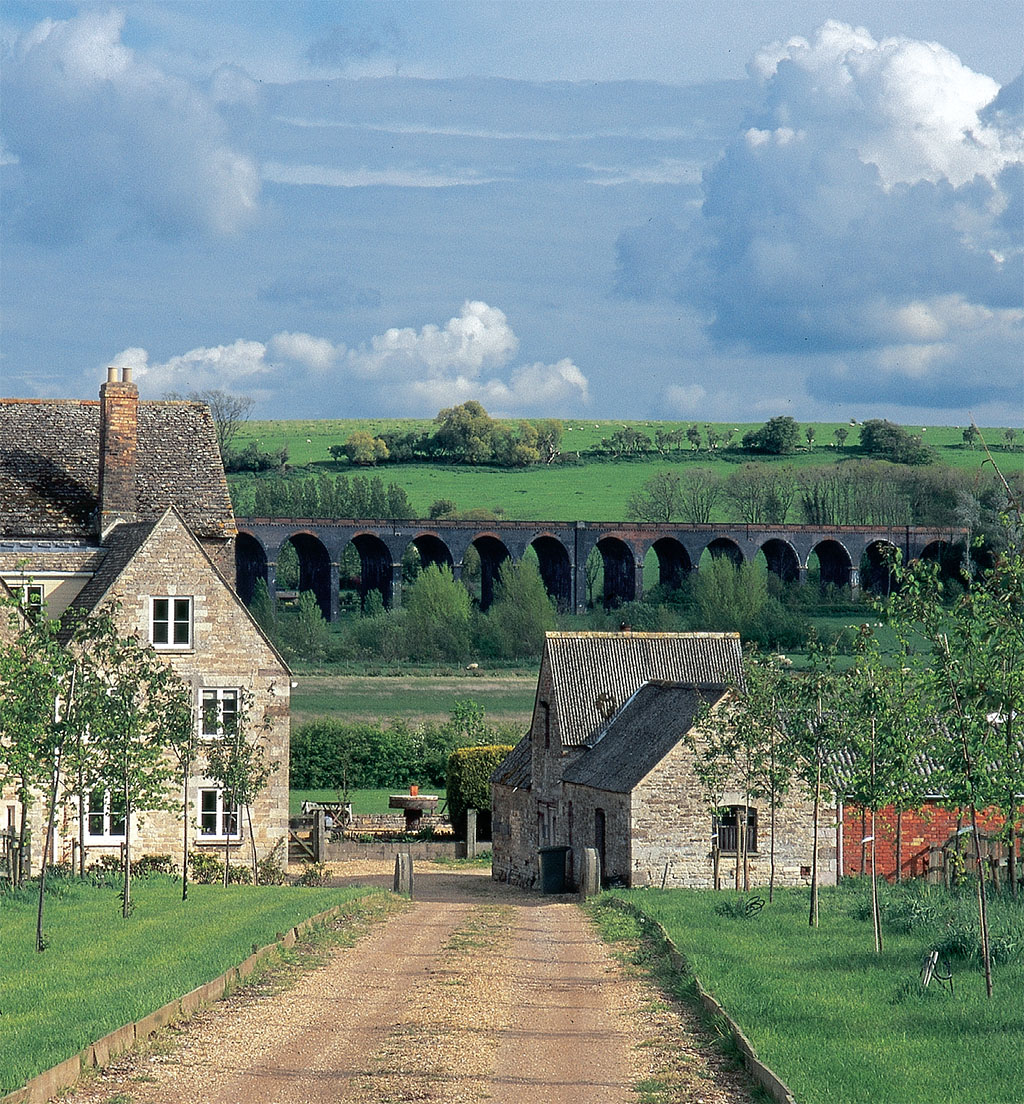 10
The Welland Valley at Thorpe-by-Water.
[/caption]
[caption id="RutlandtheOnceandFutureCounty_img5" align="aligncenter" width="595"]

10
This pagan Celtic sculpture stands next to the church tower near Uppingham.
[/caption]
The Rutland Railroad Museum, run by local enthusiasts, memorializes the iron-mining era with a scruffy but fascinating collection of mining railway equipment and a steam train ride down a section of track. On the southern edge of the county, the breathtaking Seaton Viaduct carries a main railroad line seven stories above the Welland Valley on 82 great brick arches.
[caption id="RutlandtheOnceandFutureCounty_img6" align="aligncenter" width="1024"]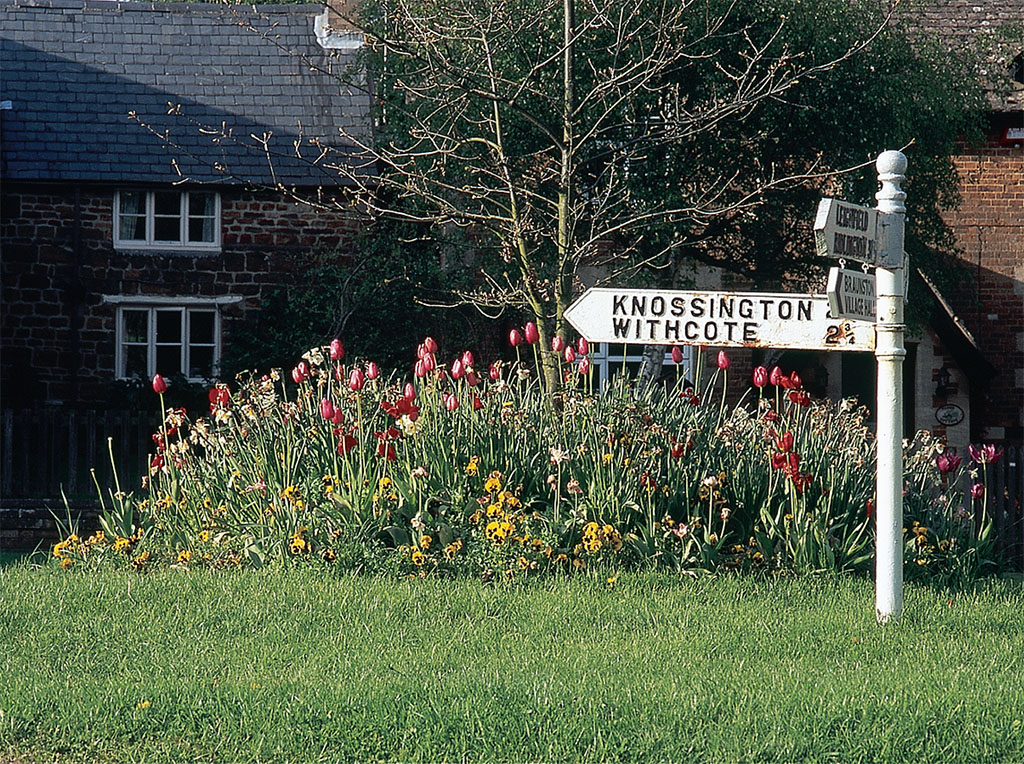 10
Traditional-style road signs dot the lanes of Rutland.
[/caption]
How did Rutland survive 23 years of nonexistence? Simple bloody-mindedness seems to be the explanation. Rutlanders were too ornery to accept their fate; they lobbied hard and continuously to regain their county. A 1994 Act of Parliament, correcting some of the errors of the grand local government reorganization of 20 years before, opened the door, and hard campaigning brought the county back onto the maps three years later.
In the interim, the efficiency-minded Leicestershire County Council had long since replaced Rutland's old-fashioned cast-iron road signs, once so emblematic of England's countryside, with modern aluminum signs. The Once and Future County immediately dug its cast-iron border signs out of storage, painted them and placed them on all the roads and lanes that entered its domain—a piece of bright defiance for a modern age it has worked hard at missing.
[caption id="RutlandtheOnceandFutureCounty_img7" align="aligncenter" width="689"]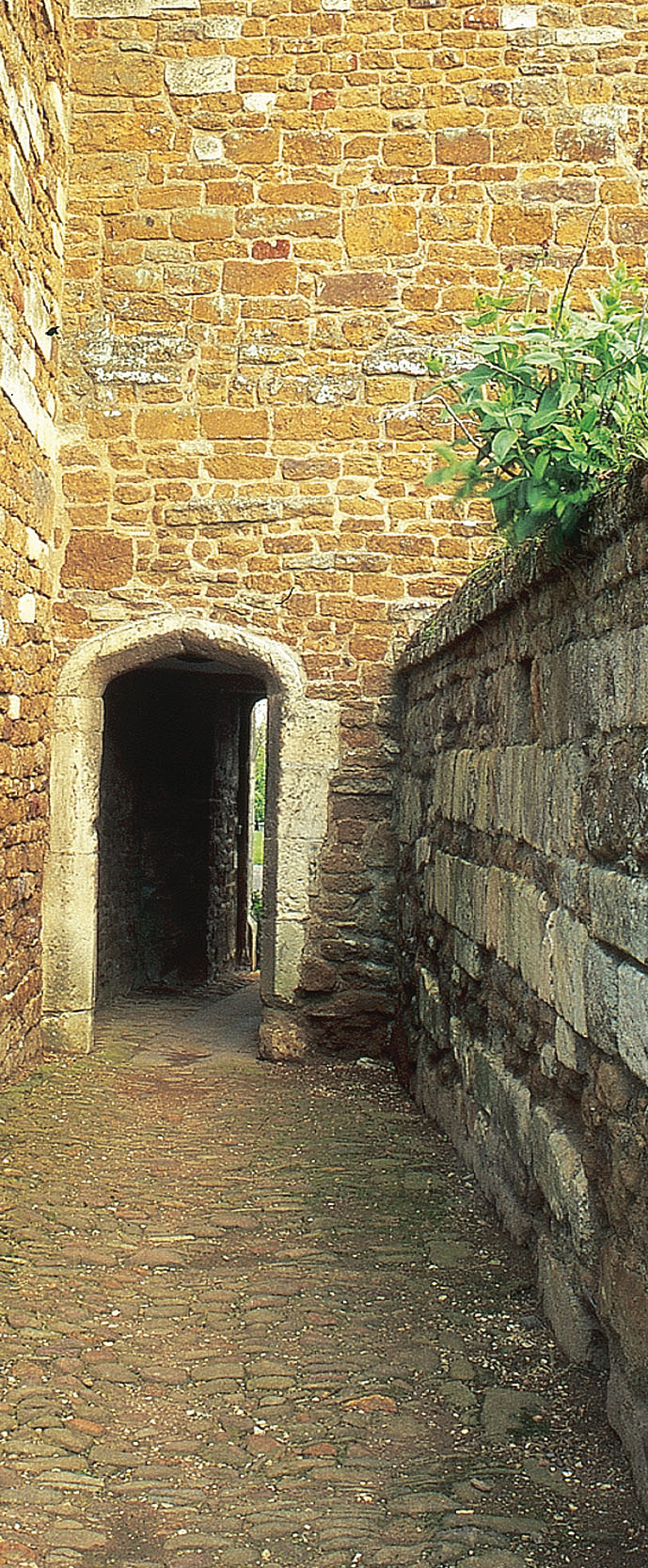 10
In Lyddington, this narrow footpath separates the village church from 14th-century Bede House, a regular rest stop for the powerful medieval bishop of Lincoln.
[/caption]
[caption id="RutlandtheOnceandFutureCounty_img8" align="aligncenter" width="1024"]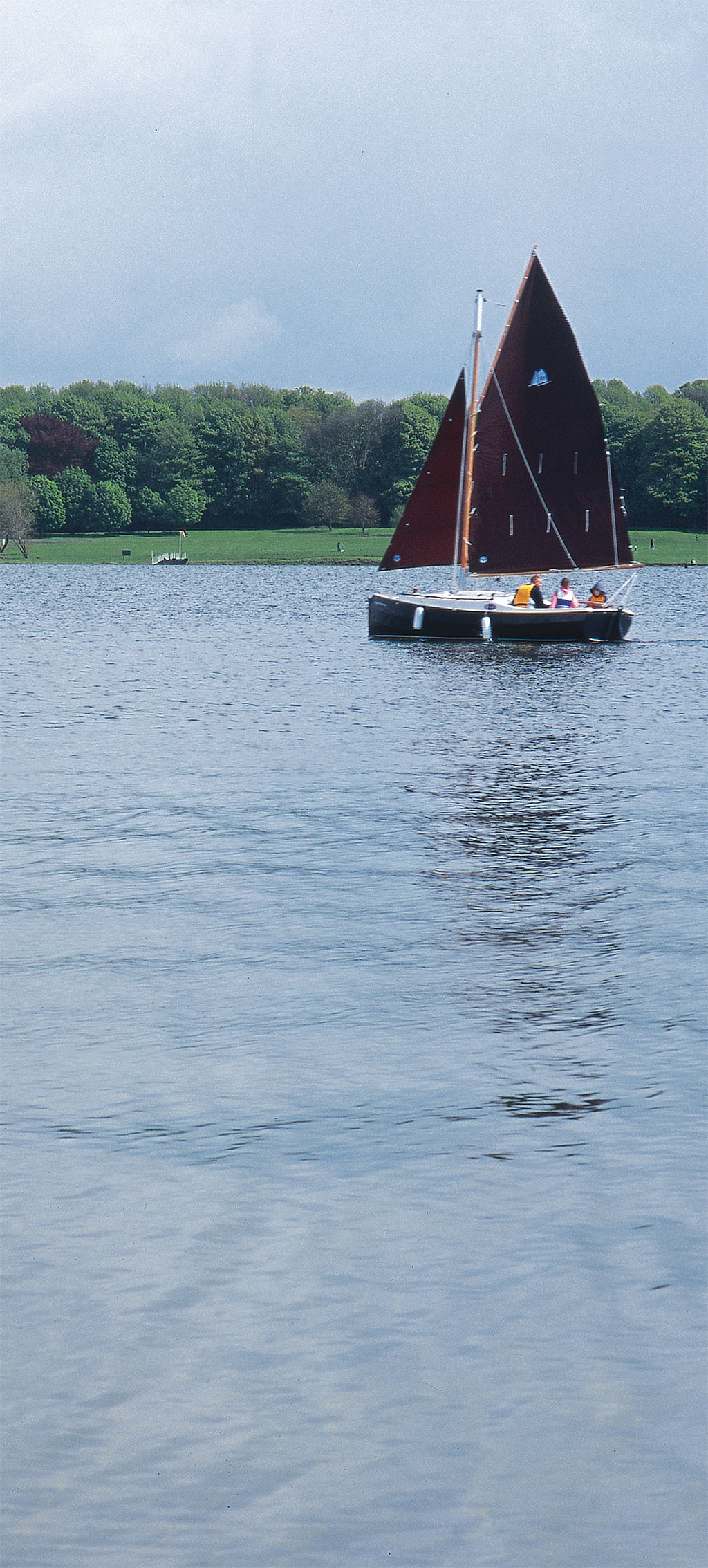 10
[/caption]
WHILE VISITING
You'll find RUTLAND WATER between Stamford and Oakham, just off the A606. It has four main access points, each a fee-charging parking lot, placed at roughly equal intervals around its shore. Nearly all the attractions are grouped around one of these parking lots—picnic areas, sightseeing cruises, rental boats, rental bicycles, the Normanton Church Museum, a butterfly center, an arboretum and a drought garden. For more information, including local accommodations and restaurants, contact the Rutland Water Tourist Information Centre. Phone: 01572 653026Web: www.rutnet.co.uk
The nature reserves, EGLETON RESERVE and LYNDON HILL RESERVE, have their own parking lots, free to those who purchase a visitation permit. Contact the Leicestershire and Rutland Wildlife Trust.
Phone: 0116 2720444 E-mail: [email protected] Web:www.Irwt.org.uk