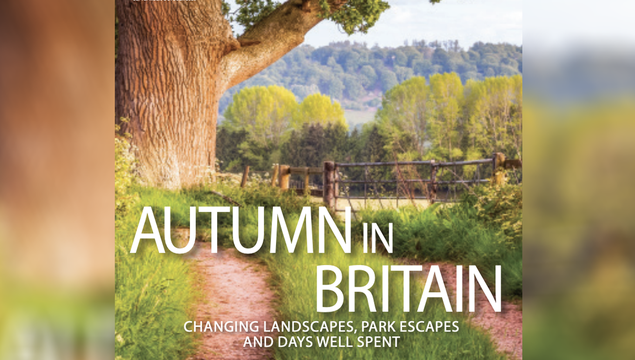 The September / October 2020 issue of British Heritage Travel magazine is winging its way to our subscribers! Here we take a look at what's in store in our bi-monthly print magazine this autumn.
While we certainly didn't have the perfect summer, the turning of the seasons is a reminder that time will always march on, a notion that echoes Dana Huntley's feature on the top ten United Kingdom war visits, which of course includes the famous Churchill War Rooms. Elsewhere, and with a nod to our current pandemic, Dana also looks at the tiny English town of Eyam, which prevented the spread of the bubonic plague all those years ago using techniques not dissimilar to our own. 
Sandra Lawrence shines a light on the London Royal Parks that have been providing city dwellers with a sense of normality over the past few months. She also looks at the life and legacy of Florence Nightingale who was born 200 years ago this year. 
And finally, we look at Somerset, Shrewsbury, and St David's as holiday destinations for when we can finally travel and come together again. In the meantime, there's no harm in planning the dream itinerary!
Here's a look at what exactly's inside the Sept / Oct 2020 issues of British Heritage magazine:
- Take ten: Ten of the best World War II attractions in the UK, including the famous Winston Churchill War Rooms.
- A day well spent: Siân Ellis heads to the Welsh town of St David's in Pembrokeshire, the resting place of the Welsh saint.
- The plague village: Dana Huntley revisits the story of Eyam, the English village that halted the plague.
- Stunning Shrewsbury: Scott Reeves explores the Tudor town of Shrewsbury and discovers a destination that is far from black and white.
- Literary destinations: Dana Huntley looks at the landscapes and towns that inspired some of Britain's most famous writers 
- Around town: Sandra Lawrence visits London's Royal Parks, which have provided residents with some much-needed respite during lockdown.
- Somerset: Susie Kearley explores Somerset and all it has to offer. 
- The lady with the lamp: On the 200th anniversary of her birth, Sandra Lawrence takes a look at the life and legacy of Florence Nightingale.
- Books: The latest releases from British authors 
- Photo essay: Celebrating the changing of the seasons throughout Britain
- What is...: All you need to know about the Cullinan Diamond.