[caption id="ShakespeareintheNewWorld_img1" align="aligncenter" width="1024"]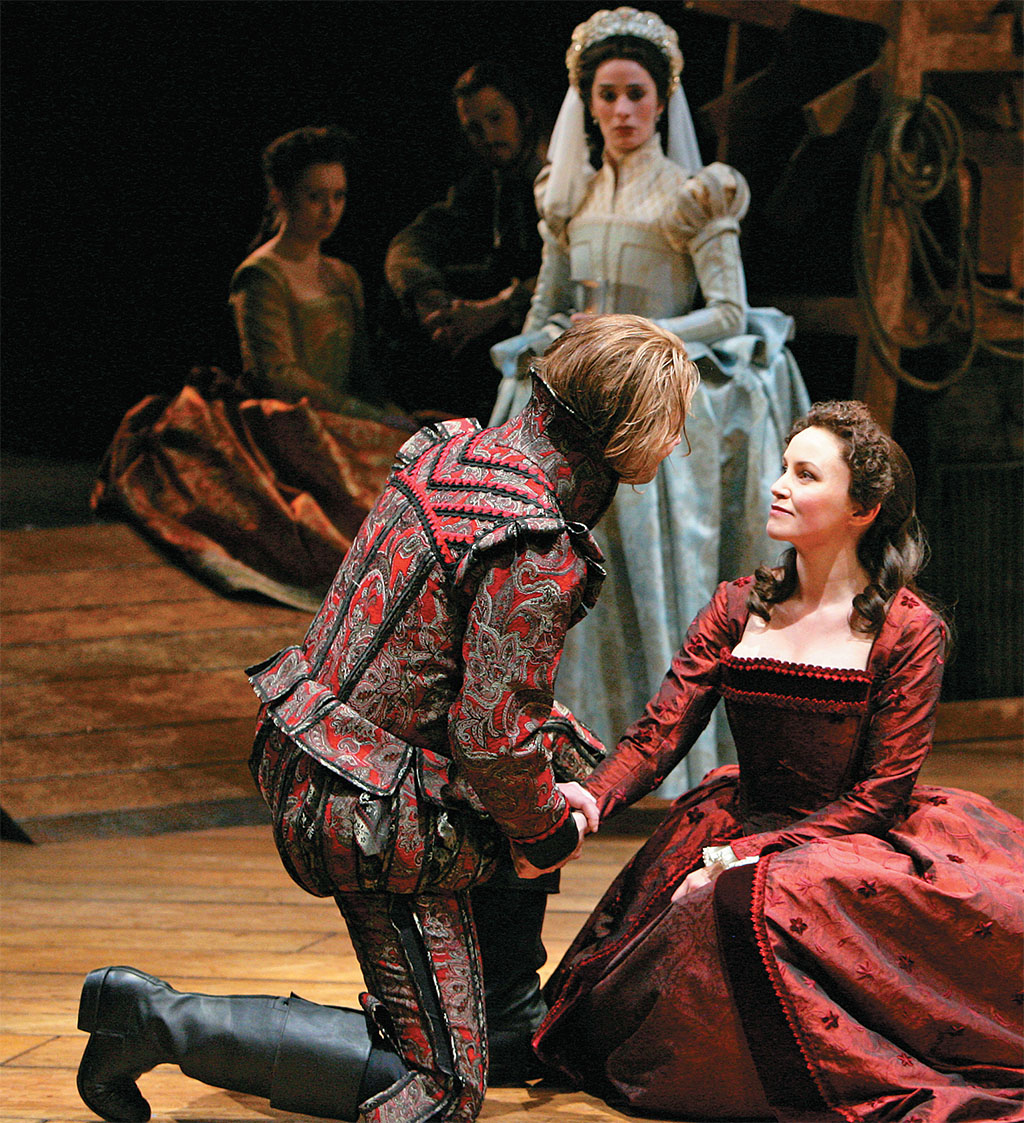 3
Petruchio woos Katherine while sister Bianca looks on in

The Taming of the Shrew

at Stratford, Ontario's acclaimed Shakespeare festival.
[/caption]
WHEN IT COMES to William Shakespeare, all the world really is a stage—including, and maybe especially, North America.
While nothing says Britain like a Shakespeare play, drama lovers on this side of the pond can get a dose of Will at almost any time in almost any region. From sea to shining sea, scores of American theater companies are dedicated to the bard—whether it's the Orlando Shakespeare Theater (www.orlandoshakes.org) in Florida or the Fairbanks Shakespeare Theatre Company (www.fairbanks-shakespeare.org) in Alaska. The Shakespeare Theatre Association of America alone lists nearly 100 member organizations on its Web site, including permanent companies and annual festivals, and there are plenty of other Shakespeare companies and festivals not affiliated with the organization—not to mention the dozens of annual Shakespeare productions at Renaissance fairs, colleges and universities, and local productions at venues all over the country.
And you can have your Shakespeare as you like it, from the traditional Elizabethan-styled pageant to sparsely staged contemporary offerings—and just about everything in between. Woman's Will (www.womanswill.org), a San Francisco Bay-area Shakespeare company, features all-female casts. The actors in the Young Shakespeare Players (www.ysp.org) of Madison, Wis., are aged 7 to 18.
Most of these Shakespeare companies produce dramas by other playwrights as well, from classical theater to experimental. In addition to A Winter's Tale and The Merchant of Venice, The Theater at Monmouth, The Shakespearean Theater of Maine, included Arsenic and Old Lace and The Mikado in its 2008 schedule. The Globe of the Great Southwest in Odessa, Texas (www.globesw.org), scheduled Romeo and Juliet, Twelfth Night and The Comedy of Errors—and two Puccini operas, Agatha Christie's And Then There Were None, some original works and Coyote's Christmas Carol, a Southwestern interpretation of the Dickens classic.
Many offer classes on dramatizing, or teaching, Shakespeare works. Some have traveling companies; a few will send teachers to schools to acquaint students with drama in general and Shakespeare in particular.
So if the play's your thing, here's a sampling of the plethora of Shakespeare companies British Heritage found available here in the New World:
Chicago Shakespeare Theater
On Navy Pier
800 East Grand Avenue
Box Office: (312) 595-5600
www.chicagoshakes.com
The Chicago company recently won the Tony Award for regional theater for 2008. Shakespeare pieces form the core of the company's more than 600 performances in a 50-week season. Two stages, a pub and a bookstore are available to patrons in its current theater, opened in 1999. Season subscriptions are available.
[caption id="ShakespeareintheNewWorld_img2" align="aligncenter" width="1024"]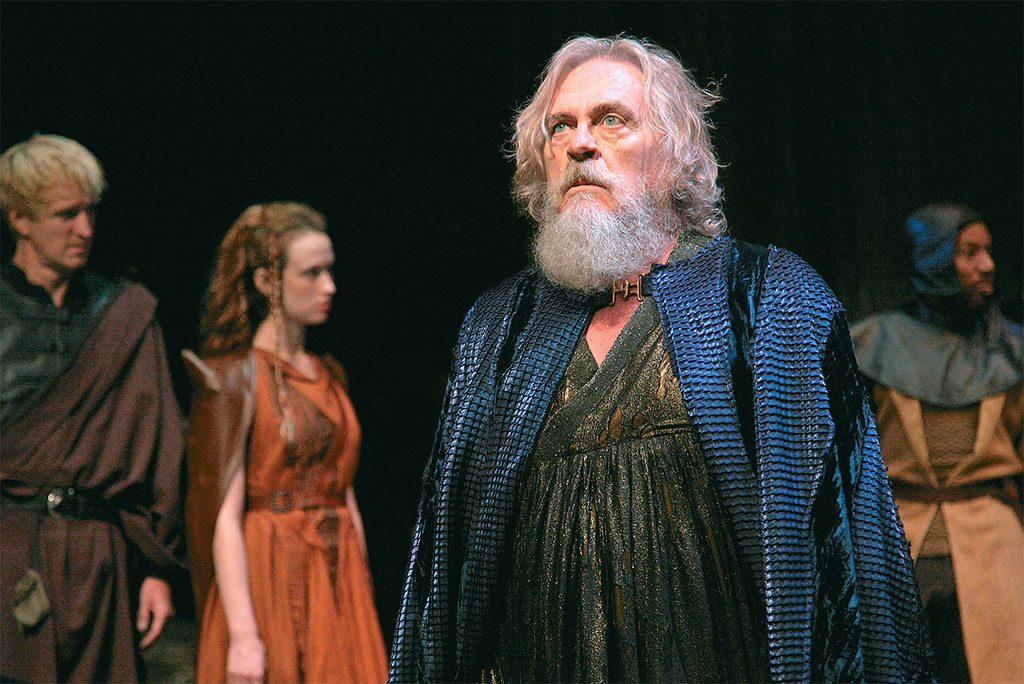 3
Daniel Davis plays the starkly self-aware king in the Shakespeare Theater of New Jersey's production of

King Lear

.
[/caption]
The Shakespeare Theatre of New Jersey
F.M. Kirby Shakepeare Theatre
Drew University in Madison
Box Office: (973) 408-5600
E-mail: [email protected]
www.shakespearenj.org
Formerly called New Jersey Shakespeare Festival, The Shakespeare Theatre of New Jersey is the state's only professional theater company dedicated to Shakespeare's canon and other classic masterworks. The annual Main Stage season, presented in the F.M. Kirby Shakespeare Theatre in Madison, runs May through December. An Outdoor Stage production is presented each summer at The Greek Theatre, an open-air amphitheater located on the College of Saint Elizabeth campus in nearby Morris Township. Subscriptions are available.
Folger Theatre; Shakespeare Library
201 East Capitol St., SE
Washington, D.C.
Box Office: (202) 544-7077
www.folger.edu
While Shakespeare is central to the Folger's mission, the company has produced other classical works, as well as new plays related to or inspired by Shakespeare. The Folger has hosted the works of other drama companies as well. The Folger Shakespeare Library is a research center on Shakespeare and on the early modern age in the West, and houses a large collection of Shakespeare materials, other rare Renaissance books, manuscripts and works of art. Subscriptions are available.
The Shakespeare Theatre Company
Harman Center for the Arts
610 F St., NW
Washington, D.C.
Box Office: (877) 487-8849
www.shakespearedc.org
Housed at the Harman Center for the Arts, the Shakespeare Theatre Company boasts two theaters—the new Sidney Harman Hall and the older Lansburgh Theatre. Shakespeare's plays as well as other classic and contemporary works are performed, and the company has an extensive education program. Lobby gift shop, subscriptions and hotel/ticket packages are available.
American Shakespeare Center
Blackfriars Playhouse
10 South Market St.
Staunton, Va.
Box Office: (877) MUCH-ADO
www.americanshakespearecenter.com
The American Shakespeare Center seeks to keep Shakespeare and the communal experience of the Renaissance stage accessible. Productions are performed in a recreation of Shakespeare's original indoor theatre, the Blackfriars Playhouse, and an open-air replica of London's second Globe Theatre is planned. Subscriptions are available.
Oregon Shakespeare Festival
15 S. Pioneer St.
Ashland, Ore.
Box Office: (800) 219-8161
www.osfashland.org
Founded in 1935, the Tony Award-winning Oregon Shakespeare Festival presents an eight-month season of 11 plays with more than 780 performances in three theaters. Using Shakespeare as its standard, the Oregon Shakespeare Festival presents classic and contemporary plays from February to November. Tudor Guild gifts on premises.
The Long Beach Shakespeare Company
The Goad Theater
4250 1/2 Atlantic Ave.
Long Beach, Calif.
Box Office: (562) 997-1494
www.lbshakespeare.org
The Long Beach Shakespeare Company was established in 1990 as "The-Bard-In- The-Yard," providing free Shakespeare in the parks of Long Beach in the summer. A full-time operation since 1997, the company offers productions and educational programs throughout the year.
The New American Shakespeare
Tavern/Atlanta Shakespeare Company
499 Peachtree St., NE
Atlanta, Ga.
Box Office: (404) 874-5299
www.shakespearetavern.com
Since the opening of The Shakespeare Tavern on Peachtree Street in 1990, The Atlanta Shakespeare Company has produced more than 73 plays, presenting more than 1,600 performances, including more than 30 Shakespeare titles and 18 period classics. In 1995, the Atlanta Shakespeare Company was the first American company to perform on the stage of Shakespeare's Globe Theatre in London. A traditional British pub menu is available before some performances. Subscriptions are available.
The Old Globe
1363 Old Globe Way
San Diego, Calif.
Box Office: (619) 234-5623
www.oldglobe.org
The Tony Award-winning Old Globe produces a year-round season of 15 plays and musicals, including its Shakespeare festival, on three stages. Broadway-bound premieres and revivals have been developed at The Old Globe before successful runs in New York and at regional theaters across the country. A gift shop, educational programs and subscriptions are available.
Seattle Shakespeare Company
Center House Theatre
Seattle Center
Seattle, Wash.
Box Office: (206) 733-8222
www.seattleshakespeare.org
The Seattle Shakespeare Company produces three Shakespearean plays, one other classic work and a new play each season, which runs from September to June. Touring productions are presented throughout the summer. Educational programs and season subscriptions are also available.
Stratford Shakespeare Festival
55 Queen St.
Stratford, Ontario, Canada
Box Office: (800) 567-1600
www.stratfordfestival.ca
Canada's most celebrated Shakespearean theater. Founded in 1952, Ontario's famous Stratford Shakespeare Festival now features stage productions at five different Stratford theaters during its festival season. Queen Elizabeth II formally opened the renovated Festival Theatre in 1997. A theater shop and educational programs are available.