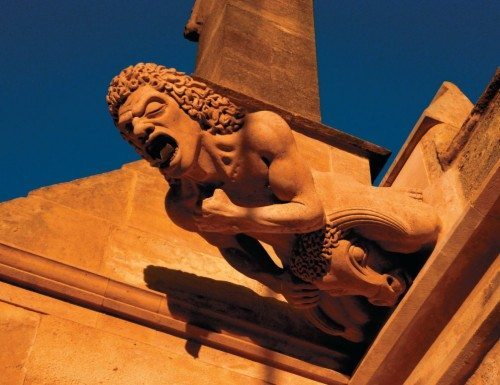 Why an ancient craft remains in demand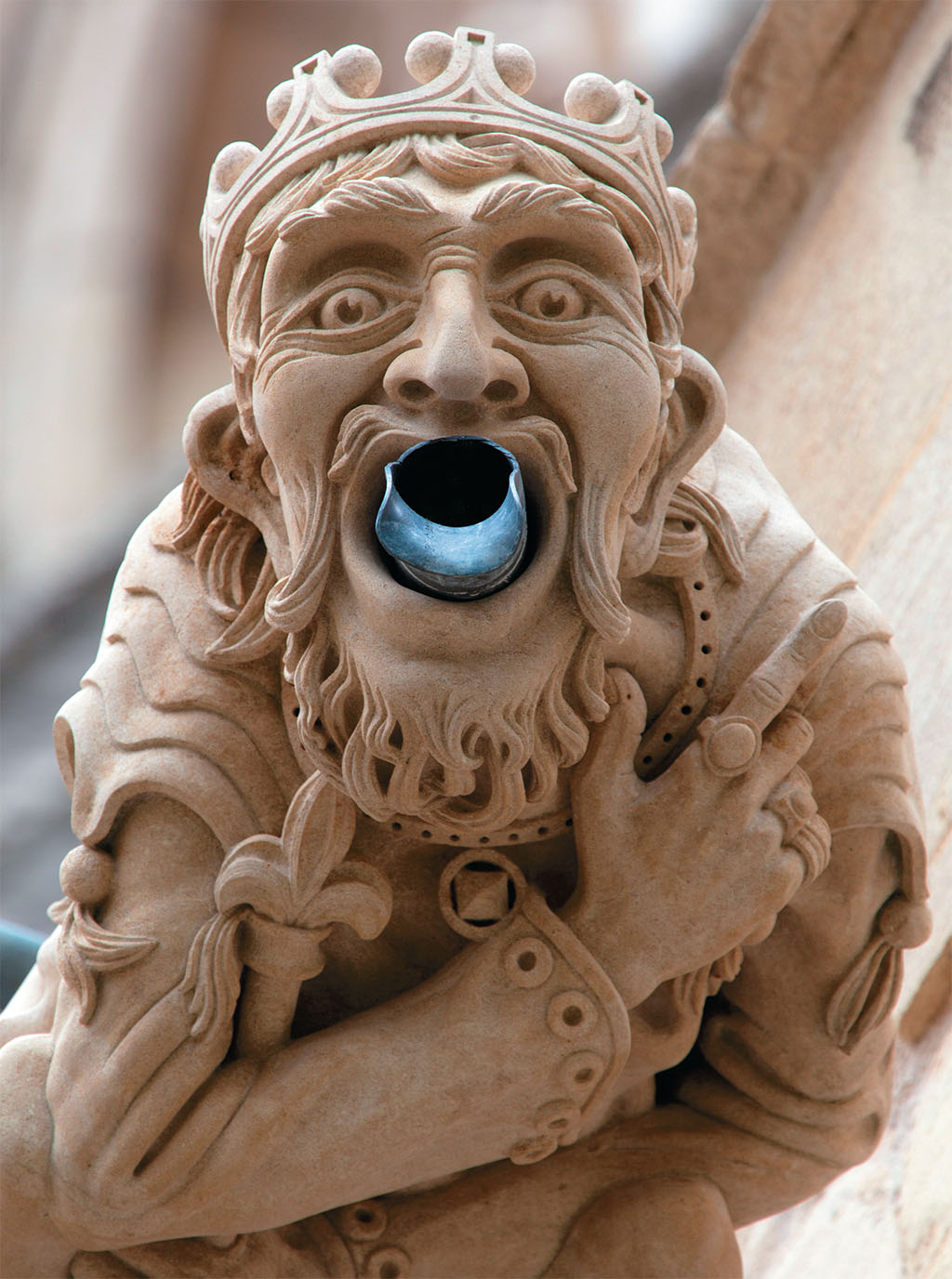 9
[caption id="StonedinGloucester_img1" align="aligncenter" width="971"]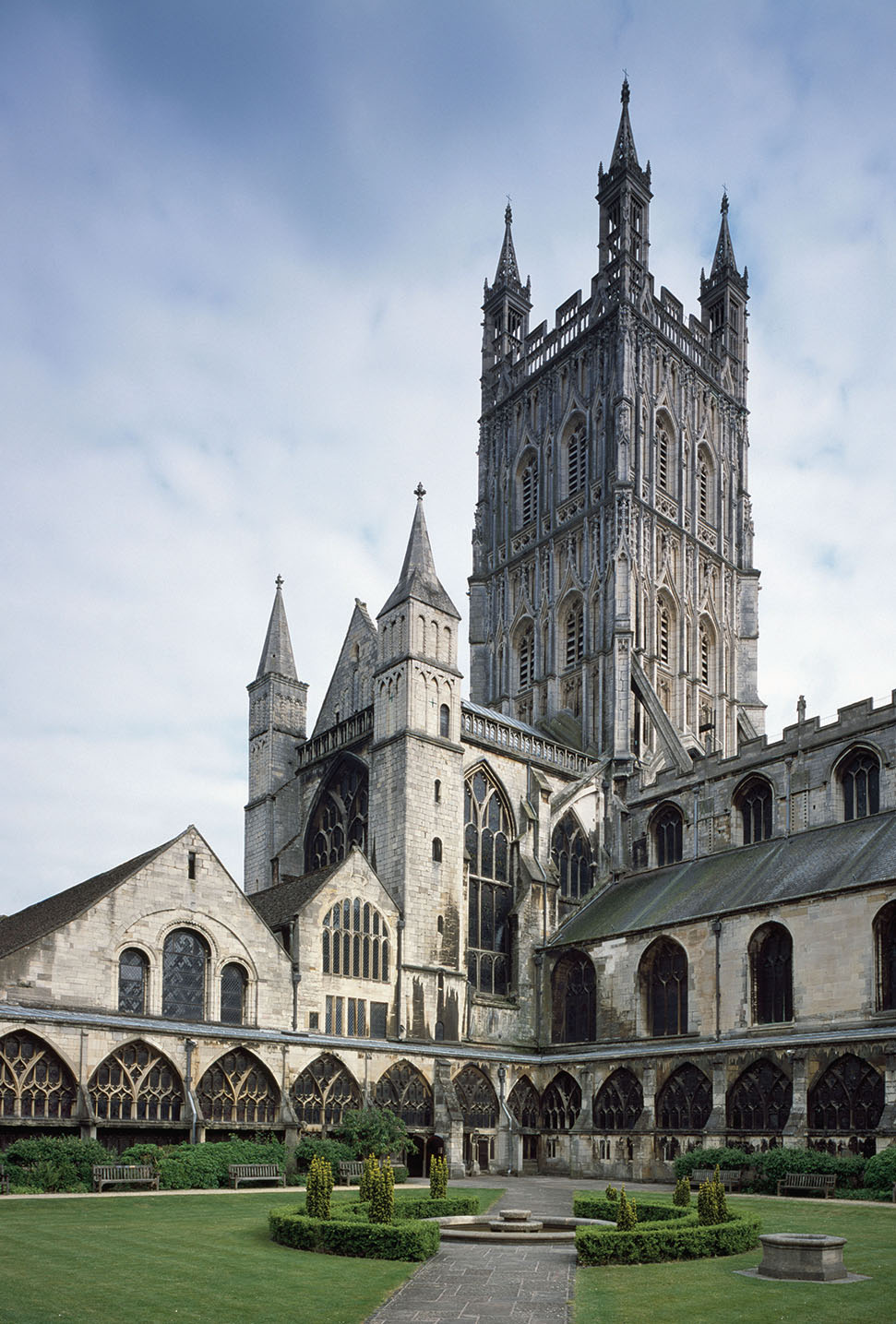 9
Gloucester Cathedral's cloisters are an oasis of quiet in a busy city.
[/caption]
"G

loucester Cathedral is looking for a Senior Stonemason. 39 hours a week. Reporting to the Master Mason at the Cathedral

."
NO, THIS WAS NOT a 13th-century job opportunity, but a recent online advert. Finding the best craftsmen to create and carve stonework for England's great cathedrals is still as important as it was 10 centuries ago. Lying just west of the Cotswolds, let's visit Gloucestershire, home of two buildings inspired by religious dedication and a passion for creating from stone.
Pascal Mychalysin, the master mason at Gloucester Cathedral for nearly 25 years, talks animatedly about what he looks for in a good stonemason: "We are the custodians. Our job is to prepare the next generation of talent." Pascal looks for three things in a mason: "One—a good brain, two—a good pair of hands, and three—a good pair of hands." He also looks for "a good affinity with the material." Such "affinity" is behind all the great English cathedrals, producing both the strength of pillars and buttresses and the delicacy of finely carved angels.
[caption id="StonedinGloucester_img2" align="aligncenter" width="649"]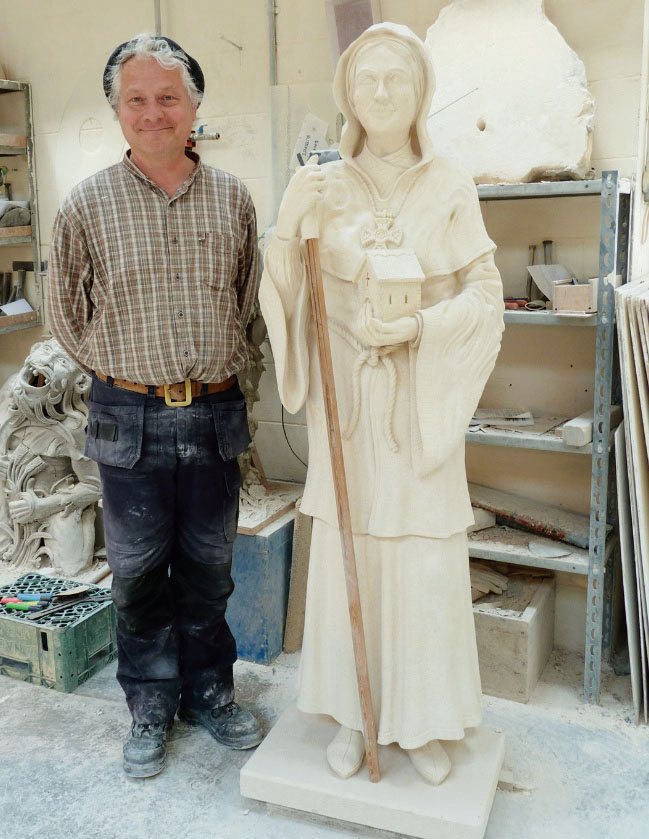 9
Pascal Mychalysin, Master Mason at Gloucester, stands beside one of his creation.
[/caption]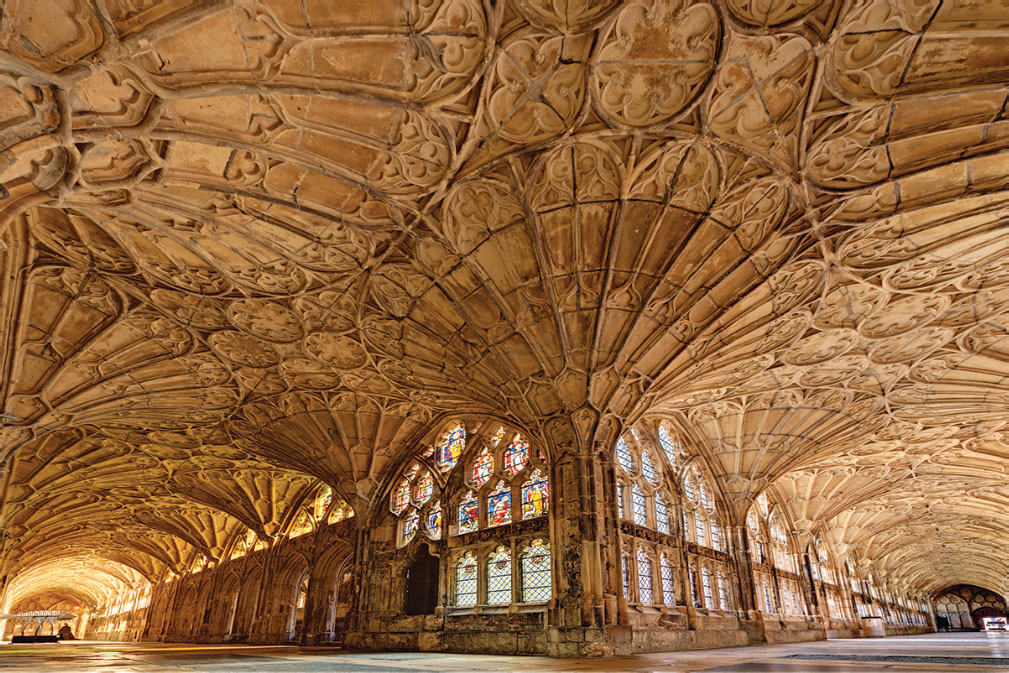 9
Originally a Benedictine monastery, Gloucester Cathedral was was the site of both the 1216 coronation of Henry III and Edward II's funeral in 1327. His imposing, intricate tomb lies in the north ambulatory. Two centuries later, when Henry VIII's roving eye strayed to Anne Boleyn, leading to the dissolution of English monasteries, the abbey soon surrendered to King Henry VIII, and was refounded as a cathedral. Gloucester Cathedral is a tribute to centuries of architectural achievement, from vast Norman columns in the nave to later ornate sections such as the grand tower, visible from miles away across city and countryside.
"At Gloucester, you have a raw contact with the people who really started the building," explains Mychalysin. Some generations made mistakes; a second set of arches in the crypt had to be built to support the first set that failed. Elsewhere, the mediaeval masons reached great heights of invention and beauty. Fan-vaulting, the technique used to create the beautifully intricate ceiling above Gloucester's famous cloisters, is said to have been invented here in the 1350s. The cloisters and walled garden are a peaceful retreat next to the pomp and circumstance of the cathedral.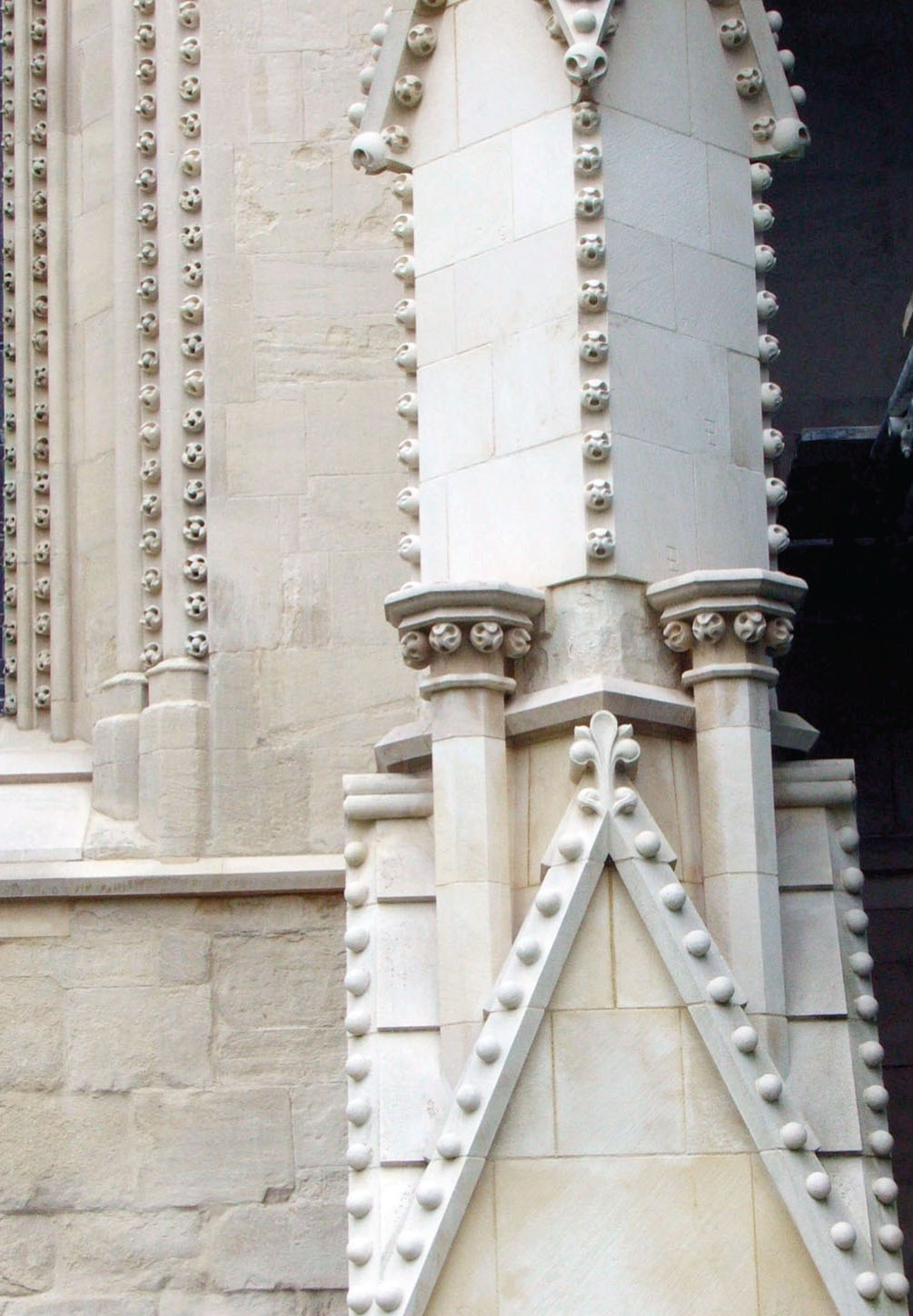 9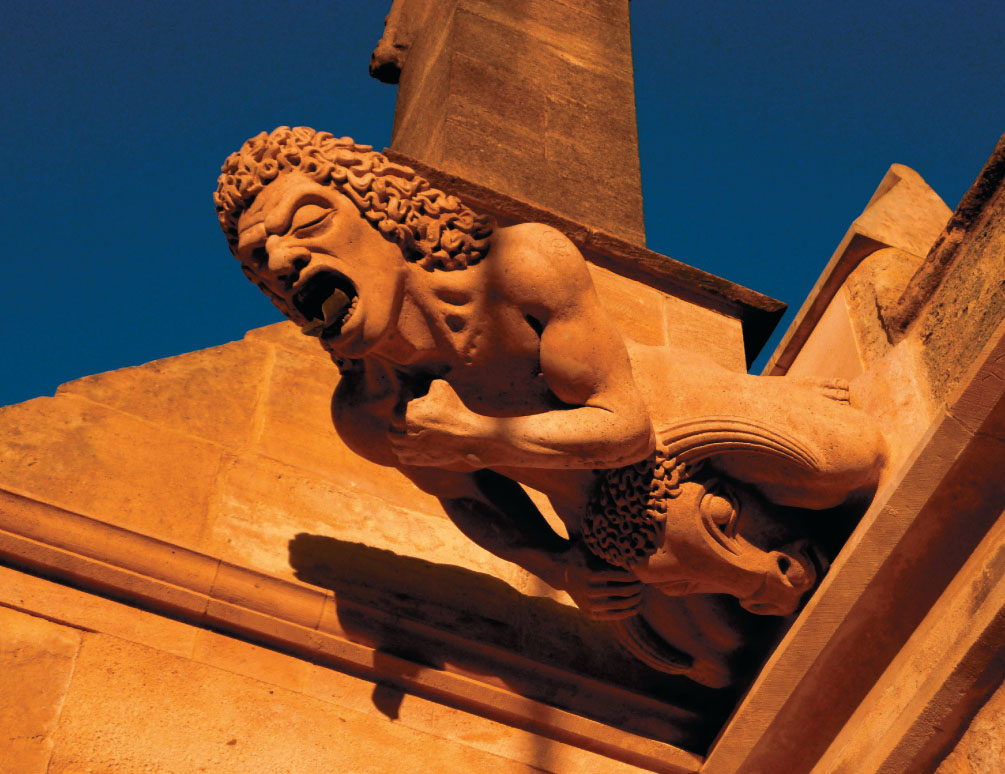 9
[caption id="StonedinGloucester_img6" align="aligncenter" width="1016"]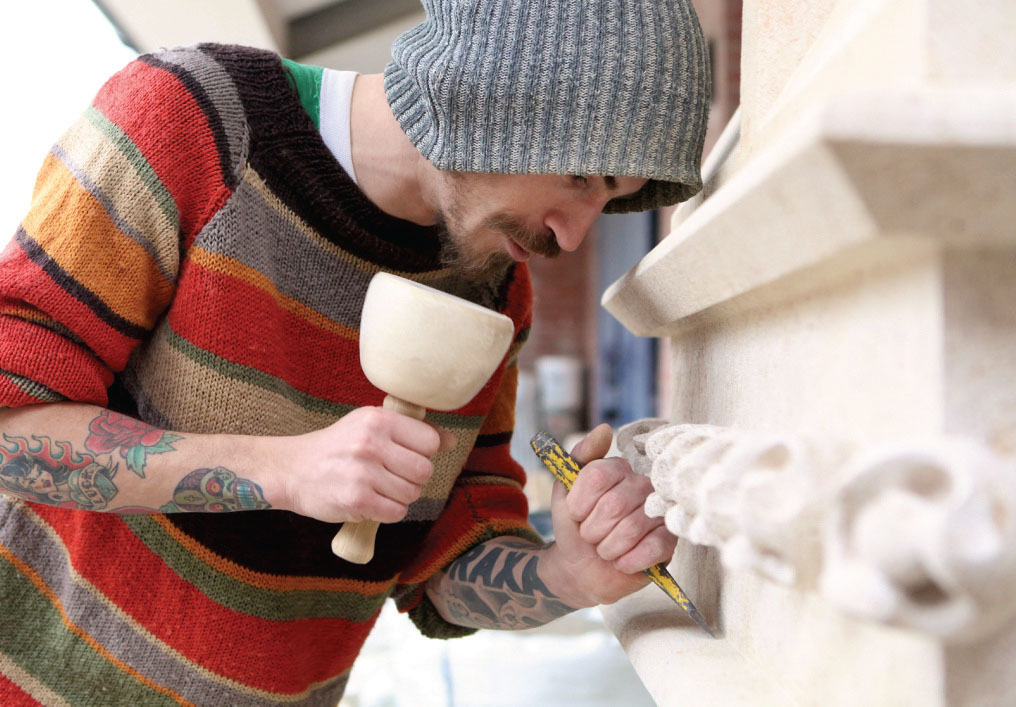 9
Every piece of stonework visible throughout the medieval cathedral, its cloisters and corridors was hand-carved by a skilled craftsman.
[/caption]
The stonemason's role now is to create both the invisible and the visible. In the cathedral's south aisle, stones have been extracted from the sides of the stained glass windows to be repaired and replaced seamlessly. In contrast, set high and proud on the roof outside, 13 new gargoyles greet arriving visitors.
The gargoyles alone represent 10 years' work for the 21st-century masons, and depict the creatures of the earth praising the Lord based on Psalm 148. "It is perfectly appropriate for each generation to add something to the building," says Mychalysin. Each gargoyle including the wolf, the baby salamander and the young maiden are all his designs. A full-size, three-feet-high clay model is created and then painstakingly recreated in stone by the team of masons. The gargoyle then takes its place among the decorative work of centuries past.
The cathedral's workshop is open to the public just once a year. Tools have changed little since medieval times: mallets, hammers and chisels of all sizes. Apart from an electric grinder, nearly everything is carved, dressed and set by hand. Architectural drawings of an entire side of the cathedral show ancient stones highlighted in modern yellow marker.
Throughout the year, masons can be seen around the cathedral, on scaffolding thankfully up to modern standards. Ask a guide to show you their latest achievements in this glorious building.
Just 10 minutes' drive from Gloucester Cathedral in a secluded Cotswold valley is another building inspired by faith and a passion for stone carving.
Woodchester Mansion is, from a distance, simply a grand house made from the local honey-colored limestone. Yet all is not as it seems. Step inside, and back in time to 1873; the year everything changed. This was the year when, halfway through the creation of this ambitious home and chapel, all work was abandoned.
Look up through three floors with stone buttresses and Gothic arches leading nowhere. A fireplace is finely carved with ivy leaves on one side only. Victorian ladders and masons' chisels are all left as if the workforce downed their tools for tea. Details everywhere show work having been started, but never completed. Look out for Albert Tilley's initials carved on a beam. He was a young plasterer who worked on the mansion before immigrating to Chicago.
Woodchester Mansion is now open to the public as an unfinished Gothic masterpiece—saved, but deliberately never to be completed. Today, masons work solely to preserve the house. "Unfinished" does not mean an excavation site though. The house exterior is complete; you are fully protected from the elements and access all floors by restored staircases. Walk through the dining room, the chapel, with all the architectural features laid out before you. There is even a tearoom that is thankfully complete and open for business. Access to the house is by free shuttle bus from the car park just over a mile away.
[caption id="StonedinGloucester_img7" align="aligncenter" width="1024"]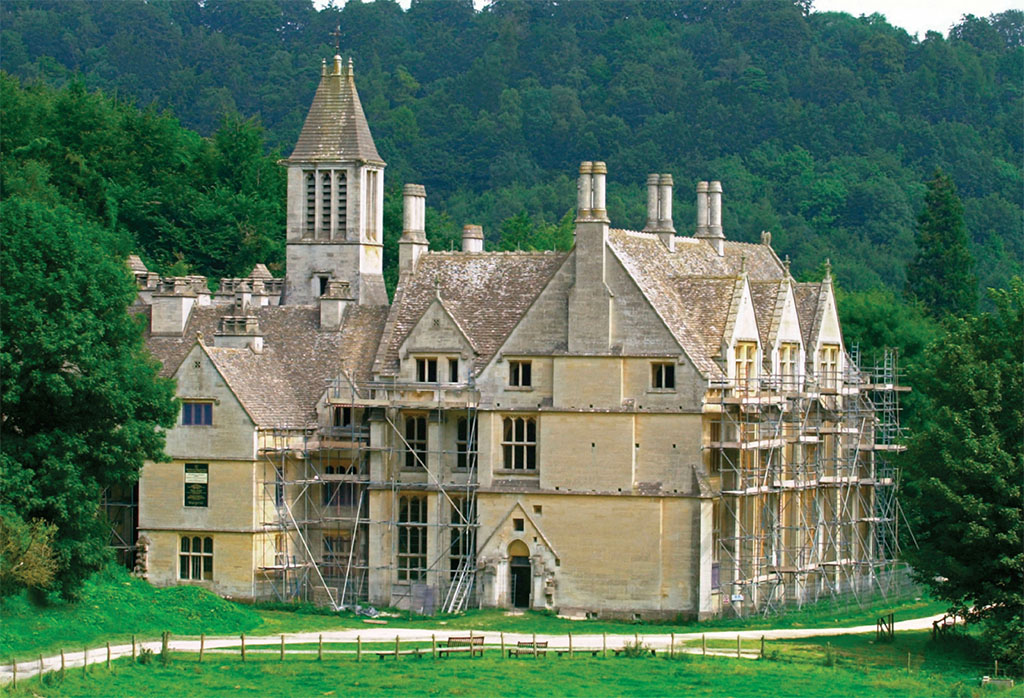 9
Woodchester Mansion offers a hands-on opportunity for stone mason apprentices to practice their craft.
[/caption]
So what happened at Woodchester? "It was never really abandoned," says Alan Ford, trustee and guide. "The Leigh family always wanted to finish it."
Born in 1802, William Leigh was a devout Catholic convert and wanted to establish a Catholic community with his substantial inheritance. He built a church and monastery in the area with additional grand plans for a family home, also to be part of his community, with rooms for visiting priests, a substantial chapel and a cloistered garden.
Leigh embraced the Gothic style for the mansion, with the Gothic archway seen as pointing the way to heaven. Locally-born architect, Benjamin Bucknall, responsible for most of the house's design, also loved working with stone to the point of obsession—guttering and fall pipes are not usually hand-carved from stone. The tiled roof of the bell tower is, in fact, a carved solid block. In the bathroom, the never-to-be-used shower heads are also stone, carved into fantastic leopard heads. Many of the decorative carvings are of "cathedral standard."
Building eventually came to a standstill due to a lack of funds, a series of family tragedies and Leigh's own ill-health. The only permanent residents to have lived in the house are two colonies of Greater and Lesser Horseshoe bats in the roof. These rare species have been studied at the house for more than 50 years. Temporary visitors to the area have included American and Canadian troops positioned nearby to prepare for D-Day. The old bell tower clock they used for target practice is still in the house.
Despite never having housed the religious community that Leigh wanted, the building has a light, lofty feel not unlike the space at Gloucester Cathedral. The grand carved structure, three stories high, with no rich Victorian furnishings to absorb the sunlight, is a place of calm to linger and reflect.
In addition, the empty house, originally designed for a family, has succeeded in bringing together people with passion and a common purpose. A local trust, with local resident HRH Prince Charles as patron, now runs and maintains the house with many volunteers.
For today's stone mason apprentices, Woodchester offers a great hands-on opportunity. Masonry students from Bath College do such tasks as carefully removing large stones for repair, under the watchful eye of tutor, Jonny Anderson, whose own career has included work on Westminster abbey. After spending five years to qualify, this new generation of stone masons could be making their own mark at Gloucester Cathedral.
A U.S. Connection at Gloucester?
A U.S. flag donated by the Rotary Club of New York celebrates the life of John Stafford Smith (1750–1836). Smith was a cathedral choirboy, who composed the music that became the American national anthem.

PLACES TO STAY
The Bear at Rodborough
Set High above the Costwolds on Rodborough Common, The Bear at Rodborough offers beautiful accommodation in an old coaching inn. Choose cozy bar areas or a restaurant with large views across the common where "commoner's cattle" graze in the summer.
The Bear of Rodborough Hotel, Rodborough Common, Gloucestershire
www.cotswold-inns-hotels.co.uk
Stonehouse Court
Equidistant between Gloucester Cathedral and Woodchester Mansion, Stonehouse Court is a 17th-century manor house set in 6 acres of grounds. Take tea in the oak-panelled lounge or try your hand at croquet on the lawn. Stonehouse Court Hotel, Stonehouse, Stroud
www.stonehousecourt.co.uk