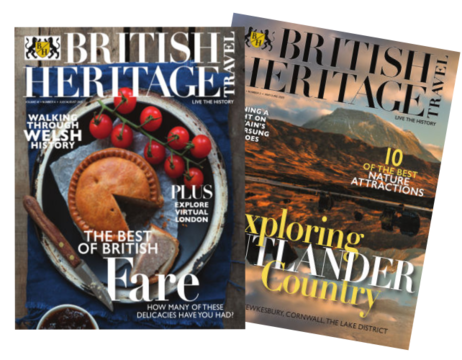 It's the 4th of July and we want to offer our online family a 20% discount on all subscriptions to British Heritage Travel Magazine.
This Fourth of July British Heritage Travel are delighted to offer our online readers a 20% discount on our bi-monthly print magazine.
Published six times a year, British Heritage Travel magazine is the definitive guide to all things British. Whether you want to know about what happened in the past, what's happening right now, or long to explore Britain's spectacular travel destinations from your armchair, we have you covered.
Perhaps you're planning where to visit next, from the Outer Hebrides to the beaches of Cornwall British Heritage Travel has insights into where to visit, why it's important and where to stay. Our experts know the highways and byways of Great Britain like the back of their hands and they're devoted to sharing their travel knowledge with you. 
If Britain's incredible history is what has you hooked on "Blighty" than our features focusing in-depth on the tales of the past are for you. If you're excited by Britain's famed monarchs, literary heroes, or the social history of the great nation our fascinating history features bring Britain's past to life.
Plan your next trip to Britain or revel in its amazing history - British Heritage Travel brings you everything you need to know about this great country through insightful writings and wonderful photography. 
If you're passionate about Britain you've come to the right place.
Multi-year and worldwide options are available. This offer is valid until July 6, 2020.