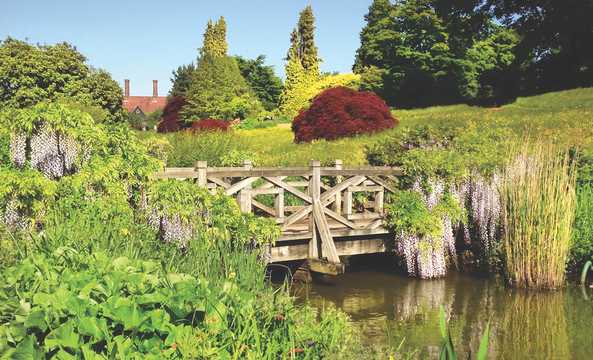 Blessed with a long growing season and plenty of rain, Great Britain's green and pleasant land enjoys a climate and landscape ideally suited to gardening. And garden Britain does, with passion, patience and pride. In every style fashioned since the Romans, gardens are as iconic to the nation as tea, pubs and the monarchy. Scores of public and private gardens across the country from Cornwall to Sunderland are open to view. Wherever your travels take you this summer, if you're in the neighborhood, do put one of these acclaimed gardens on your itinerary.

Bodnant Garden, Conwy
A
mong Britain's most beautiful gardens, Bodnant overlooks the Vale of Conwy. The Dell occupying the river valley presents an amazing wild garden, while the upper terraces contain formal plantings and elegant herbaceous borders. In early summer, the famous 200-foot Laburnum Arch flames like a blaze of dripping gold.
bodnantgarden.co.uk
12
RHS Wisley, Surrey
J
ust outside the M25, the Royal Horticultural Society's flagship gardens at Wisley are a spectacular visit any time of the year. In addition to model gardens of classic English varieties, plant trials of everything from garden vegetables to ornamental shrubbery add a fascinating dimension.
rhs.org.uk/gardens/wisley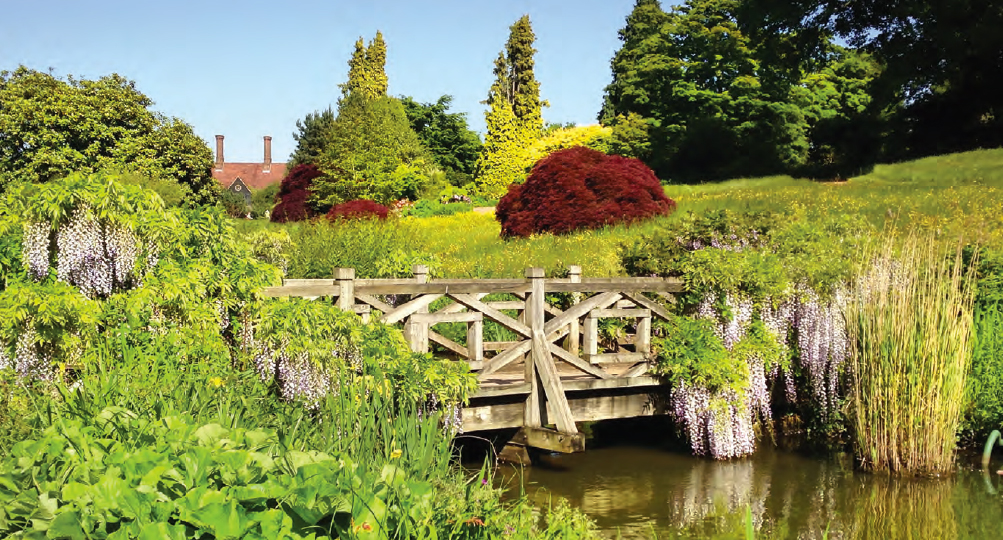 12
Stowe Landscape Gardens, Buckinghamshire
V
isitors are amazed by the sheer scale of Stowe's sweeping 18th-century gardens, where "Capability" Brown was head gardener from 1741 to 1751. The 750-acre landscape contains 40 listed follies and monuments. Footpaths lead throughout, but you'll want to pick up a map—and wear comfortable walking shoes.
nationaltrust.org.uk/stowe
12
Kew Gardens, London
Y
ou certainly don't have to make a trip to the countryside to experience one of Britain's greatest gardens. Kew Gardens is just a short Tube ride from the West End and is open throughout the year. The Royal Botanic Gardens' historic glasshouses maintain constant climates for collections from across the globe.
kew.org
12
Hidcote Manor, Gloucestershire
C
reated in the early 20th century, this famous Arts and Crafts garden sits in idyllic Cotswold countryside near Chipping Camden. Hedged pathways connect "rooms" of themed plantings, including a Fuchsia Garden and White Garden, while topiary, floral shrubbery and herbaceous borders abound.
nationaltrust.org.uk/hidcote
12
Tatton Park, Cheshire
A
Georgian mansion sits in the middle of this popular 50-acre garden surrounded by 1,000 acres of landscaped deer park. A walled kitchen garden, Japanese garden, tropical glasshouses, topiary and maze are among the highlights. The Royal Horticultural Society holds its midsummer flower show here, this year on July 19-23.
tattonpark.org.uk
12




12
Alnwick Garden, Northumberland
[caption id="" align="aligncenter" width="640"]
By Anthony Foster, CC BY-SA 2.0, Link[/caption]
Adjacent to Alnwick Castle, the dramatic, still maturing 42-acre garden designed for every season is the most impressive garden developed in Britain since World War II. Distinctive features include a bamboo labyrinth, one of the world's largest treehouses and the Poison Garden—under lock and key, so you'll need a guide. alnwickgarden.com

Chatsworth, Derbyshire
T
he 200-acre garden set in "Capability" Brown parkland at palatial Chatsworth House offers sweeping vistas over the immaculate landscape of the southern Peaks. Its famed cascading waterfall and fountains accent formal gardens, boxwood maze and manicured woodlands.
chatsworth.org
Stourhead, Wiltshire
L
ong nicknamed the "Flagship of the National Trust," Stourhead is generally regarded as the finest 18th-century landscape garden—the epitome of the phrase "where every prospect pleases." Perambulate the path around the lake that is the source of the River Stour.
nationaltrust.org.uk/stourhead
Sissinghurst Castle Garden, Kent
T
he famous gardens of writer Vita Sackville-West were laid out in the 1930s as a series of rooms, each with its own distinct plantings and design: the Lime Walk, Cottage Garden and such. One of the most popular garden visits in the country.
nationaltrust.org.uk/sissinghurst-castle-garden