Tips and tidbits for travel and for fun
Penny Wise
To Market, to Market
FEW TRAVEL EXPERIENCES are more serendipitous than stumbling into an English market town on Market Day. Whether or not you purpose to purchase, the traditional outdoor market remains one of the most colorful of British social institutions. If you're in town on market day, do have a wander around.
Butchers and fishmongers, fruiterers and green grocers, purveyors of kitchen crockery, paperbacks and polyester: Most anything might show up at the market, and whatever is for sale will be much less expensive than in the shops.
Nibble at stands of continental olives or sausages, sweets or artisan cheeses. There will always be a rolling café or several, serving up street food—bacon butties and tea, mushy peas or donar kebabs. Even if you don't find that bargain surprise, it's always fun to pick up the makings of a picnic lunch or just enjoy the community life bustling around you.
While most market towns host their market once or twice a week, two of England's most colorful markets are daily events. Oxford's covered market, tucked just in back of High Street, is always a delight. And Norwich is home to the largest open-air market in the country. A warren of brightly canopied stalls fills the market square daily.
[caption id="TheAngloFile_img1" align="aligncenter" width="236"]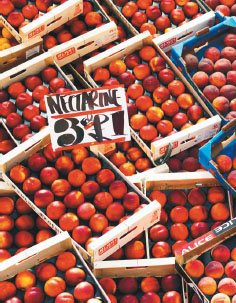 8
[/caption]
[caption id="TheAngloFile_img2" align="aligncenter" width="384"]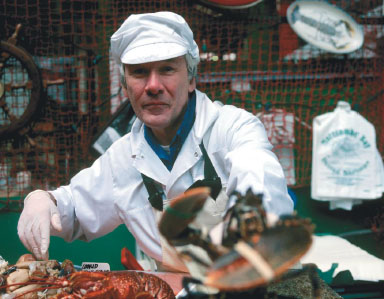 8
The greengrocer and the fishmonger are among the vendors almost always present at a traditional English market.
[/caption]
The British Heritage

PUZZLER
Last issue we queried
: "In Dickens' scathing novel indictment of Victorian industrial society, the grimy mills of Manchester are set in what fictional city?"
The novel in question is Charles Dickens'
Hard Times
. The fictionalized form of Manchester and its "dark, satanic mills" is
Coketown
. Things aren't cheery today, but not like that.
And now, in the words of the immortal Monty Python, for something completely different. Puzzle this: Fish and chips, you say? If a typical British couple is going out to dine on the most typical British cuisine, what are they having for dinner?
We do appreciate your notes and queries. Be a Puzzler player. Post a card or email
[email protected]
.
[caption id="TheAngloFile_img3" align="aligncenter" width="219"]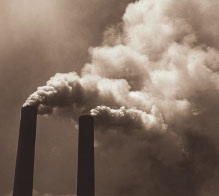 8
[/caption]
Sites for the Savvy
A Room of One's Own
The Lion Hotel, Shrewsbury
FOR CENTURIES, travelers along Watling Street (or the A5) made Shrewsbury an overnight stop on the journey. In the heart of town on Wyle Cop stands The Lion Hotel, a 14th-century coaching inn that has hosted such guests as Dickens and Disraeli, Madame Tussaud and King William IV. A stay at The Lion today still captures that aura of the ages.
The original 16th-century oak paneling lines the Oak Bar of this Grade I listed hostelry, and a magnificent Tudor fireplace adorns the hall lounge. All the contemporary comforts are present, though, including tastefully decorated rooms with real character, and a dining room that features local produce and suppliers.
All Shrewsbury, with its famous half-timbered architecture, great museums and shopping, lies within easy walking distance of The Lion. www.thelionhotelshrewsbury.co.uk
[caption id="TheAngloFile_img4" align="aligncenter" width="320"]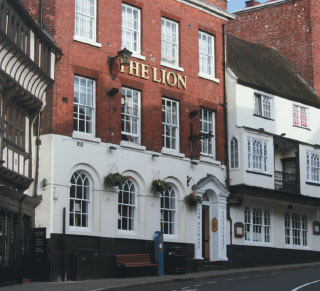 8
[/caption]
[caption id="TheAngloFile_img5" align="aligncenter" width="214"]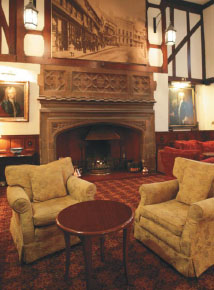 8
An open fire in the Tudor fireplace at The Lion has been warming weary travelers in Shrewsbury for 500 years.
[/caption]
Out of the British Heritage Mailbag
"Around 1925, I was about 12 or 13, I spent an Easter school vacation with the London director of my father's company at Down Lodge, Downe, Kent. His Rolls Royce took him to the London train every morning and picked him up every evening. The men, including me, dressed in tuxedos every night for dinner, and the ladies in their long dresses. "I can still remember many details of this school vacation. I remember smoking my first cigarette out in the nearby woods, supplied to me by the chauffeur of the Rolls Royce."
David Carey
Asheville, N.C.
[caption id="TheAngloFile_img6" align="aligncenter" width="118"]

8
[/caption]
Author, Author!
You see her byline regularly in British Heritage; now meet Siân Ellis, in her own words
I WAS RAISED on Thomas Hardy's Isle of Slingers, seascapes and cliff-top adventures. Dreams amid Oxford's spires ended with a degree in French and German (and permanently wet clothes from coxing a college rowing eight); then at Cambridge—to be even handed—I waded through a Ph.D. in German literature. But I'm a country girl at heart, escaped the ivory towers and landed in Monmouthshire, south Wales: Land of my Fathers, after all.
Here I am, immersed in the realities and possibilities of rural Britain: inspirational views of the Black Mountains, power cuts when the wind gusts too hard, ever-changing challenges and rewards. I edited Realm for several years before I became freelance in 1999 (I enjoy the freedom and variety). Now, as a writer/editor of books (The Royal Homes in Gloucestershire, etc.) and articles (national/international magazines and newspapers), I love finding out about—and making sense of—Britain's past, present and choices for the future. People and places fascinate me. Away from work, some of my passions are rugby (spectating), walking (briskly) and music (eclectic listening). If I could, I would time travel. Pip pip!
[caption id="TheAngloFile_img7" align="aligncenter" width="330"]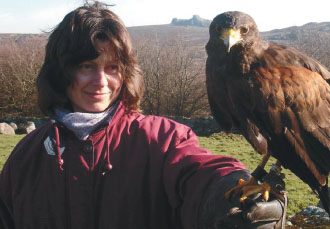 8
Siân tames a hawk on the heath of Dartmoor in the line of her writing duty.
[/caption]