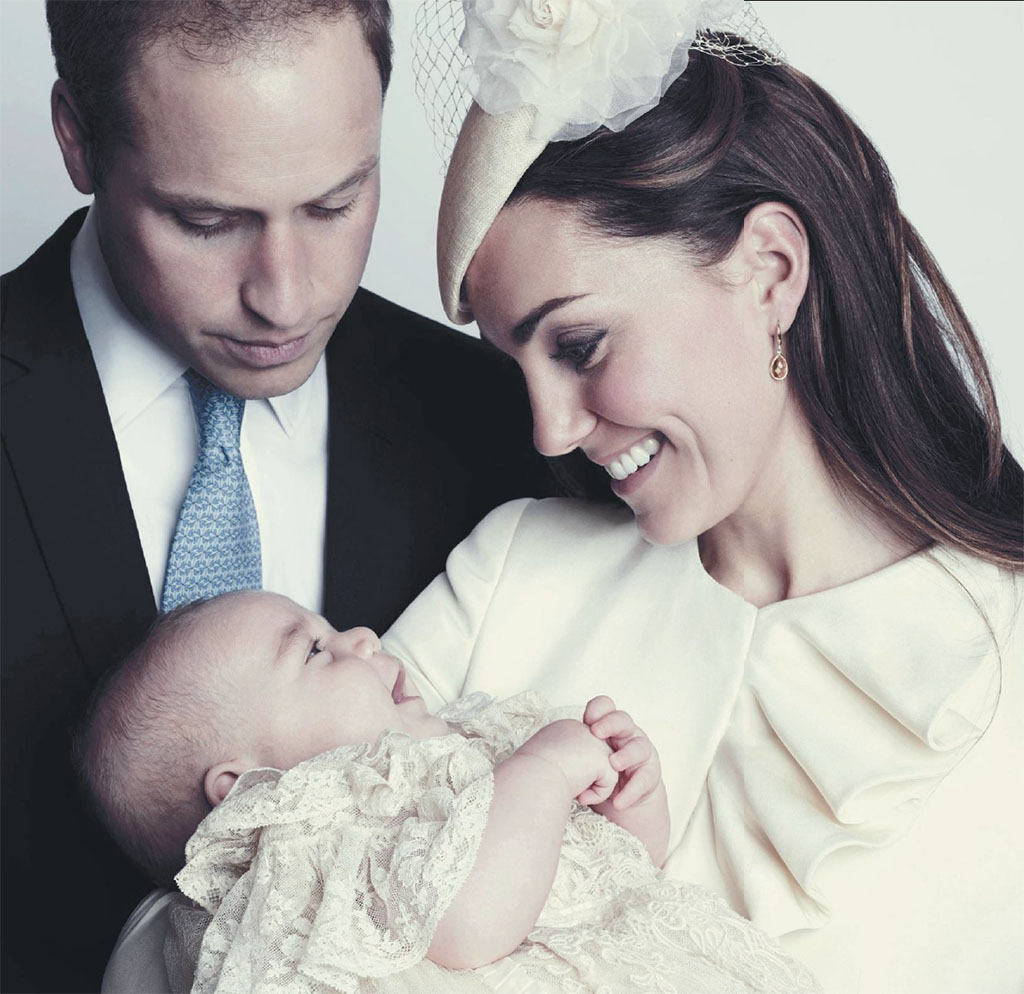 The best and the boorish of the Royal name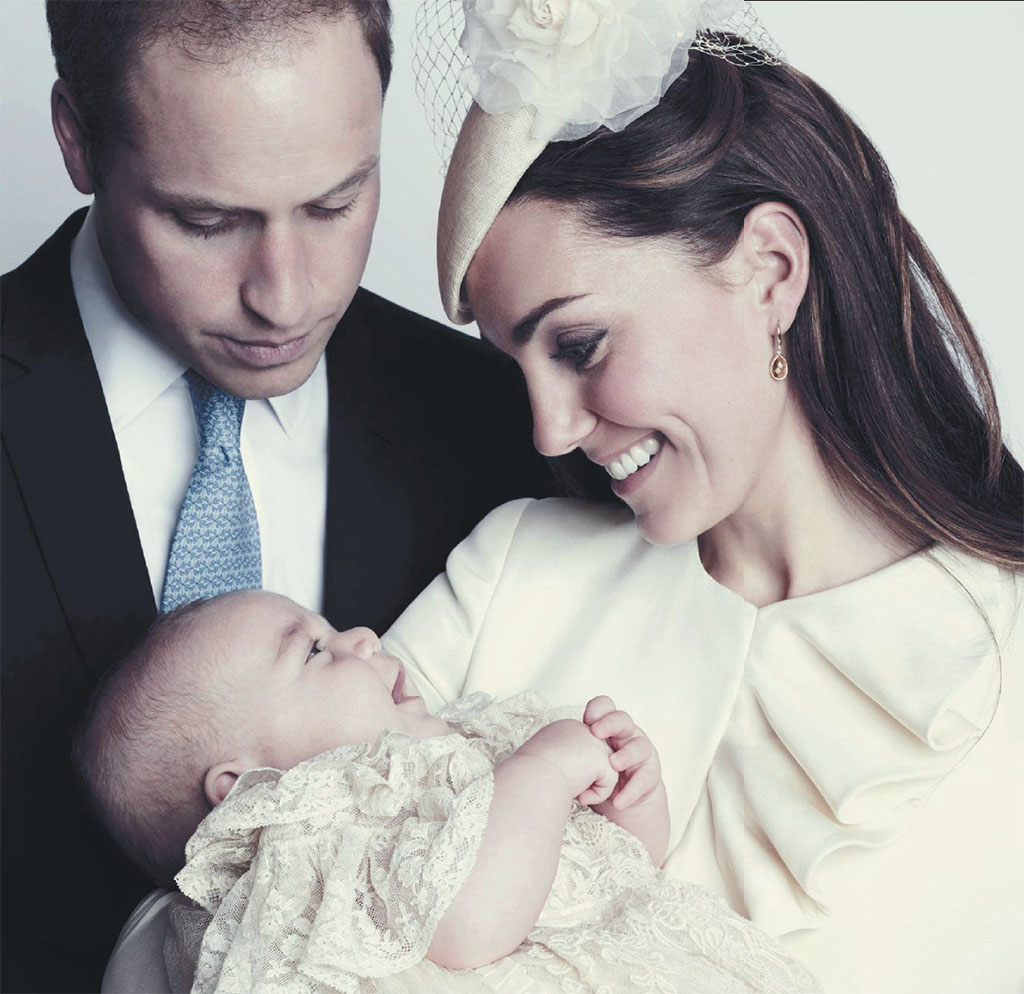 9
All hail little Prince George, latest sprinkle of glitter in the tale of the Duke and Duchess of Cambridge. And what serendipity, too. For while it's been suggested the little fellow was so called as a tribute to the Queen's father George VI, the choice of name prompted everyone to shake the royal family tree for earlier Georges—reminding us that 2014 is the tercentenary of the dawn of the illustrious Georgian age 1714–1830, when no fewer than four King Georges reigned in succession.
What bold images spring to mind from that era: the golden elegance of Bath's architecture and the social whirl of Jane Austen novels; world-leading innovation of the Industrial Revolution; British mastery at sea and on land, at the battles of Trafalgar 1805 and Waterloo 1815. Okay, there was the small matter of Britain's loss of the American colonies, too.
Less often told is the story of the four Georges themselves who gave their names to the period, the odd manner of their kingship, and the inherent irony of a bunch of foreigners reigning over Britain as she rose inexorably toward her greatest sense of national unity and power as embodied by Queen Victoria.
[caption id="TheDaysoftheGeorges_img1" align="aligncenter" width="571"]

9
German George I never bothered to learn English and didn't care much for his new kingdom.
[/caption]
After Queen Anne died childless in 1714, rules from the 1701 Act of Succession excluded Roman Catholics from the British throne. The country shopped around and, 52nd in line but closest Protestant claimant, 54-year-old George, Elector of Hanover, was plucked from the relative backwater of his German domain. Thus began the reign of the House of Hanover.
The turn of events found little favor among the British public, but Hanover Square in London's West End was nevertheless laid out in celebration. George I had left his wife behind imprisoned for her dalliances with a Swedish cavalry officer and, with no flicker of hypocrisy, pitched up with his German mistresses—nicknamed the Beanpole and the Elephant for their contrasting stature (Elephant and Castle when the king stepped out with the latter).
Boorish George spoke scarcely a word of English, was disinclined to go native and had no patience with the parliamentary system of negotiation. Rather than chair Cabinet meetings, he dealt with a specially chosen "prime minister" who took the lead, hastening the country further on the path to constitutional monarchy and unwittingly initiating a political role that has stuck.
At HOME…harmony and order were architectural watchwords of the Georgian age (pace George IV's Royal Pavilion), and for prime Palladian-style country house splendor Holkham Hall in Norfolk is a treat (www.holkham.co.uk). Experience gracious living through names that set the fashions: cool Robert Adam interiors at Kedleston Hall in Derbyshire (www.nationaltrust.org.uk); fine mahogany furniture by Thomas Chippendale at Harewood House, Leeds (www.harewood.org); sweeps of elegant landscaping at Stourhead in Wiltshire (www.nationaltrust.org.uk).
Handsome, unified town planning was also a superb achievement of the era, embodied in the Royal Crescent and Circus of Bath, and Edinburgh's neo-classical New Town. Or indulge in the Regency elegance of spa towns like Cheltenham and Brighton & Hove.
[caption id="TheDaysoftheGeorges_img2" align="aligncenter" width="523"]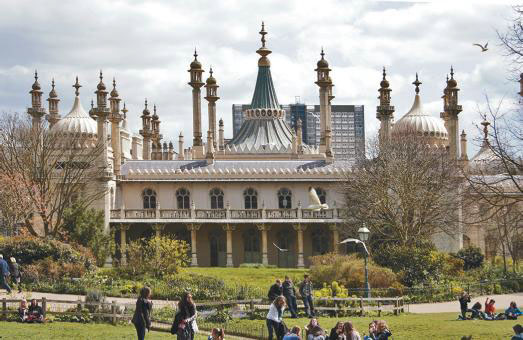 9
Brighton's Royal Pavilion was the fantasy playground of King George IV.
[/caption]
Despite his unpopularity, George survived the first Jacobite Rebellion of 1715 that aimed to restore the Catholic Stuart monarchy, and safely handed the crown to his son in 1727.
[caption id="TheDaysoftheGeorges_img3" align="aligncenter" width="523"]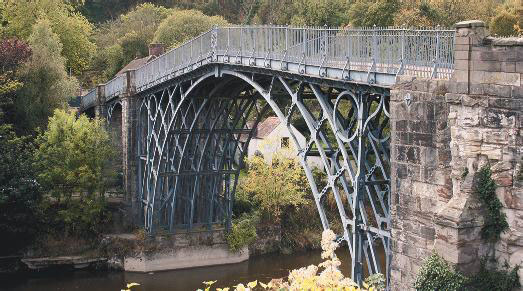 9
George II made more of an effort than his father did, and became the last English monarch to lead troops in battle.
[/caption]
George II shared with his father a predilection for mistresses and for Hanover; however he at least tried to adapt to British ways and speak English. Trouble was, he liked to meddle in politics and disliked being thwarted by parliament, leading to outbursts and threats to leave. But he stayed and even presented No. 10 Downing Street to the first acknowledged Prime Minister, Sir Robert Walpole.
Nicknamed "the Little Captain," small, dapper George II was a battle-tested soldier and was keen to swashbuckle further with European rivals. He was mostly held in check by parliament, but got his wish at the age of 61 when he became the last British monarch to lead his troops into action, against the French at Dettingen in 1743. He gave a rousing speech: "Now boys! Now for the honor of England! Fire and behave brave, and the French will run." They did, and at home the Brits liked the Little Captain a little more.
AT WORK AND PLAY…the Industrial Revolution kicked into full steam-powered, machine-driven, factory-production force in the 18th century, and Ironbridge Gorge in Shropshire was in at the birth. Get a sense of the buzzing innovation at 10 museums around the World Heritage Site, including the emblematic first-ever cast-iron bridge (www.ironbridge.org.uk).
Culture fourished while George IV pranced as prince and king, with the likes of Byron, Keats, Shelley, Wordsworth and Scott scribbling away. Jane Austen's novels are tops for a peek into the mores of Georgian society (George, a fan, requested that Emma be dedicated to him). Explore the author's own life at Jane Austen's House Museum in Chawton, (www.jane-austens-house-museum.org.uk); while the Jane Austen Centre in Bath lifts the lid on her experiences in the city where she found so much inspiration (www.janeausten.co.uk)—follow in her steps to locations for Northanger Abbey and Persuasion.
[caption id="TheDaysoftheGeorges_img4" align="aligncenter" width="571"]

9
The world's first iron bridge was the emblem of new Georgian industry.
DANA HUNTLEY[/caption]
George also survived a Jacobite Rebellion (1745–46), and "God Save the King" was sung in his support at London's Drury Lane—the idea caught on and a National Anthem took shape.
[caption id="TheDaysoftheGeorges_img5" align="aligncenter" width="565"]

9
Despite his American reputation and his late-life bouts of insanity, King George III is reckoned one of England's most likeable kings.
[/caption]
George II was succeeded by his grandson in 1760 (his first son Fredrick having died), and so the Georgian era rolled on with George III—popularly remembered for his ill health as portrayed in the film The Madness of King George, and for Britain's loss of its American colonies during his reign. Prior to going to war the king noted, "I cannot help being of opinion that with firmness and perseverance America will be brought to submission." Yorktown changed his tune in 1781.
Yet George III deserves better ratings; he was the most likeable of all the Georgian kings, the first to be born and raised in England and to speak English without a heavy German accent. Dr. Johnson called the younger George "the finest gentleman I have ever seen."
AT WAR…the Jacobite Rebellion of 1745–46 saw hopes finally quashed among supporters of the heirs of James II (deposed in the Glorious Revolution of 1688-89) that a Stuart king would regain the British throne. Glenfinnan Monument marks the spot where the standard of rebellion was raised, and Culloden Battlefield is where a government army crushed Bonnie Prince Charlie's men. Visitor centers at both Highland locations tell the brutal story (nts.org.uk).
French Revolutionary and Napoleonic Wars (1792-1815) were protracted and costly, but produced iconic British triumphs and heroes. Drop into Portsmouth Historic Dockyard to tour HMS Victory and the Trafalgar Experience that evoke Nelson's great naval battle of 1805 (www.historicdockyard.co.uk). Visit Stratfield Saye House, also Hampshire, for displays on the 1st Duke of Wellington, victor at Waterloo in 1815 (www.stratfield-saye.co.uk).
[caption id="TheDaysoftheGeorges_img6" align="aligncenter" width="523"]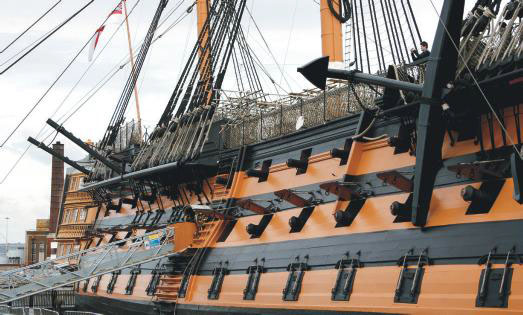 9
Portsmouthy's

HMS Victory

remains the iconic symbol of Napoleon's defeat.
[/caption]
This George was a master of the common touch, a devoted family man (he had 15 children with his wife Charlotte) and a lover of the simple (for royals) life—Kew Palace was his family's favorite country retreat. Known as "Farmer George" for his interest in agriculture, he wrote pamphlets on the subject under the nom de plume Ralph Robinson. At Kew he kept the first flock of Merino sheep imported from Spain, with the aim of improving the national flock; he sold stock at auctions in a field in front of Kew's Pagoda.
[caption id="TheDaysoftheGeorges_img7" align="aligncenter" width="571"]

9
Flamboyant and libertine, George IV became a figure of public ridicule.
[/caption]
George III was also highly cultured, founding the Royal Academy of Arts, and it's often said that his all-round likeability helped the monarchy to survive in Britain while the institution was toppled in revolutionary France. Coincidentally, the Union fag as we know it today dates from George III's reign following the union of Great Britain and Ireland in 1801.
Tragically, though, George became increasingly deranged, a result, it's now believed, of porphyria (a rare blood disorder) and hardly helped by brutal treatment at the hands of his doctors. From 1811 his son acted as Prince Regent, becoming King George IV in 1820.
You'll find the character of "Prinny" (his princely nickname even as king) writ large in his flamboyant pleasure palace, the Royal Pavilion in Brighton, dazzling with its eyebrow-raising Chinese interiors and colorful Indian-style domes. A complete contrast with his father, he caroused here with his racy friends beneath lotus-shaped chandeliers, out of touch with the wider populace, their hardships and fallout from wars with France.
While still prince, George had illegally married a Roman Catholic widow and was forced into a more "suitable" match with Caroline of Brunswick. He was drunk at the wedding, produced a daughter Charlotte and sought a divorce. The debauched lifestyle of his increasingly corpulent Majesty made him a figure of public hate—and immense fun for cartoonists.
While he failed in the business side of monarchy, however, George reigned over a glittering era of culture. In addition to the Royal Pavilion, his partnership with architect John Nash resulted in the development of London's West End (including Regent Street and Regent's Park), and the conversion of Buckingham House into Buckingham Palace.
The Georgian era came to a close in 1830, although the House of Hanover continued through George IV's brother William IV (Charlotte having died) and the glorious reign of Queen Victoria. Altogether, two centuries of Hanoverian sovereignty saw Britain power ahead on her imperial and industrial path, polishing her sense of national pride to its shiniest. Curious indeed that it should be so with German blood coursing through royal veins, but then, parliamentary democracy had won the upper hand. The Georges, the boorish and the best, the disinterested and the dilettante, had played their part in evolving the monarchy to the ceremonial, constitutional role it has today. It will be a while before little Prince George is likely to think about any of that or the mark that he might make.