[caption id="TheDuchessofCornWall_Feature" align="aligncenter" width="992"]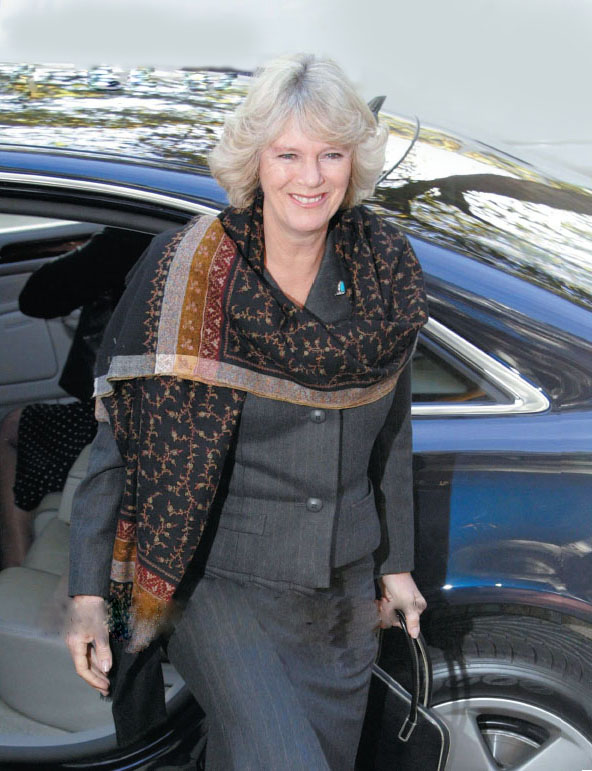 7
Though her passion for rural living and country pursuits remains, Camilla, Duchess of Cornwall, hes a full life of official engagements in support of her husband and public duties for the many charities she supports (Associated Press, TGPLL Tim Graham Via Pool; Opposite: David Cheskin/PA/EMPICS).
[/caption]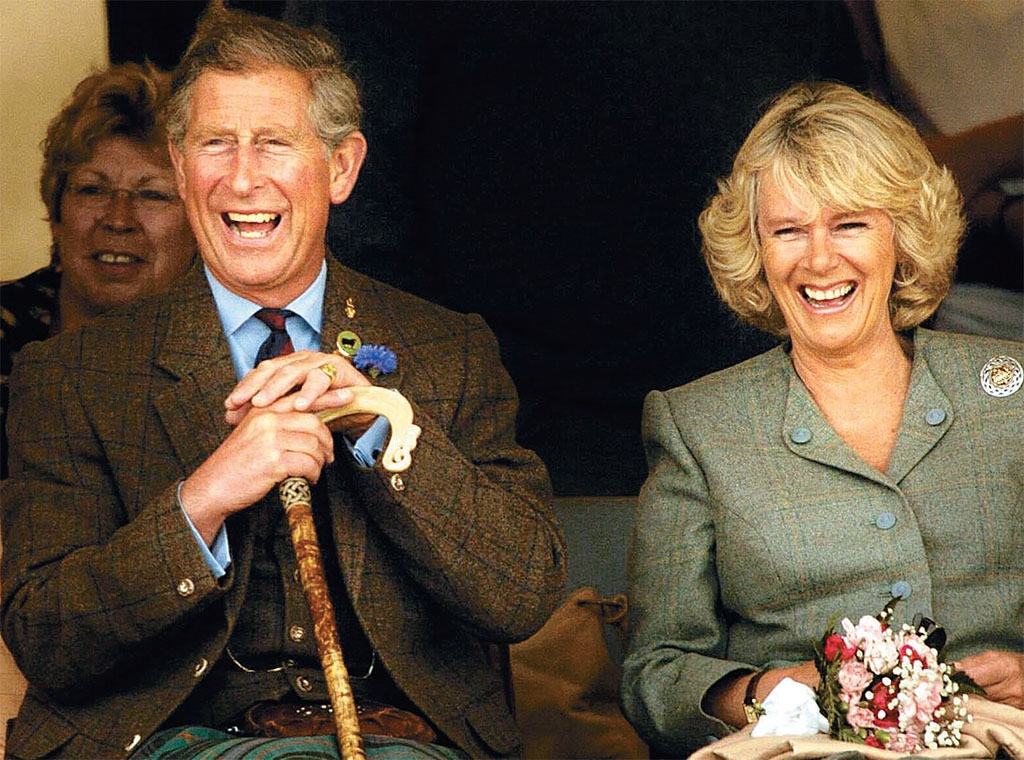 7
Her Royal Highness bakes a great roast chicken and loves long walks in the country.
The world knows little about her but is discovering day by day through countless media stories that she has a passion for rural living, organic gardening, fishing, hunting and long walks in the country. She also enjoys the theater and likes to get to London's West End with her famous partner as often as she can. Her son has been quoted as saying that she makes "the best roast chicken in the world." She has an optimistic disposition, a wide radiant smile that she flashes quite often, a deep hearty laugh and a keen sense of humor. Friends know her as a warm and caring person and someone who is there for them through good times and bad. This is Her Royal Highness, the Duchess of Cornwall, or the Duchess of Rothay as she is known in Scotland, the former Camilla Parker Bowles.
"LOVE WILL FIND OUT THE WAY" could well have been written today for Charles, Prince of Wales, and Camilla, Duchess of Cornwall, though the line is from an anonymous 17th-century poem. When Camilla Parker Bowles was married to Prince Charles, first in line to the throne of Great Britain, on Saturday, April 9, 2005, despite the prognostications of sceptics and circumstances that kept them apart in the past, this private person who has strived for years to avoid the limelight became a public figure.
According to Patrick Harrison, press secretary to HRH the Prince of Wales and HRH the Duchess of Cornwall, she sees her role primarily as being supportive to her husband and his work, though she does undertake public duties for a number of charities that she supports. For more than three decades Camilla has said nothing about her relationship with the Prince of Wales. She does not give interviews but has always seemed content and determined to ease the burdens of the prince's position as much as possible for him while keeping in the shadows.
[caption id="TheDuchessofCornWall_img2" align="aligncenter" width="1024"]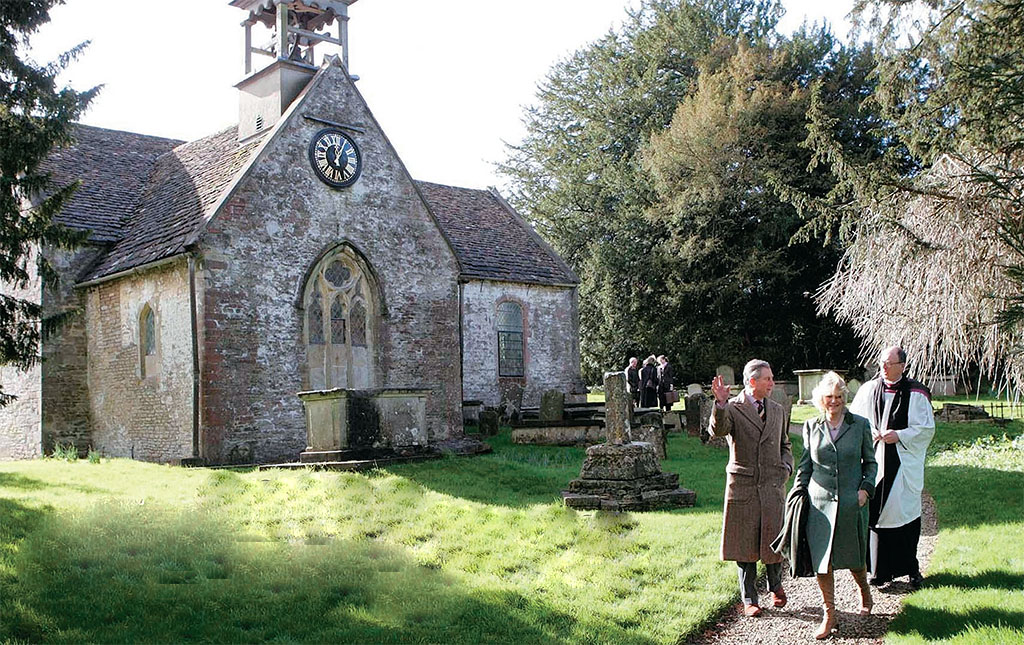 7
Prince Charles and the duchess attend Sunday service at St. Lawrence Church in Didmarton near Highgrove, their Gloucestershire residence (The Associated Press, TGPLL).
[/caption]
…and a pair who ob Viously care about each other very much.
C
AMILLA ROSEMARY SHAND was born into an English upper class family on July 17, 1947. The oldest of three children, she grew up in the village of Plumpton in East Sussex. Her mother, Rosalind, was a member of the Cubitt construction family. Her father, Major Bruce Shand, a decorated World War II hero, was Deputy Lord Lieutenant of East Sussex, the queen's official representative in the county. Starting her education at the coed Dumbrells School in the village of Ditchling about three miles from the family home, she was then sent to Queen's Gate School, a fashionable girls school in South Kensington. Later, she attended finishing schools in Switzerland and France. Family life is important to her, and she remains quite close to her sister, Annabel Elliot, and her brother Mark. She and the prince insisted that her 90-year-old father move into a private apartment within Clarence House, their official home, so that they could see him as often as possible.
Numerous friends, who know her as "Milla," are very loyal to her, so Camilla's private life remains pretty much a closed book. She adores her son Tom, born in 1975, and her daughter Laura, born in 1978, and seems to have a good relationship with her stepsons William and Harry. Tom is a noted food writer, while Laura manages an art gallery in London's neighborhood of Belgravia. The duchess, with her prince, was beaming on September 10, 2005, when Tom married Sarah Buys, a fashion editor at Harpers & Queen, in a lavish but very private wedding and reception.
In 1970 Camilla met Prince Charles at a polo match where the often-repeated story goes that she said to him, "You know that my great-grandmother was your great-great-grandfather's mistress, so how about it." The great-grandmother in question was Alice Keppel and the great-great-grandfather was King Edward VII. This first meeting between Camilla and Charles was the beginning of a love affair that has spanned more than three decades. However, for whatever reasons, they drifted apart, and Camilla married Andrew Parker Bowles, a colonel in the Household Cavalry, in 1973, while Charles married Lady Diana Spencer in 1981. After their marriages to other people and subsequent divorces, perhaps we should pick up the tale again in July 1998 when Prince William, the older son of Prince Charles and second in line to the throne, agreed to meet his father's partner "officially." Then, in November of that same year, Charles and Camilla made their first public appearance together outside the London Ritz Hotel, when they attended Camilla's sister's birthday party. Flashbulbs popped and photos of the couple were shown around the world the next day.
In February 2005, this middle-aged couple, both in their late 50s, announced their engagement. Two months later, the civil wedding ceremony took place within the Registry Office in the beautiful Guildhall on the High Street in Windsor, a building designed by the 17th-century architect Christopher Wren who also designed St. Paul's Cathedral in London. Immediately after the civil wedding, the couple took part in a service of prayer and dedication presided over by Rowan Williams, the Archbishop of Canterbury, within St. George's Chapel at Windsor Castle, about 400 yards from the Guildhall. Camilla looked radiant and was tastefully dressed for both ceremonies, though it was the Philip Treacy hat she wore for the blessing that caused the most notice, with its gold-leafed feathers tipped with Swarovski diamond crystals. Her outfits for that very special day were created by the young British design team of Robinson Valentine, which did a superb job of flattering her figure. Since the wedding, photos in the print media and television coverage portray a happy, relaxed couple who seem to enjoy each other's company and care about each other very much. Recently, Prince Harry, the younger son of Prince Charles, told the press how he and his brother William "love her to bits" and that she is "not the wicked stepmother." He stressed how she has made his father very, very happy.
While the duchess still maintains the house in Laycock in Wiltshire, one of Britain's prettiest villages, that she had before her recent marriage, she and Prince Charles reside at Clarence House, just up The Mall from Buckingham Palace, at the edge of St. James's Park. Clarence House, a royal residence for more than 170 years, was the home of Charles' beloved grandmother, Elizabeth, the Queen Mother, from 1953 to her death in 2002. Charles and Camilla undertake official engagements and receive guests from around the world in the ground floor rooms that are open to the public by guided tour on certain dates in August and September. Those rooms look much as they did when the Queen Mother lived there. Her prestigious collection of 20th-century British art still adorns their walls, and her superb examples of Fabergé and English porcelain and silver objects continue to fill the rooms.
When not in London, the Duchess of Cornwall and the prince reside at Highgrove House near Tetbury in Gloucestershire, where Charles has kept a private residence and engaged in organic gardening since 1980. It was at Highgrove House that Queen Elizabeth II "formally" met Camilla Parker Bowles (though she had known her over the years) in June 2002 at a 60th birthday party held there for Constantine, the former king of Greece. This event further paved the way for last year's royal wedding.
In early November 2005, the Prince of Wales and the Duchess of Cornwall made their first official visit together to the United States, with scheduled events in New York, Washington, D.C., and San Francisco over the course of their eight-day stay. They also included a visit to New Orleans because they very much wanted to see for themselves the devastation caused to that city by Hurricane Katrina earlier in the year. The overall aim of the trip was to encourage American tourists to visit Britain, while emphasizing the prince's charitable, environmental and architectural interests. At a pretour reception given by the prince and the duchess at Clarence House for journalists who would be traveling with them to America, one correspondent was quoted in the Guardian on October 29, 2005, as saying the royal couple "charmed the socks off" their guests. The duchess is said to have been like a breath of fresh air. She is unpretentious and, though a bit nervous with her new duties, she is learning fast and certainly rose to the occasion on the American visit.
While in New York, the prince and the duchess dedicated a foundation stone for the British Memorial Garden that is being created in lower Manhattan at Hanover Square. This memorial, not far from the site of the destroyed World Trade Center towers, will commemorate and pay tribute to the 67 British citizens who were killed in the terrorist attacks on September 11, 2001. At a reception after the dedication ceremony, the prince encouraged those in attendance to continue to help with funding for the garden. In his talk, he referred to the duchess, who was quietly standing by, several times as "my darling wife." Later in the day as the duchess enchanted guests at another reception, this one at the Museum of Modern Art, with her warmth and good humor, Prince Charles was beaming and was overheard to say quietly to another guest, "Now everyone can see how wonderful she is."
[caption id="TheDuchessofCornWall_img3" align="aligncenter" width="1024"]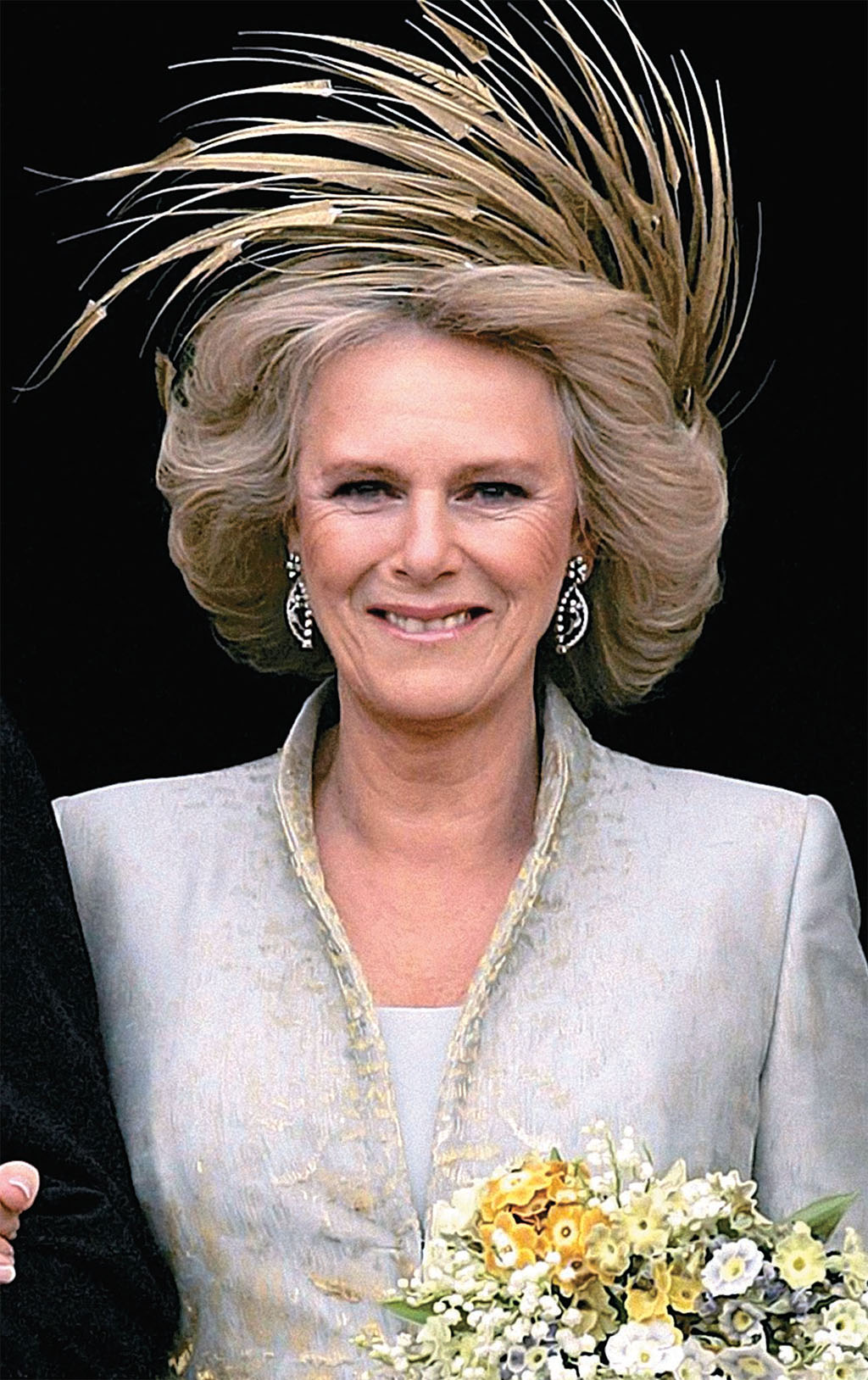 7
Camilla's penchant for wide-brimmed hats with flamboyant feathers has caused fashion excitement.
[/caption]
The Duchess of Cornwall supports a number of charities, but because of her family's experience perhaps none is more dear to her heart than the National Osteoporosis Society, which campaigns for greater awareness of the fragile bone disease. In 1997 the duchess became patron of the organization and then was named its president in 2001. She has visited many bone units in hospitals across the country to help raise awareness of the disease and to highlight the importance of fighting it. During the official visit in Washington, D.C., last year, the duchess met with professionals working to treat osteoporosis, and patients with the bone disease at the National Institutes of Health. Then, with her husband at her side, she made her first public speech abroad since her marriage. She told the doctors and researchers around the table that "I first became involved with osteoporosis after both my mother and my grandmother died as a result of this devastating disease." Afterward the duchess was presented with an autographed, 404-page report on the disease, which she accepted, saying: "I'll do my best to get through it, but I'll need my specs. You can test me on it afterwards."
The duchess is patron of St. John's Smith Square, a church that is a superb example of English Baroque architecture, built in 1728. Restored after it was damaged in World War II, it is now a popular venue for classical music concerts. She is a trustee of the Wiltshire Bobby Van Trust, launched in 1998 to support elderly and vulnerable householders, including disabled people, and victims of domestic violence. Revealing her interest in animals, music and gardening, she is also a patron of Animal Care, the London Chamber Orchestra and the New Queen's Hall Orchestra, and president of Scotland's Gardens Scheme.
[caption id="TheDuchessofCornWall_img4" align="aligncenter" width="1024"]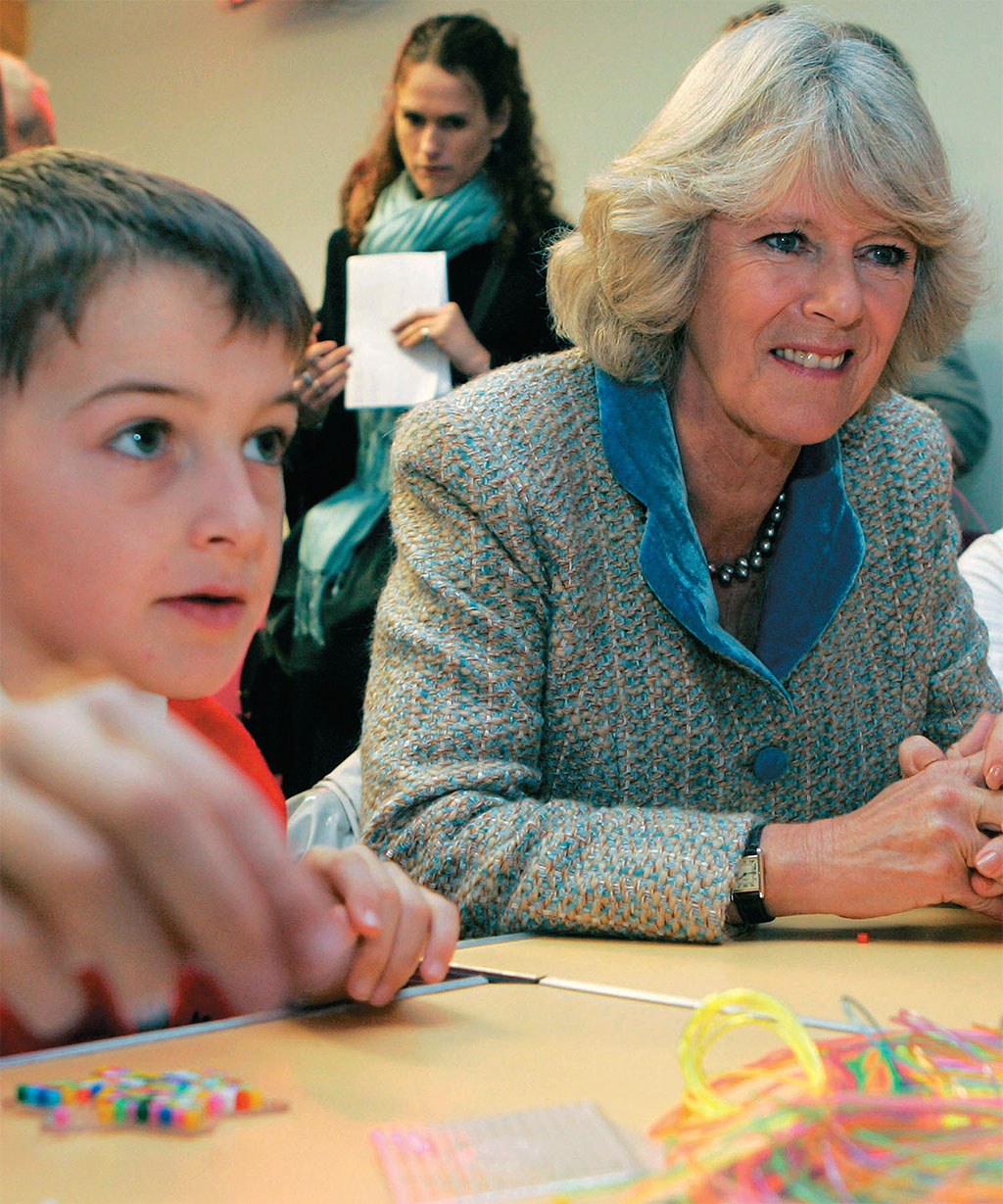 7
The duchess meets children at Atworth Youth Club, Chippenham. Her Royal Highness is patron of the Wiltshire Youth Clubs.
[/caption]
'Now everyone can see how wonderful she is.'
While newspapers quote acquaintances as saying that "she wasn't particularly clothes conscious," the Duchess of Cornwall seems to be setting tasteful fashion trends for the mature woman with her outfits and stunning hats. She tends to wear knee-length coats and matching dress combinations in rich jewel colors that display a soft, elegant look. She has many opportunities to step out and to show off her well-styled designer clothes as she did on December 7, 2005, for the world premiere of the film
The Chronicles of Narnia: The Lion, the Witch and the Wardrobe
at the Royal Albert Hall, and then a week later at the Royal Gala performance of
Madame Butterfly
by the English National Opera at London's Coliseum. Her hats, usually by Philip Treacy, who designs hats for many of the women who attend Royal Ascot each year, have caused fashion excitement with their swooping feathers and wide brims that seem to suit the duchess so well.
[caption id="TheDuchessofCornWall_img5" align="aligncenter" width="1024"]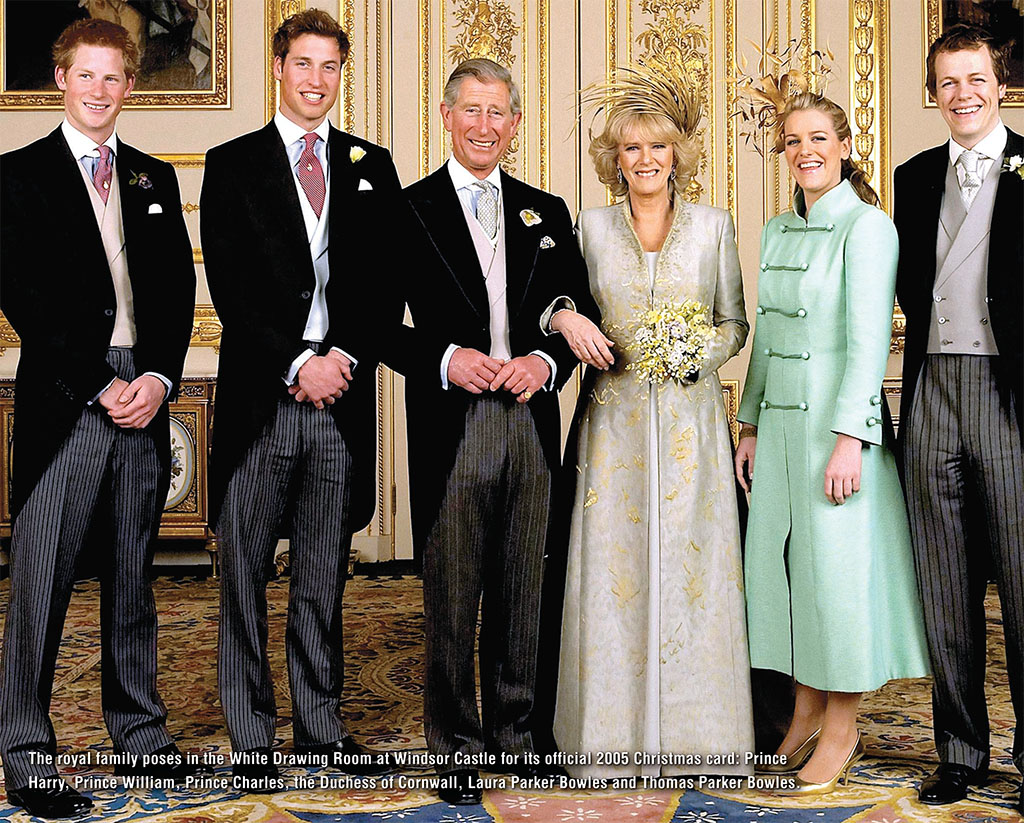 7
The royal family poses in the White Drawing Room at Windsor Castle for its Official 2005 Christmas card: Prince Harry, Prince William, Prince Charles, the Duchess of Cornwall, Laura Parker Bowles and Thomas Parker Bowles.
[/caption]
An admirable quality that gives some idea of the inner core of the person is Camilla's consent that after her marriage to Prince Charles she be known as the Duchess of Cornwall rather than the Princess of Wales, the usual title for the wife of the heir to the throne. Since the prince holds a number of titles including that of Duke of Cornwall, the designation does make sense. It is intended that the Duchess of Cornwall will use the title Her Royal Highness, the Princess Consort, when the Prince of Wales accedes to the throne. The duchess has no interest in fame and celebrity, but is strongly dedicated to being there for the prince and giving him the support he needs for his work. As the public sees more of the duchess and Prince Charles together, her approval rating is escalating among those who take an interest in the royal family. Many are now beginning to realize that these are two people who were destined for each other, and that their happiness, finally after all these years, should not be denied. The couple seem to know what each other is thinking and can be seen in informal moments exchanging knowing nods and smiles across a room.
Fairy tales end with the words "happily ever after," but in the real world life does not always go so smoothly. It does seem certain, however, that the Prince of Wales and Camilla are finally where they should be and, as they grow old together, "the best is yet to be" for this couple and, also, hopefully, for the monarchy of the United Kingdom.