International Arts and Craft
[caption id="TheGamesAfoot_img1" align="aligncenter" width="1024"]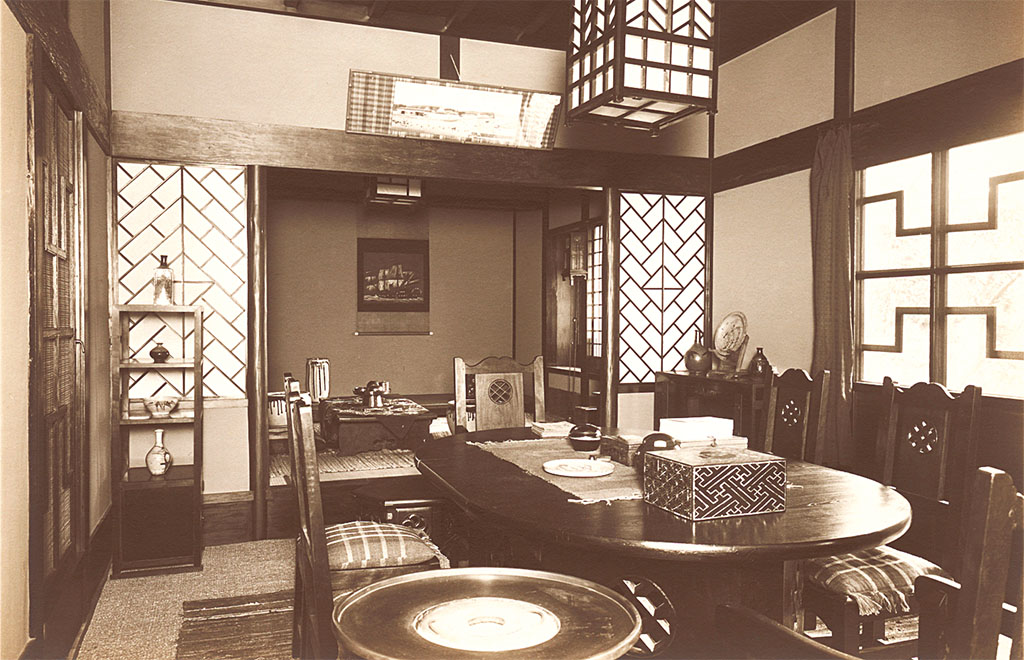 5
Arising in Britain where it flourished in the 1880s, the Arts and Crafts movement prevailed well into the 20th century. The Mingei movement in Japan was its last significant manifestation.
[/caption]
[caption id="TheGamesAfoot_img2" align="aligncenter" width="1024"]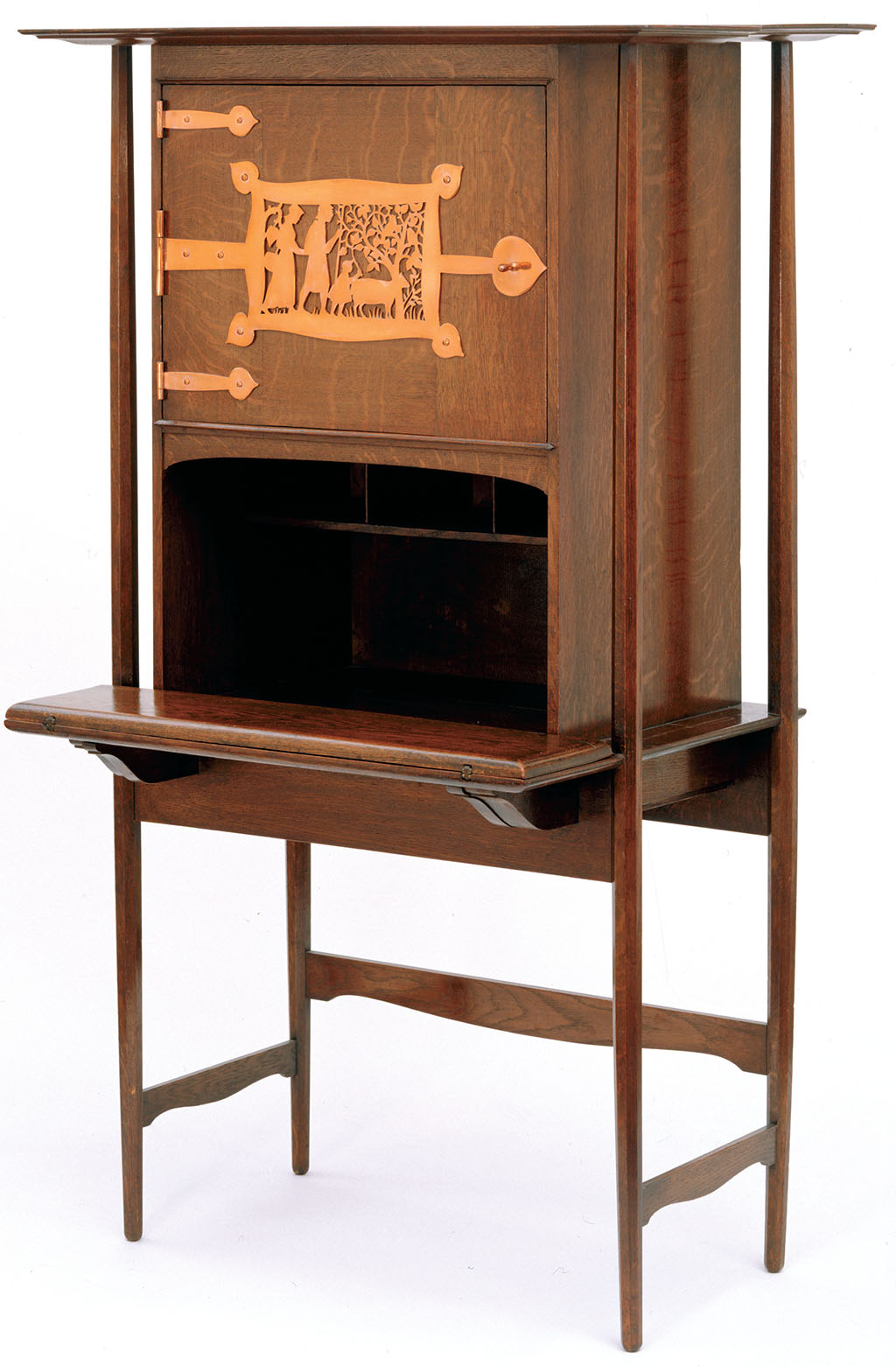 5
Charles F.A. Voysey was one of many Arts and Crafts architects who accepted commissions for furniture, including this 1896 oak desk.
[/caption]
LONDON'S VICTORIA and Albert Museum takes an international perspective on the Arts and Crafts movement with a major exhibition March 17–July 24. This is the first large scale exhibition to look at Arts and Crafts as a phenomenon that quickly spread over Europe, America and even Asia. First flourishing in Britain in the 1880s, Arts and Crafts prevailed well into the 20th century and took on characteristics of the cultures that embraced it. This exhibition offers an excellent opportunity to see these cultural differences side by side. Three hundred masterworks in furniture, textiles, glass, metal, jewelry, photography, paintings, prints, sculpture, architecture and even full-scale reconstructed rooms will show the breadth and depth of this world style that is popular again today. The V&A is on Cromwell Road in South Kensington. Phone: 020 7942 2000. E-mail: [email protected]. Web: www.vam.ac.uk
YORK'S CONVENT B&B
The Bar Convent, established in 1686, is the oldest working convent in England. The sisters welcome travelers to spend the night in one of the convent's 18 guest bedrooms for only £30 per person, including breakfast. Lunch and dinner are available as well, and the convent is just a 10-minute walk from York's city center. The convent also has a museum that presents the early history of Christianity in the North of England and tells the story of Mary Ward (d. 1645), who founded the Institute of the Blessed Virgin Mary and was a pioneer in women's education and apostolic religious orders for women. Georgian buildings and a neoclassical chapel also draw visitors to the convent. Phone: 01904 643238. E-mail:
[email protected]
. Web:
www.bar-convent.org.uk
[caption id="TheGamesAfoot_img3" align="aligncenter" width="1024"]
5
The oldest working convent in England, the Bar Convent welcomes travelers to spend the night in one of 18 guest bedrooms.
[/caption]
FFESTINIOG RAIL ANNIVERSARY
The top choice winner of
British Heritage
's Travelers' Choice Award for Best Hidden Treasure in 2001, the Ffestiniog Railway is celebrating the 50th anniversary of its revival this year. The Ffestiniog Fifty Gala takes place April 30–May 2, the First Steam Train Reenactment is going to take place on August 6, and there's a Victorian Vintage Weekend scheduled for October 15-16.
The railway boasts the oldest steam locomotive, Prince, still operating on its original line. Prince was built in 1863 and powered the first passenger trains on the reopened line in 1955. The narrow-gauge steam train travels 13 miles of steeply graded rail in picturesque Snowdonia, from Porthmadog to Blaenau Ffestiniog. The train runs all year, with an expanded schedule in warmer months. The Web site
www.festrail.co.uk
carries booking information and also an interactive map with information on sites along the track. Booking telephone: 01766 516024. E-mail:
[email protected]
ACCESSIBLE SCOTLAND
If you or a travel companion have difficulty getting around or just prefer to take it easy in a less demanding environment, Visit Scotland has a new 108-page brochure that features nearly 1,000 lodgings and attractions that have good facilities for disabled visitors. The brochure includes a description of each of the places and provides contact information.
To get a copy of the brochure, telephone the National Booking Hotline at 0845 2255121 or go to
www.visitscotland.com/accommodation/accessiblescotland
and click on "Three Ways to Plan," where you can fill out an online form to request the brochure. Another way to find accessible lodging is to do an accommodation search on
visitscotland.com
and then use the "Refine by Grading" feature to narrow the results in terms of accessibility. Then, too, there's always the direct approach—call the National Booking Hotline (number above) to have someone help you find places and book them for you.
HOW TO GET THERE
There's a new Web site that will help you plan your travels in the UK, whether by rail, car, coach or plane, "from anywhere to anywhere." A trial version of the site was available at press time, with the full site expected online early in 2005. There are maps, comparisons of travel by public conveyance vs. private car travel and a very useful live travel news summary that includes current information on accidents, construction delays and other travel hazards. Web:
www.transportdirect.info
FLORENCE NIGHTINGALE EXHIBITION
"Calamity Unparalleled: Order Out of Chaos" marks the 150th anniversary of the Crimean War at the Florence Nightingale Museum through April. Nightingale, heralded reformer of nursing and medical care in the armed forces, wrought tremendous improvement in the care of soldiers wounded in the Crimean War, beginning with basic cleanliness and decent food. The mortality rate plummeted, and Nightingale's reforms quickly spread to civilian hospitals. The museum is at 2 Lambeth Palace Road on the grounds of St. Thomas' Hospital, London. Open daily. Adult admission £5.80. Phone: 020 7620 0374. E-mail:
[email protected]
. Web:
www.florence-nightingale.co.uk
[caption id="TheGamesAfoot_img4" align="aligncenter" width="660"]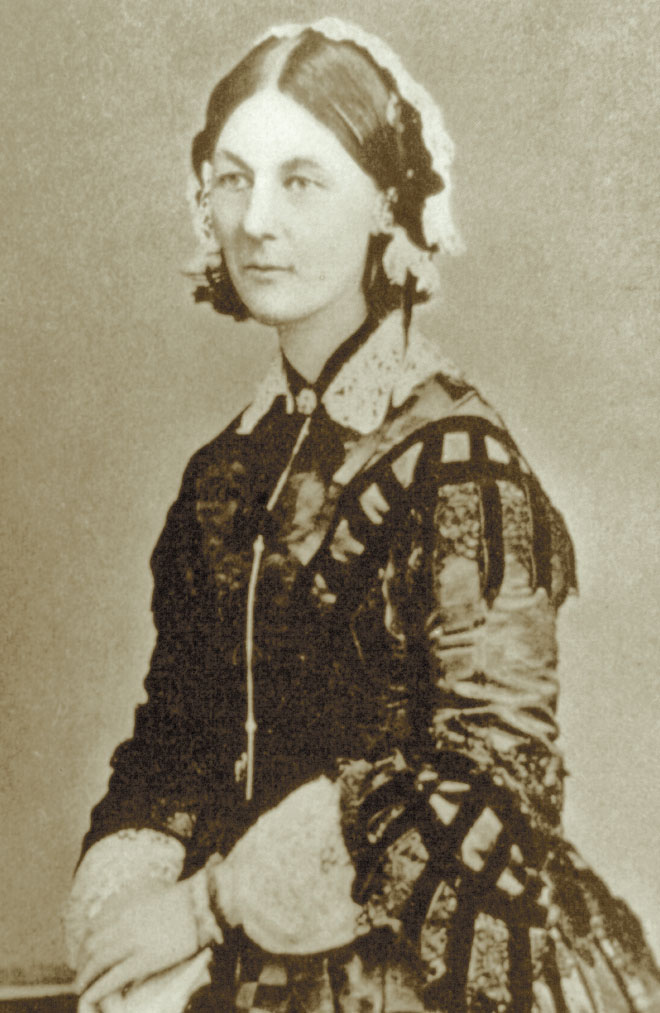 5
Florence Nightingale (1820-1910) reformed nursing care by focusing on basic cleanliness and decent food for soldiers.
[/caption]