England's Romantic Composers
[caption id="TheMusicofHopeandGlory_Feature" align="aligncenter" width="1024"]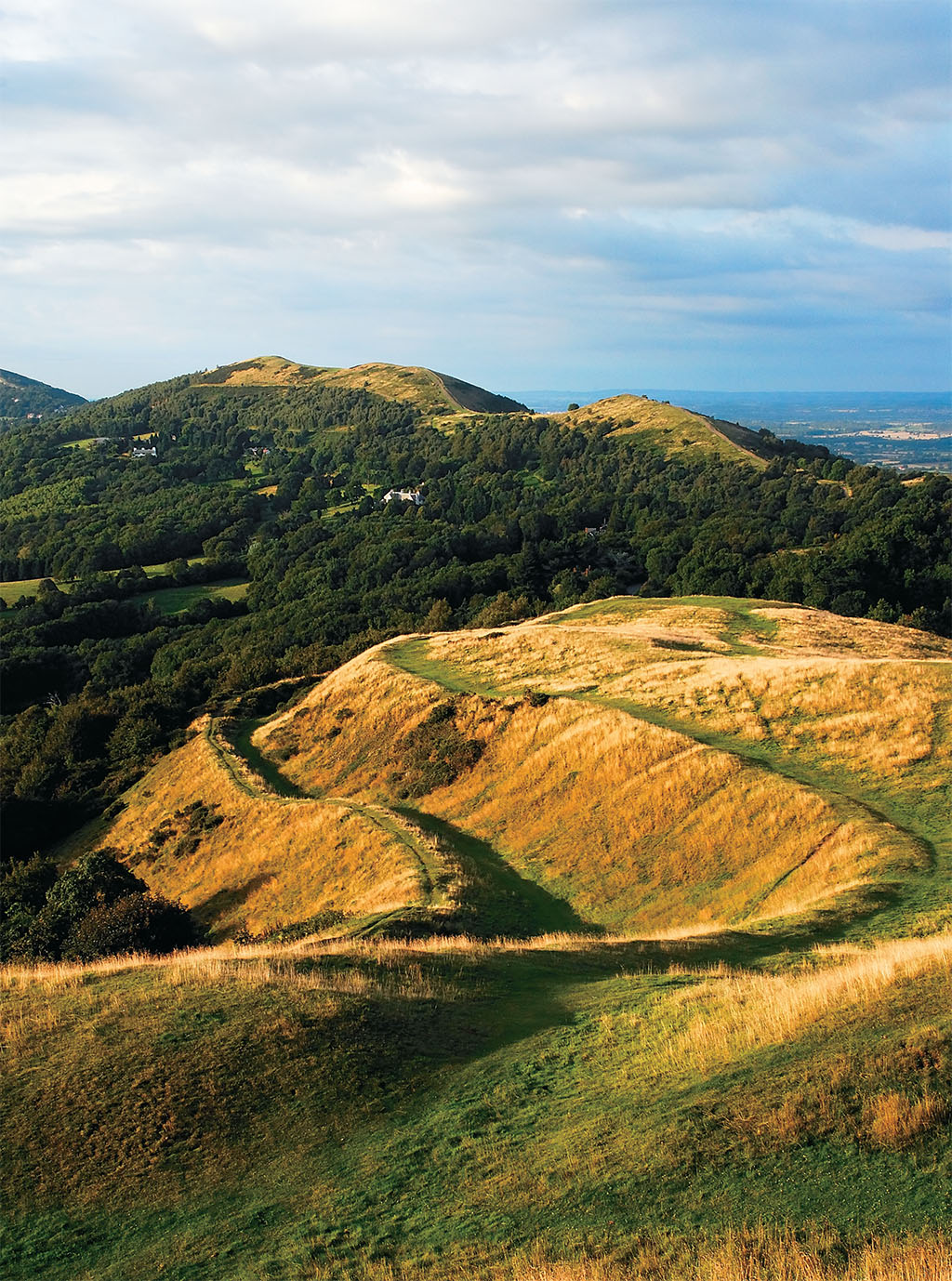 8
[/caption]
'WALKING ALONG THE MALVERNS, WITH A MOVEMENT FROM HIS

CELLO CONCERTO OR SERENADE FOR STRINGS ON YOUR

MIND, YOU CAN SEE HOW ELGAR'S HARMONIES DESCRIBE THE LANDSCAPE BELOW'
In 1856 Ralph Waldo Emerson quipped that England had no music. His observation was really one of surprise. Victorian Britain was a galvanized nation readily embracing and investing in new sciences and technologies, exploration and grand architecture; and intellectually it was delighting in new art and literature. But, sadly, not music. Really, Emerson meant that England was without identifiable contemporary composers. Yet 80 years later England had evolved its own pantheon of internationally recognized composers, including Edward Elgar, Ralph Vaughan Williams, Gustav Holst, Arthur Sullivan and Benjamin Britten, all producing what is acclaimed as quintessential English Romantic music.
Why did this happen? First, defining Romantic music is an inexact exercise. Initially, it was considered to be music that described a landscape or gave melody to a known story. Later, with the inclusion of national folk tunes and dance rhythms into the scores, the music became associated with particular nations, as epitomized by composers such as Anton Dvorak, Edward Grieg and Jean Sibelius. As a world power, England really had no nationalistic movements.
Since the Hanoverian ascension, Britons had been content with the formal Germanic classical arrangements of composers such as Handel and Haydn. Then, in the late 19th century, there was a shift in musical fashion; audiences wanted to hear new music, and English composers were tired of working within the classic German format. This change was partially presaged by Gilbert and Sullivan's playful operettas, which certainly have nationalistic undertones.
[caption id="TheMusicofHopeandGlory_img1" align="alignleft" width="491"]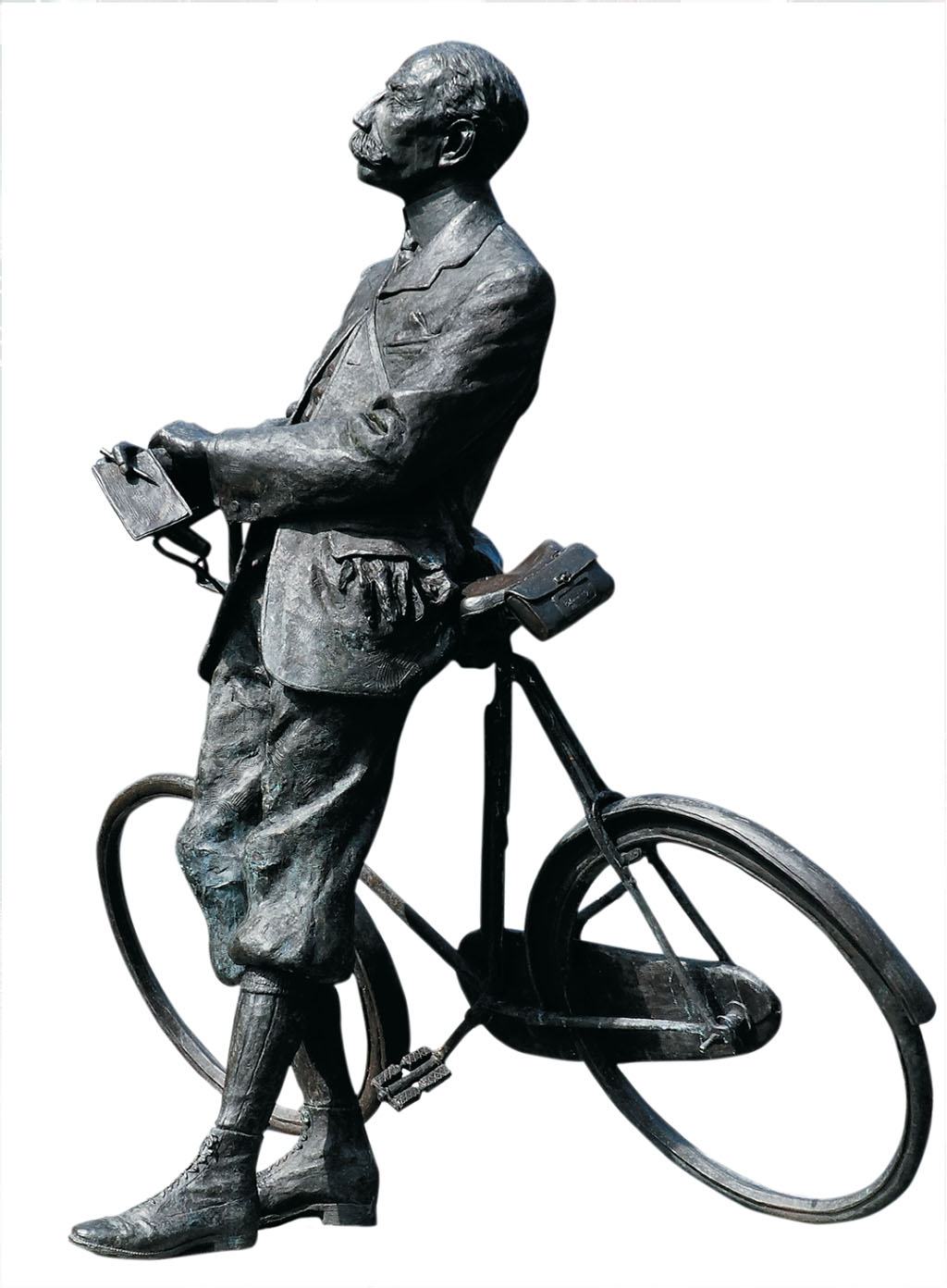 8
The Malvern Hills and the Worcestershire countryside found musical expression in the music of Edward Elgar (1857-1934), the first of the great English Romantic composers. The Elgar Birthplace Museum in Lower Broadheath, Worcestershire, unfolds Elgar's fascinating life and exhilarating music.
[/caption]
Today, English Romantic music is an integral component in the programs of numerous music festivals throughout England. A journey to a festival or two, combined with visiting where the composers lived and were inspired, allows travellers to compose their own symphonic sojourns into English classical music and along the way to savor other components of the nation's rich heritage.
The Elgar Birthplace Museum, in Upper Broadheath near Worcester, is a good place to start, as he is recognised as the progenitor of English Romantic music. Born there on June 2, 1857, Edward Elgar lived in the tiny cottage until he was two. He remained fond of the cottage throughout his life, however, and wished it to become a museum to his life.
The museum has a fine collection of Elgar memorabilia: annotated scores, letters, sketches, cartoons and photographs. Elgar's talents were apparent early in his life. At 9 he expressed the desire to conduct and control an orchestra through a performance of Beethoven's Mass in C minor; and at 12, after hearing Handel's Messiah, he wrote out the orchestral score from memory, but added a few notes for, "colorful good measure."
Elgar's wife, Caroline Alice Roberts, was a driving force behind much of his music. The pair had a fondness for puns; for example, one of their Malvern homes, Creag Lea, is an anagram of Elgar and the first initials of his wife and daughter (Carice).
At the heart of Elgar's compositions was the Worcestershire countryside, particularly the Malvern Hills, where he composed musical movements in his head to describe the landscape while walking and cycling there. The Malvern Hills are delightfully easy walking country particularly around British Camp—an Iron Age fort defended by a system of steep dikes, ditches and ramparts. From the camp's summit there is an outstanding view across the Severn Valley to the Cotswolds, then around to the Black Mountains of Wales. British Camp was the background for Elgar's cantata, Caractacus, based on this Celt's unsuccessfully fight against the Roman invasion. Walking along the Malverns with a movement from his Cello Concerto or "Serenade for Strings" on your mind, you can see how his harmonies describe the landscape below.
[caption id="TheMusicofHopeandGlory_img2" align="aligncenter" width="149"]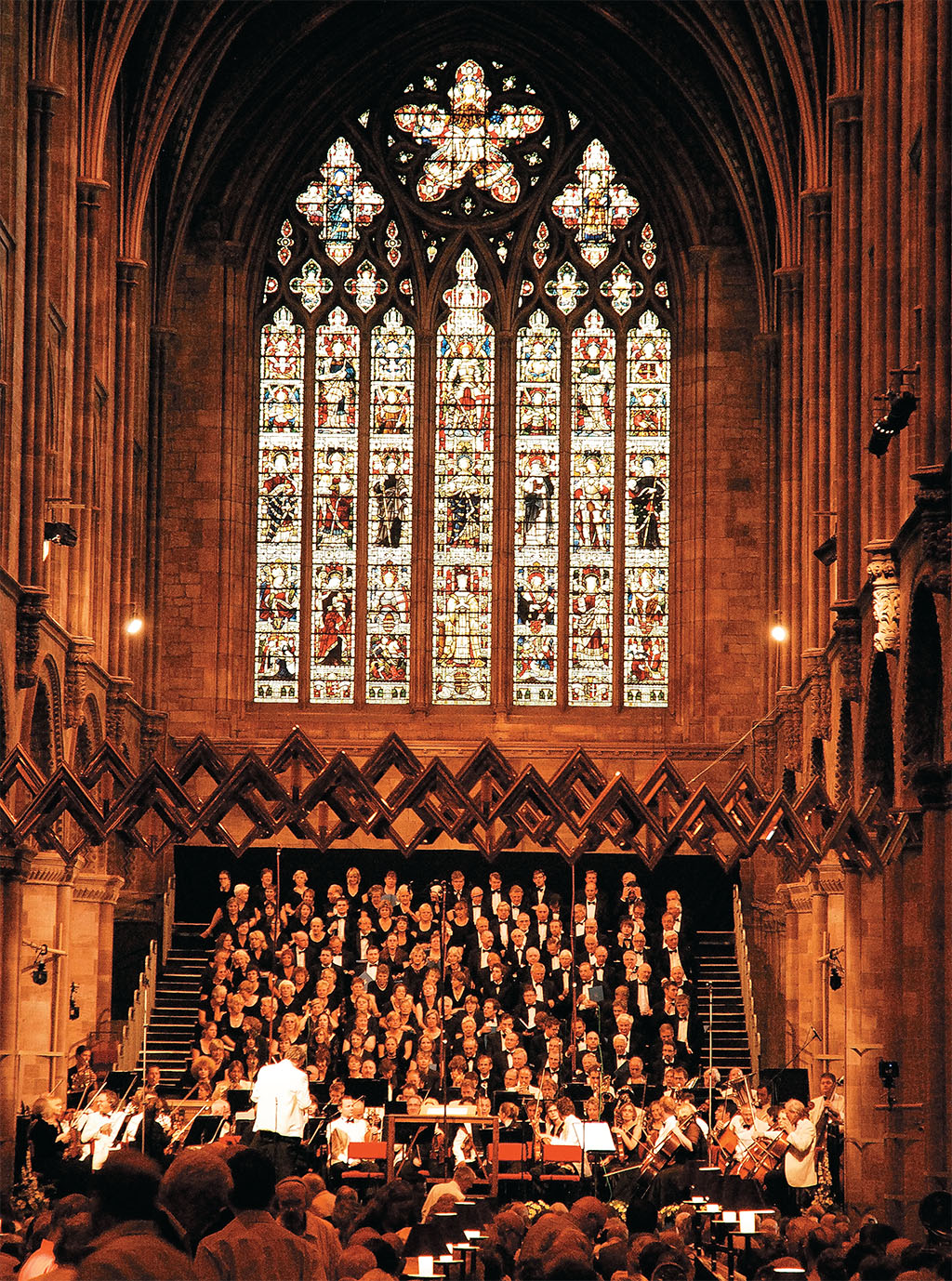 8
The choir and orchestra of the Three Choirs Festival sang this year in Hereford Cathedral. Next summer's festival will be at Gloucester Cathedral.
[/caption]
'THE CATHEDRALS ARE ACOUSTICALLY SUPERB WITH MUSIC THAT RESONATES AMONG THE SOARING ARCHES'
The Enigma Variations, the work that brought Elgar fame, originated in the Malverns and illustrate how he worked. One evening, while he was improvising on some piano tunes, Alice stated she liked a particular piece. He then described how the tune would be variously played by their friends. Elgar devised 14 variations on this tune, each titled with an enigmatic reference to a friend, or even himself. Only Variation 13 is still an enigma and will remain so, as three asterisks are too challenging to decipher.
If the Enigma gave Elgar fame, his "Pomp and Circumstance March Number 1" made him a household name when it was reworked with A.C. Benson's words, "Land of Hope and Glory," for Edward VII's coronation. Though not his greatest work, its panache makes it a perennial concert favorite.
Elgar's most creative period was 1901 to 1919. It ended with his wife's death in 1920. She is buried, as is he, in St. Wulstan's Church just below British Camp. Nearby, in Worcester Cathedral, the Elgar Memorial Window depicts scenes from his oratorio The Dream of Gerontius, a work which he considered to be "the best of me." The dream romantically interprets a poem by Cardinal Newman.
[caption id="TheMusicofHopeandGlory_img3" align="aligncenter" width="351"]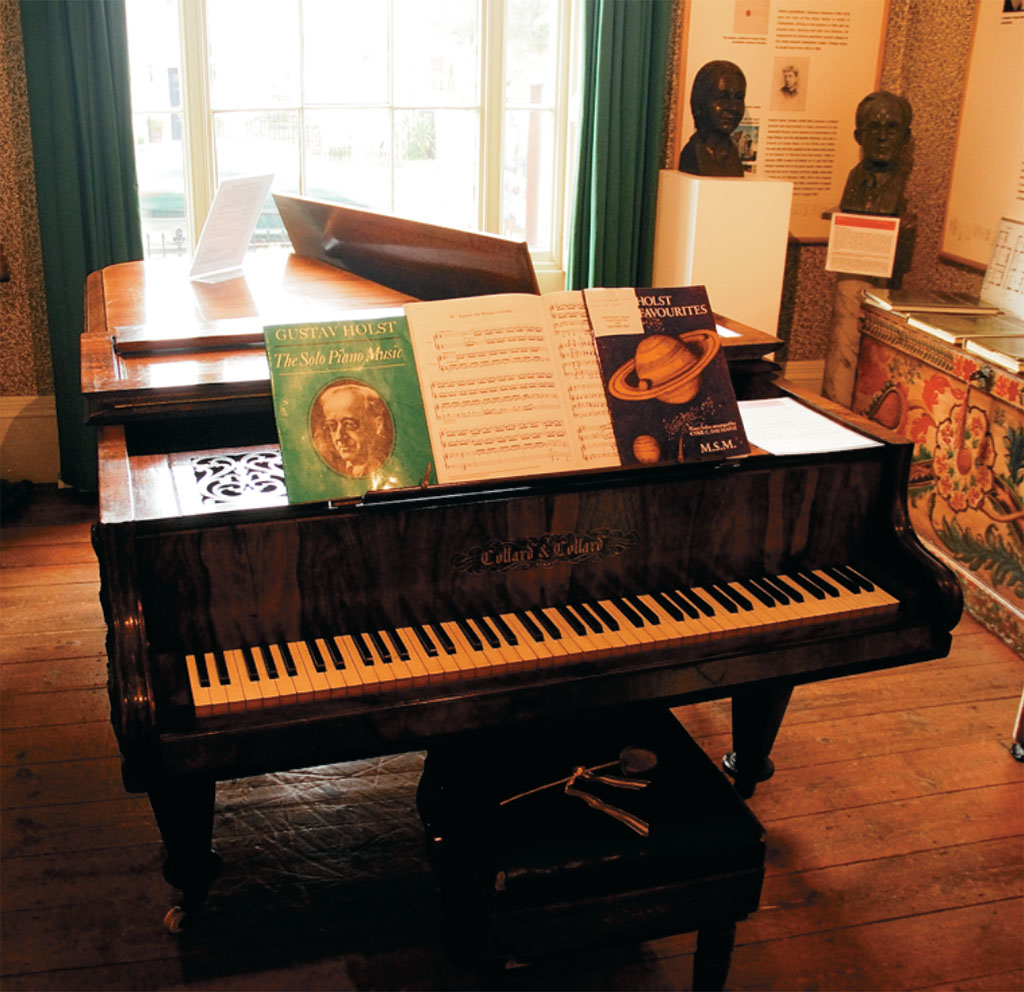 8
[/caption]
[caption id="TheMusicofHopeandGlory_img4" align="aligncenter" width="413"]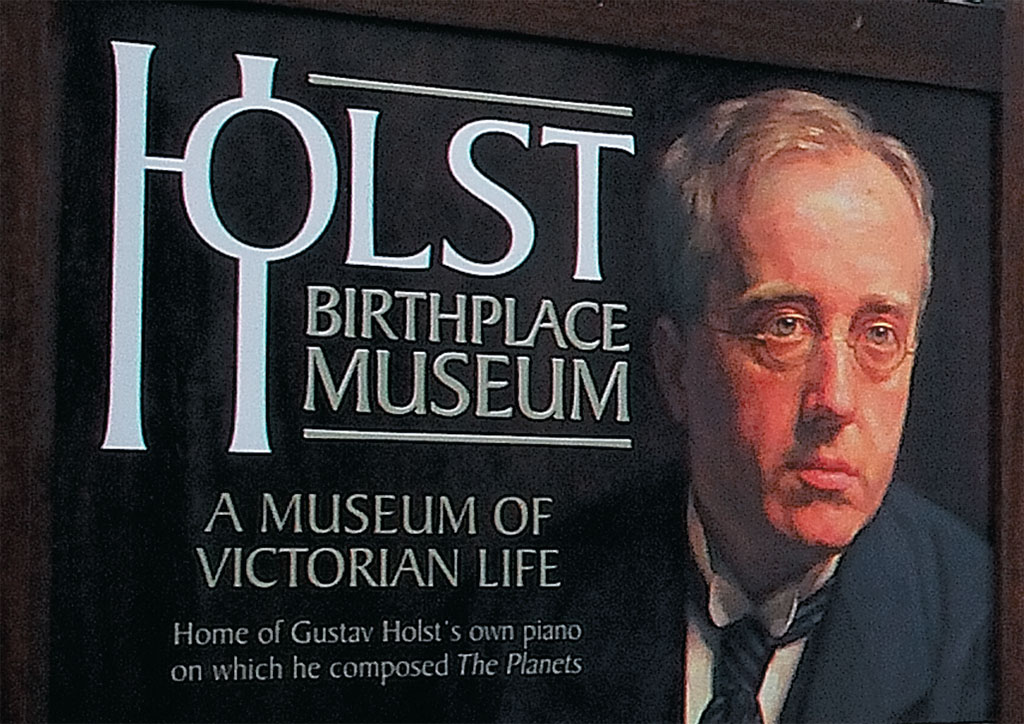 8
The piano on which Gustav Holst composed

The Planets Suite

sits in a Regency terraced house in Cheltenham, Gloucestershire, now the Holst Birthplace Museum—telling the story of Holst's life and work.
[/caption]
The cathedrals of Worcester, Hereford and Gloucester for nearly 300 years have hosted the Three Choirs Festival. The weeklong celebration of choral music rotates annually between the cathedrals. It always incorporates English Romantic compositions. In 2010 it will be in Gloucester. Of course, each city has much to offer the visitor in nonmusical interludes.
All three cathedrals are wonderful examples of medieval architecture and are acoustically superb, places where music resonates among the soaring arches and columns. In 2010, listeners will hear the pure tonal qualities of Vaughan Williams' Fantasia on a Theme of Thomas Tallis, which premiered in Gloucester Cathedral 100 years ago—on the same night that Elgar conducted his Dream of Gerontius.
Cheltenham, near Gloucester, was home for many years to Gustav Holst, who was born in a small Regency terraced house that is now a museum to his life—The Holst Birthplace Museum. Amid the fantastic assembly of Holstian artifacts is the piano on which he composed The Planets Suite. This work is Romantic, describing in the composer's mind the personalities of the planets. Simultaneously, it is nationalistic: The Mars Suite of 1918 was identified with the horrors of the Somme, and the Jupiter Suite contains the patriotic hymn "I Vow to Thee My Country." The hymn's inclusion is through the influence of his lifelong friend, Ralph Vaughan Williams, born in the nearby village of Down Ampney, where the picturesque local church has a thorough exhibition on Vaughan Williams' life.
Holst was also associated with Benjamin Britten, as his daughter Imogen was Britten's secretary for many years in Aldeburgh, Suffolk. Britten is most probably Britain's most accomplished 20th-century composer; he was certainly prolific, producing more than 100 major compositions. He particularly enjoyed composing opera, and his life is probably ripe for an operatic celebration: a child prodigy, a close friend of W.H. Auden, a pacifist, a reviled conscientious objector and a homosexual with a long-standing relationship with acclaimed tenor Peter Pears.
[caption id="TheMusicofHopeandGlory_img5" align="aligncenter" width="1024"]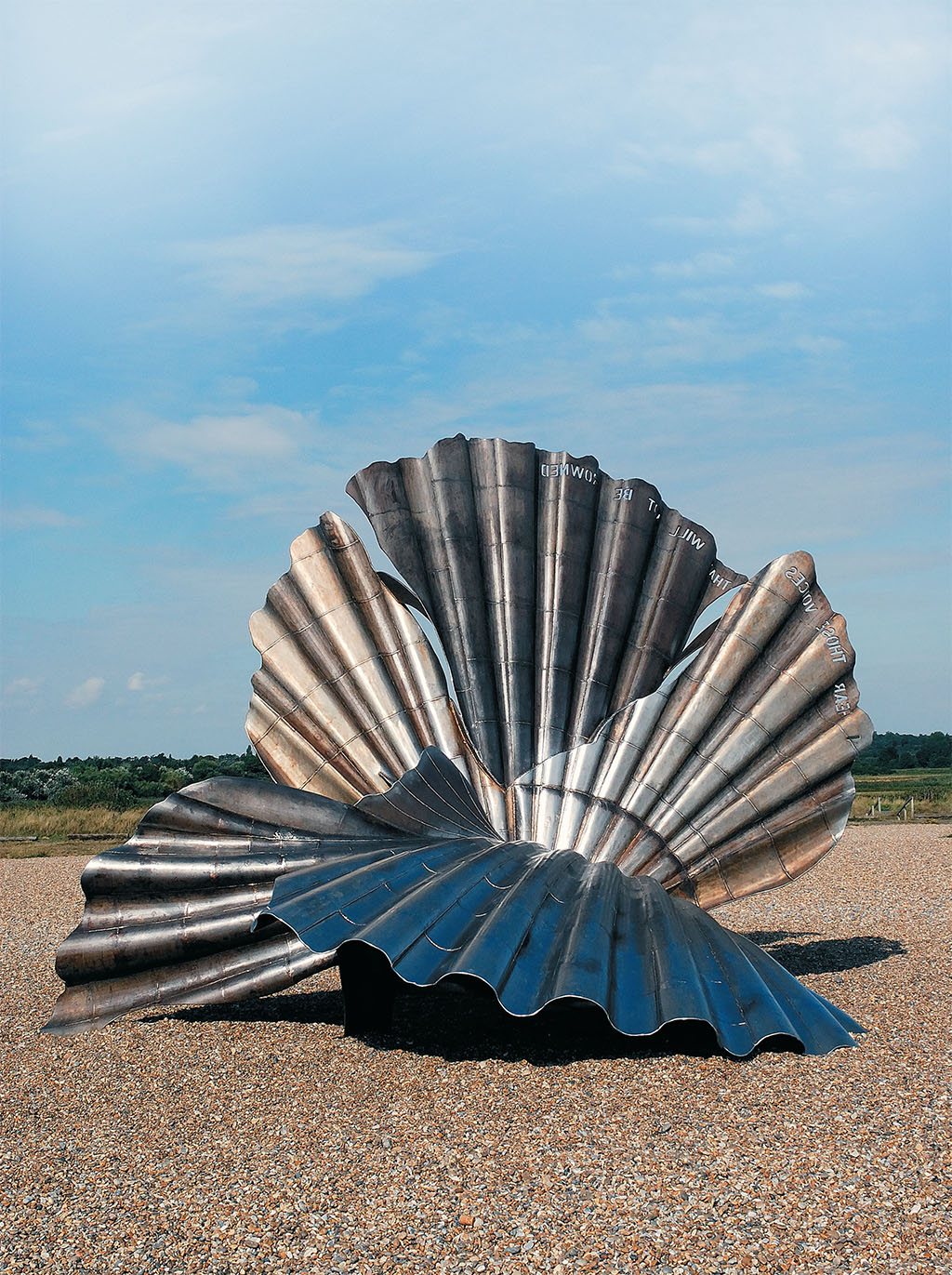 8
[/caption]
'THE CHATTER OF THE FISHERMEN UNLOADING THE NIGHT'S CATCH AND THE WASH OF THE TIDE RUBBING PEBBLES AGAINST EACH OTHER IS EVOCATIVELY CAPTURED IN BRITTEN'S

FOUR SEA INTERLUDES

AND THE OPERA

PETER GRIMES

. AS YEHUDI MENUHIN OBSERVED,"IF WIND AND WATER COULD WRITE MUSIC, IT WOULD SOUND LIKE BEN'S"'
Britten's greatest musical legacy is the Aldeburgh Musical Festival, which began as "a few concerts given by friends." Now, each June, it is a highlight of the festival scene. In 1967 Britten and Pears contributed to the conversion of Snape Maltings, an old brewery, into a modern venue with a year round music and theater program. It also houses an eclectic collection of shops and eateries.
Aldeburgh is a quiet coastal town with a pleasing mishmash of housing styles. Walking in the early morning along the shingle beach among the fisherman's huts out toward the "Scallop" memorial to Britten is always a pleasure. The chatter of the fishermen unloading the night's catch and the wash of the tide rubbing pebbles against each other is evocatively captured in Britten's Four Sea Interludes and the opera Peter Grimes. As Yehudi Menuhin observed, "If wind and water could write music, it would sound like Ben's."
On the outskirts of Aldeburgh is The Red House, Britten's and Pears' home for more than 20 years. The sumptuous gardens are presided over by a scarecrow in the form of a demented orchestral conductor. Guided visits inside the house are limited, and by advance booking only, but worthwhile, as is the fine art collection. The guides detail Britten's and Pears' patronage of the arts and their working lives, but dodge around their intimate friendship.
Suffolk, like the rest of East Anglia, is delightful touring country with its rich mosaic of agricultural land and quaint market towns so well set to music in Britten's Spring Symphony. But even that is probably surpassed by Vaughan Williams' Norfolk Rhapsody.
A Romantic Music Interlude
ELGAR BIRTHPLACE MUSEUM
Open daily February 1 to December 23 from 11 a.m. to 5 p.m.; entrance £6.
HOLST BIRTHPLACE MUSEUM Open daily from mid-February to mid-December from 10 a.m. to 4 p.m.; entrance £3.50. www.holstmuseum.org.uk
THREE CHOIRS FESTIVAL August 7-15, 2010. Tickets will go on sale in early April 2010 when the program has been finalized. Preregistration for tickets is possible through their website: www.3choirs.org. They also offer an accommodation booking service from January.
THE RED HOUSE, ALDEBURGH To book a tour phone 01728 451700 or go to their website: www.brittenpears.org Tour price is £7 and lasts about 1 1/2 hours.
THE ALDEBURGH FESTIVAL in June. Details can be obtained from their website www.aldeburgh.co.uk
Information about other concerts at the Snape Maltings can be obtained from the above website by following the links.
CHICHESTER FESTIVAL (Holst is buried in the cathedral.) The festival takes place each year at the end of June into early July. www.chifest.org.uk
THE CHELTENHAM FESTIVAL The city has many music, art and literature festivals throughout the year.
www.cheltenhamfestivals.com
[caption id="TheMusicofHopeandGlory_img6" align="aligncenter" width="1024"]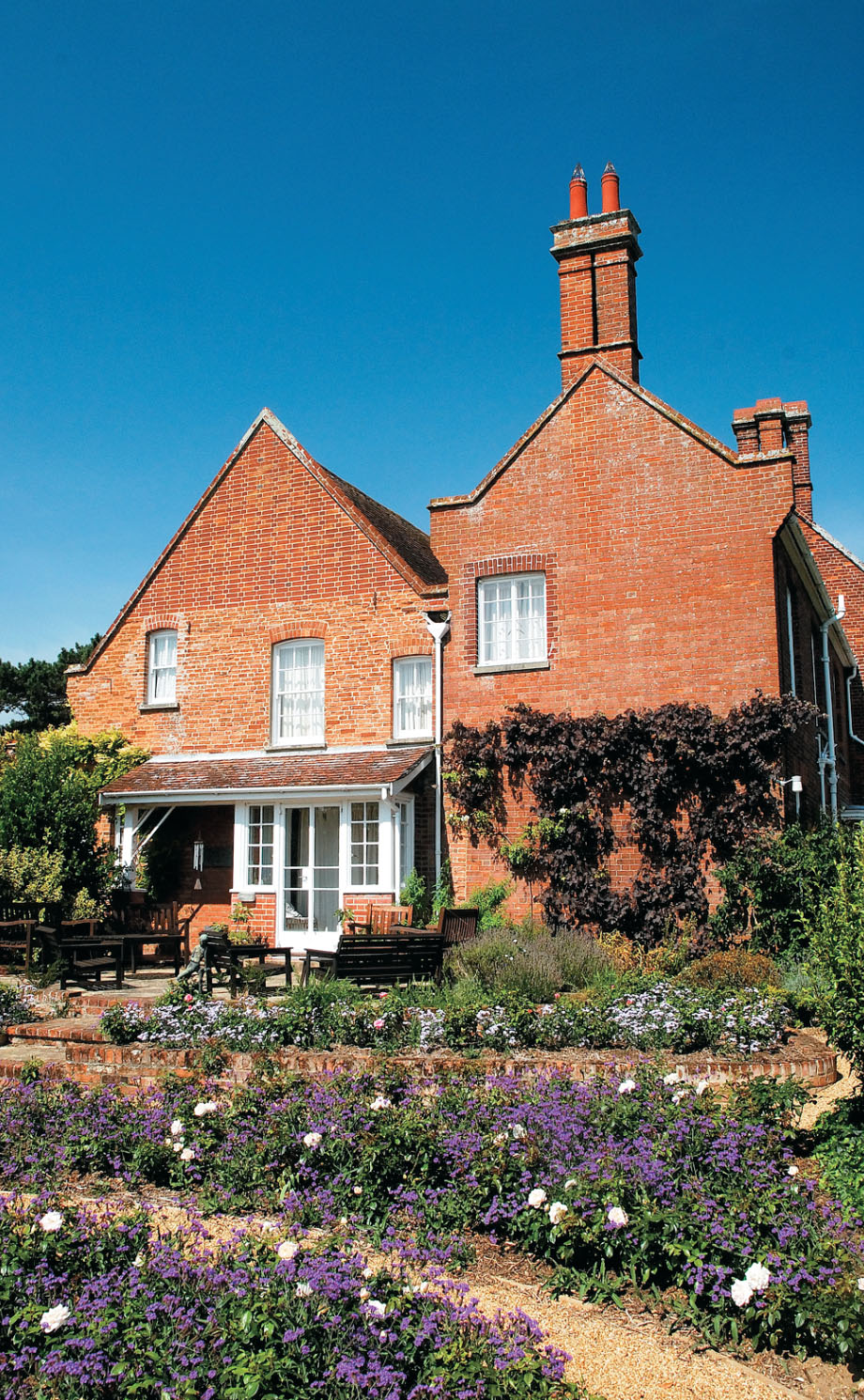 8
The "Scallop" sits on the dunes of Aldeburgh's shingle beach amid the fishermen's hits, a memorial to Benjamin Brittan.
On the edge of Aldeburgh, The Red House was a home Britten shared for many years with tenor Peter Pears. Guided visits are available with advance booking.
[/caption]
Ralph Vaughan Williams is possibly the ultimate English Romantic composer. Aaron Copeland described Vaughan Williams as being a mere collector of folk tunes—a somewhat hypocritical summary, given that Copeland's success was founded on themes taken from America's Wild West. Vaughan Williams was a modest, self-deprecating man who enjoyed collecting and preserving English folk songs, tunes and hymns, then integrating these in works as: Fantasia on a Theme of Thomas Tallis and The English Folk Song Suite. Some of his music, such as Fantasia on Greensleeves is mildly nationalistic.
Always Vaughan Williams' melodious music succeeds in painting a musical picture of the English countryside as a rich patchwork quilt of fields bordered by hedges and crumbling gray stone walls studded with tiny woods and villages. The zenith of this composition may be The Lark Ascending: In the final movement, he captures the rhapsody of a small bird singing in its ascent over the English countryside, and with the lark's rising cadenza over the orchestra's softening melodic rhythms many a concert hall audience has been hypnotized into an appreciative silence!
Of all the English Romantic composers there is no place to visit strongly associated with Vaughan Williams. Maybe a fitting finale is to visit his grave in Westminster Abbey's Poet's Corner, then go on to a Promenade Concert, the ultimate classical music festival, at the Royal Albert Hall. If this should happen to be the Last Night, then all the better, as the second half is unapologetically jingoistic with a raucous rendition, or two, of Elgar's "Pomp and Circumstance March Number 1: Land of Hope and Glory."