West of the Severn, East of the Wye, the ancient hunting forest has been largely left alone
[caption id="TheRoyalForestofDean_Feature" align="aligncenter" width="1024"]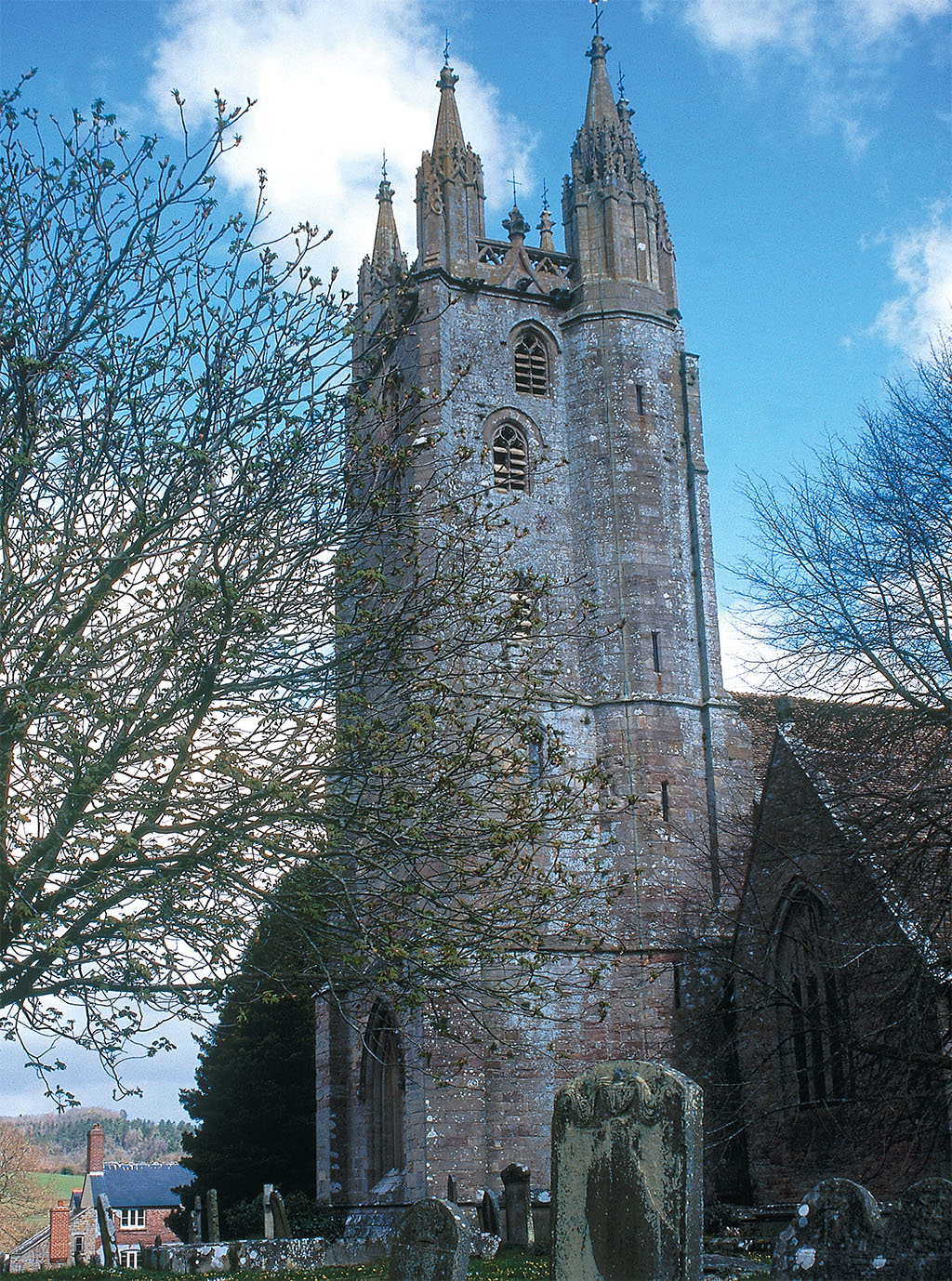 9
All Saints Church in Newland has long been known as the Cathedral of the Forest. Its ancient Miner's Brass commemorates one of the forest's most unusual rights. Right: Three generations hike together along the forest trail.
[/caption]
"I'm one of the living artifacts of the museum," Brian Johns jokes. He is a registered freeminer, Royal Forest of Dean born and bred. Following in his father's footsteps, Johns spent his early working life coal mining before becoming a policeman. Now retired, he is a trustee of Dean Heritage Centre in the Soudley Valley, and a passionate local historian. Sitting in the spartan kitchen of the center's re-created Victorian forester's cottage, he recalls his 1940s childhood:
"A cottage like this, with no electricity or running water, is from my lifetime. In those days, we had nothing, we expected nothing and we got nothing!"
Not only has he been part of history, he has also unearthed it. Inside the converted mill building that houses the center's main displays, Johns points proudly to some human bones. "The earliest person we've discovered in the forest," he says, "a Bronze Age settler who fell down the rocks near St. Briavels—or maybe he was pushed." Johns was among those who helped retrieve the artifacts, around 10 years ago.
[caption id="TheRoyalForestofDean_img1" align="aligncenter" width="646"]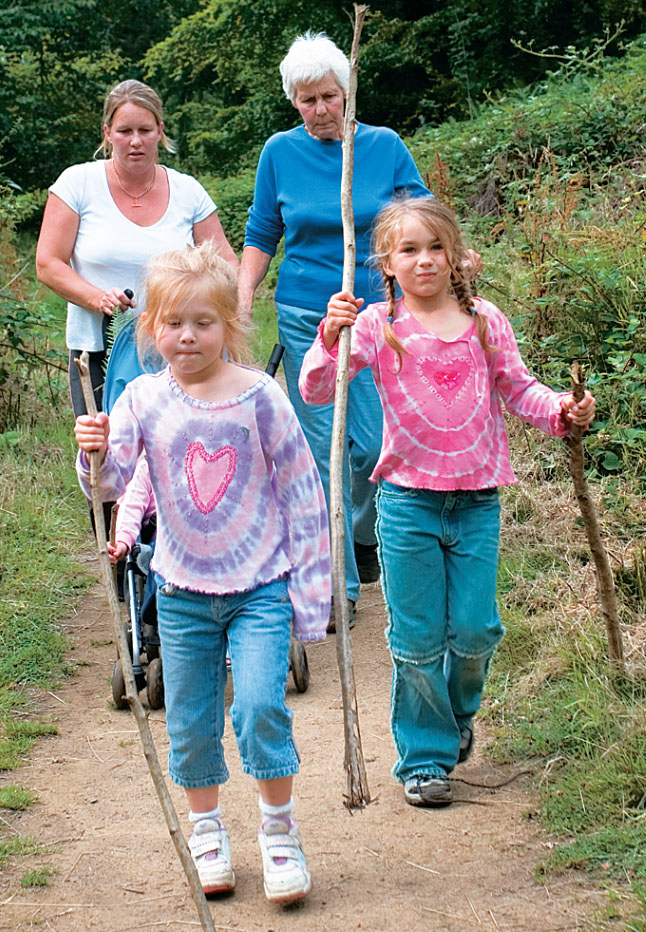 9
[/caption]
The Forest of Dean, shoehorned between the rivers Wye, Leadon and Severn on the England-Wales border, is a curiously overlooked corner of Britain. The 35 square miles of thick woodland in western Gloucestershire, "this heart-shaped land" as native playwright Dennis Potter called it, became England's first national forest park in 1938. The Dymock poets (among them Robert Frost and Rupert Brooke), J.R.R. Tolkien and J.K. Rowling have enjoyed the area's rich rural landscapes, where today some 89,000 folk live scattered across village and town. The administrative center is Coleford, and there are some places of true charm—such as the rose-stone, castle-turned-youth hostel of St. Briavels. Nature reserves, hiking trails and woodland walks provide peaceful escape.
While many travelers simply head for the chocolate-box lure of the nearby Cotswolds, the Forest of Dean offers something different, a fascinating and deep-rooted mix of the workaday and the picturesque, and people who, like Brian Johns, remain intimately connected with their ancient woodland heritage.
Dean Heritage Centre, in its quiet woodland setting on the eastern side of the forest, provides a good entry point for a visit. Its magpie collection of 20,000 objects hints at colorful stories of local life: Neolithic and Bronze Age paraphernalia, Roman monuments, weapon artifacts from the 13th-century artillery "factory" at St. Briavels Castle. Outside, Gloucester Old Spot pigs snuffle beside the Victorian cottage, and in the nearby woods you'll find a charcoal burner's camp and replica freemine.
For such an apparently quiet and isolated corner, there's been a lot going on here—creating a unique culture from the working relationship between man and his environment. Even before Norman kings came a-hunting, the forest was in royal ownership. It was probably King Canute in the 11th century who introduced Forest Laws and officials called "Verderers" to protect the "vert and venison"—the trees, deer and boar. The Verderers' Court still meets every 40 days at the 17th-century Speech House (now a hotel) near Coleford, reputedly the oldest court of law in England.
Thanks to its rich geology, Dean transformed into a premier iron, timber and coal-producing area. By the 17th century, the woodland was almost decimated from making charcoal to fire iron furnaces. "The area was known as 'The Big Smoke'," Johns says.
Today, the landscape is verdant once more, thanks to conservation measures to save the forest. Admiral Nelson, ever mindful of the needs of shipbuilding, visited in 1802 and declared the "finest timber in the kingdom" had sunk to a deplorable state! So, 30 million acorns were planted across 11,000 acres. But before the oaks were half grown, they were redundant, replaced by iron and steel in the shipbuilders' yards. Thanks to Nelson, however, the forest now contains the country's largest area of mature oak. In the 21st century, the forest's coniferous and broadleaved trees are well managed, balancing the needs of industry, conservation and recreation.
[caption id="TheRoyalForestofDean_img2" align="aligncenter" width="1024"]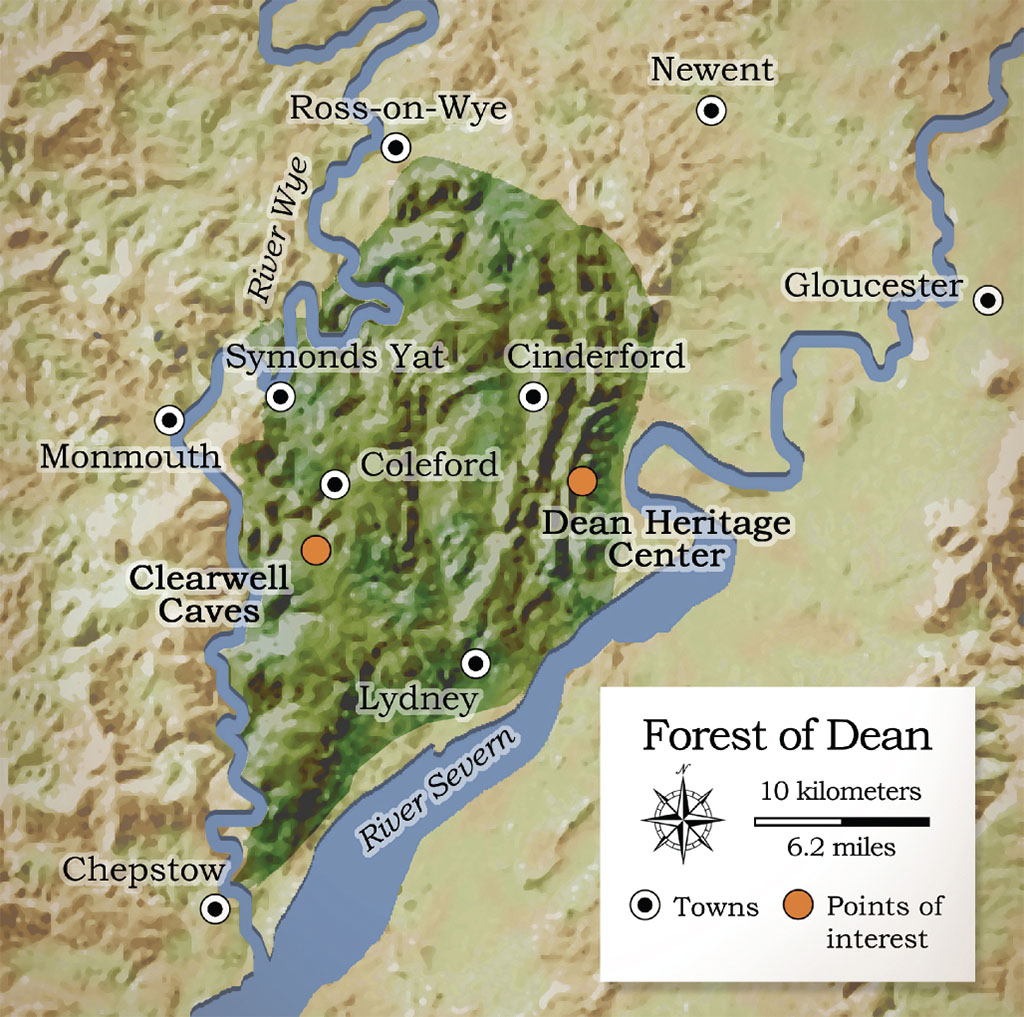 9
Tucked in a corner of Gloucestershire between the River Severn and Wales, the Forest of Dean is an out-of-the-way place by its delightful geography.
[/caption]
[caption id="TheRoyalForestofDean_img3" align="aligncenter" width="456"]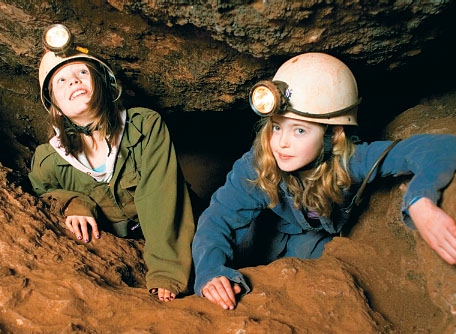 9
[/caption]
[caption id="TheRoyalForestofDean_img4" align="aligncenter" width="1024"]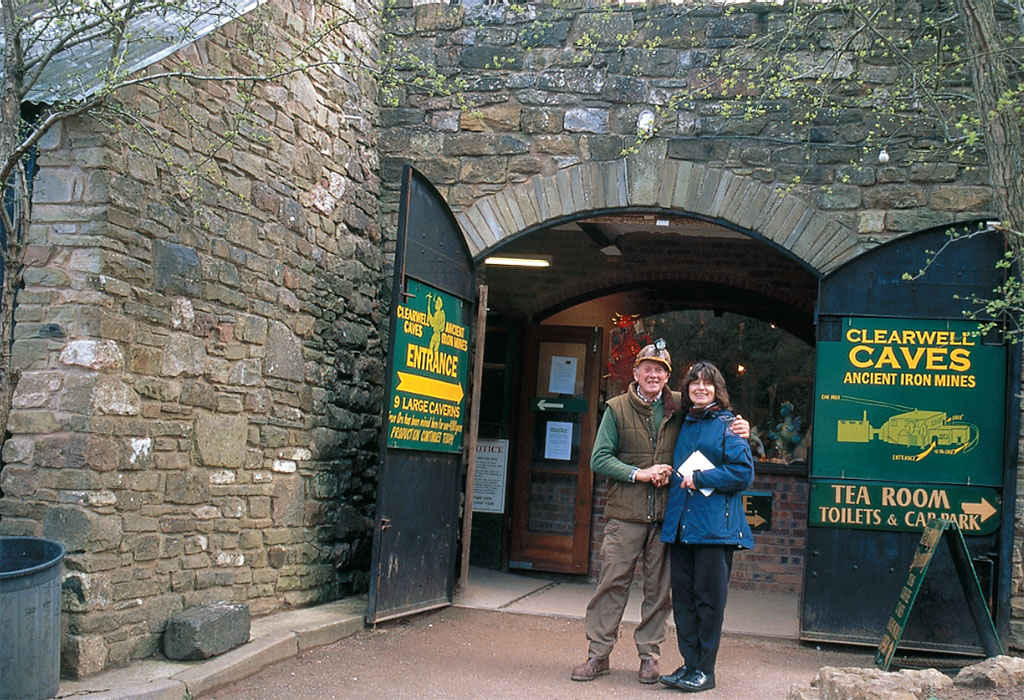 9
Author Siân Ellis chats with freeminer Ray Wright at Clearwell Caves, where spelunkers of all ages love to explore the ochre-filled caverns.
[/caption]
[caption id="TheRoyalForestofDean_img5" align="aligncenter" width="1024"]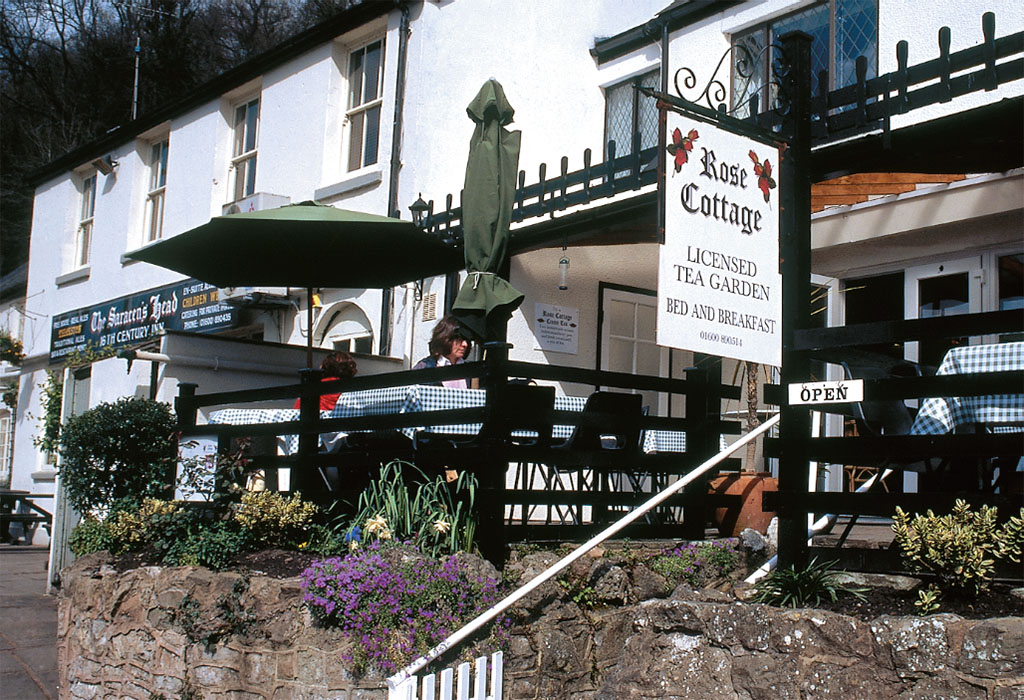 9
What could be more fun than an outdoor lunch at Rose Cottage, overlooking the rapids and the river cruisers on the River Wye at Symonds Yat?
[/caption]
The scenic drive west from Dean Heritage Centre takes in the "Golden Mile," a gently winding road flanked by tall, straight hardwoods whose gold and russet canopy is a delight in autumn, and a tranquil jaunt in any season.
I dropped into All Saints Church at Newland, affectionately known as the Cathedral of the Forest. Here you'll see the "Miners Brass"—rather worn from rubbing—depicting a freeminer standing on top of a knight's helmet: the assertion being that freeminers' rights stood above the law of the land. Since time out of mind, any man born within the Hundred of St. Briavels (an area roughly equivalent to the forest), who has worked for a year and a day in a freemine and is aged over 21, qualifies as a freeminer and can apply to stake claim to a "gale" (the areas into which the forest is divided) and dig for iron ore, coal and minerals.
One medieval legend says the right derives from King Edward II. Locked into a two-year siege of the Scots at Berwick-upon-Tweed, he called on the renowned miners of Dean to tunnel under the town walls and break the stalemate. They did, and in gratitude he confirmed their freemining birthright.
At Clearwell Caves, just south of Newland, I chatted over a bowl of lunchtime soup with 78-year-old freeminer Ray Wright. He took the caves into his guardianship 40 years ago when all the forest's mines were closing, and he felt there should be a mining museum. Wright estimates more than 100 registered freeminers remain, though most are knocking on, and the younger generation largely finds pushing computer buttons more congenial than wielding shovel and pick. The loss of the maternity unit within the Hundred also means ever fewer men are eligible for the freemining birthright. Yet "there's millions of tons of coal still down there," he says.
In the natural cave system at Clearwell, our distant forebears discovered powdered iron oxides—red, yellow, purple and brown ochre—to use for personal decoration. The iron, borne into the caves in a water solution, commanded a premium due to its purity. And the red ochre is believed to have been the famous "English Red Earth" prized by Italian Renaissance painters. Modern artists and cosmeticians, keen for natural pigments, have revived demand for Clearwell ochre. Ray, his son and another miner work it with hammer, pickax and, in tight corners, even a teaspoon, though it's the 50,000 visitors a year who are the caves' main business. "At the end of the Second World War, thousands of tons of iron a week were mined. Now we send it by parcel post," Wright says wryly. "While freeminers have the rights to mine minerals, the Queen owns the minerals and takes a royalty of 6d a ton on iron."
More than 20 miles of passageways fret through 600 acres in Clearwell's underground world. Nine caverns are open to the public. Wright shows me around, pointing out deposits of ochre and fascinating "box" features in the crease limestone, partially filled with black iron ore or white calcite crystals. The caverns are vast, airy and keep a constant temperature of 10 C (50 F).
He demonstrates how miners lit their way with a "nelly": a stick inserted into a small ball of clay holding a candle, the stick then held between the teeth leaving hands free to work. And he tells tales of children as young as 3 in the mines, of long, strenuous hours. Tough as it was, he presents a picture of camaraderie. "Freeminers worked the mines as a family and extracted enough to make a living. It was when the industrialists came in and bought the mines from the miners that the system was ruined for them. Greed ruins any system."
[caption id="TheRoyalForestofDean_img6" align="aligncenter" width="1024"]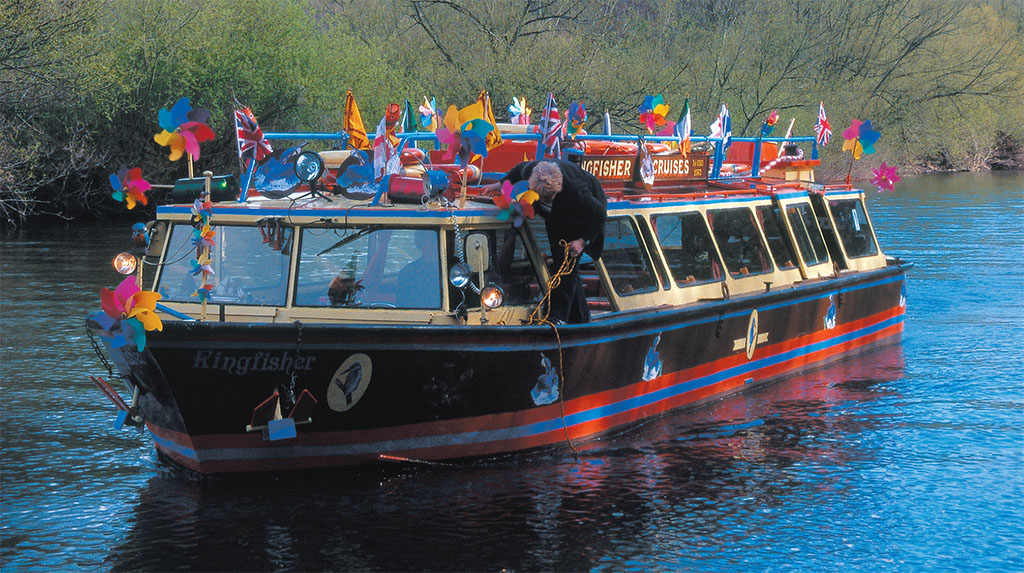 9
Cruising up the Wye Valley from Symonds Yat aboard one of Kingfisher's colorful cruisers has been popular for years.
[/caption]
[caption id="TheRoyalForestofDean_img7" align="aligncenter" width="1024"]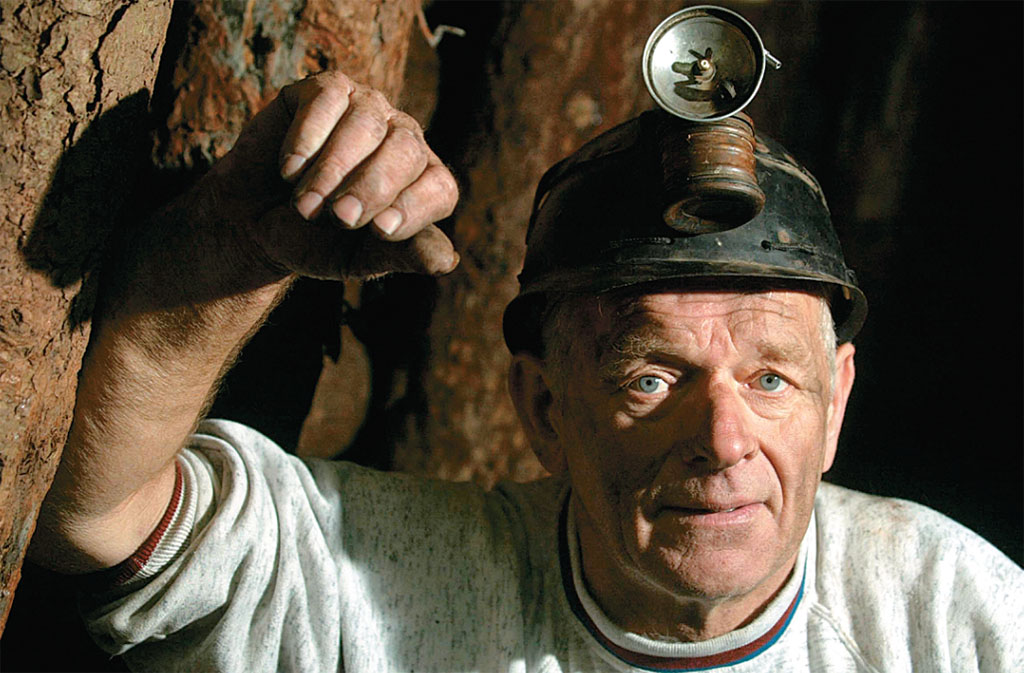 9
Being born in the Hundred of St. Briavels brings the right to be a freeminer, staking a claim to the forest's minerals. Only 100 such freeminers remain.
[/caption]
Heading north via Coleford, most roads lead to Dean's most famous viewpoint, Symonds Yat Rock, towering some 500 feet over a horseshoe bend in the River Wye. You might see peregrine falcons swooping from their nests on the Coldwell Rocks. Then, taking the steep road down to Symonds Yat East, you will find the pleasant riverside tea garden of Nick and Angie Stephens' Rose Cottage, which is also a B&B. There can be few more lovely places to while away time over a cream tea or fresh ham baguette: enjoying vistas down to the Biblins Rapids, watching the hand ferry conveying people across the river and seeing pleasure boats come and go.
I hopped aboard Wye Pride, one of the Kingfisher Cruises that run 40-minute round trips from the 16th-century Saracen's Head pub next door to the tea garden. Tony Gardiner's family has operated boats here for five generations. "Right back to the barge days when we carried cider, and oak bark that went to Ireland for the tanning industry," he says.
The captain's anecdotes flow freely as we chug through the limestone gorge to ancient little St. Dubricius Church. Local gentry's daughter Elizabeth Gwillim married John Graves Simcoe, who became first lieutenant-governor of the new province of Upper Canada in the 1790s. Among the many luminaries who have traveled this stretch of the Wye, writer and artist William Gilpin visited in 1782 and coined the term "picturesque." Others, like "peace for our time" Prime Minister Neville Chamberlain, came here to fish for salmon. The way Gardiner tells it, you feel you're there.
And that's an abiding memory of a day in the Forest of Dean: people proud of and in touch with their roots. Ray Wright gave me a book he has written, Secrets of the Mine, a legend of love in the two Forests of Dean—Gloucestershire and a forest of the same name in New York. "I would suggest that there is no area in England where history is still so very much a living, breathing, conscious part of everyday life," he writes. "History is not merely a record or study of the past…. History is now, the foundation for the future."