CDATA[
As pretty as a picture, from Sudbury to Dedham Vale
[caption id="TheStourRiverValleyisaWorkofArt_Feature" align="aligncenter" width="1024"]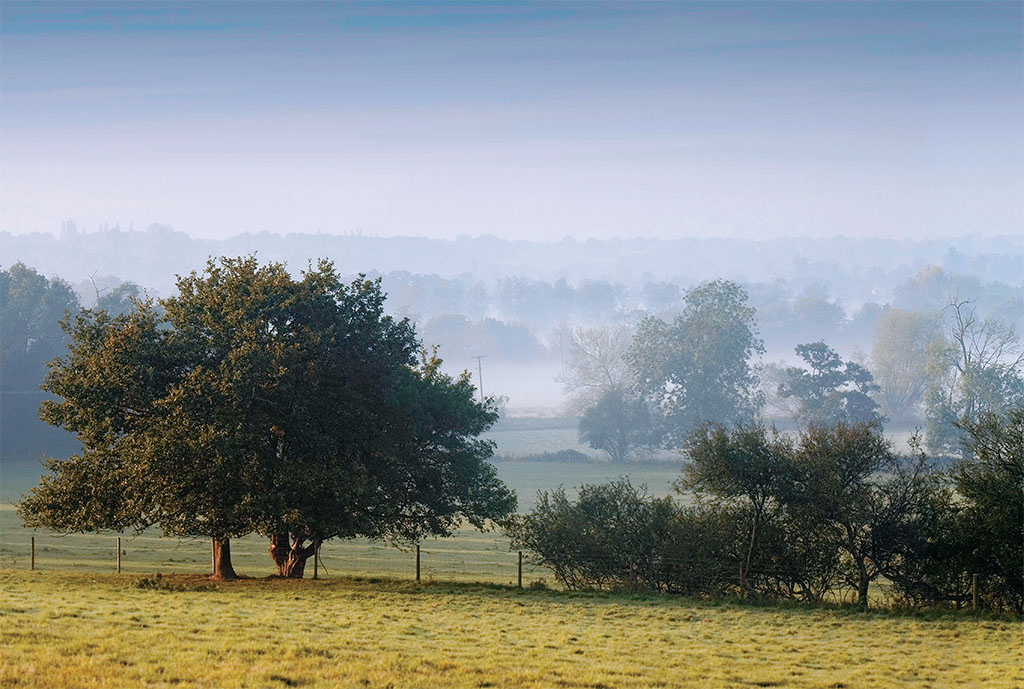 7
Autumn mist bathes the Stour Valley along the Suffolk and Essex border.
[/caption]
[caption id="TheStourRiverValleyisaWorkofArt_img1" align="aligncenter" width="1024"]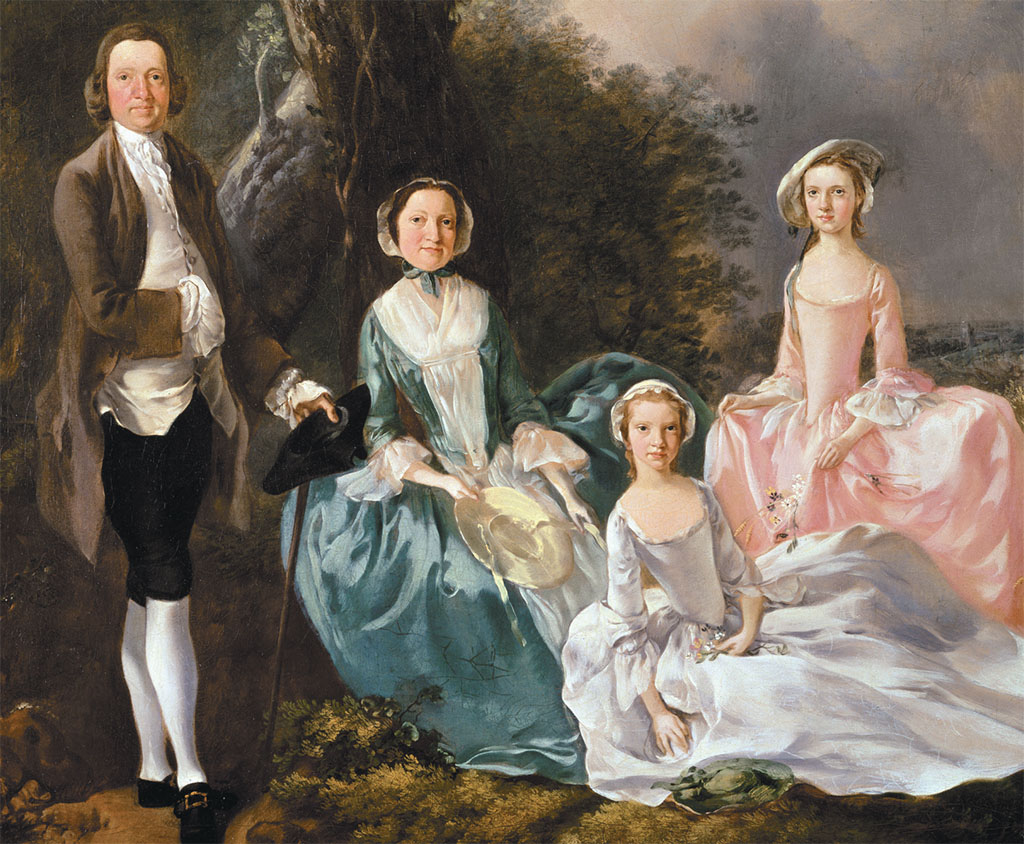 7
John Constable's

The Valley of the Stour with Dedham in the Distance

(c. 1800) graces the Victoria and Albert Museum in London.
[/caption]
MOST PEOPLE think of landscape painting as a traditional and popular art form. However, by the late 18th century it had fallen out of fashion, except as background for the silk-and-satin-clad owners of elegant country estates, or as a decorative panel over a door or mantel. Not many artists would have thought to paint a humble cottage, a rippling weir or a sky in all its moods and weather, and their work would not have found buyers if they had.
Then came the Industrial Revolution. With more factories overtaking farms, and sunlit skies fouled with coal smoke, a desire arose to save the landscape, at least on canvas and in literature—not only to preserve it but also to make it even more rural, more Arcadian, more "English."
A truly apt stretch of scenery to glorify was the Stour River Valley. The Stour rises in eastern Cambridgeshire and flows 47 miles to the North Sea near Harwich, passing some of the loveliest views of riparian farmland in England.
Two artists poised to capture the Stour River Valley perfectly were Thomas Gainsborough (1727-88) and John Constable (1776-1837). Both painters grew up on the banks of the Stour and had spent their boyhoods sketching the pastoral scenes around them. They painted the scenery in all its weather and appearances, and both professed to love it, although Gainsborough's landscapes did not sell well during most of his career. He had to concentrate instead on portraits of merchants, squires and, eventually, royalty in order to make a living.
Two artists were poised

to

capture

the

Stour River Valley perfectly'
In some respects, the two artists treated landscape differently. Many of Gainsborough's subjects look as though they might be more at home in a drawing room; they are depicted out-of-doors, perched uncomfortably on tree roots or a grassy knoll, or in a forest with an improbable urn at their feet. In fact, while Constable did at least some of his work out of doors, Gainsborough preferred to make sketches, then build a table-top tableau in his studio out of mirrors, clay figures, sticks, stones and sand, with broccoli and carrot tops standing in for trees. Constable painted real scenes, still identifiable today, although he was not above adding a windmill or sailboat or altering the height of a church tower; but Gainsborough rarely painted a true topographical scene.
Born in Sudbury, Thomas Gainsborough was sent to London at age 14 to learn engraving. "From a young age, he was passionate about landscape," says Liam Beaton, education and outreach officer of Gainsborough's House. "He actually set up a landscape studio in London on the off chance people would buy them." Gainsborough eventually studied under William Hogarth, and in 1746 he married Margaret Burr. One of his earlier landscape paintings, Cornard Wood, Near Sud-bury, circa 1748, shows people gathering wood and grazing their animals on common land, and may have been based on the sketches he made as a boy. In other landscapes, he painted fighting dogs, peasants going to market, cart horses drinking at a stream and a gypsy woman smoking a hefty cheroot.
But the landscapes could not sustain him, and in 1748 Gainsborough and his family moved back to Sudbury, where he could concentrate on portraits. He moved again in 1752 to Ipswich, and his commissioned portraits of professional people and landed gentry increased. Using a radical approach to portraiture, Gainsborough depicted his subjects in contemporary clothing rather than Greek draperies. His career then took him to Bath, where his reputation grew. Gainsborough became a founder of the Royal Academy of Art in 1769, although he later parted company with this august group because he disagreed with the way his paintings were being hung there. He and his family moved permanently to London in 1774.
In 1780 Gainsborough painted the portraits of King George III and his queen, and afterwards he received many royal commissions and remained the royal family's favorite painter. Newlyweds William and Elizabeth Hallett take The Morning Walk (1785), probably wearing their wedding clothes. They don't seem particularly happy, and something invisible to us interests them to their right. In Mrs. Sarah Siddons (1785), the famous actress wears a fashionable black plumed hat and caresses her fox fur muff, which looks for the entire world like an animal curled up in her lap.
[caption id="TheStourRiverValleyisaWorkofArt_img2" align="aligncenter" width="1024"]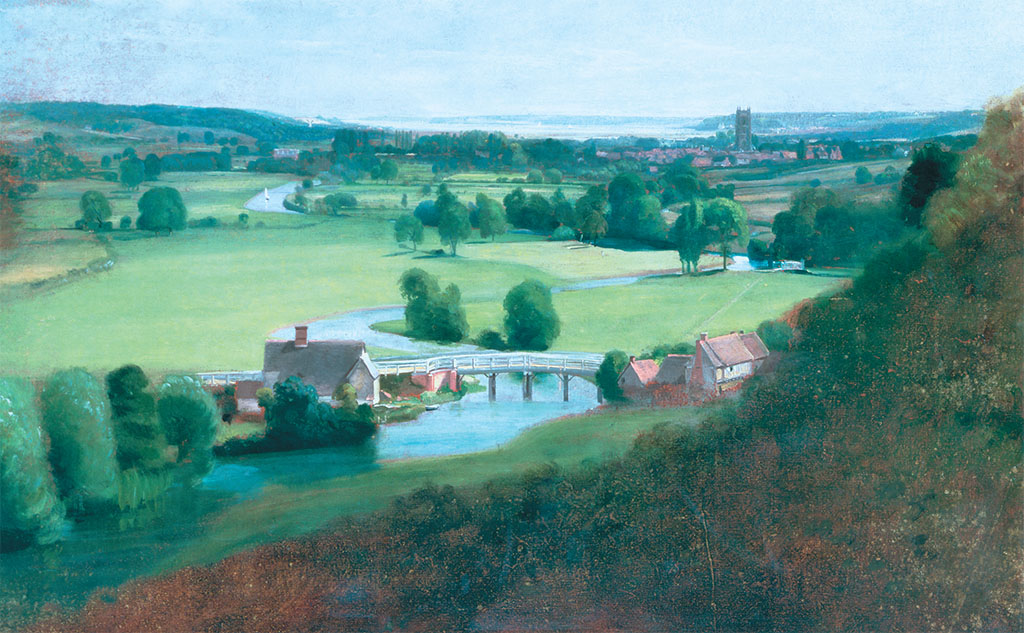 7
Thomas Gainsborough painted

Mr. and Mrs. John Gravenor and Their Daughters

(c. 1754) not in classical garb and pose, but against the backdrop of nature.
[/caption]
During his career, Gainsborough painted some 800 portraits; he has been called the dominant British portraitist of the second half of the 18th century. Still he thought of himself as a landscape artist, turning out some 200 views of remembered scenes. "When he puts that landscape in the background, he expresses his own passions," says Beaton. In his later years, Gainsborough often painted relatively simple, ordinary scenes. He once professed a desire to take his viola da gamba and "walk off to some sweet village where I can paint landskips (sic) and enjoy the fag end of life in quietness and ease."
BORN ALMOST 50 YEARS after Gainsborough, John Constable was able to ride the rising interest in landscape painting in a way that his idol, Gainsborough, was not able to do. Constable was born in East Bergholt and lived and worked in the surrounding Suffolk countryside that was named for him. On one occasion, a stranger riding with him on a train remarked that the scene outside the window was "Constable Country," and the artist was happy to inform him that he was correct. Some critics remark, tongue in cheek, that the National Trust has taken care to make the countryside look like Constable's paintings.
Constable's father had inherited a corn mill and become quite prosperous by the time his son was born. In 1799, after a year of apprenticeship to his father at the mill, Constable was allowed to study at Royal Academy of Art in London, where he began developing his distinctive style. But art connoisseurs didn't always appreciate his landscapes, and, like Gainsborough, he occasionally turned to painting portraits for money.
'Gainsborough's House

has the

largest collection

of

his paintings

in the

world'
In 1802 Constable exhibited his first painting at the Royal Academy, and in 1815 he had eight paintings hung there, including Boat Building Near Flatford Mill. The following year, his father died, and his inheritance enabled him to marry Maria Bicknell, whom he had courted for seven years, and paint what he liked best.
He summered in Suffolk and painted out-of-doors to capture the natural world. Constable especially loved the sky, calling it "the chief 'organ of sentiment.'" "Like Rembrandt, he was a miller's son," explains David Lay, a visitors guide at Kenwood House near London, where several of Constable's paintings are on exhibit. "Millers need to know when to set the [windmill] sails. They have to watch the sky all the time. He wrote on the back of every picture the date and time and what the weather was like." Constable included a bit of red in every picture, whether in a horse's harness or a little girl's dress. When he painted a tree, he stripped the leaves from the viewer's side, showing the tree's inner structure.
In the early 1820s, Constable began work on his "six-footers," large scenes of the River Stour, including probably his bestknown work, The Hay Wain, 1821. Even this masterpiece made little impact on British critics, and it was left to the French to award it a gold medal at the Paris Exhibition of 1824.
The Hay Wain is one of the pictures that can definitely be placed in the geography of Constable Country, although he painted it in London from sketches. An empty hay wagon lumbers into the river, apparently bound for the far bank to pick up a load of hay. Perhaps it is soaking its ash wheels so they will fit into their iron bands, or perhaps it is an artistic fancy. Willy Lott's cottage is in the background, as it is in several other Constables. Willy Lott was a local farmer who lived in his house until age 88, allegedly only leaving once, for four days, to go to London and see Constable's views of the house at the Royal Academy. Other paintings that can be placed in context on a guided tour of the Stour River Valley are Boat Building Near Flatford Mill, Flatford Mill From the Lock (1811) and The Valley Farm (1835).
TODAY CONSTABLE and Gainsborough are two of the world's most admired painters. Major galleries have one or more of the artists' works in their collections of 18th-century British landscapes and portraits. The Hay Wain, admired by Delacroix, Gericault and a whole generation of Impressionists, was recently trundled back to the National Gallery in London after a tour of several cities.
In the Stour River Valley, guests can explore the towns long associated with both painters. Gainsborough's birthplace, Gainsborough's House, has the world's largest collection of his paintings, drawings and prints in one place. When it was built in the 14th century, the house was described as "a most excellent brickt (sic) mansion, replete with every convenient accommodation for a genteel family." It had a garden, a paved yard and a mulberry tree that still provides delicious fruit in season for visitors. Gainsborough's statue, a national memorial, stands on Market Hill in the town center, and his studio on Friar Street, now a modern office, is marked with a plaque. The fireplaces remain in place, and some of Gainsborough's artifacts are on display such as his sword stick, initialed snuff box, a notebook with ivory pages and a lock of his hair, mounted on red damask and framed.
Constable, who looked up to Gainsborough, once found one of Gainsborough's little model horses in a Suffolk junk shop, recognized and bought it. It's part of the display at Gainsborough's House now and is the only clay model known to exist from one of Gainsborough's table-top tableau's.
Constable's birthplace in East Bergholt is gone, but the site of the garden and orchard that he immortalized can be glimpsed through a hedge. The Visitor Information Centre at Flatford offers a permanent Constable exhibition and guided walks. Some 100,000 visitors go to Flatford every year, and many of them set up easels there, to try their hand at reproducing what Constable saw and felt there as a painter.
"Painting is with me but another word for feeling," Constable once said, "and I associate my 'careless boyhood' with all that lies on the banks of the Stour; these scenes made me a painter."
[caption id="TheStourRiverValleyisaWorkofArt_img3" align="aligncenter" width="1024"]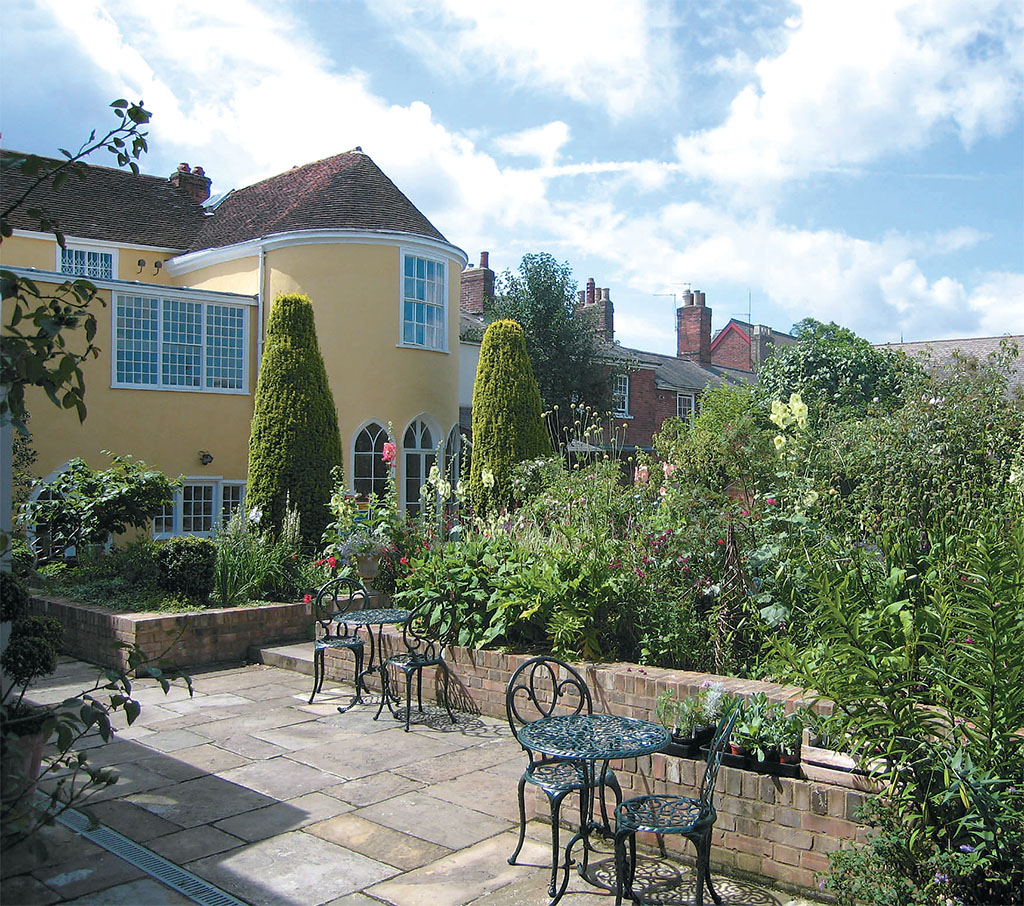 7
At 46 Gainsborough St., in the heart of the Suffolk market town of Sudbury, Gainsborough's House is open to the public Monday through Saturday from 10-5. While the museum contains an impressive collection of Thomas Gainsborough's work, the garden forms a colorful paintable landscape in its own right.
[/caption]
[caption id="TheStourRiverValleyisaWorkofArt_img4" align="aligncenter" width="1024"]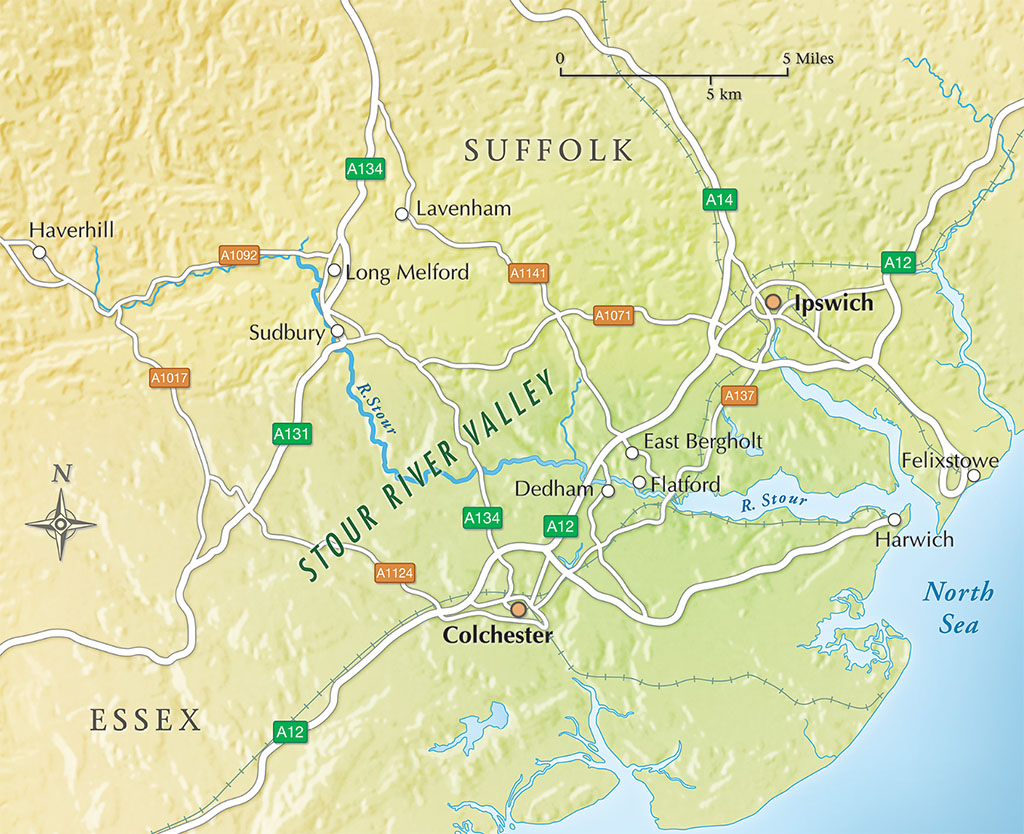 7
The cottage of farmer Willy Lott on the riverbank at Flatford Mill is one of the most recognizeable images of Constable's many pictures of the Stour Valley. Lott left the valley only once in his life—to see a Constable exhibition in London.
[/caption]
[caption id="TheStourRiverValleyisaWorkofArt_img5" align="aligncenter" width="683"]

7
[/caption]