ENGLISH HERITAGE and the historic properties they steward across the country are commemorating throughout the year 10 significant historic anniversaries in 2015. In your travels to Britain this year, you may well cross paths with some of the many sites planning exhibitions and reenactments associated with these unforgettable events. For these stories, and many more, visit: www.english-heritage.org.uk.

The First English Parliament
(750th) – January 20, 1265
DURING CIVIL WAR against King Henry III in 1265, Simon de Montfort, the Earl of Leicester, summoned an elected assembly from across England to a meeting of "the commons." Both knights and boroughs were represented at what has long been considered the first true English Parliament. It was the Second Barons' war —a conflict over the overweening authority of the King that followed from the Magna Carta rebellion 50 years earlier. De Montfort was killed at the Battle of Evesham that autumn by forces loyal to the King. Catch the story as well in Lewes, where the barons were victorious in battle, and at Kenilworth Castle, scene of the longest siege in English history.

Death of Sir Winston Churchill
(50th) – January 24, 1965
IT HAS BEEN 50 YEARS since the death of wartime leader and statesman Sir Winston Churchill. After a mammoth state funeral in Westminster abbey, the route of Churchill's cortege to the family grave in the Bladon village church near his Blenheim Palace birthplace, Oxfordshire, was lined with tens of thousands paying their respects. Today, visitors can pay their respects at both sites or visit at many places across Britain associated with the great man, including his long-time home Chartwell, Kent, and the Cabinet war rooms in Whitehall.

VE Day
(70th) – May 8, 1945
SEVENTY YEARS HAVE PASSED since the Allies celebrated victory in Europe. Though war continued in the Pacific, the defeat of Hitler's Nazi Germany sparked street parties and jubilation across Britain. World War II history sites and war memorials spread across the island. 1940s era reenactments are taking place at English Heritage sites throughout the country, including Dover Castle and Wrest Park. For the broad story of WWII, visit Eden camp in Yorkshire, naval Portsmouth, the Air Forces Memorial at Runnymede or the great Imperial War Museum airfield and air museum in Duxford, Cambridgeshire.

Dunkirk Evacuation
(75th) – May 27-June 4, 1940
THE "MIRACLE OF DUNKIRK," one of Britain's most famous World War II triumphs, saw thousands of allied soldiers evacuated from the beaches of France after being trapped by Hitler's blitzkrieg. It was the heroic action of the private "little ships" rescuing soldiers that captured the world's attention, and thwarted what could have been catastrophic defeat. Codenamed Operation Dynamo, the evacuation was directed from the Secret Wartime Tunnels beneath Dover Castle. Visitors can explore the living quarters, operations rooms and hidden wartime hospital.

Magna Carta
(800th) – June 15, 1215
KING JOHN PUT HIS SEAL to the Magna Carta, or Great Charter, under duress 800 years ago. Magna Carta is renowned today as one of the cornerstones of British law and representative democracy. Sealed at Runnymede, Surrey, surviving copies of Magna Carta are on display at the British Library and the chapter house of Salisbury Cathedral. The last copy, Lincoln Cathedral's, was on display at Washington's Library of Congress this winter, and returns to a new exhibition building at Lincoln Castle this spring.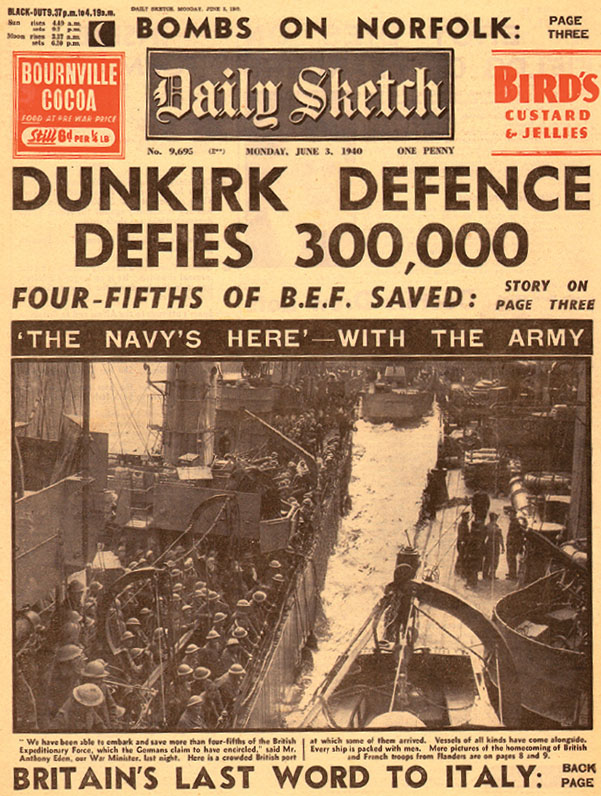 4
Battle of Waterloo
(200th) – June 18, 1815
JUNE 18 MARKS 200 YEARS since the Battle of Waterloo. Among the most famous commanders in English history, the Duke of Wellington led a coalition army into victory against the French forces of Napoleon on a Belgian battlefield. English Heritage commemorates the bicentenary with exhibitions at Apsley House, the London residence given to Wellington by a grateful nation, and nearby Wellington Arch. At Walmer Castle, Kent, where the Duke spent his last years, the rooms present the personal side of the Duke and his legacy. See also, "Wellington and Waterloo after 200 years," in British Heritage, March, p.34.

Invasion of England by Viking Cnut
(1000th) – summer of 1015
REMARKABLY, KING CNUT was among the most successful kings of Anglo-Saxon England. In 1015, Cnut landed an invasion force on the Wessex coast and began a triumphant campaign for the English throne. After victory, Cnut brought a reign of prosperity and peace after more than 200 years of Saxon/Viking warfare. Across the North of England and East Anglia, the region of the Danelaw, evidences of Viking settlement are widespread. Nowhere is this more celebrated than in the city of York, the Viking trading port of "Jorvik." It's a great time to visit the Jorvik Viking Centre on Coppergate.

Siege of Carlisle
(700th) – summer of 1315
ROBERT THE BRUCE'S Scottish victory at the Battle of Bannockburn left northern England vulnerable to Scottish raids. Perhaps the most famous of these happened 700 years ago in Cumbria. Invading Scottish forces laid siege to Carlisle Castle—the most besieged castle in England. This time the Scots failed despite using siege towers and scaling the walls in a savage fight. English Heritage plans a dramatic reenactment of the siege of Carlisle this summer with assorted activities to take place at the castle.

Battle of Agincourt
(600th) – October 15, 1415
AGAINST THE AGE-OLD ENEMY, France, a badly out-numbered army of knights and archers won one of England's most famous victories. On the muddy field of Agincourt, much of French nobility was destroyed under the inspiring leadership of King Henry V. William Shakespeare's intense Henry V has never let us forget it. Though the battlefield is French, the invasion was English. Putatively, the campaign began with a gift of tennis balls deemed to be insulting from the French to Henry V at Kenilworth Castle. English Heritage will mark the anniversary at Portchester Castle, Hampshire, where Henry's invasion force gathered.

World War I
(100th) - 1915
WHEN WAR BROKE OUT in August, 1914, early optimism led many to expect that British troops would be home for Christmas. It didn't work out that way, and 1915 saw soldiers digging in for what would become years of trench warfare. A century ago now, the year included the first Zeppelin attacks on England, chemical warfare introduced, and the tragic failure of the Gallipoli invasion. English Heritage sites of the home front include Pendennis Castle in Cornwall, and wrest Park, Bedfordshire, the first of many country houses (such as
Downton abbey's
Highclere Castle) to be seconded as war hospitals.
DVD
Agatha Christie's Poirot, Series 13,
starring David Suchet, 3-disc boxed set, Acorn Media, Silver Spring, MD, 5 feature-length episodes, 462 minutes, $59.99
Final cases, and final curtain
"THE TIME HAS COME, MON AMI, TO SAY GOOD-BYE." For a generation now, David Suchet has portrayed the Belgian detective, Hercule Poirot, of mystery writer agatha christie. we have come to love the brilliant, quirky little man with the mincing walk. Suchet's portrayal of Poirot has defined the character so long and so well that it is difficult to imagine another actor attempting to take the part.
4
[caption id="BeyondtheBookshelf_img3" align="aligncenter" width="1024"]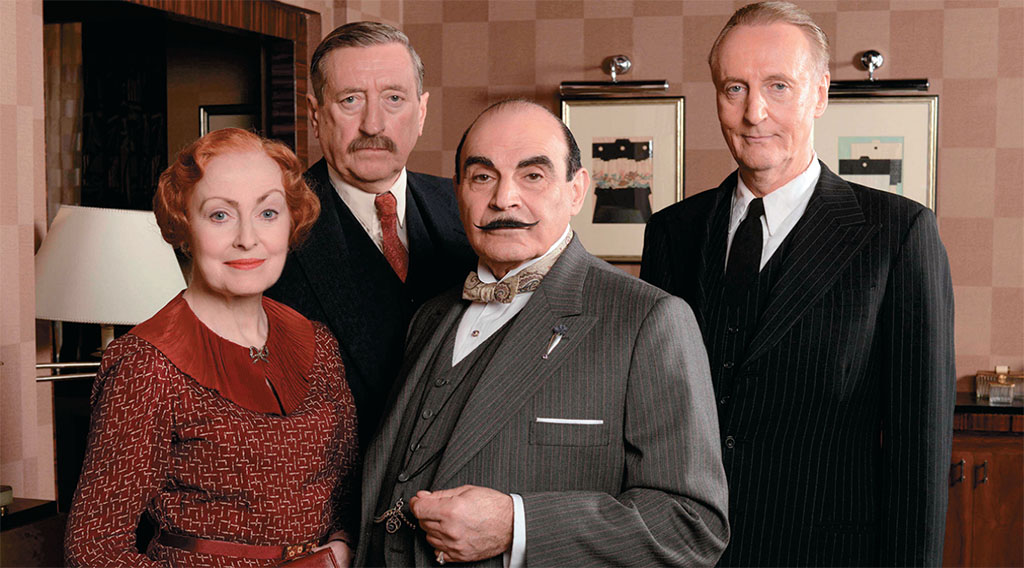 4
In Poirot's final cases, he reconnects with his and our old friends Miss Lemon, Inspector Japp and Captain Hastings.
[/caption]
It is, unquestionably, the end of an era. With the production and release of Poirot, Series 13 there are no more tales to tell. So popular was the fastidious Poirot that Christie returned to him again and again, until even Poirot reached his own end. David Suchet has now completed 70 episodes in the role — the entire canon of Christie's Poirot novels and short stories. And all good things come to their natural end.
Poirot has been older, and more alone, in his last few series, moving slower than he used to, less self-righteous and more willing to second-guess himself. He has become a senior citizen. The famous "little gray cells" draw on his years of experience and memory, but his heart has gotten tired and weak.
The last five episodes see the return of his (and our) old associates and friends—Miss Lemon, Inspector Japp, Ariadne Oliver and the simple Captain Hastings. It is all very familiar and loveable.
Poirot's final episode, Curtain: Poirot's Last Case brings the detective full circle, as he and Captain Hastings return to Styles, the scene of his first appearance in The Strange affair at Styles. A present murder harks back across the years to a long closed case, and Poirot unfailingly unwraps and unpacks the mystery. and then, Poirot takes to his bed, tidies up all the loose ends, and breathes his last.
We will always have these great productions of Suchet's Poirot, but there will never be more. Of course, the new Series 13 will be a great addition to any collection. For those who would like the full story (a collection in itself), Acorn has also released Agatha Christie's Poirot: Complete Cases Collection, which includes all 70 episodes in original UK broadcast order. The mammoth 33-disc Collector's Edition is available for $349.99.